Butte is a welcoming scenic city with a fascinating mining heritage. Aside from being a top destination for history buffs, it's also close to several of the best hot springs in Montana.
In this article, I will take a look at five Hot Springs near Butte, Montana you will want to your itinerary on your next visit to Big Sky Country. (Distance from Butte city center in brackets).
5 Great Hot Springs Near Butte, MT
1. Fairmont Hot Springs Resort, Anaconda (15.1 Miles)
Not to be confused with the Fairmont Hot Springs Resort in British Columbia, this Fairmont Hot Springs is in Anaconda, less than 20 minutes away from Butte. It's famous around the Northwest for its lavish natural hot-spring-fed pools.
The resort is home to two large Olympic Swimming Pools and two Mineral Soaking Pools. There are pools both indoors and outdoors and are cooled to different temperatures to ensure the comfort of guests.
Many guests seek out the resort to indulge in the pools' healing qualities, but this is also a great destination if you're looking to have some fun (just see the 350-foot enclosed water slide!).
After swimming, relax poolside and enjoy some tropical beverages at Treasure Spirits bar. Guests also have access to dressing and steam rooms, lockers, and a snack bar by the pools.
While some of the pool facilities are only open during the summer season, there are pools on the premises that are open year-round.
If all that wasn't alluring enough, you can also kick back at the Whispering Willows Spa, which offers a comprehensive list of spa treatments. Choose from body and facial massages, reflexology, and other lavish body treatments.
2. Boulder Hot Springs, Boulder (43.1 Miles)
Less than an hour away from Butte, you'll find the tranquil oasis that is Boulder Hot Springs. An inn, spa, and retreat center, Boulder Hot Springs is a historic establishment that lies off Interstate 15. While you could visit these springs during a trip to Butte, they're also not far from Helena.
The geothermal waters at the resort are used to heat the building and power the natural steam rooms. They also flow into the indoor plunge pools and an outdoor swimming pool.
The outdoor pool is surrounded by a relaxing deck and a heated sidewalk that connects it to the bathhouse (which sounds like absolute heaven to me). It's maintained at a temperature of around 96 to 100 degrees Fahrenheit.
Meanwhile, the plunges offer women's only and co-ed spaces for guests to soak, and close access to dressing rooms, restrooms, and steam rooms.
For those staying at Boulder Hot Springs, you'll have your choice of quaint bed and breakfast accommodation or a room in the guesthouse. These are usually cozy and homely, lacking some of the more luxurious elements of the bed and breakfast rooms.
3. Renova Hot Springs, Whitehall (37.1 Miles)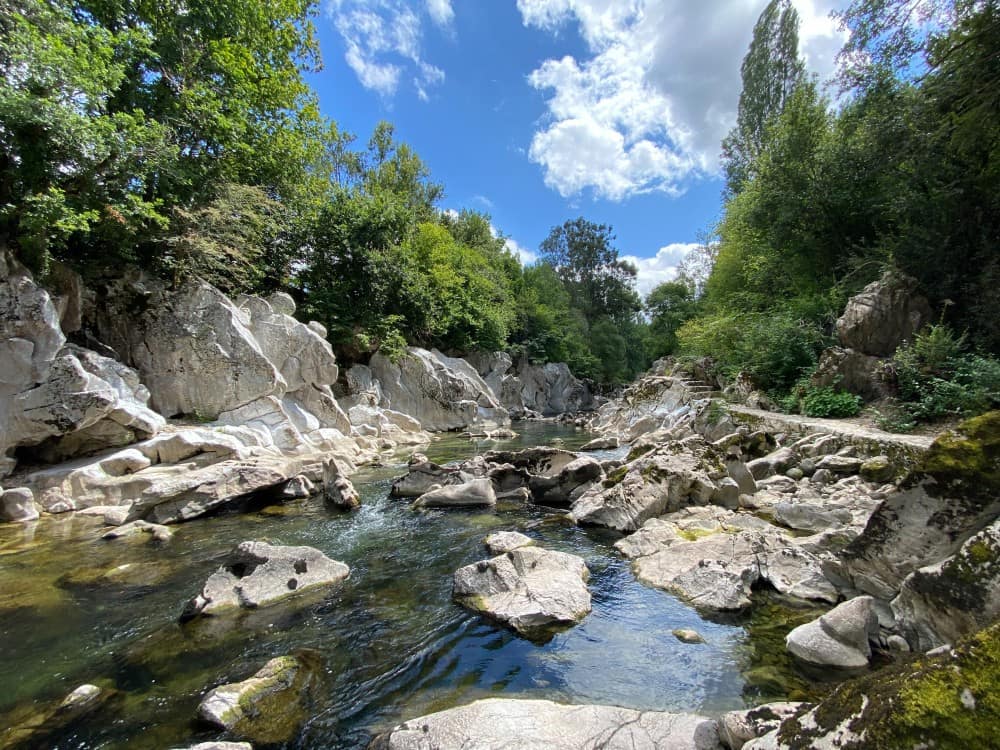 Located in Whitehall, Montana, Renova Hot Springs is under an hour from Butte. It's the main thermal spring in a small tributary of the Jefferson River, a close distance to Yellowstone National Park.
Unlike most of the other hot springs on this list, Renova Hot Springs is a primitive outdoor spring with few facilities—the kind of hot spring that nature lovers will adore.
The water in the pools at the springs tends to vary in temperature depending on the time of year and can be anywhere from 104 to 122 degrees (via Discovering Montana). Always be sure to test the water before climbing straight in, just in case it's too hot.
Renova Hot Springs tends to be the busiest in the summer months. Of course, there's no booking system, so your best bet is to arrive early. This is a clothing-optional hot spring, so be mindful if you are traveling with children or even solo and aren't interested in running into nude strangers!
4. Potosi Hot Springs, Pony (61.9 Miles)
If you are looking for more of a resort-style hot springs experience, visit Potosi Hot Springs, just over six miles outside of the charming small town of Pony. Guests can stay in idyllic creek-side cabins in the midst of a majestic national forest brimming with hiking trails.
After all that hiking, you can soak off in the resort's hot springs, which are reserved for guest use only. There's a pool maintained at around 93 degrees, an indoor tub that's quite a bit hotter at 102 degrees, and a wood-burning sauna where you can truly detox.
Potosi Hot Springs is just under an hour and 20 minutes away from Butte. The tranquil atmosphere provides the perfect opportunity to reconnect with nature and recharge your batteries as you escape the rush of daily life.
5. Norris Hot Springs, Norris (60 Miles)
Norris Hot Springs is widely known as Montana's "geothermal wonder." Located in Norris, under an hour and a half away from Butte, the hot springs is home to a communal pool filled with therapeutic natural water.
Guests don't have to reserve a spot to soak in the communal thermal pool, but they can reserve a private soak ahead of time. The pool, which is drained every night, is maintained at 100 degrees in the summer and 106 degrees in the winter.
Along with the soaking options, Norris Hot Springs offers delicious dishes and drinks at the 50 Mile Café, the 50 Mile Grill, and the No Loose Dogs Salon. They pride themselves on fresh, locally sourced produce that you'll seldom find anywhere else.
Hot Springs Near Butte – Final Thoughts
When you're visiting the quaint city of Butte, you can easily incorporate a little soaking into your trip. Be sure to check out these hot springs and enjoy the medicinal benefits of thermal soaking!