With just under 600,000 residents, Wyoming is the least populated state in the U.S. However, the Equality State's lack of year-round citizens has only enhanced the state's natural appeal and preserved the region's natural attractions and landmarks.
As a result, Wyoming is home to some of the most beautiful landscapes in the country, including the picturesque vistas of several national parks, such as Yellowstone and Grand Teton National Park. Riddled throughout these iconic locations are numerous hiking trails, majestic lakes, and towering mountains that promise plenty of outdoor adventures.
From biking and climbing their way through the state's mountainous terrains to fishing and kayaking along iconic rivers and lakes, Wyoming is a hot spot for nature lovers and adrenaline enthusiasts.
However, the state is also a fantastic destination for relaxation and peace and even features several hot springs throughout its idyllic corners.
From isolated hot springs overlooking breathtaking natural views to luxury resort complexes with thermal spas, this is everything you need to know about hot springs in Wyoming for best enjoying the state's curative mineral waters.
List of Hot Springs in Wyoming
Wyoming Hot Spring Regions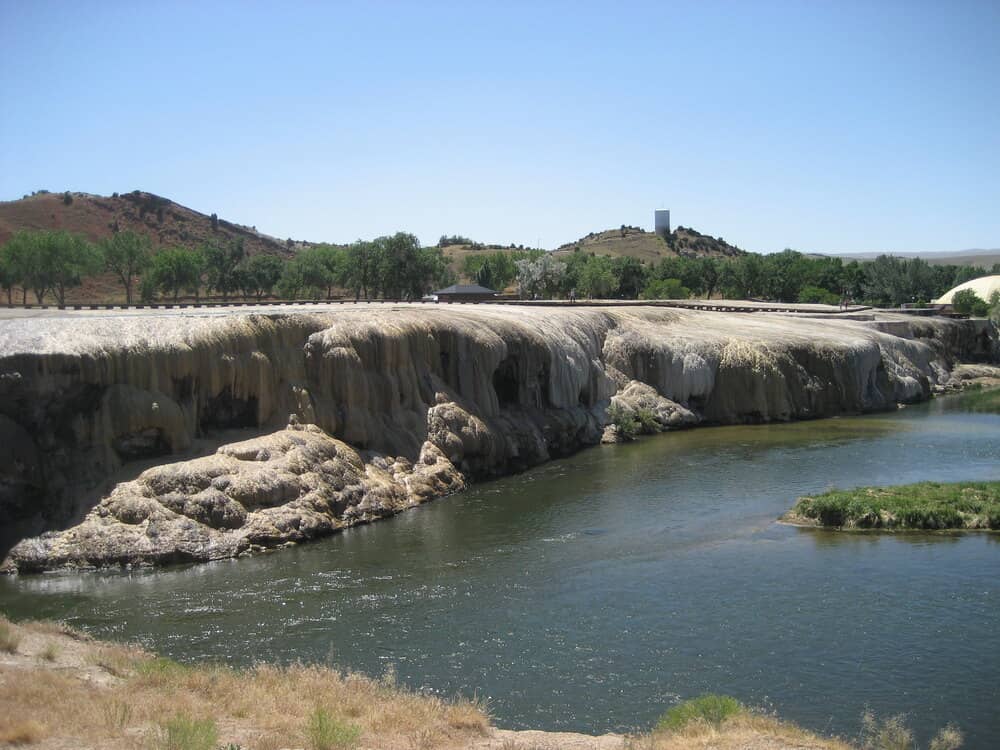 Hot springs tend to form in regions of high geothermal activity. In Wyoming, this activity is most prevalent in the state's northeastern corner. And while this region features the most significant volume of hot springs, a small collection of these natural thermal pools can still be visited in the other areas of the state.
Northeastern Wyoming
Home to the greatest abundance of hot springs in Wyoming, the state's northeastern corner features a diverse selection of primitive springs and community pools.
Spring goers will also enjoy the idyllic natural landscapes of Yellowstone and Bridger Teton National Park during their soak.
Boiling River Hot Springs (Primitive)
Firehole River Swimming Area (Primitive)
Astoria Hot Springs Park (Community)
Granite Hot Springs Pool (Community)
Central Wyoming
Located in the small central Wyoming community of Thermopolis along the shores of Bighorn River is Hot Springs State Park. Named after its eponymous springs, the state park boasts plenty of onsite amenities and soaking opportunities.
Fountain of Youth RV Park (Community)
Thermopolis Hot Springs State Park (Community)
Southern Wyoming
Saratoga is home to the only natural thermal pool in Wyoming's southern region and offers two unique soaking opportunities, including the only hot spring resort in the state.
While the quaint community is a destination in itself, visitors are also conveniently located near Medicine Bow- Routt National Forest to explore before submerging in the mineral waters.
Saratoga Hobo Hot Springs (Community)
Saratoga Hot Springs Resort (Resort)
The Most Popular Hot Springs in Wyoming
Boiling River Hot Springs
Located near Wyoming's northern border with Montana in Yellowstone National Park, the Boiling River is one of the most famous thermal pools in the state.
It is one of only two hot springs in the park where visitors are invited to submerge.
To reach the springs, visitors only need to drive their car to the parking lot near the park's northern entrance before engaging in a 1.25-mile out-and-back hike to the river.
Despite its name, the waters are safe to swim in and feature natural spring water from Mammoth Hot Springs, which mixes with the cold water of Gardner River for a comfortable soak.
While the site is serviced with a basic bathroom, the river is still considered a primitive pool, and visitors should practice caution when swimming.
In addition, the water should only be entered between mid-summer and the fall, as the waters flow at dangerous places throughout other times of the year.
Our Pick
Thermopolis Hot Springs State Park
Famous among local indigenous tribes for their curative waters since prehistoric times, the hot springs in Thermopolis have been a popular tourist attraction for millennia.
Today visitors continue to visit the site's iconic waters while enjoying a myriad of onsite amenities and services for a family fun soaking experience.
The state park offers three unique ways to submerge in the site's healing waters. Hellie's Tepee Pools and Star Plunge both boast indoor and outdoor pools, additional spa services, and even onsite water slides.
Meanwhile, at the Hot Springs State Park Bathhouse, visitors will enjoy a simple complex that features both indoor and outdoor pools.
Saratoga Hot Springs Resort
Open to only overnight guests, spa visitors, and club members, the Saratoga Hot Springs Resort is the most luxurious thermal pool in the state and provides visitors with an all-inclusive stay in the state.
Onsite amenities include luxury lodging, Silver Saddle Restaurant, Snowy Mountain Brewery, and even a golf course.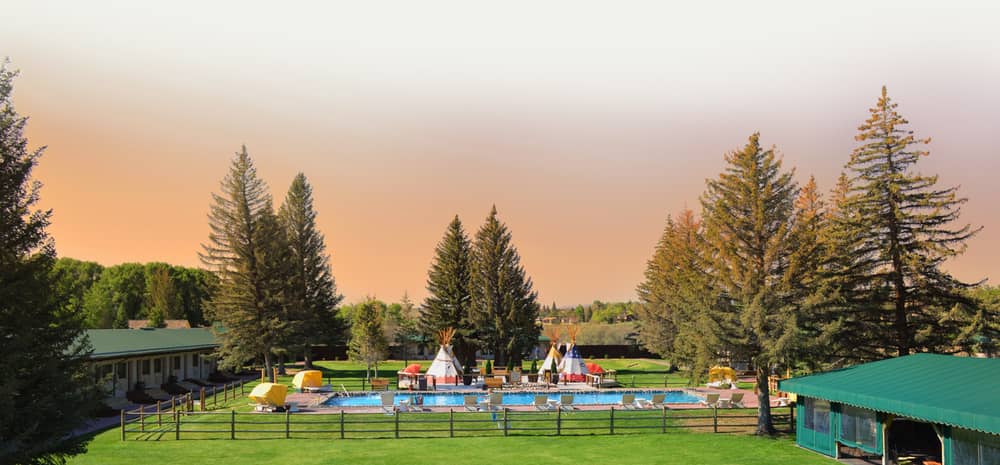 Of course, the resort's most significant draw is the mineral waters of its eponymous hot springs, which can be enjoyed either in their 70-foot swimming pool or in the Tepee Hot Springs. The Tepee pools range in temperatures from 100 to 112 degrees Fahrenheit, while the pool is a more comfortable 98 degrees.
Alternatively, visitors can engage with the healing waters at the resort's onsite spa, which employs the natural resource in numerous treatments, including massages, warm stone treatments, reflexology, and much more.
Types of Hot Springs in Wyoming
Home to eight known hot springs accessible to the public, each of Wyoming's thermal pool offerings features an experience as unique and diverse as its breathtaking landscapes.
Still, the state's natural mineral spring destinations can typically be classified according to the amount and quality of development at each site.
Primitive Hot Springs
Primitive hot springs are the most natural thermal pool experience in Wyoming and feature little to no development and are instead left to exist much as they would have since they were first formed thousands of years ago.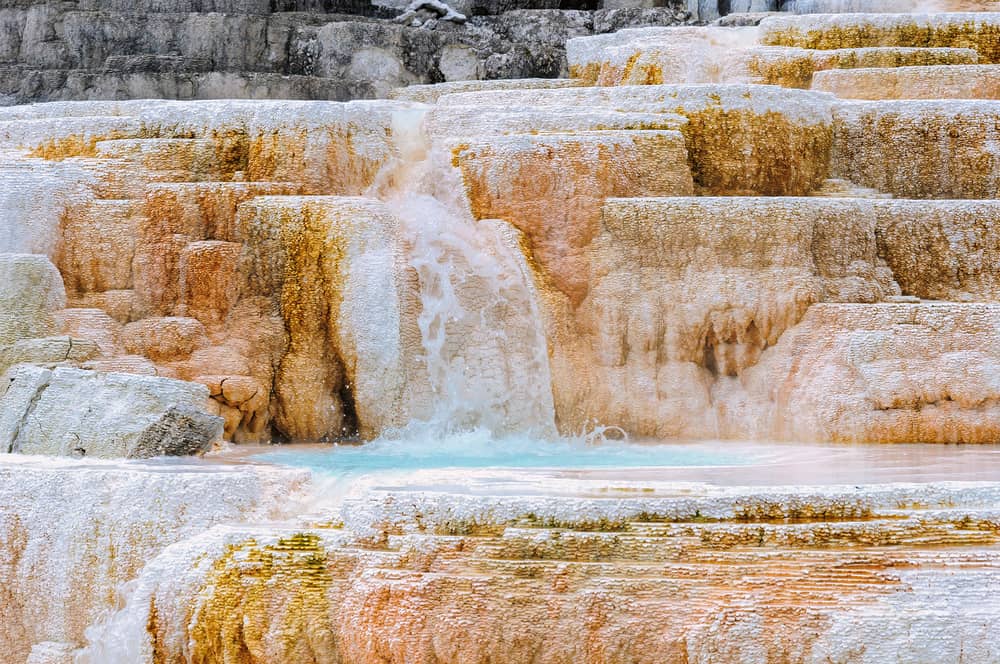 This is often due to the fact that these preserved pools are usually tucked away from modern society and occupy some of the state's most pristine corners.
As such, Wyoming's primitive pools often require long or strenuous hikes to reach. Yet, despite the added difficulty, the extra exertion of accessing these pools makes soaking in the soothing waters all the more rewarding.
However, since these sites are often far from nearby communities, they also often go unregulated, and visitors should practice caution when visiting. Still, those willing to make the journey are rewarded with an isolated soaked encompassed in a serene setting and boasting ample tranquility.
Community Pools and Spas
The most abundant variety of hot springs in Wyoming, community hot spring pools continue to boast pristine settings for enjoying the countryside but are slightly more accessible than primitive pools and feature additional onsite amenities to ensure overall safety and comfort.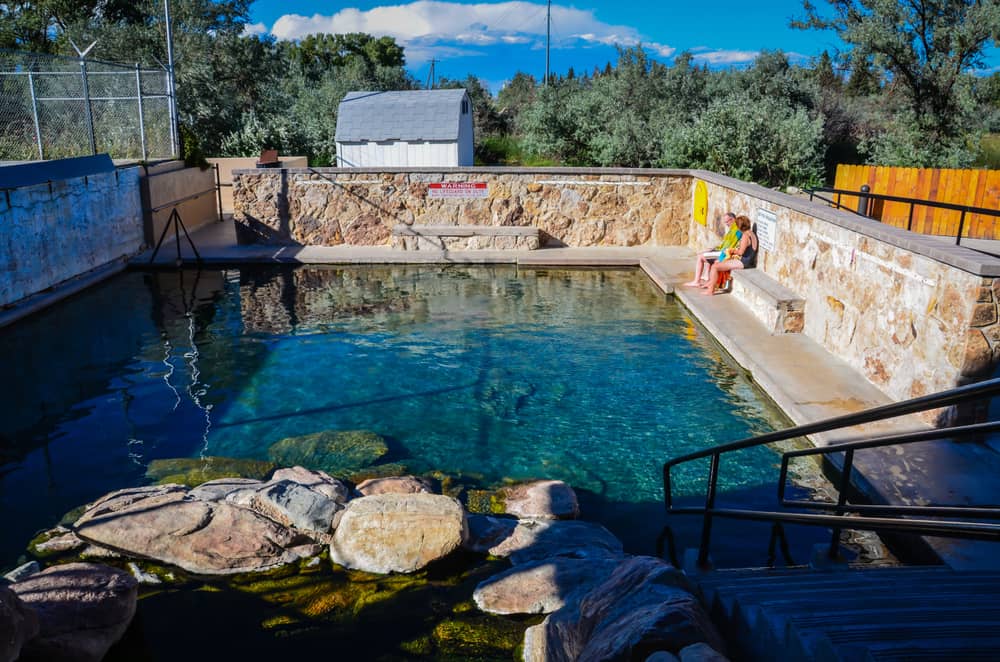 While these small complexes often accompany small service fees, the overall costs of accessing the pools go towards the general maintenance of the facilities. Community hot springs often feature basic onsite amenities such as changing rooms, bathrooms and maintained pools.
However, the community springs in Wyoming often feature additional comforts, including spa services for other treatments incorporating the spring's healing waters.
Hot Spring Resorts
Offering all-inclusive packages for visiting Wyoming and its blissful thermal pool waters, hot spring resorts are the pinnacle of luxury thermal soaks in the state. While only these opulent facilities currently operate in the Equality State, the only hot spring resort remains one of the best ways to submerge in the region's mineral waters.
Wyoming's hot spring resorts are completely developed complexes with their thermal pool as their primary attraction. However, beyond its maintained natural springs, the resort also features plenty of additional onsite amenities that meet visitors' every need throughout their stay in the state.
While the pools are less preserved than some of Wyoming's other thermal pool offerings, hot spring resorts are idyllically designed to accentuate the region's natural scenery and even offer offsite excursions and planned itineraries to explore the more pristine wondrous attractions throughout the countryside.