Picturesque landscapes, world-class ski slopes, and towering red rock formations are closely associated with the idyllic countryside of Utah.
However, among its natural marvels, The Beehive State also boasts some of the most awe-inspiring hot springs featuring beautiful vistas, soothing mineral waters, and a serene ambiance.
From intrepid hiking trails to superb slopes with powdery white snow, Utah offers plenty of adventures for adrenaline junkies and outdoor enthusiasts. Luckily, the state's abundant thermal pools are scattered throughout the region's borders, and one is always nearby to soothe well-worn muscles.
Whether seeking a primitive pool high in the mountains surrounding Salt Lake City or a luxurious full-service hot spring resort in the countryside, this is everything you need to know about hot springs in Utah, from where to find the most beautiful pools to the best ways to enjoy the curative properties of the mineral waters.
Utah Hot Spring Regions
Hot springs are found throughout the entire state. However, Utah's thermal pools can typically be divided into three regions depending on where in the state you are vacationing.
Northern Utah
Home to Salt Lake City and its surrounding mountains, northern Utah is a popular destination among skiers and outdoor enthusiasts and offers many slopes and hiking trails for adrenaline junkies.
Luckily, northern Utah also features a great diversity of hot springs for visitors to unwind after a day of physical exertion.
Fifth Water Hot Springs (Primitive)
Inlet Park Hot Springs (Primitive)
Belmont Hot Springs (Community)
Stinking Springs (Community)
Central Utah
While less popular than Utah's northern destinations, the state's central region boasts plenty of natural attractions, including majestic lakes and the beautiful Manti-La Sal National Forest.
Central Utah is also home to the state's most significant concentration of primitive hot springs to find bliss while enjoying the picturesque vistas.
Baker Hot Springs (Primitive)
Meadow Hot Spring (Primitive)
Red Hill Hot Springs (Primitive)
Mystic Hot Springs (Community)
Southern Utah
Only a singular hot spring operates out of the southern reaches of this state. However, this hot spring is also one of the most opulent resorts in Utah and features plenty of opportunities to explore the breathtaking countryside and the cliffs of Veyo Volcano.
The Most Popular Hot Springs in Utah
Fifth Water Hot Springs
One of the most magnetic primitive hot springs in Utah, the Fifth Water Hot Springs is tucked away near the edges of northern Utah along the Fifth Water Creek.
The only way to access this breathtaking water feature is along a 2.5-mile hiking trail that is relatively easy to traverse. Still, the trek takes about 3 hours but provides a rewarding dip in the healing waters.
Despite their isolated location, Fifth Water Springs is a famous landmark and will often host several groups over the weekends throughout the warm season. The site itself features several soaking springs and three waterfalls. While temperatures vary between the pools, they average around 100 degrees Fahrenheit.
While no accommodation is available in the area, the springs are a popular camping site. Visitors should be aware of local wildlife and practice caution, as rattlesnakes are common in the area.
Mystic Hot Springs
One of the most unique natural spring formations in Utah, Mystic Hot Springs is a privately owned attraction for visitors to experience the scenic wonders of central Utah.
Once popular amongst the Ute Indians that resided in the region, Mystic Hot Springs continues to attract thousands of visitors with its healing waters.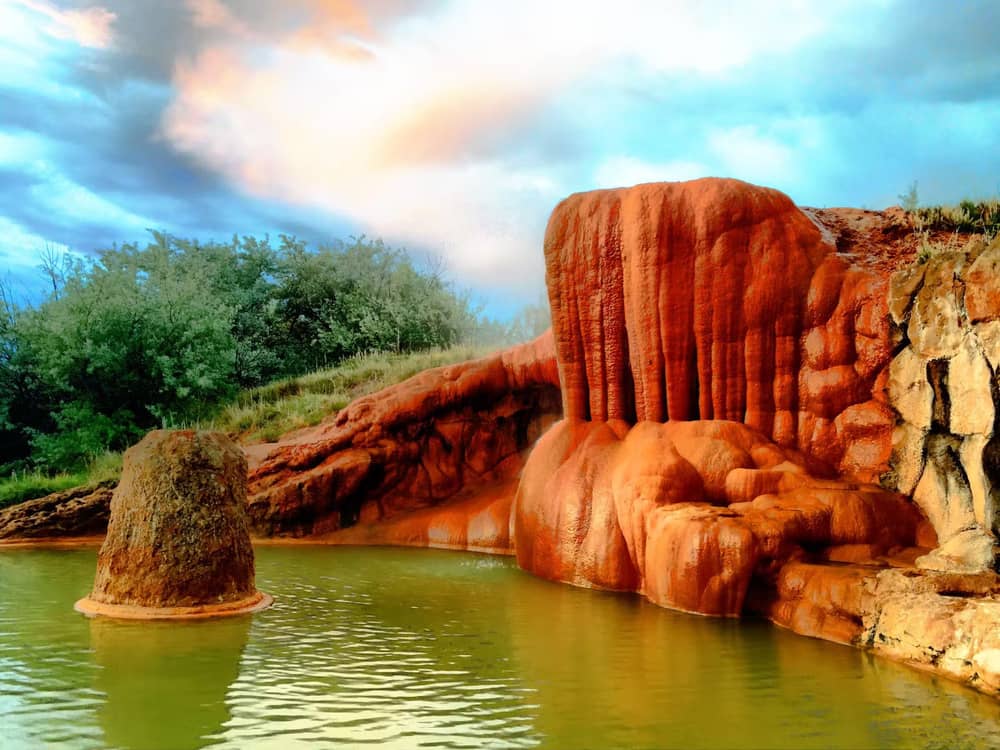 Operating from the outskirts of Monroe, the Mystic Hot Springs feature two thermal pools and five one-person natural baths for guests to soak in.
Water temperatures vary between these springs, averaging between 99 to 100 degrees Fahrenheit. Each spring offers scenic views of the site's pristine setting and provides blissful serenity.
Along with their eponymous springs, the mystic falls also feature six unique and massive fishing ponds and plenty of nearby accommodation options.
Veyo Pool Resort
The sole hot spring open to the public in southern Utah, the Veyo Pool Resort is located in Veyo and provides an all-in-one hot spring experience complete with onsite amenities and a myriad of outdoor activities.
First established in the 1920s, the Veyo Pool Resort has attracted tourists to the southern region of the state for over 95 years. And while the historic hotel has maintained its rustic traditional charms, the resort has been updated to include modern amenities and comforts.
For accommodation, the Veyo Resort features plenty of campsites with varying additions. Also located within the premises are onsite dining and several engaging activities, including crawdad fishing and rock climbing.
Of course, the most significant draw to the Veyo Pool Resort is the site's eponymous hot springs, which are provided to visitors in a large, maintained outdoor pool. From the source, the spring water is 83 degrees Fahrenheit but cooled before filling the pool. As a result, the swimming hole averages temperatures between 75 and 80 degrees.
Types of Hot Springs in Utah
Currently, 11 known hot springs are open to the public, and each of these thermal pools offers an experience that caters to travelers with diverse interests.
In general, the state's hot springs can be classified into three varieties depending on the development quality present in each site.
Primitive Hot Springs
Utah's primitive hot springs are the most natural thermal pools in the state. They feature no development and are left in the same formation as they have existed for thousands of years.
Often tucked away from civilization in the state's more idyllic corners, these pools often require long hikes and offer a soothing respite from the arduous journey to reach them.
As unregulated facilities, primitive pools are budget-friendly mineral pools that are free to access for those willing to make the trek. However, the isolated location also means the pools are unmaintained, and visitors should practice caution before submerging in the waters.
Nevertheless, those willing to journey to these primitive pool sites are rewarded with an isolated soaking experience with enhanced serenity as visitors admire the surrounding pockets of nature free from crowding that can occur at other hot springs.
Rustic Community Pools
Rustic Community Pools are most often found in Utah's smaller townships and offer basic comfort amenities while maintaining their authenticity for a safe and traditional hot spring experience.
These small complexes typically require small admission fees to access, which goes toward the general preservation of the site, including onsite services such as bathrooms, changing rooms, and maintained pools.
Community hot springs combine the idyllic setting of primitive pools with the basic comforts of a hot spring resort to produce a family-friendly and accessible soaking experience that accentuates the overall beauty of The Beehive State.
Hot Spring Resorts
Offering luxury soaking options and a myriad of additional amenities and services, Utah's hot spring resorts are the ideal thermal pool for visitors seeking an all-in-one facility and an all-inclusive vacation.
Perfect for families or spring goers seeking a controlled environment, hot spring resorts are completely developed and provide springs free of any stress.
While specific services differ between resorts, most of these opulent complexes feature such amenities as onsite dining restaurants, extensive spa services, and luxury accommodation options. Additionally, many of these resorts also offer concierge services and planned excursions into the countryside for visitors seeking a full exploration of the state.