Honduras is a country located in Central America and is known for its natural beauty and diverse landscape. Among the most popular attractions in Honduras are the hot springs.
These natural hot springs are found throughout the country and are believed to have therapeutic properties. They're a great way to relax and rejuvenate in a beautiful natural setting. Visitors can soak in the warm water and enjoy the benefits that come along with these beautiful places and waters.
Termas del Rio hot springs are the most popular destination in Honduras, but many other hot springs are worth visiting as well. Whether you are looking for a peaceful and relaxing getaway or an active, adventurous vacation, visiting the hot springs in Honduras is an unforgettable experience.
Types of Hot Springs in Honduras
Geothermal Hot Springs
These hot springs are fed by underground water reservoirs and are often found in volcanic or geologically active areas. The water in geothermal hot springs can be very hot and is often rich in minerals like sulfur and silica.
Thermal Baths
These are man-made pools that are filled with water from natural hot springs. The water in thermal baths is usually cooler than in geothermal hot springs and may have different mineral compositions. Thermal baths are often used for therapeutic purposes and may include amenities like massage rooms and saunas.
Sulfur Hot Springs
These hot springs are characterized by the presence of sulfur, which gives the water a distinct yellow or orange color and a strong, pungent odor. The water in sulfur hot springs is usually warm to hot and may have other minerals present as well. Sulfur hot springs are believed to have medicinal purposes and are sometimes used for treating skin conditions.
Thermal Baths in Honduras
Thermal baths are a popular tourist destination in Honduras. Some of the notable thermal baths in Honduras include:
Aguas Termales De Azacualpa
Ojo De Agua
Aguas Termales Presidente
Luna Jaguar
Termas del Rio
Aguas Termales De Azacualpa
Aguas Termales De Azacualpa is a natural hot spring located in Zacapa, Santa Barbara, Honduras. The hot springs are visited all year round for their healing properties, and they've been a popular tourist destination for a long time.
The hot springs are the perfect place for people to go on a wellness getaway. They contain different minerals, such as magnesium, sulfur, and calcium, which have therapeutic properties and may help with a lot of health conditions.
Furthermore, the destination of the hot springs is perfect for nature lovers as it's surrounded by lush greenery offering an escape from daily life in the region.
Aguas Termales provides visitors with many activities to fulfill their time, such as soaking in the warm water, picnicking, and hiking.
The hot springs are open throughout the whole year, and they offer affordable entrance prices. The local community operates and manages them, making them a sustainable tourism destination.
Additional Info
Ojo De Agua
Ojo de Agua hot springs, also known as "Eye of Water," are a set of natural hot springs located in the town of La Entrada in western Honduras. The springs are known for their clear, blue water and are a popular spot for swimming and relaxing.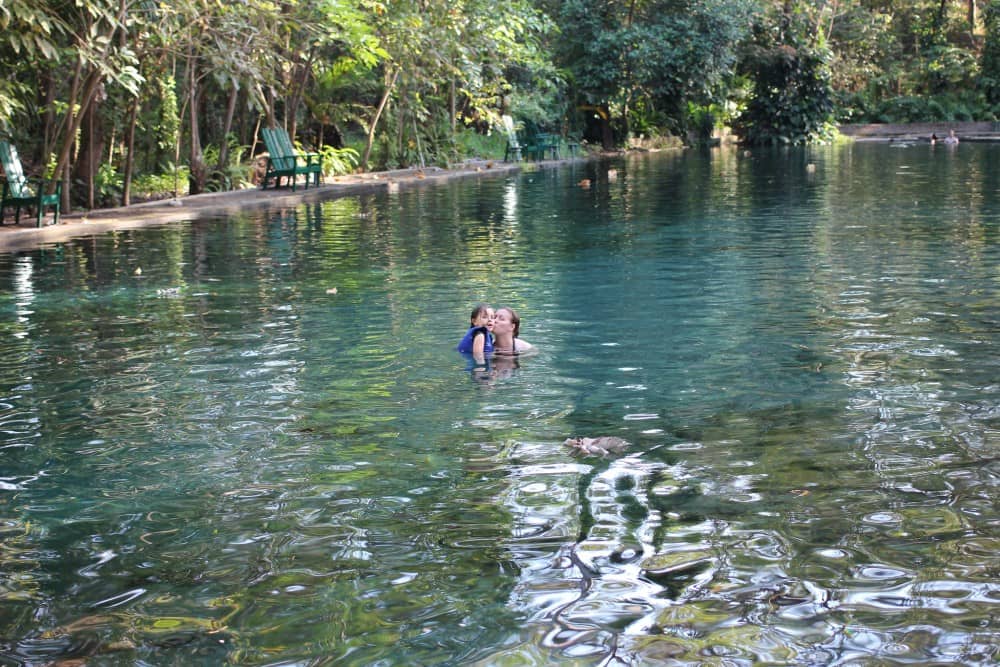 The hot springs are surrounded by lush vegetation and are a great place to enjoy nature and relax. There are several pools of different sizes and temperatures to accommodate visitors of all ages. The water is also safe to drink and is believed to have medicinal properties, making it an ideal place for visitors looking for a relaxing and therapeutic experience.
The hot springs are open to the public and are a popular destination for locals and tourists. Visitors can spend the day swimming and taking a dip in the hot springs' healing water, and enjoying the beautiful surroundings. There are also facilities for changing and showering, as well as picnic areas and food vendors.
The combination of rich minerals and clear blue water, the abundant nature enveloping this destination, and the comfortable environment make Ojo de Agua a great place for both locals and tourists.
Additional Info
Aguas Termales Presidente
Aguas Termales Presidente is a popular hot spring resort located in Santa Barbara, Honduras, and it is situated in a peaceful natural environment with rolling hills around the area.
It has been a must-visit destination for many tourists, as it has all the amenities needed for visitors to enjoy their rejuvenating time. From changing rooms, restrooms, and showers, to renting out umbrellas and lounge chairs, you will find everything you need for the best refreshing getaway.
If you ever visit Aguas Termales Presidente, you can take a dip in the warm water, go for a hike in the green forest surrounding the place, or simply just sit back and relax. The resort has several pools that are all separated, yet each one is connected by little stone bridges and a walking area.
With the warm water hot springs full of rich minerals, scenic surroundings, and all of the basic amenities, this resort is a must-visit destination in Santa Barbara, Honduras.
There are also several nearby attractions to these hot springs that are worth visiting. One of them is the Parque Nacional Azacualpa, which is a protected area that offers scenic views and hiking opportunities.
Additional Info
Our Pick
Luna Jaguar
Luna Jaguar hot springs are a set of natural hot springs located in the Copán Ruinas area in Honduras. It's a popular tourist destination known for its natural beauty and therapeutic benefits.
The hot springs are fed by a natural underground water source that is heated by the Earth's geothermal activity.
The water is mainly rich in sulfur, and its temperature ranges from warm to hot. The sulfur content in the water is responsible for the hot springs' specific blue color and gives the water a distinct smell.
In addition to the hot springs, visitors can also explore the nearby Copán Ruinas, which is an ancient Mayan city and a UNESCO World Heritage site. The site offers a variety of activities for people to enjoy, making their visits to the hot springs even more interesting.
Additional Info
Location: Luna Jaguar Spa
Region: Copán Ruinas area
Water Temperature: 100-194°F
Termas Del Rio
Termas del Rio is a small town located in the Olancho province of Honduras. The town is known for its natural hot springs, which tourists often visit. The springs are believed to have therapeutic properties and are said to be beneficial for various health conditions such as arthritis, rheumatism, and skin diseases.
These hot springs are located in a beautiful setting, surrounded by mountains and greenery. Visitors can relax in the warm water while enjoying the picturesque view.
These hot springs at Termas del Rio are believed to be naturally occurring and not the result of any man-made intervention. The water is heated by geothermal energy from the Earth's crust. Their water is rich in sulfur, which is known for its anti-inflammatory and antibacterial properties.
Termas del Rio is believed to have been used by indigenous people for centuries before the arrival of Europeans. They believed that the hot springs had healing powers and would often make trips to the springs for medicinal purposes.
Additional Info
Location: Termas del Río
Region: Olancho Province
Water Temperature: 104°F
Final Thoughts
Visiting the hot springs in Honduras is definitely worth it for anyone looking for a unique and rejuvenating vacation experience. The natural hot springs offer not only relaxation and therapeutic benefits but also the opportunity to immerse oneself in the stunning natural beauty of Honduras.
The hot springs are located in various regions, from lush green mountains to tropical forests, and offer a diverse range of activities for all visitors.
The hot springs in Honduras offer something for everyone, whether you're looking for a more peaceful getaway or an active vacation. Thus, if you're planning a trip to Honduras, be sure to include a visit to one of the country's hot springs in your itinerary.