Known for its diverse landscapes, which vary from flat coastal beaches and farmlands to towering mountain ranges and verdant forests, Georgia is a state that promises adventure and daring explorations of its outdoor destinations.
Throughout its idyllic countryside, visitors explore hidden away attractions such as majestic waterfalls, quietly preserved state parks, and tranquil ponds and mountain streams. Despite this, many visitors to The Peach State don't know that Georgia is also home to some of the country's most beautiful collections of natural springs, including a small selection of natural hot springs.
Tucked away in some of Georgia's pristine corners and authentic old-town communities, these hot spring attractions promise revitalization and relaxation. Naturally heated and high in mineral content, Georgia hot springs offer quiet tranquility as the water soothes aching bodies worn from the state's more daring activities.
Home to historically celebrated springs and lesser-known pools, Georgie's thermal baths offer a variety of soaking experiences suitable for different kinds of travelers. From rustic thermal pools to centuries-old preserved natural baths, this is everything you need to know about hot springs in Georgia.
Georgia Hot Spring Regions
Most of Georgia's hot springs are found towards the center of the state between Macon and Columbus. Still, few other warm springs can be found in other regions of the state, including near Albany in southern Georgia and Dalton in the north.
Northern Georgia
Despite being the center of Georgia's only volcanic mountain range, northern Georgia is home to only a single hot spring, Taylor Springs. Still, Georgia's northern region is one of the best areas for enjoying its singular thermal bath while admiring the breathtaking views of the surrounding mountains.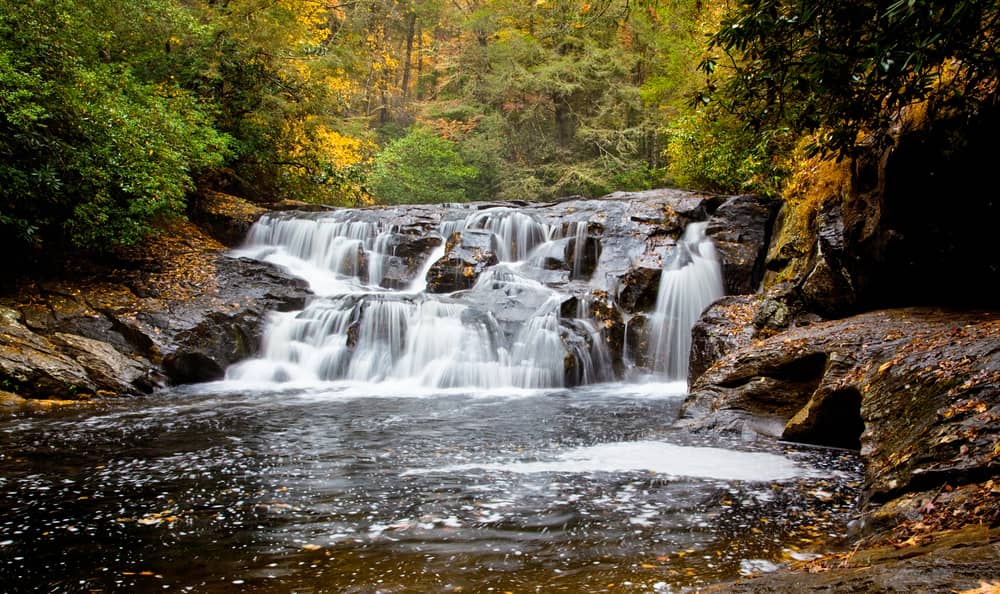 Taylor Springs (Primitive)
Central Georgia
Central Georgia features the state's greatest concentration of natural springs and provides an enticing diversity of primitive, community, and cool water springs for visitors to sample. In addition, the region is home to some of the best mineral waters in the state and is a must-visit when exploring Georgia's thermal pool selection.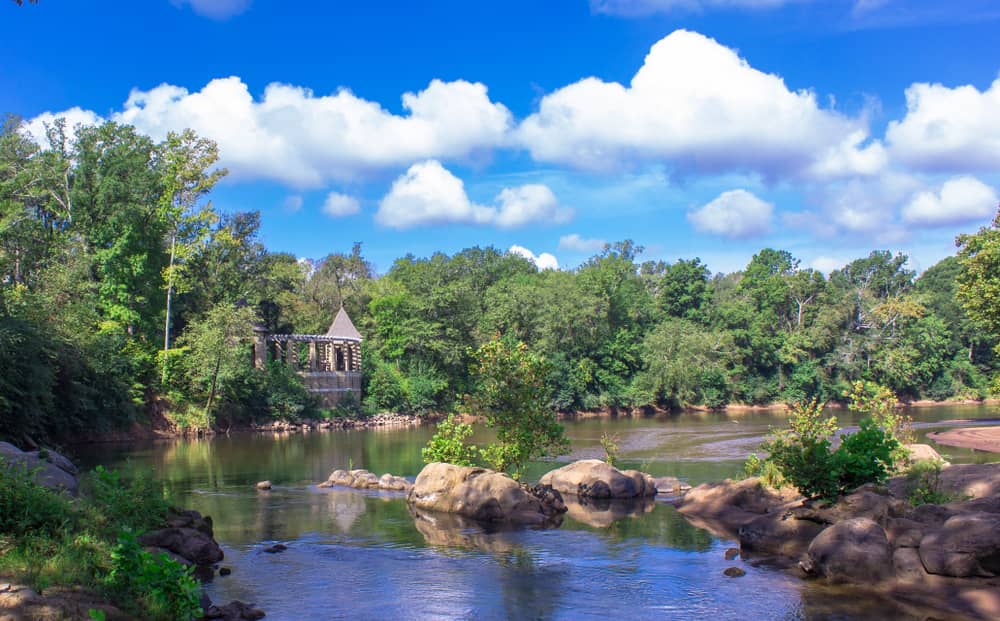 Lifsey Springs (Primitive)
Parkman Spring (Primitive)
Tom Brown Spring (Primitive)
Warm Springs (Community)
Barker Spring (Community)
Southern Georgia
While the region is limited in its natural warm water spring selection, southern Georgia is again home to some of the best hot springs in the state. Focused around the southern city of Albany, this region is home to only two hot springs, and both are worth visiting this tucked-away corner.
Thundering Spring (Primitive)
Radium Springs (Community)
The Most Popular Hot Springs in Georgia
Warm Springs
Located in the F.D. Roosevelt State Park just south of Atlanta, Warm Springs is the most famous and popular of Georgia's hot spring destinations.
Renowned for its naturally warm, mineral-rich waters, Warm Springs first garnered national fame when visited by New York Governor Franklin D Roosevelt eight years before he became the U.S. President.
Having been diagnosed with polio in 1921, F.D. Roosevelt suffered severe pain in his legs and was even paralyzed in his right leg.
However, when visiting Georgia three years after his diagnosis, the would-be president took a dip in the locally known Warm Springs. The now-celebrated mineral-rich waters soothed F.D. Roosevelt's ailments. His pains were gone, and even his right leg was moving.
As the only treatment that helped soothe his pains, the future president decided to establish a home in the area and began promoting the therapeutic waters of the site and other similar springs.
In the near century that has passed since Roosevelt's first visit, Georgia's Warm Springs has attracted millions of visitors enticed by the water's healing properties and historical prevalence.
Along with the primary spring attraction, the state park also boasts several activities and landmarks, including the Pine Mountain Trail and Roosevelt's Little White House State Historic Site.
These wondrous springs feature mineral-rich waters with comfortable temperatures of 88 degrees Fahrenheit.
Radium Springs
Along with Warm Springs, Albany's Radium Springs are officially considered one of the Seven Natural Wonders of Georgia. And when visiting this beautiful preservation in the state's southern region, it is easy to understand why.
First engaged by European settlers during the 19th century, and the local indigenous tribes for thousands of years prior, the site is the largest natural spring in the state and pumps 70,000 gallons of clear 68-degree water each minute from an underground cavern.
Originally called Blue Spring for the vibrant color produced by its deep waters, Radium Springs was once believed to have similar healing properties as Warm Springs. However, when traces of radium were detected in the water in 1925, the springs were renamed, and the site's healing properties were disproved.
But this didn't stop the site's development and instead triggered the establishment of a resort that was completed two years later. This new complex included a hotel, casino, golf courses, and bathhouses, the ruins of which can still be visited today in the protected Radium Springs Gardens.
While the waters are unswimmable today, the springs remain a popular tourist attraction and offer an observation point from which to view the springs.
Our Pick
Lifsey Spring
One of the state's most enticing primitive hot spring offerings, the Lifsey Springs is about 4 miles south of Zebulon and features warm, unmaintained pools with temperatures averaging 78.5 degrees.
While the springs are featured in the site's natural soils, regions of the springs are enclosed by concrete pools to reaffirm the site's safety and to create swimming holes.
Despite this, the rustic spring remains in a primitive state and features no attendants or onsite amenities. Access to the springs is free.
Types of Hot Springs in Georgia
Despite being home to the Pigeon Mountain Volcanic Range, which features plenty of geothermal activity beneath the earth's surface, no actual natural pools in Georgia experience water temperatures high enough to be considered hot springs. Instead, the state is filled with several fantastic warm springs, which can be categorized into two varieties.
Primitive Pools
Georgia's primitive pools are the best way for visitors to experience the state's hot springs in their most natural setting. These tucked-away water reserves are unmaintained by any formal body and are in the same conditions they have been in throughout their thousands of years of existence.
Often requiring moderate to strenuous hikes to access, these rustic thermal ponds are the most rewarding hot springs in Georgia to dip into and serve to soothe the body after the arduous trek to reach them. Additionally, these unregulated sites are entirely free to enter, making them the best way to submerge in the state's hot springs while maintaining a budget.
Isolated in the more preserved corners of Georgia, primitive pools typically occupy some of the state's most picturesque natural sceneries. They often boast warm, comfortable water temperatures between 65 and 80 degrees Fahrenheit.
Overall, Georgia's primitive pools offer the most tranquil thermal soaking experience for visitors willing to brave the journey to reach them.
Community Warm Springs
Alternatively, Georgia also boasts community warm springs facilities which offer visitors a safe and more accessible hot spring experience in maintained pools. Often located in the state's smaller communities, these hot springs are a great way to enjoy the natural healing properties of the waters while embracing the small-town charms of Georgia's mountain municipalities.
Along with featuring maintained pools, these regulated sites often include additional onsite amenities and services. The most common features include the base comforts of an onsite changing room and bathroom, but further luxurious additions of specific sites also include extensive spa services and dining centers.
Community springs are the most common of Georgia's hot springs experiences and are ideal for visitors seeking a safe submersion into the state's warm healing waters. The maintained thermal baths and additional onsite comforts enhance the hot spring experience and provide one of the most relaxed soaking experiences.
Cool Water Springs
While Georgia's hot springs are limited to about eight warm water primitive or maintained sites, dozens of excellent additional watering holes are scattered throughout the state. Unfortunately, since these sites feature water temperatures below 65 degrees Fahrenheit, these natural pools are only considered cool water springs.
Still, while they may lack the comfortable temperatures of a warm or hot pool, these cool springs feature reserves from a natural source and are even just as high in mineral concentrations as the geothermally heated springs. As such, they retain the same soothing properties of the region's hot springs and are fantastic alternatives for visitors seeking a colder dip.
Georgia's most famous natural cool water springs are Indian Springs State Park, the High Shoal Falls, and the Edge of the World Amicalola Falls.