Last Updated: February 23, 2023
The gateway to the Pacific Northwest, Idaho is home to an abundance of geothermal activity underneath its mountainous landscapes. 
As a result, the Gem State boasts one of America's most extensive collections of hot springs. It is a must-visit destination for dipping into the region's thermal pools while enjoying some of the most picturesque corners and environments.
Idaho owes its plethora of hot springs to an ancient meteorite collision nearly 17 million years ago. The ancient space rock collided with the Earth's surface with such a velocity that it cut its way through the planet's crust and lodged itself beneath the tectonic plates.
Occupying a stationary layer of the Earth, the meteorite was left suspended for millions of years while the planet's surface shifted above it. Periodically throughout time, the collision site of the meteorite experiences volcanic eruptions, extending the region's volcanic fields across Idaho and surrounding states.
Today, this ancient meteorite collision and resulting volcanic eruptions are considered the primary source responsible for several of the region's volcanoes and geothermal activities, which serve to heat Idaho's many hot springs.
In total, Idaho is home to 340 of these naturally heated pools. However, only about 58 of these thermal sites are accessible to the general public. From tucked-away primitive pools to lavish resorts, this is everything you need to know about hot springs in Idaho.
List of Hot Springs in Idaho
While hot springs can be found throughout the state, they tend to concentrate in regions with high geothermal activity, which can be classified as three distinct regions in Idaho.
Central Idaho boasts the state's greatest concentration of hot springs and features plenty of primitive, community, and resort pools for a diverse exploration of the region's thermal facilities. 
This region's hot springs are scattered throughout the Boise National Forest and the Salmon-Challis National Forest and offer pristine settings for a soak.
Basin Creek (Primitive)
Bear Valley Hot Springs (Primitive)
Bonneville Hot Springs (Primitive)
Chattanooga Hot Springs (Primitive)
Cove Creek Hot Springs (Primitive)
Frenchman's Ben Hot Springs (Primitive)
Goldbug Hot Springs (Primitive)
Kirkham Hot Springs (Primitive)
Loftus Hot Spring (Primitive)
Loon Creek Hot Springs (Primitive)
Pine Burl Hot Springs (Primitive)
Pine Flat Hot Springs (Primitive)
Rocky Canyon Hot Springs (Primitive)
Sacajawea Hot Springs (Primitive)
Samuel's Hot Springs (Primitive)
Sunbeam Hot Springs (Primitive)
Sunflower Hot Springs (Primitive)
Vulcan Hot Springs (Primitive)
Baumgartner Hot Springs (Community)
Boat Box Hot Spring (Community)
Challis Hot Springs (Community)
Easley Hot Springs (Community)
Granite Creek Hot Springs (Community)
Haven Hot Springs (Community)
Roystone Hot Springs (Community)
Starkey Hot Springs (Community)
Trinity Hot Springs (Community)
Zims Hot Springs (Community)
Most of the hot springs south of Boise are within the state's southeastern corner, including around the must-visit Craters of the Moon National Monument and Preserve. The springs found in this region are primarily maintained pools, with several community and resort springs scattered throughout the state's southern reaches.
Wild Rose Hot Springs (Primitive)
Banbury Hot Springs (Community)
Durfee Hot Springs (Community)
Givens Hot Springs (Community)
Miracle Hot Springs (Community)
Nat Soo Pah Hot Springs (Community)
While hot springs are not as abundant in Idaho's northern regions, a small selection of thermal pools can still be visited in the Nez Percé-Clearwater National Forest. 
While home to only five hot springs, northern Idaho features a selection of primitive, community, and resort springs for a diverse sampling of the region's natural watering holes.
Jerry Johnson Hot Springs (Primitive)
Weir Creek Hot Springs (Primitive)
Stanley Hot Springs (Community)
The
Most Popular Hot Springs

in Idaho
The most famous hot springs in Idaho, the Kirkham Springs are a primitive pool located in the Boise National Forest about two hours northeast of Boise. 
Situated just off the highway, the springs are easy to access compared to other primitive pools and provide for one of the most pristine soaks surrounded by rugged mountains and verdant forests.
While the destination is known for its scenic beauty, the springs also provide a family-friendly bath in the naturally heated waters accessible both throughout the summer and in the winter. 
Several hot springs are found throughout the area while the cold-water Payette River weaves its way nearby, providing a cool respite from the warm waters.
Along with swimming within its thermal baths, the Kirkham Hot Springs is a popular destination for cliff jumping and rafting and provides many outdoor adventures for adults and children alike.
Located along the Middle Fork Payette River in the Boise National Forest, the rocky Canyon Hot Springs is one of the most beautiful collections of primitive pools in Idaho and offers a series of springs surrounded by giant pine trees blocked off by large boulders.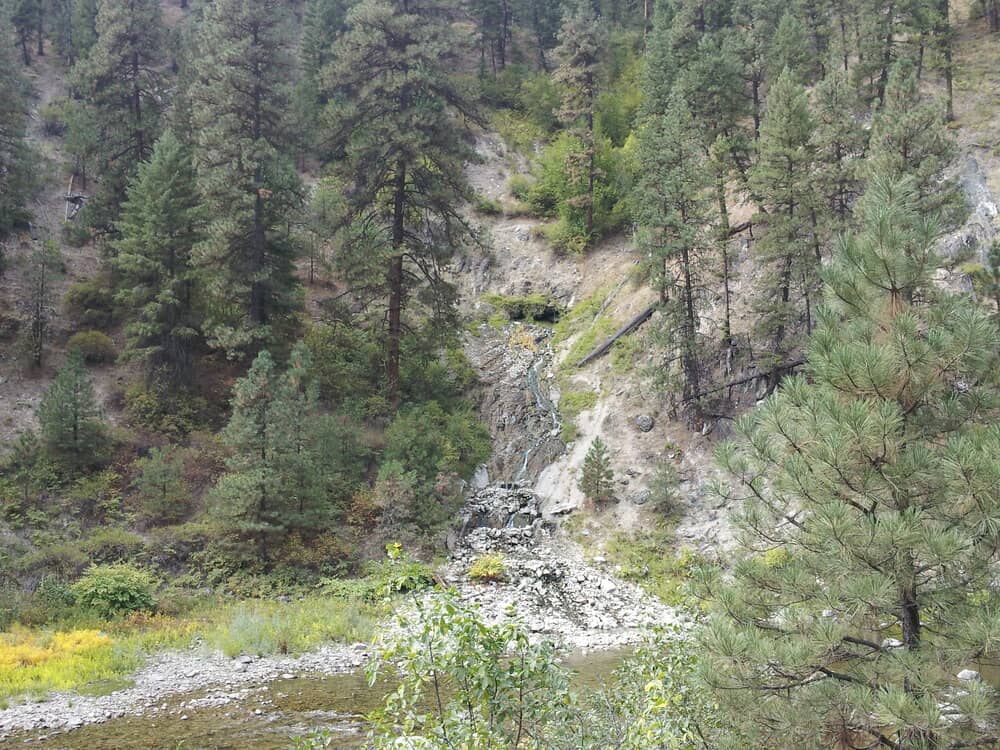 While once a famous hot spring destination, city officials chiseled out the Rocky Canyon Hot Springs with jackhammers to deter visitors from swimming in the pools. Despite this, locals have rebuilt several of the pools, and the springs are again attracting guests to submerge in their naturally warm waters.
The Rocky Canyon Hot Springs is a popular destination boasting waters that can reach up to 100 degrees Fahrenheit while providing plenty of natural scenery that includes local species of plants and wildlife.
One of the most popular resort hot springs in Idaho, the Bear River Hot Springs provide guests with four thermal pool options and a wide selection of additional services and amenities, including onsite lodging, picnic areas, and event centers.
Along with their natural springs, the complex features onsite Olympic-sized pools, a kid's pool, and hot tubs that reach 105 degrees Fahrenheit. The Bear River Hot Springs also includes onsite water slides that reach up to 60 feet high for family fun.
Types of Hot Springs

in Idaho
While each of the state's many thermal pools offers a unique experience to visitors, all of Idaho's hot springs can typically be classified according to one of three varieties. 
Primitive hot springs are the most natural variety of thermal pools in Idaho and often occupy some of the state's most idyllic corners. However, due to their tucked-away nature, primitive hot springs are also some of the most challenging thermal pools to access and often require long or arduous hikes to reach.
Unmaintained by any formal body, Idaho's primitive hot springs are free for visitors to submerge in, although certain degrees of caution should be taken. Still, these natural destinations provide one of the most rewarding hot spring experiences and offer a soothing oasis for weary bones.
Additionally, since these hot spots occupy some of the state's most untouched corners, primitive hot springs provide one of the most picturesque soaks and often feature some of the most breathtaking landscapes engulfed with natural scenery.
Offering visitors a more regulated hot spring experience and a safe, family-friendly soak, community hot springs are small facilities that feature thermal pools and additional services. Maintained by community groups or private owners, these complexes are readily available for public access.
These rustic complexes are often found in the cities and small communities of Idaho and usually accompany a small admission fee that goes towards maintaining the thermal site. Other onsite services, such as spa facilities, nearby campgrounds, and hiking trails, are also commonly offered at select community springs.
Community hot springs are the ideal option for visitors seeking a simple soaking experience in a traditional community complex while taking advantage of the destination's safety and comfort amenities.
Idaho's hot spring resorts are the perfect thermal pool option for visitors seeking to submerge in the state's natural waters while enjoying the premium services and amenities of a full-service hotel.
These luxurious pool options typically feature high admission fees and include additional services such as spa facilities, dining options, onsite accommodations, and plenty of excursion opportunities.
An all-in-one stay option, hot spring resorts provide for an in-depth exploration of the state while offering a calming soak in their own onsite maintained pools. It is the ideal spring variety for local and out-of-state visitors seeking a complete package for their stay in the state.
Love to Visit Hot Springs?
Join our community of geothermal enthusiasts!
Receive a monthly roundup of the latest news & travel tips direct to your inbox.