Known as the Mountain State, West Virginia is home to one of the most picturesque landscapes in the United States and is dominated by the Appalachian Mountains.
Along with its majestic peaks, West Virginia allures outdoor enthusiasts thanks to its abundant hiking trails weaving through its diverse forests, rivers, and mountain valleys.
Along with its intrepid adventures, West Virginia is also a destination for finding serenity and peace. It even features a small collection of tranquil hot springs to submerge in natural mineral waters. Boasting curative properties, these thermal pools offer a quiet respite from the state's otherwise exertive activities and attractions.
While hot springs are much more common in western states, small collections of thermal pools can still be visited throughout United States' central and eastern destinations. In West Virginia, only a small group of these natural thermal pools exist and are primarily concentrated in the state's northeastern corner.
Whether planning a day trip to unwind after engaging one of the state's many hiking trails or seeking an extended retreat of relaxation and calming bliss, this is everything you need to know about hot springs in West Virginia, including where to find them and the best methods for submerging in state's healing mineral waters.
History of Hot Springs in West Virginia
West Virginia's primary hot spring destination is located in the northeastern community of Berkeley Springs, which was established in the area thanks to the eponymous thermal pools.
Visited by indigenous peoples long before European settlers discovered the site, Berkley Springs has been a famous center for rejuvenation for millennia.
However, the springs were first uncovered by colonialists in 1742 and were noted on a map drawn by the father of Thomas Jefferson in 1747. A year later, the site was visited by the Father of America, George Washington, when the 16-year-old future president was surveying the region.
Washington later again visited the region in 1776 with his family and friends, who together established the first community in the area, at the time known as Bath. The town quickly grew and is considered the country's first spa.
While the name of the town has since changed, Berkley Springs continues to attract visitors thanks to its healing waters and is even home to the only spa in the United States that is operated by the American government.
Types of Hot Springs in West Virginia
Despite its limited hot spring selection, visitors to West Virginia have various methods in which to submerge in the state's soothing mineral waters.
Hot Springs Bathhouse
The most widely available opportunity to soak in mineral waters in West Virginia, hot spring bathhouses, are artificial facilities that extract the thermal waters directly from the hot spring aquifer to create artificial baths in a controlled environment.
These bathhouse complexes often accompany additional amenities, including private soaking rooms, onsite dining facilities, and extensive spa services.
Natural Outdoor Hot Springs
Many visitors to the Mountain State prefer to soak in a natural thermal pool with outdoor settings that feature an authentic ambiance and a traditional feel.
While these outdoor pools were once abundant in the state, many of the historical spring waters have been deemed unsafe to swim in recent years, and only a small selection permit visitors to submerge in their waters.
West Virginia Hot Springs
Berkeley Springs State Park
Established as a state park in 1970, Berkley Springs is a historical site visited by George Washington and is also home to the legendary first spa of the United States established by the first president.
The site's mineral waters at nearly 1,000 gallons per minute from nearby springs and features constant water temperatures of 74.3 degrees Fahrenheit throughout the year.
The springs have attracted thousands of visitors for almost three centuries thanks to their high mineral waters known for their curative properties used to treat digestive disorders, skin issues, and other ailments.
Along with the eponymous springs offered onsite, the resort features an array of additional services and amenities, including various onsite accommodation options and lodging, extensive dining facilities, a full-service spa and wellness center, and plenty of excursions and activities such as golfing, hiking, and horseback riding.
Within the state park's extensive spa, visitors receive various treatments, including therapeutic, prenatal, hot stone, watsu, and couples massages.
Visitors more inclined towards the history of the monumental destination will want to stop by the Museum of the Berkeley Hot Springs for an in-depth exploration of its storied past.
The Berkeley Springs State Park features a variety of soaking experiences, including luxury bathhouses and outdoor pools.
Capon Springs and Farms
Located 47 miles south of Berkeley Springs, Capon Springs is another historical hot spring resort that provides visitors access to the hot spring aquifer through a fully-serviced onsite bathhouse.
Surrounded by 4,700 acres of lush natural scenery, the family-owned and operated complex is less than a two-hour drive from DC and situated visitors in a convenient setting for exploring the landscape's natural wonders.
Along with its soothing mineral baths, which are warmed to comfortable temperatures, the Capon Springs features a full-service spa. Visitors can book a series of treatments, including Thai massages, facial massages, and water therapy services.
Beyond their spa services, the Capon Springs and Farms resort features plenty of additional onsite services and amenities, including various food and dining options, quaint rooms for extended stays, and a plethora of activities for finding bliss in the pristine countryside.
The Greenbrier
The only West Virginia hot spring not found in the northeastern corner of the state, The Greenbrier is a luxury resort that operates out of the small community of White Sulphur Springs near Greenbrier State Forest.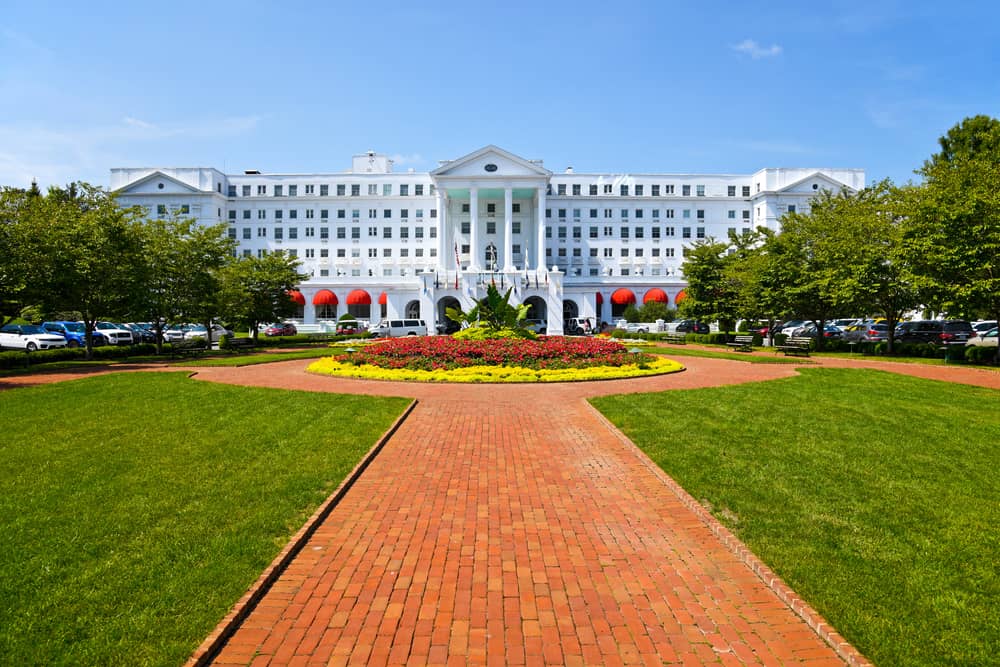 This five-star hotel option features plenty of luxury amenities, including opulent hotel rooms, fine dining opportunities, and a wide array of activities that accentuate the region's pristine natural environment.
Among their services, The Greenbrier Resort offers an extensive spa service that includes natural mineral spas and hydrotherapy that engages the curative mineral waters.
Historical Hot Springs
While today's natural mineral springs in West Virginia are limited to only a few locations, the state was once home to a wider variety of thermal pools.
While these additional sites have since been closed for submersion due to unsafe conditions, they remain open for visitors to explore and even bottled for consumption.
Lost River State Park
Occupying 3,934 acres of pristine wooded area in West Virginia's Eastern Panhandle, the Lost River State Park is home to plenty of natural wonders, including one of the few historical hot springs in the state.
Weaving their way through the state park are several tributaries that branch from the Lost River. Located near one of these smaller creeks is the Sulphur Spring. While once a famous bathing area in the 19th century, swimming in the springs is no longer permitted.
Still, visitors can spot the old stone baths and even fill their bottles with mineral water at the onsite tap. Other landmarks within the state park include the Cranny Crow overlook on Big Ridge Mountain and several opportunities to explore the local flora and fauna.
Sweet Springs Sanitarium
Only open during special tours today, the Sweet Springs Sanitarium was once a famous hot spring resort in the 18th and 19th centuries. In the 1940s, the resort was converted into a sanitorium, and many tuberculosis patients that stayed there are still buried on the springs' property.
The waters maintain a constant 73 degrees Fahrenheit throughout the year, although modern visitors are no longer permitted to submerge.
Instead, the springs only invite guests to tour the facilities during special weekends throughout the year for their annual Heritage and Paranormal Tours.