Known as "The Last Frontier" state, Alaska is teeming with intrepid adventures through its pristine natural landscapes and diverse wildlife. It is a destination where you can escape civilization and reconnect with beautiful untouched nature while delving deep into the wilderness to some of the world's most tranquil hot springs.
Alaska is home to one of the most extensive geothermal activities in the world and features over 130 ancient volcanoes, many of which remain active to this day. These instances of underground volcanic activities have resulted in pockets of naturally heated pools that serve as an escape from the region's otherwise colder climate.
While there are 79 known thermal hot springs in Alaska, only about 20 of these pools are frequented by both the local population and tourists, and each offers its own unique experiences. Whether seeking a secluded soak or a full-service treatment, this is everything you need to know about hot springs in Alaska.
Alaska Hot Spring Regions
While hot springs can be located throughout Alaska, the most significant concentrations of these thermal pools occur in three specific areas, typically in highly volcanic regions. The majority of Alaska's most accessible and famous hot springs are located in Alaska's Southeastern corner, scattered throughout its interior, and on the idyllic Seward Peninsula.
Southeast Alaska
Featuring one of the most significant concentrations of hot springs in the state, the Alexander Archipelago in southeastern Alaska is home to a vast collection of primitive and small community hot springs.
These thermal pools offer a combination of convenience and idyllic views of Tongass National Forest and Glacier Bay National Park and Preserve.
Shelokum Hot Springs (Primitive)
Trocadero Soda Springs (Primitive)
Baranof Warm Springs (Community)
Chief Shakes Hot Springs (Community)
Goddard Hot Springs Tub (Community)
Tenakee Springs (Community)
White Sulphur Springs (Community)
Alaska's Interior
Spanning thousands of miles, Alaska's interior is home to some of the state's best hot springs, which reach north of the arctic circle to the Brooks Range. From primitive hot springs to full-service resorts, the state's interior is a fantastic spot for sampling a diverse collection of thermal pools.
Dall Hot Springs (Primitive)
Hutlinana Hot Spring (Primitive)
Kanuti Hot Springs (Primitive)
Kilo Hot Spring (Primitive)
Circle Hot Springs (Community)
Manley Hot Springs (Community)
Tolovana Hot Springs (Community)
Chena Hot Springs Resort (Resort)
The Seward Peninsula
While the Seward Peninsula may not feature as extensive of a hot spring collection as other regions in the state, the thermal pools found within this beautiful destination along Alaska's western coast are some of the most pristine.
As a result, the Seward Peninsula promises a dramatically natural landscape for enjoying the healing waters of these sites.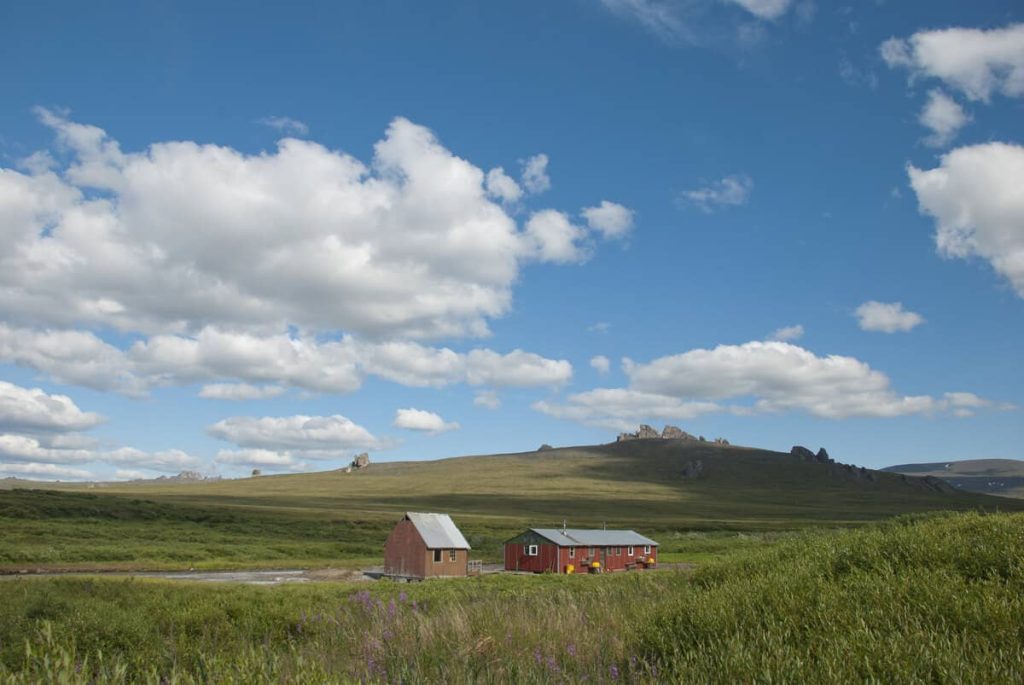 Pilgrim Hot Springs (Primitive)
Serpentine Hot Springs (Community)
The Most Popular Hot Springs in Alaska
Chena Hot Springs
Situated in the beautiful city of Fairbanks in Alaska's interior, the Chena Hot Springs Resort is one of the premier resorts in the state. It offers visitors a full-service stay while enjoying the complex's eponymous thermal baths.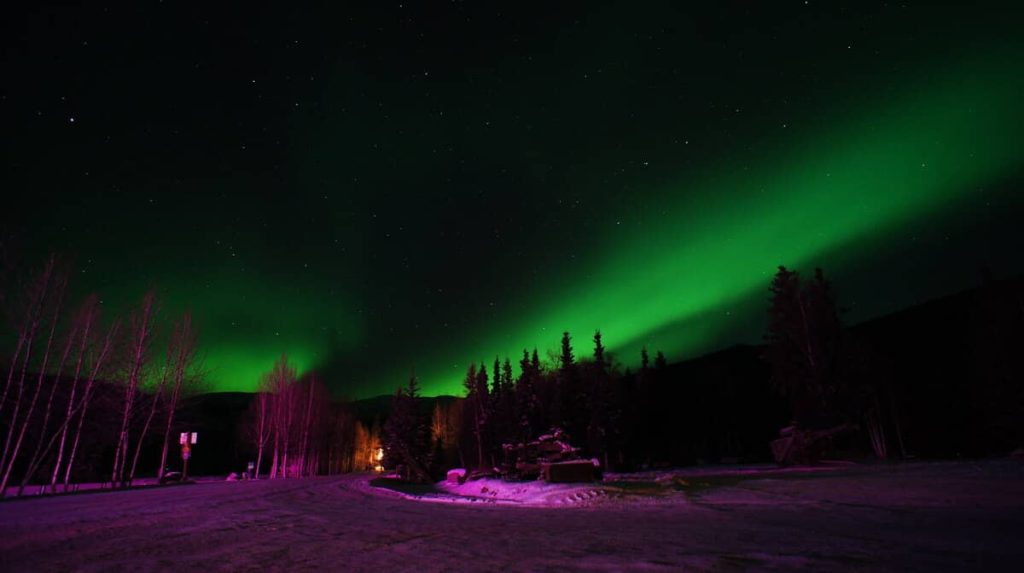 Featuring onsite lodging, dining, and spa services, the Chena Hot Springs is a favorite naturally heated pool amongst visitors to Alaska, thanks to its convenient amenities, tranquil setting, and well-maintained facilities.
While a full-service accommodation, the real draw to the resort has always been the Chena Hot Springs themselves. Discovered in 1905, the hot springs quickly became a popular tourist attraction and were even known to be able to soothe pains. Naturally, the pools were famous amongst the region's residents and gold miners.
Visitors to the springs today continue to embrace the site's healing powers and are invited to swim in the outdoor natural heated pool, which enjoys a steady temperature of 106 degrees.
Goddard Hot Spring Tub
A perfect blend of onsite amenities and an isolated oasis in Alaska's natural landscapes, the Goddard Hot Spring Tub is one of the best rustic community hot springs in the state.
Located on Baranof Island, 16 miles south of Sitka, the Goddard Hot Spring requires a boat charter to reach. These services are offered in Sitka and bring visitors through the shoals of Hot Springs Bay before dropping them off on the idyllic island.
Historically frequented by the indigenous peoples of the area, the Goddard hot Spring was first discovered by European settlers in the mid-1800s and, like Chena Hot Springs, quickly became famous for its healing abilities.
Today the hot springs' facilities include two bathhouses, an outhouse, boardwalks, and a nearby campground for visitors to spend the night. The natural hot springs are a free attraction for visitors and maintain an astounding 153 degrees, only made bearable by the availability of nearby cold water.
Shelokum Hot Springs
Tucked away 90 miles north of Ketchikan, the Shelokum Hot Springs is one of Alaska's most isolated thermal pools. It is an excellent primitive hot spring for reconnecting with nature while soaking in its healing waters.
Starting at Bailey Bay, the Shelokum Hot Springs is a 2.2-mile hike from the trailhead. The path features a steady incline to Lake Shelokum, the shoreline of which visitors will follow until they come to the springs.
Thanks to the rigorous journey to reach the site, the Shelokum Hot Springs experience far fewer tourists than other thermal pools in the state. Still, the beautiful surrounding landscapes of mountain views and dense forests reward trekkers with a relaxingly tranquil soak.
Visitors should note that the springs feature natural water temperatures of a grueling 198 degrees, which is unbearable for the human body. Luckily, visitors can control the hot and cold water, and most guests prefer to bathe around 100 degrees.
Camping is available nearby, offering a convenient spot to rest before making the return hike.
Types of Hot Springs in Alaska
All hot springs in Alaska are geothermic pools heated by the underground activity of ancient volcanoes. Still, despite their similar sources, each of the state's 20+ visitable pools offers a unique experience. To distinguish these diverse offerings, Alaska's hot springs can typically be classified into three varieties.
Primitive Hot Springs
The most adventurous variety of Alaska's thermal pools, primitive hot springs are typically tucked away deep in the state's natural corners. Riddled throughout the wilderness, these pools are not maintained by any formal body and, as such, do not feature any additional amenities for visitors to enjoy.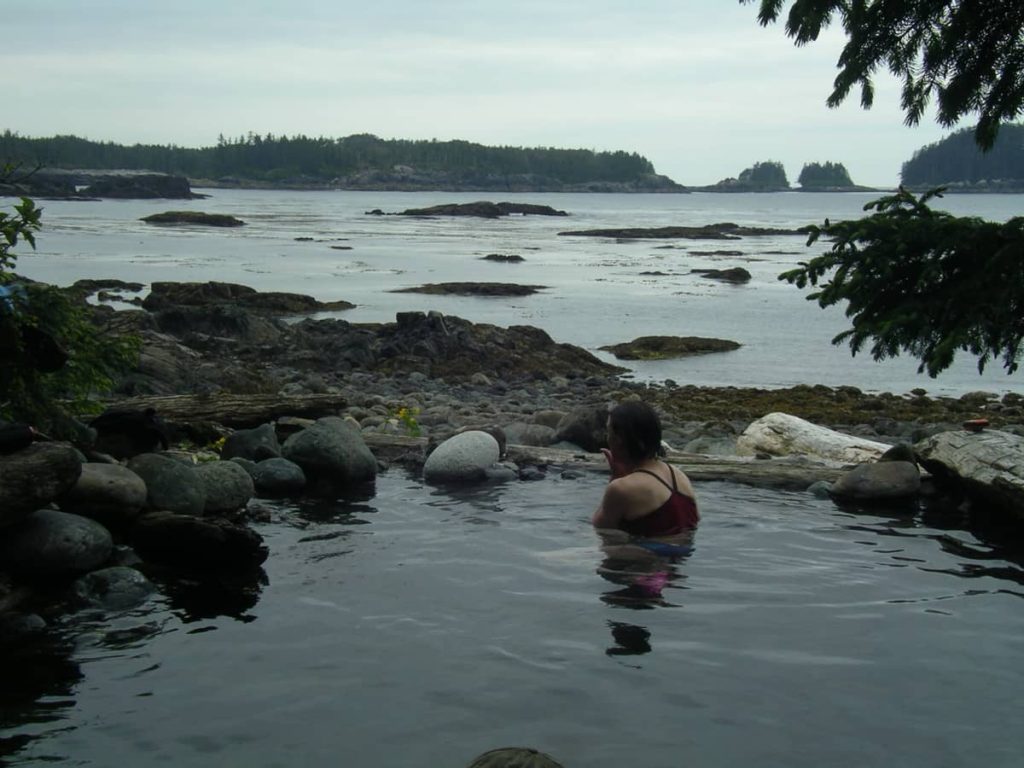 Reaching these primitive pools often requires a rigorous hike to reach. Several of these pools are situated along maintained paths with a well-established trailhead. However, in other cases, these hot springs are located even further into the state's uncivilized regions and may require a local guide and extended trek to access.
Of all of Alaska's naturally heated pools, primitive hot springs are often the most rewarding, thanks to the added difficulty of reaching them. Additionally, since there are no admission fees to enter the pools, they are the most cost-effective way to sample the state's offerings.
Community Hot Springs
Only slightly more built up than the primitive pools, Alaska's rustic community hot springs are typically established by a nearby town and will often feature additional amenities such as changing rooms and bathrooms.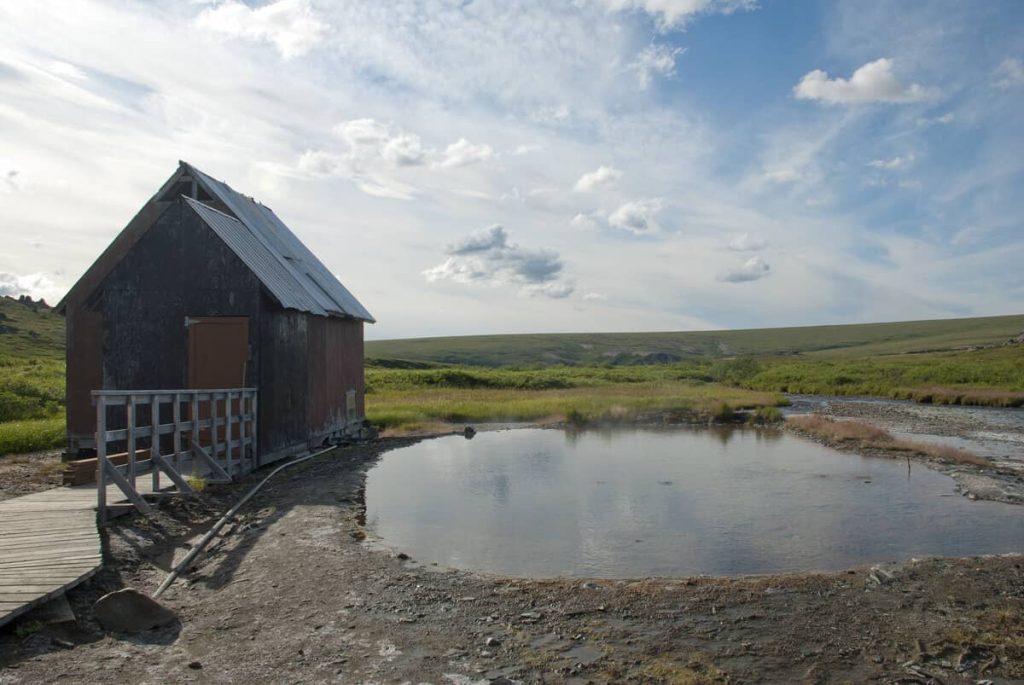 The nearby community will frequently use these pools as a popular washing facility and social gathering spot. Still, these hot springs offer the perfect combination of base amenities and an authentic hot spring experience for visitors to the state.
While several of these hot springs are easily accessible from popular tourist towns, others may require a boat or seaplane to reach them. These tucked-away hot springs typically service more isolated communities and offer visitors an enhanced soaking experience in an even more pristine corner of Alaska's landscapes.
Hot Spring Resorts
For visitors seeking a more luxurious thermal pool experience, Alaska features a few Hot Spring Resorts that provide guests with a soaking experience lathered with opulence. Providing a full-service hot spring escape, these resorts often include plenty of additional services and amenities, including onsite lodging and activities.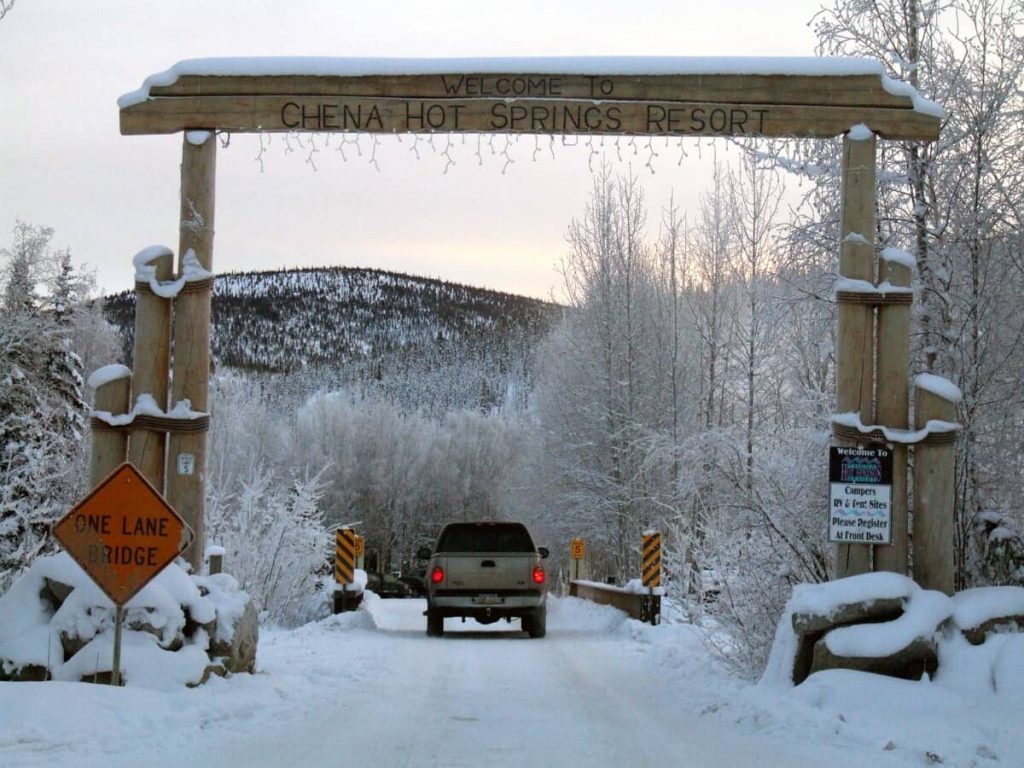 For the more leisurely traveler, Alaskan Hot Spring Resorts typically offer onsite spas and massages, yoga classes, and plenty of comfortable rooms and delectable meals. And, for the more adventurous traveler, these resorts feature many excursions, including dog sledding and Northern Light treks.
Hot Spring Resorts are the most famous thermal pool experience in Alaska and typically are much more crowded than the small community and primitive pools. Still, it is a fantastic way to explore the naturally heated attractions while taking advantage of the resort's modern amenities.