Known for its daring landscapes, world-renowned national parks, and small mountain towns, it is only natural that Montana has become known as an outdoor paradise. And scattered throughout The Treasure State's adventurous countryside are some of the country's most pristine hot springs waiting to soothe well-worn muscles.
Whether hiking through the majestic Glacier National Park, delving deep into Yellowstone, or even finding bliss in the small prairie towns of eastern Montana, Big Sky Country is filled with natural thermal pools, and visitors never have to venture too far to submerge in the natural healing waters.
Montana is home to 61 total hot springs, but only about 24 are readily accessible to the public and tourists. From a tucked-away oasis deep in Montana's Rocky Mountains to a full-fledged resort beckoning the rich and famous, this is everything you need to know about hot springs in Montana.
Montana Hot Spring Regions
Most of Montana's hot springs are concentrated in the western portions of the state, where the rugged terrains of the Rocky Mountains dominate the countryside. Montana's hot springs are divided into three unique regions, including a small selection near the state's eastern border.
Northwestern Montana
Home to some of Montana's most picturesque vistas, including Glacier National Park, Flathead National Forest, and Kootenai National Forest, the northwestern corner of the state is also home to some of Big Sky Country's most pristine hot springs.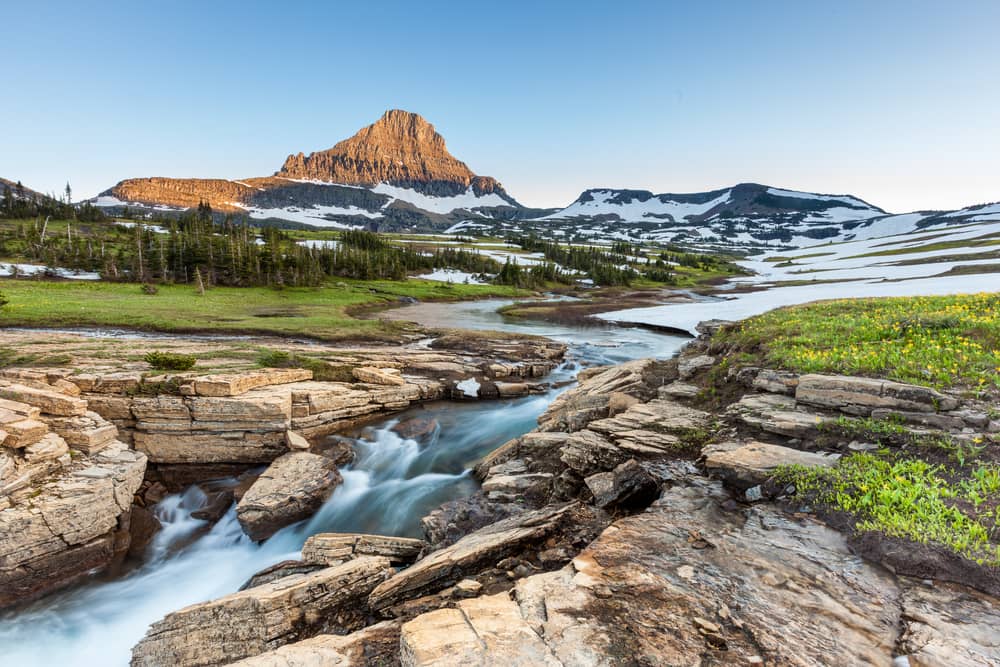 Nimrod Hot Springs (Primitive)
Wild Horse Springs (Community)
Camas Hot Springs (Community)
Broadwater Hot Springs (Community)
Southwestern Montana
Nestled within the Custer Gallatin National Forest, the Beaverhead-Deerlodge National Forest, and Yellowstone National Park, the hot springs of southwestern Montana are some of the most celebrated and tranquil thermal pools in the state.
Within this region is a diverse collection of primitive, community, and resort springs that provide diverse experiences.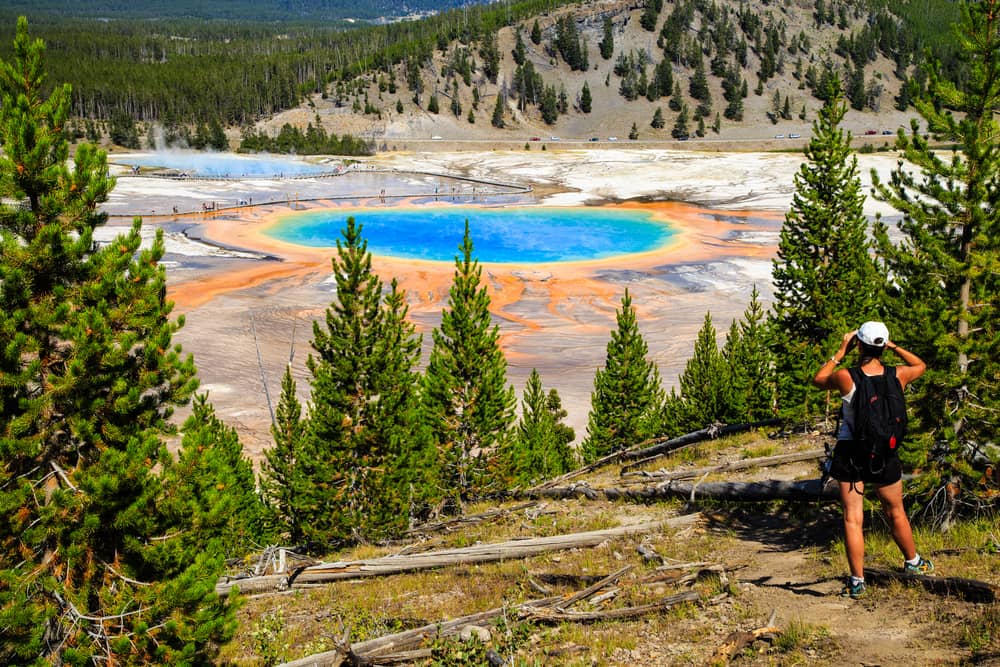 Blue Joint Hot Springs (Primitive)
Renova Hot Springs (Primitive)
Norris Hot Springs (Community)
Jackson Hot Springs (Community)
LaDuke Hot Springs (Community)
Eastern Montana
While not as abundant as the state's western regions, eastern Montana is home to a small collection of lesser-known hot springs that offer an isolated and more authentic submersion into the springs' soothing waters.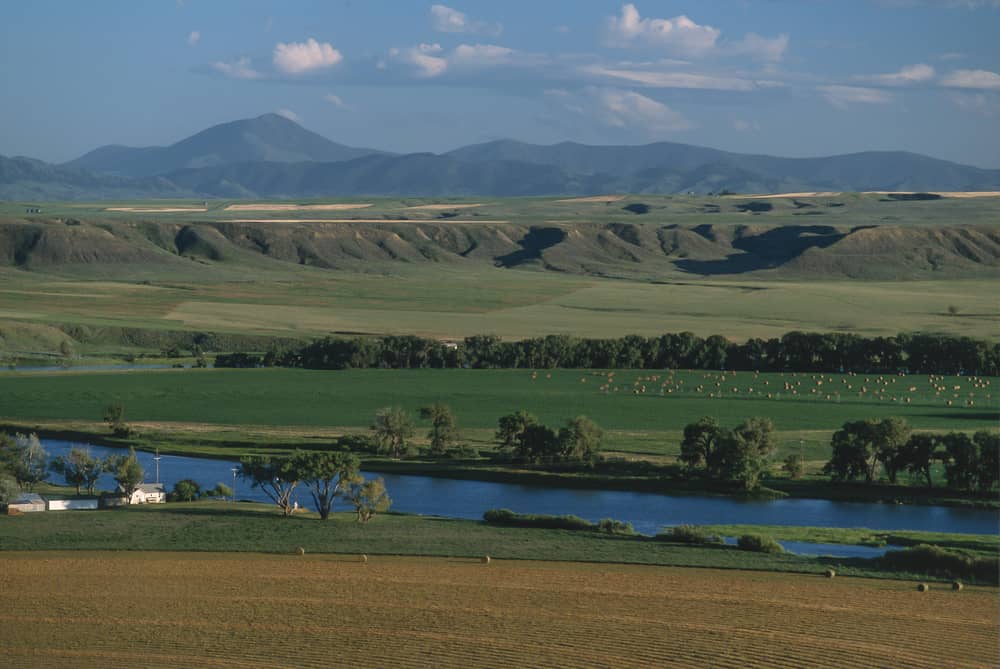 The Landusky Plunge (Primitive)
Gigantic Warm Spring (Primitive)
The Most Popular Hot Springs in Montana
Nimrod Hot Springs
With waters averaging about 70 degrees Fahrenheit throughout the year, the Nimrod Hot Springs technically only qualify as a warm spring.
Still, this tucked-away thermal pool is one of the most popular primitive springs in Montana. It promises plenty of beautiful natural scenery and the opportunity to explore the region's flora and fauna species.
Fed by a cascading waterfall that works its way down a tall cliffside, the Nimrod Hot Springs feature crystal clear blue waters and are a popular swimming spot for locals and tourists alike.
Located only half a mile from the parking lot, this thermal spring is also one of the most accessible primitive springs in the state.
Norris Hot Springs
Nicknamed the "Water of the Gods," Norris Hot Springs offers some of the most pristine natural thermal waters in the state and is serviced by a hot spring resort featuring plenty of luxury and comfort amenities and services.
Warmed deep beneath the Earth's surface, the water that feeds the springs is known to be exceptionally pure and averages temperatures of 120 degrees Fahrenheit upon reaching the Earth's surface.
Luckily, this average temperature drops to a more comfortable 106 degrees in the winter and 100 degrees in the summer by the time the water makes it to the resort's pool.
Also featured within the hot spring complex is an onsite dining facility serving various dishes with locally sourced ingredients for an authentic Montana farm-to-table experience. For overnight accommodation, Norris Hot Springs also offers a nearby campsite.
Fairmont Hot Springs Resort
One of the most opulent hot spring resorts in Montana, the Fairmont Hot Springs Resort features plenty of onsite luxury services that guarantee a calming thermal soaking experience ravished in tranquility.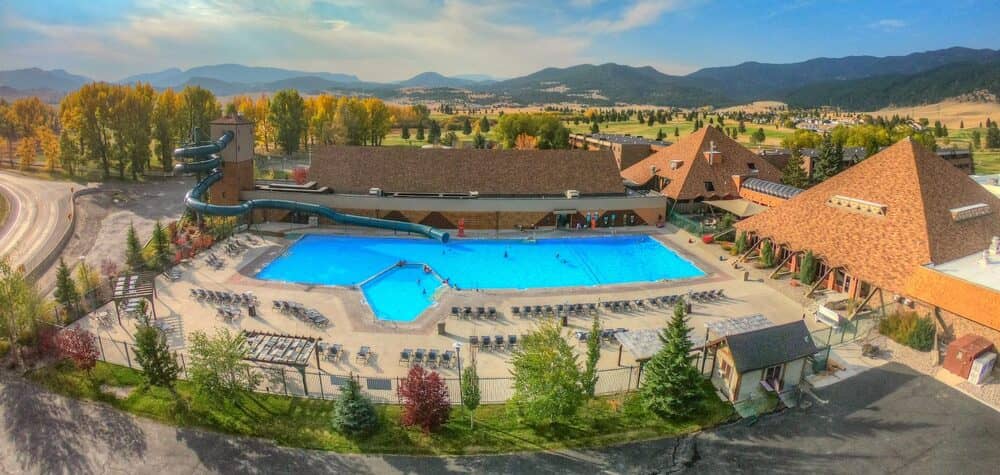 Fed by a seemingly unlimited supply of natural thermal waters that average temperatures of 155 degrees Fahrenheit, the Fairmont Hot Springs Resort features two Olympic-sized swimming pools and two mineral soaking pools, each cooled to varying temperatures' to provide a calming and comfortable experience for everybody.
The facility includes a five-story waterslide and plenty of adventure excursions into the countryside for added family-friendly fun. Also available within the resort's complexes are three dining facilities and a diverse room selection in the onsite luxury hotel.
Types of Hot Springs in Montana
While all of Montana's hot spring offerings provide a unique experience, all of the state's thermal pools can typically be classified according to one of three unique varieties, depending on the development at each site.
Primitive Hot Springs
Montana's primitive hot springs are the most rustic of the state's natural pools, feature little to no infrastructure, and are often situated in the most preserved corners of the state. Unmaintained by any formal body, primitive pools are entirely free to access but are frequently tucked away from nearby civilizations and often require long or arduous hikes to reach.
Still, thanks to the added exertion required to reach them, primitive hot springs are also some of the most rewarding thermal pools for visitors to unwind in as they soothe their well-worn hiking muscles.
Additionally, thanks to their isolated locales, these thermal pools are the most pristine springs in the state and feature plenty of scenic vistas and views. Primitive pools are the best hot springs for reconnecting with nature and typically have plenty of local plant and animal life to explore.
Community Hot Springs
While less common in Montana than in some states, community hot springs provide visitors only base amenities and services to ensure a safe and comfortable submersion in an otherwise traditional hot spring. While only a few of these springs exist in The Treasure State, these community springs provide one of the most authentic hot spring experiences in Montana.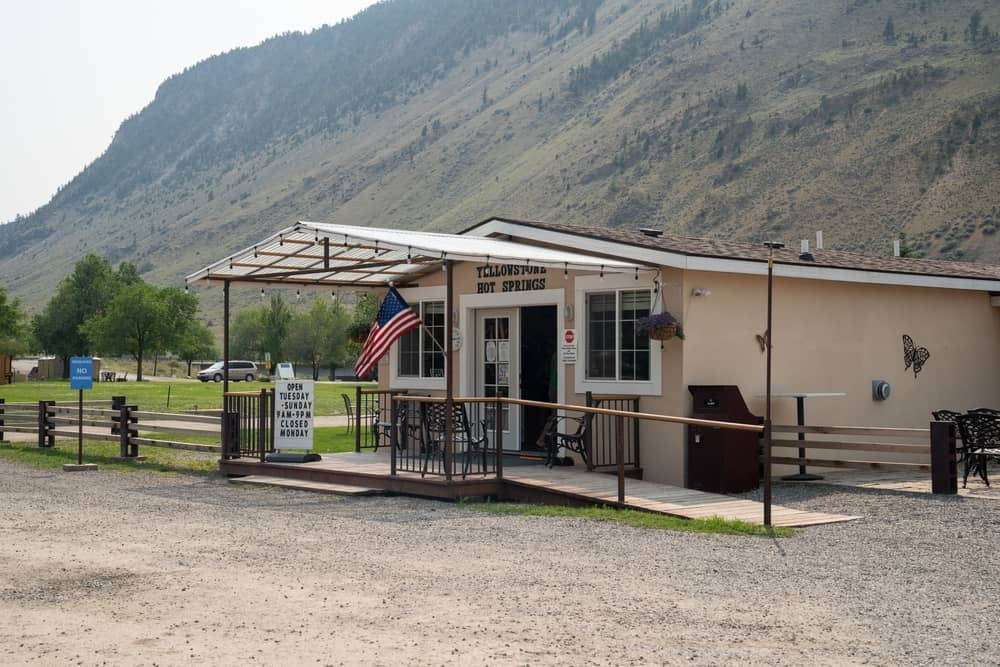 Community hot springs are often found in or outside some of Montana's popular small-town destination communities. They usually only include basic comforts such as maintained pools, changing rooms, and bathrooms.
These comfortable bathing experiences typically feature a small admission fee for the facility's general maintenance but otherwise provide an affordable soaking option. Straddling the line between a primitive pool and a hot spring resort, community springs are the best way to enjoy an authentic hot spring experience while embracing the safe conditions of a maintained complex.
Hot Spring Resorts
The most abundant variety of natural thermal pools present in the state, Montana's hot spring resorts offer some of the best opportunities for submerging in the soothing waters of a thermal bath while embracing a diverse collection of luxury services and amenities provided by the resort complexes.
Montana's hot spring resorts offer the best all-in-one experience for venturing into the intrepid corners of the state's national parks and iconic landmarks while also taking advantage of their soothing thermal baths. These resorts typically include unlimited access to their springs, onsite lodging, and plenty of other services that can consist of spa services and in-house dining.
While Montana's hot spring resorts feature a wide variety of opulence, ranging from humble spring and lodging to full-fledged luxury hotels and pools, this thermal pool variety is most often accompanied by a higher price of admission, which covers the expenses of all of the facility's services.