North America has a wealth of hot springs, all of them with proposed healing properties and medicinal value.
Across the United States, Canada, and countries such as Mexico, Costa Rica, and Nicaragua, you will find wellness retreats that have sprung up around natural sources of thermal water, allowing visitors to reap all the benefits.
Along with the luxurious thermal retreats (which tend to offer other healing and relaxation services along with baths), there are also more rugged varieties of hot springs in North America.
These are the types of hot springs that are located in remote, rural areas and often surrounded by natural terrain. While they might not be as lavish, there's a lot to be said for soaking in a hot spring the way nature intended.
Regardless of your style of hot spring bathing, there are plenty of options to choose from when it comes to hot springs in North America. These are the most well-known and well-liked hot springs on the continent, so be sure to add them to your hot springs bucket list!
List of Hot Springs in North America
Banff Upper Hot Springs, Canada
Rio Negro Hot Springs, Costa Rica
Granite Falls Hot Springs, Wyoming, United States
La Zurza de Vicente Noble, Dominican Republic
Jaguar Moon Spa Resort, Honduras
Grutas Tolantongo, Mexico
Ojo de Agua, Nicaragua
Hot Springs National Park, Arkansas, United States
Chena Hot Springs, Alaska, United States
Halcyon Hot Springs Resort, Canada
Tabacon Hot Springs, Costa Rica
Santa Rita Hot Springs, Mexico
Weir Hot Springs, Idaho, United States
FAQ's
What is the biggest hot spring in North America?
The largest hot spring or geothermal pool in North America (and the second-largest in the world) is the Boiling Lake on the island of Dominica, in the Caribbean. It was named for the steam that appears on the surface of the water, which makes it look like the pool is boiling.
Between 200 and 250 feet in width, the Boiling Lake is fed by rainwater and two natural springs. It is heated due to lava beneath the ground, which also creates the smell of sulfur.
The pool is located in Morne Trois Pitons National Park, which is a remote destination featuring otherworldly landscapes and is well-worth visiting if you're on the island.
The pool itself requires a long hike to reach and is usually not overly crowded, so you won't feel rushed as you take in its beauty.
Interestingly, the second-largest hot spring on the continent (and third-largest in the world) is Grand Prismatic Hot Spring in Yellowstone National Park, which stretches across Wyoming, Idaho, and Montana.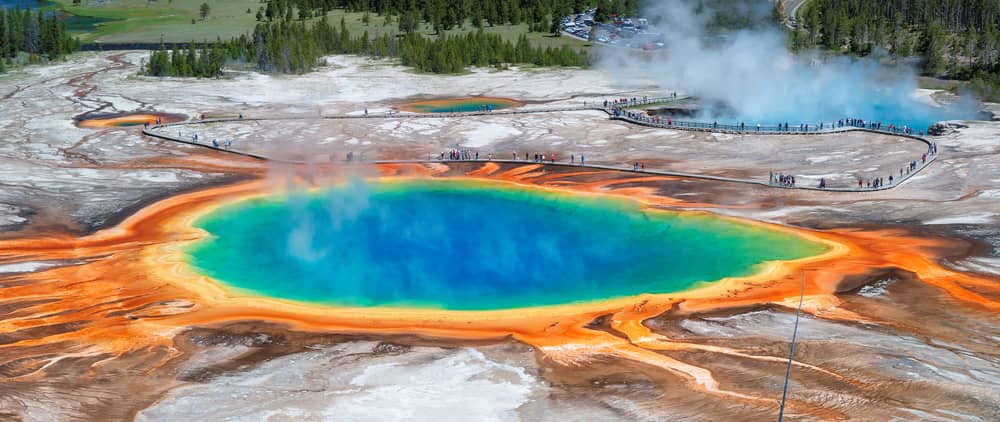 The spring is globally famous for its rainbow of colors and tends to attract many more visitors than the Boiling Lake.
Where are most of the hot springs in the United States?
You can find hot springs in many states, but there are areas in the country that are known for them. States such as Alaska, California, Colorado, Montana, Nevada, Oregon, and Wyoming on the western side of the country have a reputation for being home to hot springs.
Can you swim in every hot spring in North America?
Many hot springs in North America are great for soaking, but it's dangerous to swim in those that are too hot.
The Grand Prismatic Hot Spring, for example, at around 160 degrees Fahrenheit, would cause severe injury or even death to anybody who came into contact with the water.
If you want to swim in a hot spring, make sure the temperature is between 95 and 104 degrees Fahrenheit. In the event that you're not sure how hot a spring is or if swimming is permitted, it's always better to err on the side of caution.
Is Hot Springs National Park worth visiting?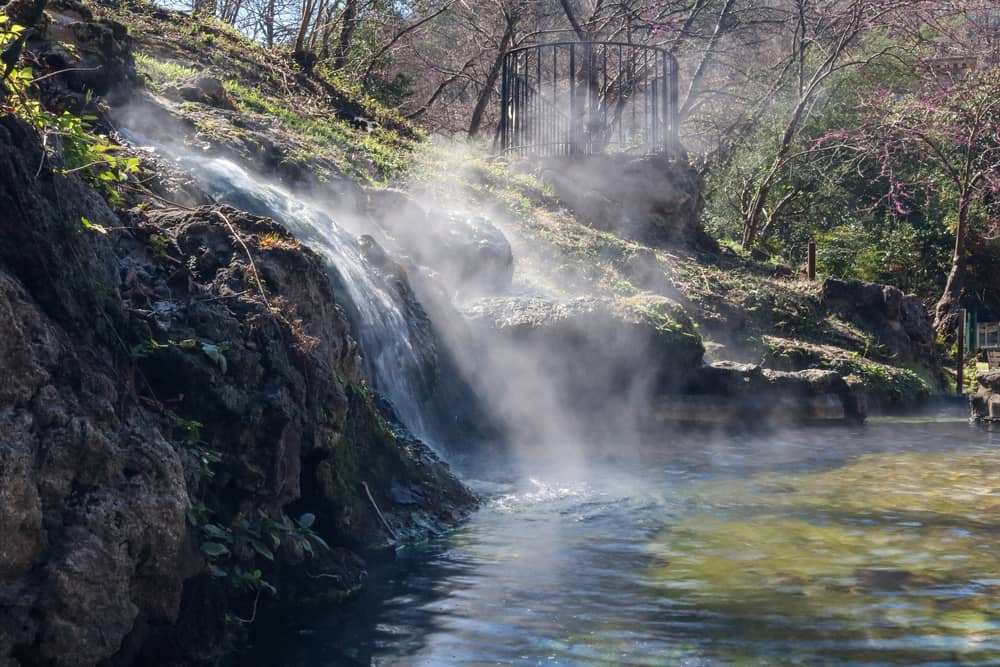 Hot Springs National Park in Arkansas is home to thermal hot springs that are around 143 degrees, which means they are too hot to soak in. Additionally, you can only view them from three places in the park.
That said, the park is still worth visiting if you're in the area, as other bathing experiences are offered. There are two bathhouses still in operation in the park (though these come with an entry fee) where visitors can safely enjoy bathing.
You can also sample and fill jugs of water for healing benefits from the thermal water fountain, and there are two cold springs in the park: Happy Hollow Spring and Whittington Spring, which are both available to the public.
Along with the thermal activity, there are 26 miles of trails to hike in the park, and dogs are welcome.
Are there many hot springs in Canada?
Yes! Canada is home to around 30 hot springs, mostly in the western part of the country. Among the most famous are Banff Upper Hot Springs and Halcyon Hot Springs Resort.
Final Thoughts
If you're planning a hot springs healing holiday, the countries of North America have you covered.
From the Caribbean to Mexico to the US to Canada, there are many destinations to choose from, all offering a variety of hot springs including those you can soak in, and those that are made just for looking.
In the case of Yellowstone's Grand Prismatic Hot Spring especially, looking at the spring's wondrous beauty is more than enough to satisfy.