Tucked away in the northwesternmost corner of the continental United States, Washington is blessed with pristine natural landscapes, a mountainous topography, and postcard-ready vistas. It is a destination that promises plenty of outdoor adventures and iconic environmental landmarks.
From intrepid mountain ridges to lush verdant forests surrounding majestic lakes, The Evergreen State is famous for its pristine environment riddled with some of the most awe-inspiring hiking trails found anywhere in the world. Along with the state's more adventurous attractions, Washington also boasts a collection of natural hot springs.
Famous for their healing properties, these thermal pools are a must-visit destination. They serve to soothe weary muscles well-worn from the more physically demanding activities offered in the state. However, while hot springs are abundant across the state, visitors must first know where to look for these natural pools.
In total, there are eight known hot springs in Washington open for public access. From rustic primitive pools hidden deep in the mountains to extensive luxury resort complexes, this is everything you need to know about hot springs in Washington.
Washington Hot Spring Regions
While hot springs are found throughout the state, they tend to be more abundant in the northern regions of Washington, with only a small selection of thermal pools present in the south.
Northwestern Washington
Nestled in the beautifully idyllic Olympic National Park and the San Juan Islands in Washington's northwestern corner are some of the most picturesque and famous hot springs in the state.
Accentuating photogenic vistas and verdant natural sceneries, two hot spring resorts maintain these thermal pools while only one spring remains in its primitive condition.
Olympic Hot Spring (Primitive)
Northcentral Washington
The Northcentral region of Washington features the highest abundance of primitive pools in the state and some of the most beautiful naturally preserved springs anywhere in the country.
Located both in and to the east of Seattle, these springs offer tranquil settings in the city and within the Mt. Baker-Snoqualmie National Forest and North Cascades National Park.
Goldmyer Hot Springs (Primitive)
Scenic Hot Springs (Primitive)
Sulphur Warm Springs (Primitive)
Southern Washington
While less abundant than in the north, Washington's southern region does boast a single hot spring destination in the small Carson community along the Columbia River near the state's border with Oregon.
This natural thermal source features two springs, a primitive pool, and an opulent hot spring resort.
The Most Popular Hot Springs in Washington
Olympic Hot Springs
Nestled along Boulder Creek in the Olympic National Park, the Olympic Hot Springs are a beautiful collection of primitive thermal pools that require a long and picturesque hike to access.
Starting from the trailhead, the trek to the springs is 10 miles long and features an elevation change of 3,100 feet.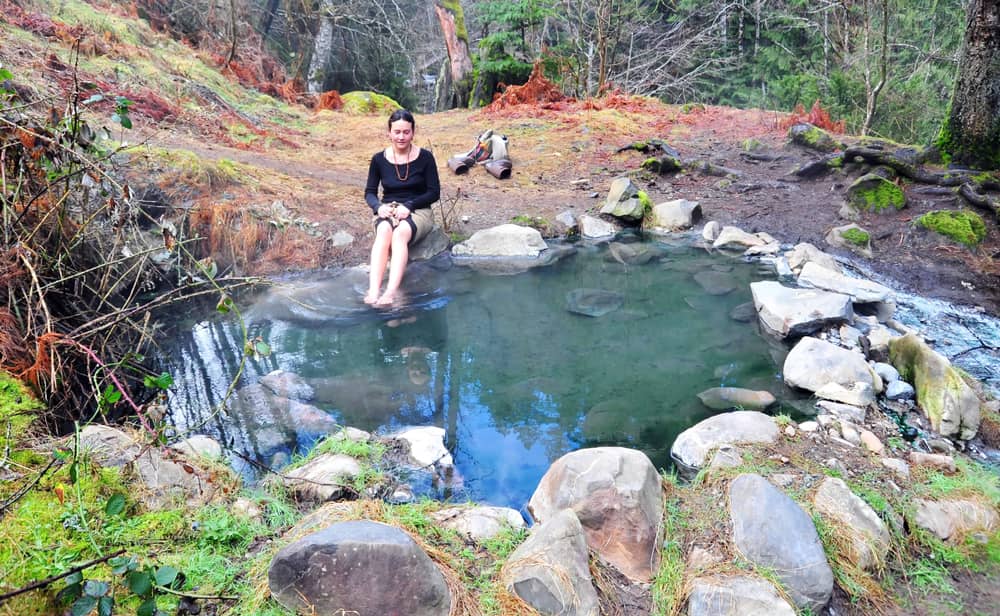 Still, while the springs are rewarding, the hike itself is a venture worth undertaking and features thick verdant forest foliage, rustic bridge crossings, and picturesque waterfalls throughout the journey.
Upon arriving at their destination, visitors soothe their hiking muscles by submerging in one of five natural mineral pools occupying the area. Each pool offers a unique soaking experience at various temperatures, with the warmest spring boasting waters of 118 degrees Fahrenheit.
While no accommodations are present at the springs, visitors looking to spend the night in the area can pitch a tent at the Boulder Creek Campground located 0.5 miles away.
Goldmyers Hot Springs
Located deep in the foothills of the Cascade Mountain Range, the Goldmyers Hot Springs is a 20-acre wilderness reserve that features some of the most pristine hot springs in the state, boasting serene settings and an enhanced immersion into the wonderous natural environment.
Starting from a trailhead near North Bend, the hike to Goldmyer Hot Springs is an arduous 11.1-mile journey through rugged terrains and thick tree canopies that serve as a habitat for many local plant and animal species.
While the hike itself is beautiful, the springs at the end of the trek are breathtaking. Surrounding by dense foliage, the thermal pool is a quiet oasis fed from a horizontal mine shaft. Upon extraction from the mine, the natural waters average temperatures of 125 degrees Fahrenheit.
However, by the time the water enters into the cave pool, it reaches a more bearable 111 degrees, which again filters out via a waterfall into an outdoor pool, which averages a comfortable temperature of 104 degrees.
Also available within the vicinity is a cold natural spring where visitors can escape the hot waters for an enhanced soaking experience with varying temperatures.
Only 20 visitors are permitted to visit the hot springs per day. As such, guests should reserve a permit in advance to ensure their access. Additionally, visitors should pack camping gear to comfortably spend the night in the area.
Sol Duc Hot Springs Resort
One of Washington's most celebrated thermal pool destinations, the Sol Duc Hot Springs Resort offers a full-service hotel and soaking complex right within Olympic National Park.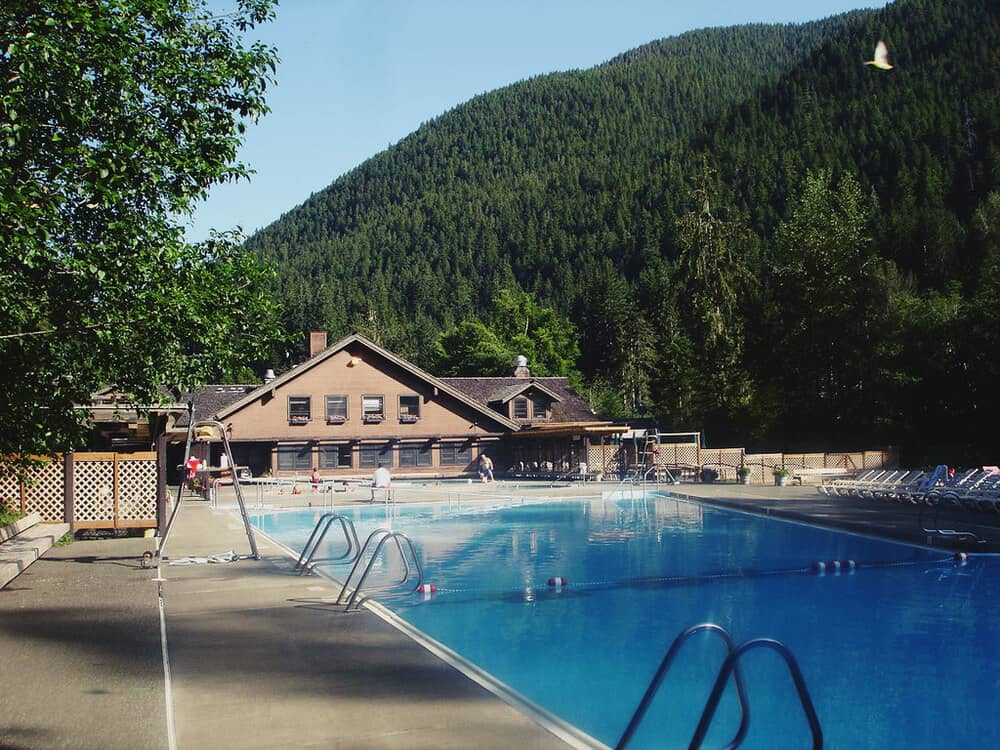 Surrounded by the thick forests of the dreamlike natural preserve, visitors to the resort are conveniently located to explore the region's many attractions before unwinding in the site's natural mineral waters.
The resort features three mineral soaking pools, which vary in temperature from 99 degrees to 104 degrees Fahrenheit. Also located within the premises is a freshwater pool for visitors seeking a cooler dip.
Additional services within the resort complex include luxury accommodation options, primitive campgrounds, onsite dining services, and much more. Furthermore, the resort also offers a series of planned itineraries that engages in-depth knowledge of the area for a deeper exploration of the region's many natural attractions.
Overall, Sol Duc Hot Springs Resort is the best all-inclusive hot spring experience for visitors seeking a hands-off vacation for a stay lavished with enhanced relaxation and a tranquil ambiance.
Types of Hot Springs in Washington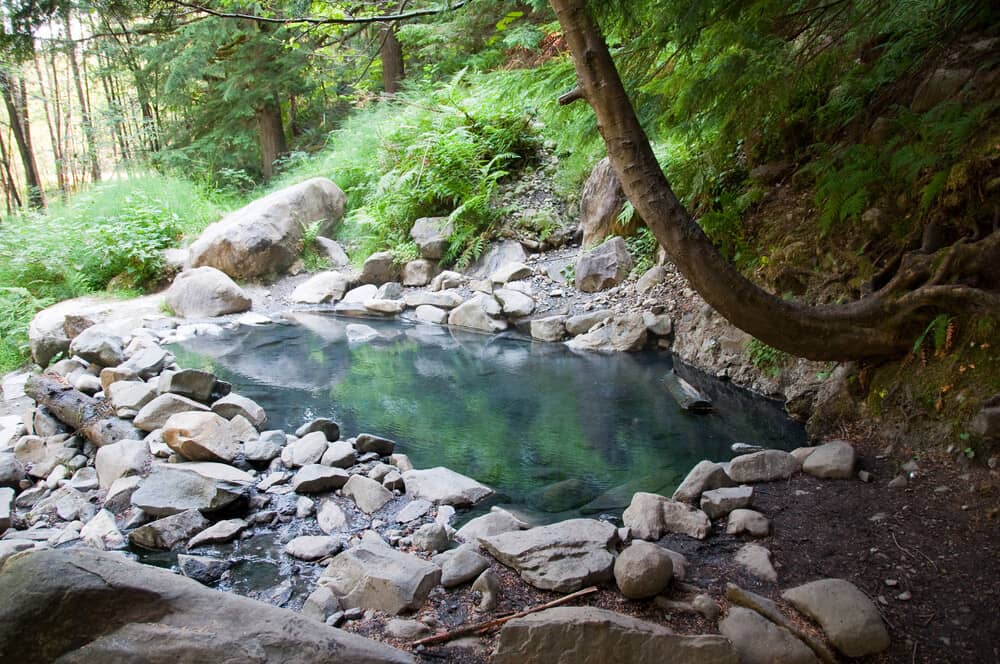 While each of the state's natural thermal pools offers unique experiences and diverse vistas to enjoy, Washington's thermal pools can typically be classified into two varieties according to the amount of development present at the site.
Primitive Hot Springs
Visitors seeking a thermal spring soak in a naturally preserved pool will want to plan their excursion to one of Washington's primitive hot springs.
Featuring little to no development, primitive hot springs exist much as they have for thousands of years and offer visitors the opportunity to submerge in the waters like the area's ancient inhabitants would have.
In most cases, Washington's primitive hot springs have escaped the development at other sites largely thanks to their isolated locations throughout the state's countryside. As a result, these pools often feature picturesque views of the state's preserved corners and a quiet setting for enjoying the tranquil waters.
However, these thermal pools' isolation also means that they can be challenging to access and will often require a long or difficult hike to reach. With that said, those brave enough to make the trek will find an enhanced soak in a rewarding pool as they soothe their weary muscles well-worn from the trying trek.
Furthermore, as unregulated sites, primitive hot springs are also entirely free to access and offer a budget-friendly submersion into the state's mineral waters. But again, this benefit does come with a caveat, and visitors should practice caution as the unmaintained facility can often feature slippery rocks and wildlife inhabitants.
Hot Spring Resorts
Alternatively, visitors seeking a more comfortable and catered thermal pool experience should plan to book accommodation at one of Washington's luxurious hot spring resort options.
While not as authentic as the state's primitive offerings, these extensive complexes feature plenty of additional comforts that add to the overall relaxation of the natural mineral waters.
Typically found near popular tourist towns and cities, hot spring resorts are usually hidden away in the region's natural landscapes and accentuate the overall beauty of the natural environment. Still, the large complexes also provide modern amenities that often include onsite luxury accommodation, fine dining restaurants, full-service spa complexes, and maintained pools.
What's even better about hot spring resorts is that these full-service hotels often will plan off-resort excursions for visitors that include guided itineraries to some of the state's more natural attractions.
For this reason, Washington's hot spring resorts are the best all-in-one package for visitors seeking a full exploration of the region before unwinding in the complex's natural baths.
While these all-inclusive packages often require higher admission fees to access, hot spring resorts are fantastic options for international tourists and local visitors seeking a full-catered retreat filled with daring adventures and calming soaking opportunities.