Montana's adored capital city is known for its stunning architecture, gold mining legacy, and proximity to both Yellowstone National Park and Glacier National Park. However, Helena is also abundant in natural wonders. It's only a short distance from hot springs which should definitely be on your bucket list.
In this article, I will take you on a tour of 4 great hot springs near Helena, Montana, so you can make the most of your next trip to Big Sky Country. (Distance from Helena in brackets).
4 Great Hot Springs Near Helena, Montana
1. Broadwater Hot Springs, Helena
The closest hot spring to Helena is Broadwater Hot Springs, which is located in the capital city itself. It's around 10 minutes from Downtown Helena, nestled in the nearby mountains.
The pools at Broadwater are located outdoors and available for swimming year-round. They are filled with natural thermal water and also cooled with cold spring water.
The Springs Pool is perfect for soaking as it's lined with seating and is maintained at a temperature of between 97 and 102 degrees Fahrenheit. This pool has been particularly designed for relaxation, so while children are allowed, they must be respectful of the tranquil atmosphere.
[lasso ref="best-western-premier-helena-great-northern-hotel" id="9174″ link_id="1067281″]
For families with kids who do want to have some fun, there is also the Rec Pool, which is up to 10 feet deep and is never hotter than 93 degrees. Otherwise, there is the Soaker Pool, adored for its waterfall and comfortable temperature of around 100 degrees.
You'll also find hot tubs and cold plunges at Broadwater Hot Springs, along with a cardio theater and a gym holding strength training equipment. With all these amenities, this is an ideal resort for those looking for a wellness getaway!
2. Boulder Hot Springs, Boulder (33.3 Miles)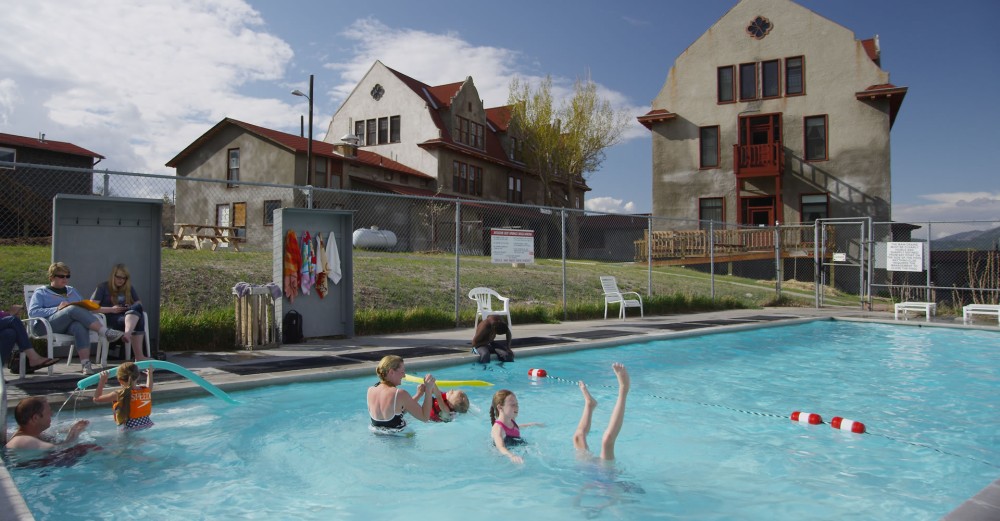 Another one of Montana's premiere hot springs establishments is located just 40 minutes away in Boulder. Boulder Hot Springs is less than 35 miles from Helena and offers the ultimate relaxing escape with healing services and several thermal pools.
Here you'll find an indoor steam room and plunge pools that reach temperatures of 106 degrees. These are ideal for those looking for a deep soak and relief for sore muscles. Additionally, there's an outdoor pool that is heated to between 96 and 100 degrees, along with cold plunge pools maintained at under 70 degrees.
Boulder Hot Springs also offers meal planning and preparation to help guests reach their nutritional goals, along with massage treatments at the spa.
3. Bozeman Hot Springs, Bozeman (95.7 Miles)
Just outside of Bozeman, Bozeman Hot Springs is a hot springs escape that has a century of experience behind it. It's only a few minutes from Yellowstone National Park and Big Sky Resort, so this may be a destination to include as part of a larger Montana trip.
It's also only a few minutes from the Gallatin International Airport, so makes a great first or final stop on a Montana itinerary! Alternatively, you could visit on a day trip from Helena, as it's less than two hours away.
There are 12 different pools at Bozeman Hot Springs, with temperatures varying from 59 to 106 degrees. No chemicals are used in the indoor pools, which operate on a flow-through system and are drained and cleaned nightly.
Along with the pools, guests will also have access to dry and wet saunas to get the most out of their relaxation experience.
The water in the pools is rich in a range of minerals that are good for the skin and body, including sodium, silica, bicarbonate, chloride, sulfate, and carbonate.
While guests can enjoy plenty of health benefits just from soaking in the pools, there are also activities on offer. Choose from water aerobics and lap swimming in the indoor pools, while the outdoor pools contain fun additions such as rock fixtures.
Events are also held frequently at the establishment, including musical events, holiday-themed celebrations, and private birthday parties.
If you don't want to visit Bozeman Hot Springs as part of a day trip, you can stay at the Bozeman Hot Springs Campground and RV Park, which is located next door to the hot springs. Along with tent and RV sites, the campground offers cabins for more comfortable lodging.
4. Yellowstone Hot Springs, Gardiner (167.9 Miles)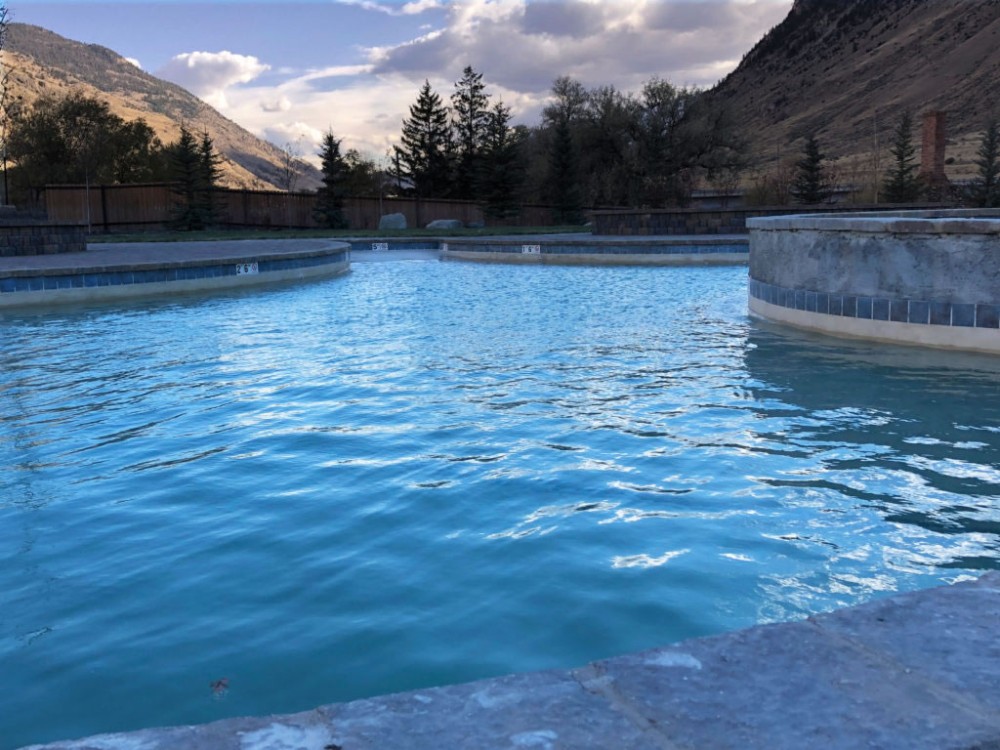 If you don't mind driving a little longer to find some quality hot springs close to Helena, then Yellowstone Hot Springs should absolutely be on your itinerary.
You're looking at a three-hour drive, but you could also combine a trip to these hot springs with a trip to the famous Yellowstone National Park. The hot springs are located in Gardiner, one of the park's popular gateway communities.
There are cabins, RV parks, and tent sites on offer for those who'd like to stay overnight at Yellowstone Hot Springs. And to be honest, there are three pools to enjoy at this establishment, so it's worth staying longer so you can soak in all three of them until your heart's content!
The pools feature natural mineral water that flows straight from the source spring, so chemical cleaning isn't necessary. The two hot pools range from 102 to 104 degrees, while the cold plunge is anywhere from 60 to 65 degrees.
Hot Springs Near Helena – Final Thoughts
If you want to enjoy a soak in a hot spring during a trip to Helena, you don't even have to leave the city! However, there are a few quality hot springs establishments just a short distance away. Be sure to visit these Montana hot springs the next time you're in town!