Both the second largest and most populous state in America, Texas is home to diverse topography that includes sweeping prairies, dry deserts, towering mountains, and 367 miles of coastline.
Along with its natural landscapes and scenic marvels, The Lone Star State is a popular tourist destination thanks to its vibrant cities, historical wonders, and world-class BBQ.
With so many sites and monuments to visit, travel itineraries to Texas can often become filled with fun and engaging activities as visitors scramble to see it all. However, the state can also be a destination of relaxation and serenity and features a small selection of natural hot springs that promise visitors a retreat filled with tranquility and bliss.
While hot springs are more abundant in Texas' western state neighbors, there are still a handful of these thermal pools that have reached into its borders, as well as a further collection of warm and cold spring offerings.
Whether seeking a soak after exploring the state's intrepid landscapes or planning a weekend retreat focused on relaxation and wellness, this is everything you need to know about hot springs in Texas.
Texas Hot Spring Regions
Since thermal pools depend on the natural heating processes beneath the earth's surface, hot springs typically only form in areas with high geothermal activity.
In Texas, there are two specific regions where these activities are apparent and where hot springs are abundant.
Central Texas Near Austin
The first of Texas' hot springs region is located right in the heart of the state. Found within Austin and the surrounding county, visitors will discover thermal springs both in the big city and tucked away in the preservations of the Balcones Canyonlands National Wildlife Refuge and the Jacob's Well Natural Area.
Barton Springs Municipal Pool (Community)
Jacob's Well Natural Area (Primitive)
Krause Springs (Community)
Western Texas
Another region in Texas where hot springs are abundant is on the state's western border with Mexico. Here, spring goers will find secluded primitive pools and one of the most beautiful hot spring resorts.
Chinati Hot Springs (Resort)
Capote Springs (Primitive)
Langford Hot Springs (Primitive)
The Most Popular Hot Springs in Texas
Langford Hot Springs
One of the most idyllic primitive pools in Texas, the Langford Hot Springs in Big Bend National Park are surrounded by historical foundations and pristine views along the Rio Grande River.
Also known as the Boquillas Hot Springs and the Big Bend Hot Springs, this thermal pool is enclosed by the ruins of a brick wall built over a century ago.
Once home to the Hot Springs Village, the Langford Hot Springs was a popular destination during the early 1900s and attracted visitors thanks to its high mineral waters and curative properties. Although the community was abandoned in the 1940s, the springs continue to attract thousands of visitors each year.
The mineral waters of the springs are geothermally heated and feature temperatures that average 105 degrees Fahrenheit, although they fluctuate throughout the year.
While no accommodation is available on the site, visitors can spend the night in the area at one of the nearby campgrounds.
Krause Springs
An extensive hot spring complex located just outside Austin, the Krause Springs features 32 thermal pools throughout its 115 acres.
Established in 1955, the springs offer various soaking opportunities, including natural springs, maintained pools, waterfalls, and natural caves.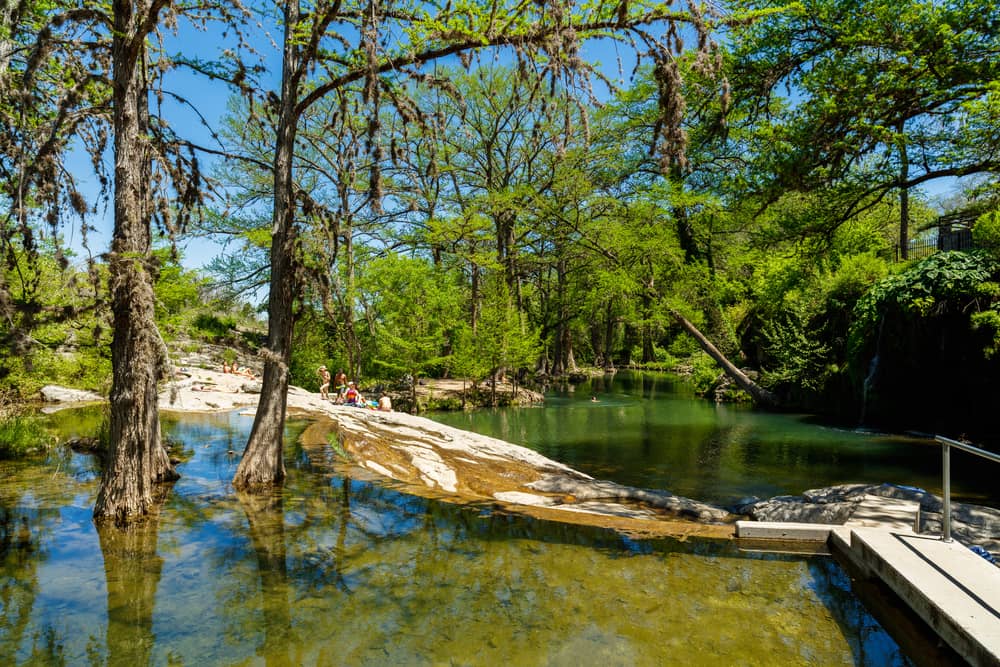 While not a hot spring, the Krause Springs flow from their source at 70 gallons per minute and maintain yearly temperatures averaging 70 degrees Fahrenheit. Whether swimming in the natural springs or the man-made pools, the Krause Springs provide a comfortable soak in soothing mineral waters.
Furthermore, as a maintained community complex, the Krause Springs property features plenty of onsite amenities, including three-bathroom facilities, showers, BBQ and picnic areas, and onsite camping.
Chinati Hot Springs
The only hot spring resort in Texas, Chinati Springs is located deep in the Chihuahua Desert and has been a popular tourist destination since its establishment in the 1930s.
However, long before their commercialization, the healing waters of the springs were engaged by indigenous peoples centuries before European settlers even made it to the isolated location.
The Chinati Hot Springs feature several soaking options, including a shared outdoor pool that averages 105 degrees Fahrenheit and a seasonal warm spring pool that averages 70 degrees. For a private soak, visitors can book an indoor private tub with temperatures between 104 and 109 degrees.
Unfortunately, the Chinati Hot Springs is not open for day visitors or walk-ins. However, the site offers some fantastic onsite cabin lodging with plenty of comfort and luxury amenities, including private mini-fridges and access to communal kitchens.
Additionally, with access to several hiking trails that guide visitors through the region's natural attractions, the Chinati Hot Springs is a fantastic hot spring accommodation for exploring the state's southwestern corner.
Types of Hot Springs in Texas
Texas has about six known hot springs accessible to the public, and each offers a unique soaking experience that features diverse scenery across the state's various topographical zones.
Still, these springs can generally be classified according to the amount of development present on the site and the average temperatures of the waters.
Primitive Hot Springs
Primitive hot springs are the most pristine of Texas' thermal pools and feature little to no development while occupying some of the most naturally preserved corners of the state.
Often tucked away from nearby communities, these rustic pools usually require long and strenuous hikes to access, enhancing their rewarding relaxation.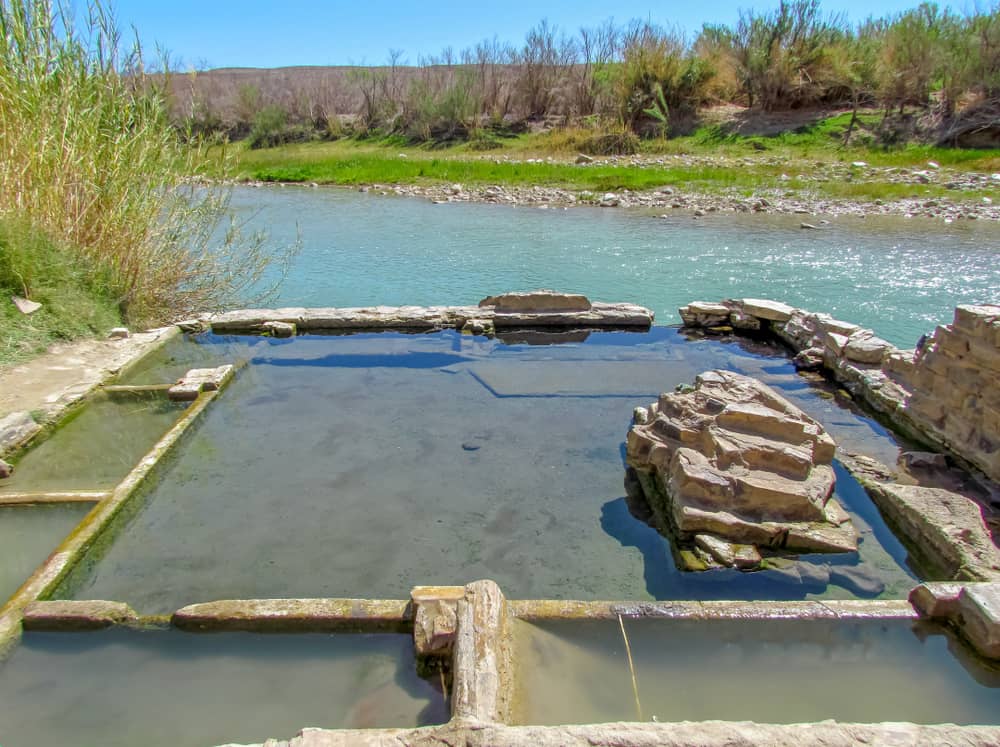 Additionally, as an unregulated facility, primitive pools are entirely free to access, making them a fantastic budget-friendly method for soaking in mineral waters.
However, since they are unmaintained, these sites also lack the basic amenities and services of other springs, and visitors should practice caution when submerging in these natural pools.
Hot Spring Resorts
Unlike the primitive pools, Texas' hot spring resorts offer plenty of fantastic services and amenities while providing an all-inclusive accommodation package. Along with offering luxurious rooms or cabins for visitors, these facilities also include maintained pools, baths, and tubs for various soaking options.
Other amenities often found within these resort complexes include onsite dining, extensive spa services, and concierge services readily available to plan excursions into the countryside's further natural marvels and attractions.
Offering a safe, family-friendly way to submerge in the state's mineral waters, hot spring resorts are a favorite thermal pool variety for visitors on a wellness retreat or those spring goers seeking an all-in-one vacation package.
Rustic Community Hot Springs
Straddling the line between a resort and primitive pool, Texas features a small selection of rural community hot springs that provide a traditional soaking experience while providing basic comforts of simple amenities, such as changing rooms, bathrooms, and maintained pools.
Like primitive pools, these small facilities are often located in some of the state's more preserved corners or near small towns and provide an authentic soak while featuring rustic settings and scenic vistas.
However, these sites also typically require a small admission fee to access, which goes towards the general maintenance and safety of the site.
Overall, these community springs are the best thermal pool in the state for visitors seeking the calming simplicity of a rustic spring while enjoying the safe and reassuring comforts of the onsite amenities.
Warm Springs
To classify as a hot spring, a natural spring must feature average water temperatures above 95 degrees Fahrenheit.
While not all of Texas' thermal pools exceed that threshold, the state is home to a handful of warm springs, which can often provide an even more comfortable experience as they provide some respite from the southern state's heat.
Warm springs are natural pools of water that feature average water temperatures above 65 degrees but are not warm enough to be considered hot springs.
Since these sites are less celebrated than actual hot springs, they often go undeveloped and provide some of the most pristine and rewarding experiences of all hot spring varieties.