California is known for its wellness culture and is an ideal destination for those who want to heal and relax. There's an abundance of health retreats and resorts in The Golden State, and many are centered around the therapeutic hot springs that flow so freely in the area.
The natural environment, rich in thermal springs, paired with the laid-back yet progressive attitude of many locals, means that California is the perfect destination for clothing-optional hot springs in particular.
There are several naturist hot springs to check out in the state, and we've listed our clothing optional hot springs in California in this article!
12 Clothing Optional Hot Springs in California
1. Wilbur Hot Springs, Williams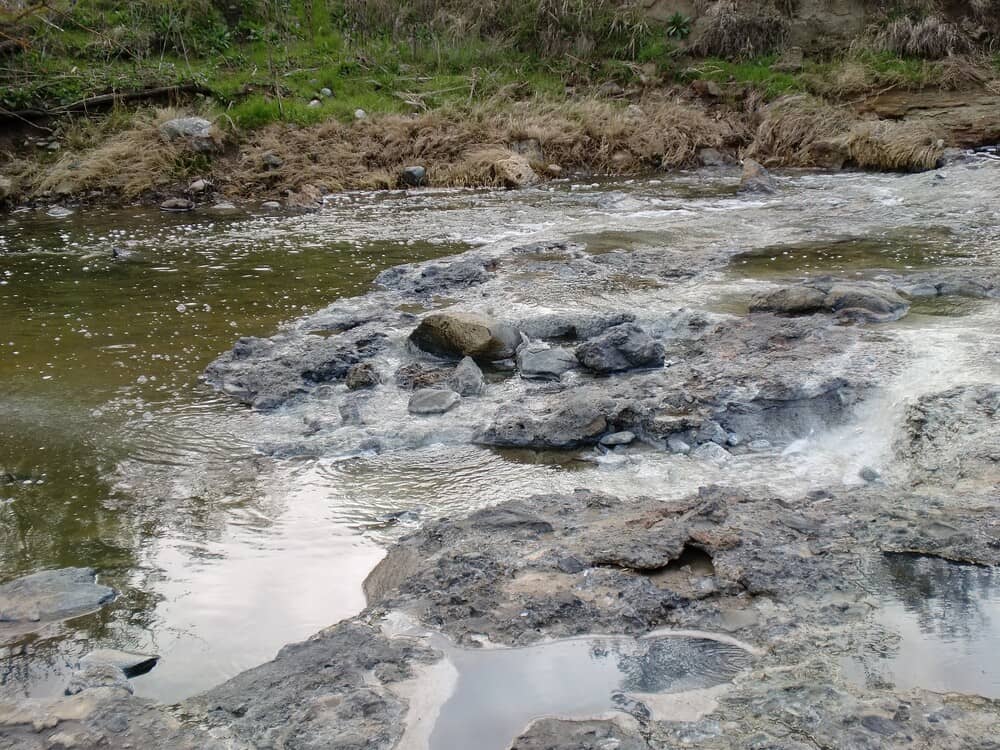 Wilbur Hot Springs is a lavish resort hotel in Williams, California, where soakers have the opportunity to enjoy thermal hot springs as nature intended.
Located around two and a half hours north of San Francisco, the resort boasts springs set in a relaxing Japanese-style bath house.
The water at Wilbur Hot Springs is usually heated to anywhere between 100 and 109 degrees Fahrenheit. Among the pool, options are a cold plunge pool, a spring-fed swimming pool, and an outdoor hot mineral flume. There is also a dry sauna on the premises, along with showers.
The hot springs are open at all hours to guests of the resort, which offers accommodation in the way of idyllic cabins, private rooms, campsites, and a hotel.
For those not staying at the resort, day passes can be purchased to use the hot springs for $59 on weekdays and $65 on weekends.
2. Buckeye Hot Springs, Bridgeport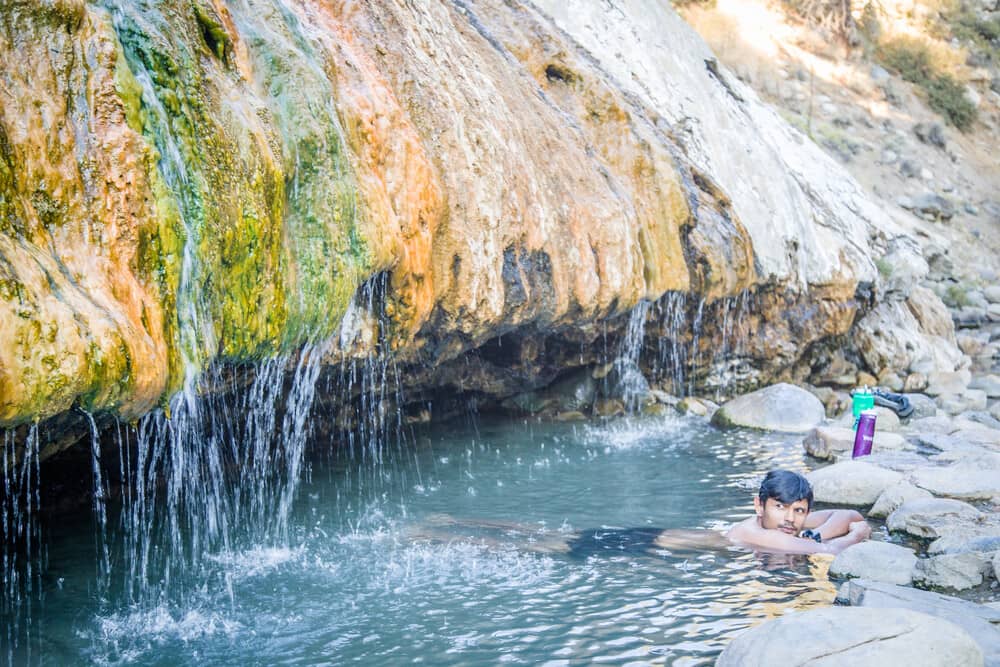 There are many resort-style hot springs in California, but Buckeye is one of the more basic, natural options. Nude swimming is to be expected in natural hot springs throughout the state, but it's by no means compulsory.
The hot springs are set along Buckeye Creek. There are two pools to soak in, and the water from the mineral source is at about 112 degrees Fahrenheit before it cools as it enters the pools. The soaking area is primitive but relaxing, with mud floors and rock walls.
3. Orr Hot Springs Resort, Ukiah
Lying between the towns of Mendocino and Ukiah, Orr Hot Springs Resort is a clothing-optional retreat in the Mendocino Coastal Range.
This is primarily a destination for adults to enjoy, and guests will find that the environment is peaceful and quiet. However, children are permitted as long as they don't disrupt the ambiance.
Visitors must reserve the hot springs in advance, which are available for day use as well as for those staying at the resort. Note that there is no cell phone service or Wi-Fi available at the retreat, and noisy electric devices are discouraged.
You can bring along your own bathrobe, towel, and slip-on shoes, as there are no facilities to purchase or rent these at the resort. There are also resident, territorial cats living at the resort, so it's important to keep service animals leashed.
4. Saline Valley Hot Springs, Death Valley National Park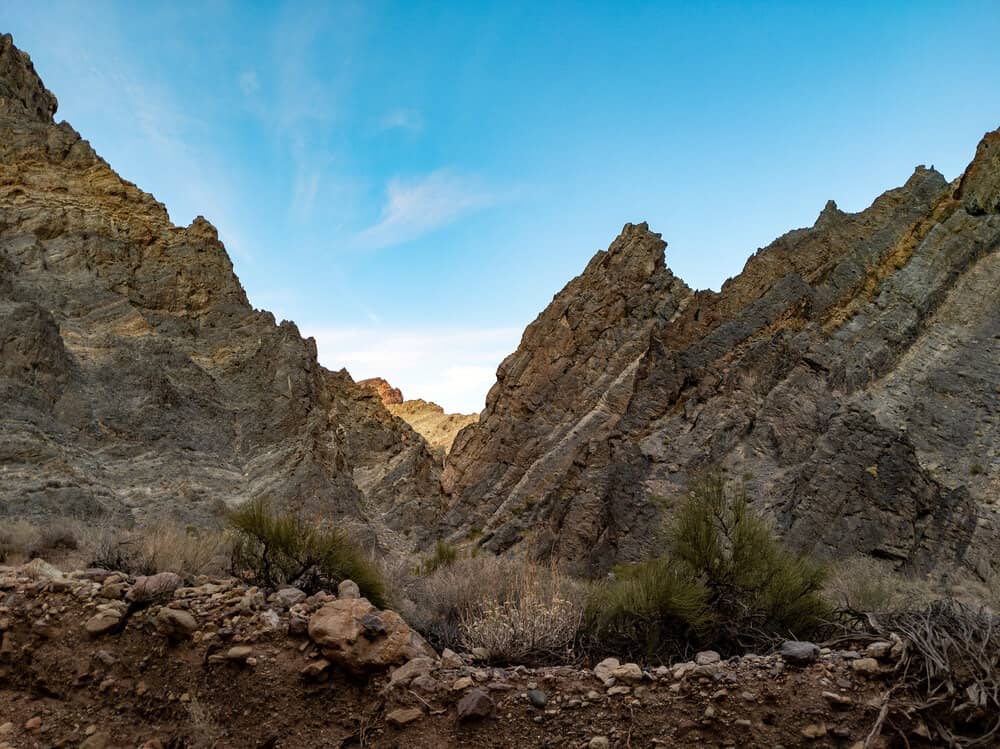 Another free and remote basic facility, Saline Valley Hot Springs is nestled in the rugged Death Valley National Park. Many visitors come here to soak in the relaxing pools against a dramatic background of scorching, barren desert.
The middle and lower springs have concrete soaking tubs and showers and are slightly more developed than the upper springs. The temperatures range from 95 degrees Fahrenheit to 107 degrees, depending on the season.
To reach the Saline Valley Hot Springs, you'll have to travel on desert dirt roads for between two and four hours, and will most likely need a capable vehicle to get you there.
The unique experience of desert hot pool soaking is worth it but be prepared for a long journey and limited facilities. There is also no cell service at the hot spring.
5. Travertine Hot Springs, Bridgeport
One of the more unique clothing-optional Californian hot springs on this list is Travertine Hot Springs, situated 90 miles north of Bishop, California.
The travertine is a type of sedimentary rock that is created by the precipitation of carbonate minerals, often from geothermally heated hot springs.
Because of the distinctive rocky landscape surrounding the springs, this location tends to attract large crowds. It is, however, free to enter. As with other natural California hot springs, clothing is optional as there are no rules to state otherwise.
Our Pick
Walker River Lodge
2 km From Travertine Hot Springs
"Our room was clean, the bed comfortable, working microwave and fridge. But the best part of it was the back patio which was wonderful - stunning views."
View on Booking.com
The springs consist of three rock-bottomed tubs, plus a cement tub, which is located close to the parking area. The source is around 120 degrees Fahrenheit, however, the water cools considerably by the time it reaches the tubs, usually to around 100 degrees.
6. Tassajara Hot Springs (San Francisco Zen Center), Carmel Valley
Tassajara Hot Springs is just one of the locations run by the San Francisco Zen Center, whose mission is to provide "three practice centers, offer daily meditation, regular monastic retreats and practice periods, classes, lectures, and workshops."
The soaking experience at Tassajara is similar to a Japanese-style onsen experience, and guests have access to meals and accommodation as well as the hot springs.
The clothing-optional springs are divided into men's and women's. However, the facility also boasts communal showers, two plunge pools, a sauna room, and a private bath.
The springs are only open during the summer season from 8:30 a.m. through 8 p.m. Shoes must be taken off when entering guest rooms and meditation areas on the premises, and pets (other than service animals) are not welcome. There is also no cell service or Wi-Fi.
The Zen center at Tassajara was established in 1967, running all the way until the COVID-19 pandemic. It is expected to open again in the summer of 2023.
7. Harbin Hot Springs, Lake County
Nestled in the wine country of Northern California, Harbin Hot Springs is one of California's most popular clothing-optional springs.
There are eight different thermal pools available, all at different temperatures, and a sundeck and sauna. The sundeck area is also clothing optional.
Harbin focuses on the health and wellness of its guests, and this is reflected in several areas, including the pool designed specifically for health services and aquatic bodywork sessions. Guests can also enjoy yoga and hiking at the retreat, along with massage services.
You can visit the hot springs just for the day or reserve a longer stay in one of their caravans, cottages, or domes, but all visits require reservations.
8. Sespe Hot Springs, Los Padres Forest
Sespe Hot Springs is found in the Los Padres Forest, by Sespe Creek. You can reach it by following the Sespe River Trail, which is quite a considerable trek at 16.8 miles, one way.
Alternatively, you can follow the 7.5-mile Alder Creek Trail or the more difficult Johnson Ridge Trail, which is 9.5 miles.
The hot spring is rock-walled and set in the natural environment, where the water cascades from the scorching hot source. The temperature of the pool itself is only about 105 degrees, but this changes from season to season.
It's best to visit this hot spring in the spring, as summer tends to be too hot, especially considering the hiking involved. You can camp near the hot springs and animals are welcome but must be leashed.
Sespe Hot Springs is clothing optional, but you may not want to strip down if there are too many other people there at the same time, as it is a relatively small pool.
9. Mono Hot Springs, Sierra Nevada National Forest
The Sierra Nevada National Forest is known for its abundance of hiking opportunities. But another great reason to visit is the Mono Hot Springs, which were first introduced to white settlers by the Mono Indians, who believed in the springs' ability to treat arthritis and similar conditions.
These hot springs are located within a resort, between Yosemite and Kings Canyon. There are two types of tubs available at the springs: cast-iron and tiled. The water ranges in temperature from 100 to 104 degrees Fahrenheit. According to Cali Hot Springs, some of the springs are clothing optional.
While at the resort, you can enjoy activities such as horseback riding, fishing, boating, and kayaking, and of course, hiking. There is also a restaurant and general store on site.
10. Montecito Hot Springs, Santa Barbara
In the 1800s, Montecito Hot Springs was a popular resort that attracted visitors seeking the medicinal benefits of the thermal springs, but it was abandoned and is now the property of the Land Trust for Santa Barbara County.
The springs are bound by man-made rock walls and cascade down the canyon into seven little pools. The source water is 112 degrees Fahrenheit but cools by the time it reaches the pools.
Clothing is optional and locals in particular are likely to strip down for their soak. It does get busy, so if you're not comfortable with nude bathing in public, it's best to bring a swimsuit.
11. Wild Willy's Hot Spring, Mammoth Lakes
Wild Willy's Hot Springs is another popular rustic and natural site in California. There are around six hot pools in total, all at different temperatures.
They are located near Mammoth Lakes and can be reached by a short drive on a dirt road, plus a quarter of a mile walk.
One of the pools is intensely blue in color and naturally shaped like a heart, making it the perfect destination for a romantic soak (or at least a photo opportunity!). As Wild Willy's are public natural hot springs in California, you can soak in your birthday suit here.
12. Deep Creek Hot Springs, San Bernardino National Forest
Found in the Southern California mountains along the Pacific Crest Trail, Deep Creek Hot Springs are nestled in a canyon that runs through the San Bernardino National Forest. There are around seven different soaking pools to discover, all available for day use only.
To reach these hot springs, which are clothing optional, you'll have to hike. There are two routes that lead to the hot springs; the first is only two miles from Bowden Ranch, but it's quite a steep hike. The other is six miles along the Bradford Ridge Path, but it is a more even walk.
One of the pools at Deep Creek is six feet deep and a comfortable 100 degrees Fahrenheit, ideal for a relaxing soak.