Boasting over 300 hundred hot spring destinations across its breathtaking landscapes, California is a destination that promises relaxation and rejuvenation under the West Coast sun.
And while many of these thermal destinations are open to day visitors, the best way to enjoy the therapeutic properties of the site's mineral waters is by planning your visit at a hotel that offers a hot spring directly within their complex.
However, with dozens of these fantastic hotel and resort complexes littering their way across the countryside, choosing which accommodation is best for hosting your hot spring retreat can quickly become overwhelming.
Luckily, I have compiled this list of the eight best hotels with hot springs in California to help you decide which thermal pool resort is the best accommodation option for hosting your stay in The Golden State.
8 Amazing Hotels with Hot Springs in California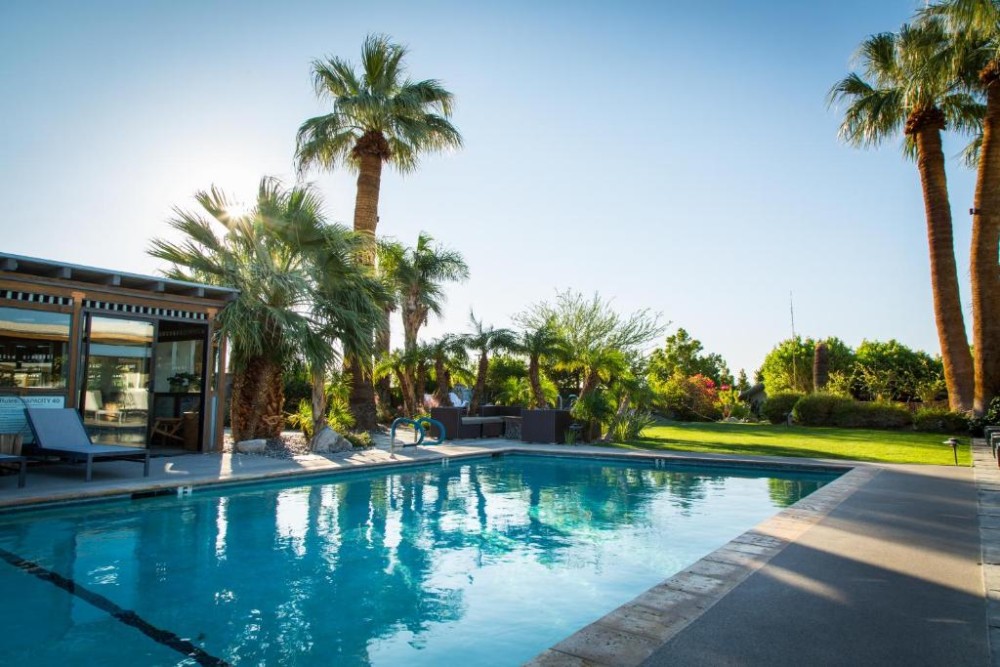 1. The Spring Resort and Day Spa — Desert Hot Springs
Boasting one of the most extravagant hotel complexes in the state, The Spring is easily one of the best hot spring resorts in California, providing several soaking opportunities and extensive spa services.
Nestled in the quiet countryside of Desert Hot Springs, a small city about two hours from downtown Los Angeles, The Spring Resort and Spa offers an accommodation selection of Double Rooms and Two-Bedroom Villas. Each room features premium amenities, including luxury linens, modern décor, and private kitchens.
An adult-only facility, The Spring enhances its guest's tranquil retreat by offering access to the complex's therapeutic waters in three pools. These pools are fed from a natural spring source that maintains a scorching 170 degrees Fahrenheit, which is cooled before being filled into the swimming holes.
[lasso ref="the-spring-resort-spa-desert-hot-springs" id="8642″ link_id="1066411″]
Maintained between 88 and 90 degrees, the resort's outdoor pool offers a comfortable swimming experience throughout the year. Meanwhile, those seeking a soak in more traditional hot spring temperatures can dip into the complex's outdoor jacuzzi, which averages about 104 degrees, or the large indoor pool, kept at 101 degrees.
However, the complex's extensive spa services truly separate The Spring Resort as one of the best hotels with hot springs in California. The full-service spa offers access to the facility's thermal pool and a massive selection of relaxing and rejuvenating treatments, including massages, facials, oil treatments, and much more.
2. El Morocco Inn and Spa Hot Springs — Desert Hot Springs
Also operating out of the charming Desert Hot Springs community, the El Morocco Inn and Spa is another adult-only hotel in California with a hot spring and boasts several luxury services and amenities, including opulent accommodation options, onsite dining, extensive spa facility, and several soaking opportunities.
First opened as the Caravan Spa-tel in the late 1950s, the historical resort underwent extensive renovations in 2001 and is now a luxury hot spring resort in California, boasting traditional Moroccan designs and a therapeutic setting.
[lasso ref="el-morocco-inn-spa" id="8720″ link_id="1066412″]
The El Morocco boasts 13 different guest rooms, each styled with authentic Moroccan décor and featuring a wide array of comfort amenities available throughout your stay, including small kitchenettes, luxury linen and bath products, and an expanded continental breakfast.
The resort complex features an extensive spa facility with an outdoor swimming pool and jacuzzi filled with the region's celebrated mineral spring waters. Along with therapeutic soaks, the complex's spa offers a wide selection of treatments, including traditional Moroccan massages, facials, and mystical rituals.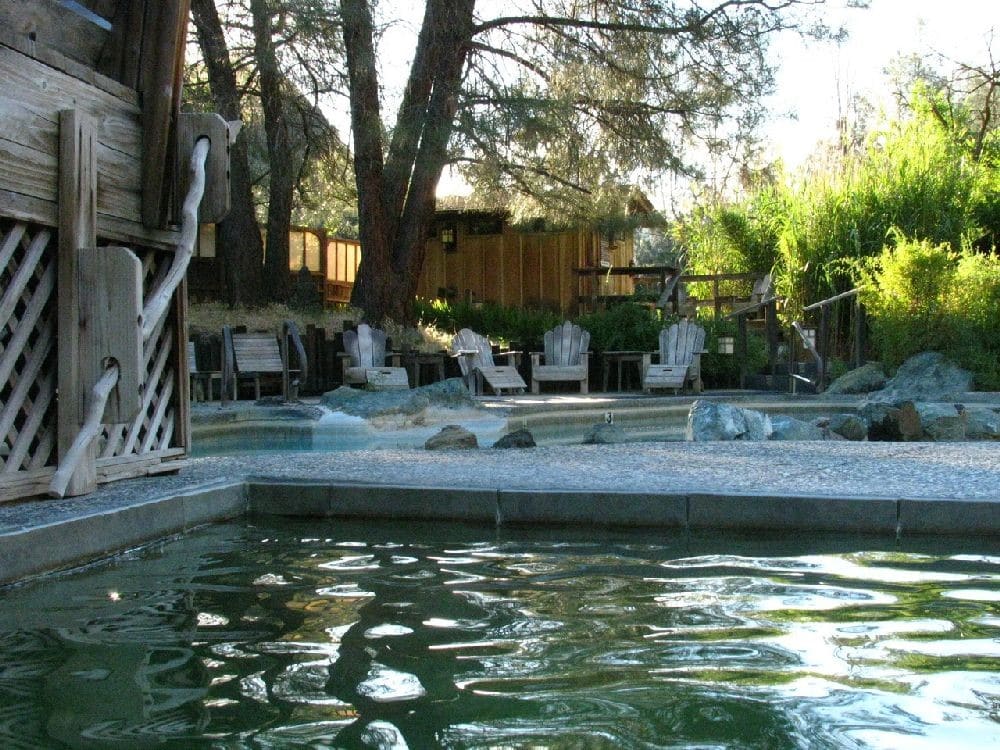 Isolated on a 1,800-acre nature preserve, the Wilbur Hot Springs offers a soothing retreat in Northern California and is one of the best hotels with hot springs in California for escaping from the city to find natural tranquillity. To enhance the disconnected retreat experience, the resort does not feature any internet or cell phone reception on site.
The Wilbur Hot Springs offers several accommodation options ranging from a cozy stay in the site's Historic Hotel or extensive cabin options to a rustic campsite for tent camping. Regardless of your room choice, all guests at the hotel receive access to the complex's shared kitchen gourmet kitchen and geothermal springs.
The region's mineral spring water is a scorching 145 degrees Fahrenheit from the source. Luckily, the water is cooled to a more bearable 128 degrees by the time it reaches the complex's pool area.
The mineral water is stored in four different cooling flumes at the pool area, allowing guests to adjust the water flow into the pools for a controlled temperature that meets each guest's preferences.
While the hot spring flumes offer guests access to the site's unaltered mineral waters, the facility also provides a larger outdoor pool treated with chlorine. While not as authentic an experience, this pool offers a fantastic spot for recreational swimming.
4. Indian Springs — Calistoga
Operating out of the idyllic Calistoga community in Napa Valley, the Indian Hot Spring has been one of the most iconic hot spring resorts in California's Wine Country for over a century.
Along with boasting some of the state's most impressive mineral waters, the 17-acre resort property features several onsite amenities, including a full-service spa complex.
[lasso ref="indian-springs-resort-spa" id="8881″ link_id="1066413″]
Set amongst the region's rolling vineyards, the resort offers several accommodation options, all featuring comfort amenities that include private bathrooms, spa robes, mini-fridges, and private patios. Also featured within the resort complex are a popular golf course, a tennis court, and 25-hour front desk services.
The Indian Springs property boasts two outdoor pool options, including the original Olympic-sized pool, first built in 1913. One of the largest pools in California, the Olympic-sized main pool averages between 92- and 102 degrees Fahrenheit throughout the year. The property also features an adult-only pool, maintained around 10 degrees cooler than the main pool.
5. Sycamore Mineral Springs Resort and Spa — San Luis Obispo
Nestled within over a hundred acres along the Central Californian Coast, the Sycamore Mineral Springs Resort is one of California's most extensive hot spring resorts. It serves as a fantastic base for exploring the region's breathtaking landscapes while enjoying the rejuvenating mineral waters of the local spring.
The hotel has a wide selection of room and suite options, including several pet-friendly rooms for visitors travelling with their furry companions. Each room offers several comfort and luxury amenities, including a private mineral spring hot tub perfect for enjoying the tranquil waters in an intimate setting.
Other onsite services and facilities include the Gardens of Avila Restaurant, the Avila Beach Spa, and two communal mineral soaking areas. The Hillside Hot Tubs offers 24-open air natural spring tubs featuring some of the property's best views. Meanwhile, the Oasis Waterfall Lagoon can be rented by the hour and fit up to 20 soakers.
6. Sierra Hot Springs — Sierraville
Located on the outskirts of the Tahoe National Forest near California's eastern state border with Nevada, the Sierra Hot Springs have been providing visitors access to the region's natural mineral waters for over 150 years.
Along with offering several soaking pools and mineral tubs, the resort complex also boasts an onsite hotel with five private rooms in the facility's Main Lodge, which was first built in the 1870s. Also operating out of this historical building are the resort's onsite spa and the Philosophy Café, where guests can find seasonal, organic meals.
The Sierra Hot Springs Resort features over 700 acres of pristine countryside, which guests can enjoy along hiking or biking trails throughout the summer, or cross-country skiing trails in the winter. After exploring the property, guests are invited to unwind in one of the facility's three mineral-soaking pools.
The property's main pool is located within a large geodesic dome and features The Hot Pool, which averages between 105- and 110 degrees Fahrenheit, and two cold plunges for escaping the heat. Available just outside of the dome is a warm pool which is maintained just under 100 degrees.
Other soaking areas at the resort include the adult-only Meditation Pool and the kid-friendly Phoenix pool, which is slightly cooler, averaging between 85 and 90 degrees.
7. Fairmont Sonoma Mission Inn and Spa — Sonoma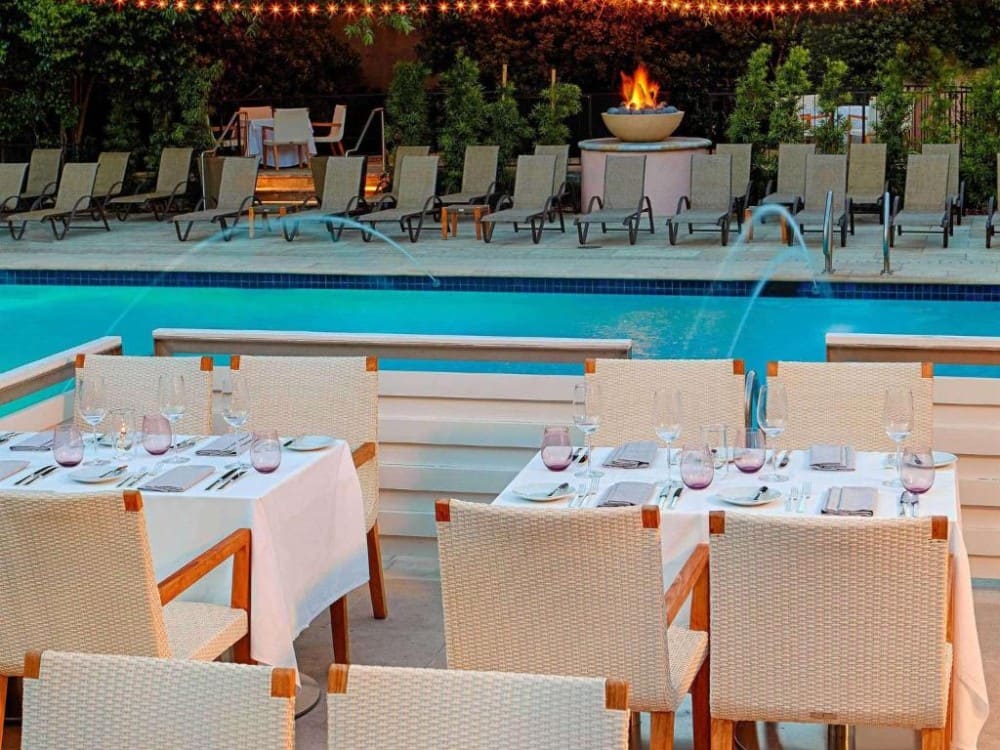 Offering one of California's most luxurious hot spring experiences, the Fairmont Sonoma Mission Inn and Spa is located about an hour from San Francisco in the idyllic Sonoma Valley of California's Wine Country.
First built in the early 1900s, the resort complex is one of the state's most historical and prestigious hot spring hotels. It offers many onsite services, including an extensive spa, a state-of-the-art fitness center, three dining facilities, and several soaking options.
The hotel features several room and suite options, each featuring top-of-the-line amenities and luxurious designs. Select rooms even come with a private patio, a fireplace, or even a spa bath.
[lasso ref="fairmont-sonoma-mission-inn-spa" id="8443″ link_id="1066414″]
All guests to the hotel receive unlimited access to the complex's three outdoor pools and two indoor pools, which are filled from a natural mineral spring 1,100 feet below the earth's surface and range between 85 and 102 degrees Fahrenheit.
To further enjoy the curative properties of the natural mineral waters, the Fairmont Sonoma Mission Inn also features 28 treatment rooms at its spa, where guests can enjoy several specialty treatments that engage the site's natural therapeutic resource.
8. Solage, an Auberge Resort — Calistoga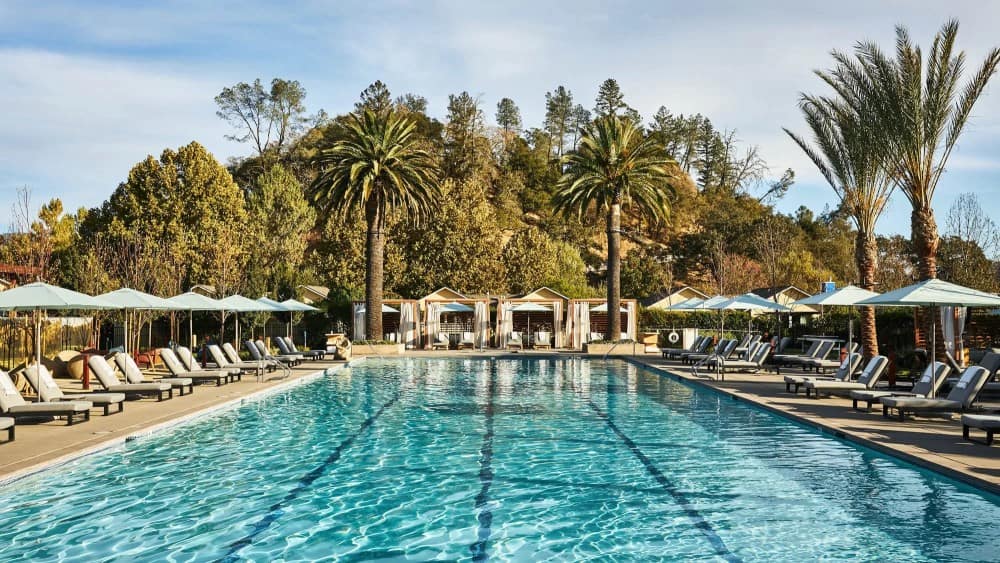 Another full-service luxury resort located in the thermal spa community of Napa valley's Calistoga, Solage is one of the most prestigious hotels with hot springs in California and promises a stay filled with tranquil soaks and opulent accommodations.
Like many hot springs in the region, Solage first opened over a century ago and continues to provide visitors with one of the state's absolute best hot spring resort experiences. The complex features several luxury room and suite options, two onsite restaurants, an extensive spa and wellness center, and five mineral-soaking pools.
The resort's pools each feature a unique mineral composition that provides various curative benefits and ranges in temperature from 98 to 104 degrees Fahrenheit. A cold pool is also on the property, averaging between 60 and 65 degrees for a soothing escape from the elevated temperatures.
Hotels With Hot Springs In California – Final Thoughts
California is home to several fantastic hot spring hotels and resorts, each offering its own unique set of services and amenities that cater to a wide array of visitors.
And while the hotels featured on this list are a great place to start planning your thermal pool retreat, choosing the perfect hotel for you ultimately comes down to personal preference. These are the best hotels with hot springs in California for different types of travelers: