Though it's not quite as famous as the bigger Colorado destinations, like Denver and Boulder, Ouray is a charming town that should definitely be on your radar. Nestled in the mountains, the town hasn't been affected by mass tourism and maintains much of its original 19th-century charm.
It was once a major mining area, and you can still view artifacts from this fascinating time at the museum in town.
The local landscape is a big attraction, too, and many visitors love taking the time to explore the trails that meander around town. And as for the local hospitality that's said to be among the best in the state!
But if you're looking for a destination at which to base yourself while you enjoy a hot spring vacation, Ouray could also be the town for you. There are a few resorts and hotels located nearby that offer natural thermal hot springs.
In this article, you'll find my favorite hotels with hot springs in Ouray, plus a few tips to help your trip run as smoothly as possible.
List of the Best Hotels With Hot Springs In Ouray, Colorado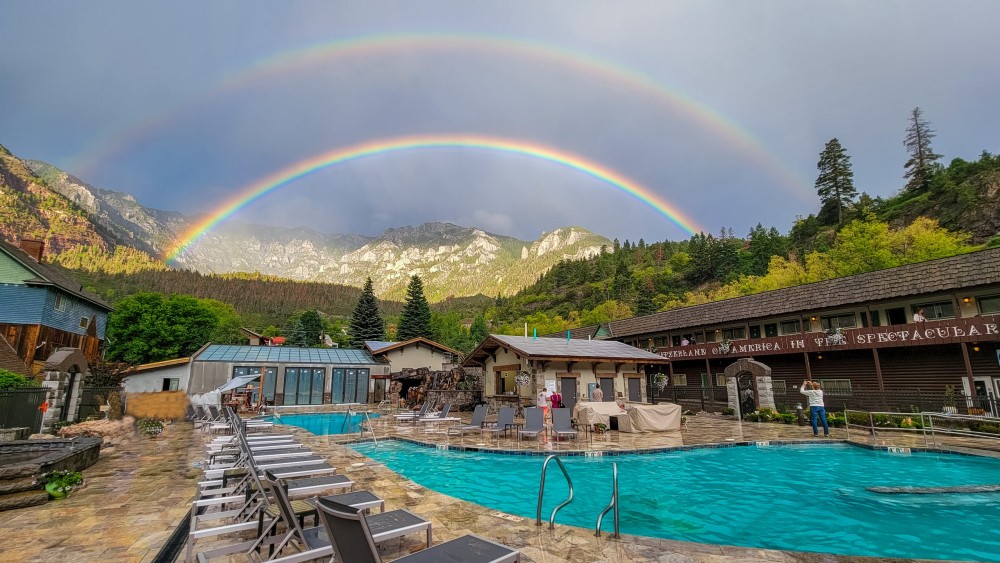 1. Twin Peaks Lodge & Hot Springs — Ouray
Nestled in Ouray, Twin Peaks Lodge has everything you could want from a hot springs resort. The springs feature natural healing water that guests can soak in as they take in sweeping views of the surrounding mountains.
When you're done soaking in the hot springs, you can cool off with a swim in the pool. And after working up an appetite, stop by the on-site restaurant or pizzeria to satisfy all your cravings.
[lasso ref="twin-peaks-lodge-hot-springs" id="8872″ link_id="1066382″]
Along with the hot springs and pool, guests can kick back at the spa, where a long list of rejuvenating treatments awaits. Prices tend to range from between $250 and $300 per night.
2. The Historic Wiesbaden Hot Springs Spa & Lodging — Ouray
The Historic Wiesbaden Hot Springs Spa & Lodging brings the feel of the European Alps to Colorado. Offering an intimate soaking experience from the heart of the San Juan Mountains, the spa is a relaxing oasis that will help every guest unwind and recharge from the stress of daily life.
Choose from three pools the Vapor cave, the Lorelei, and the outdoor swimming pool all of which are filled with pure spring water (and no added chemicals). There's also multiple accommodation options to enjoy, including ensuite rooms, a historic cottage, and the larger House on the Hill.
In the non-peak season, prices vary from $200 to $350 a night.
3. Box Canyon Lodge & Hot Springs — Ouray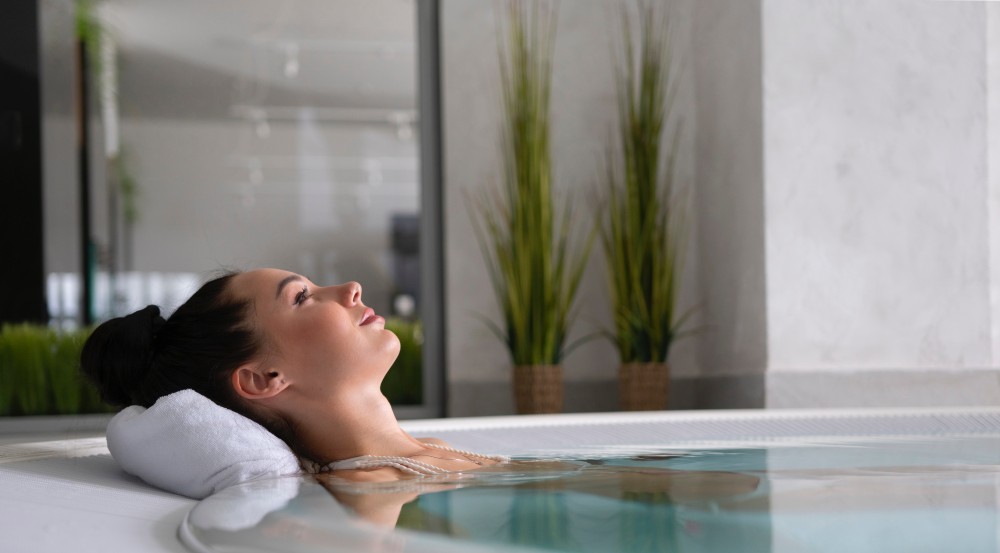 Box Canyon Lodge is one of Ouray's proudest achievements. The lodge is a welcoming, spacious, and charming establishment that would suit any kind of traveler, from families to couples.
In particular, the décor and finishes of each room are designed to make guests feel like they're at a home away from home.
The hot springs at the property are undeniably the star of the show and have been since the property first became a hotel following World War II.
[lasso ref="box-canyon-lodge-and-hot-springs" id="8398″ link_id="1066383″]
Guests can soak in the water via the lavish cedar tubs which are nestled on the mountainside, sitting atop decks that boast breathtaking views.
The water at Box Canyon Lodge is also totally natural, with no chemicals present to take away from the natural mineral composition. One of the best parts about soaking in the tubs is that guests can enjoy the experience during the day or at night.
You're looking at around $200 to $250 a night to stay at this charming lodge.
4. Orvis Hot Springs — Ridgway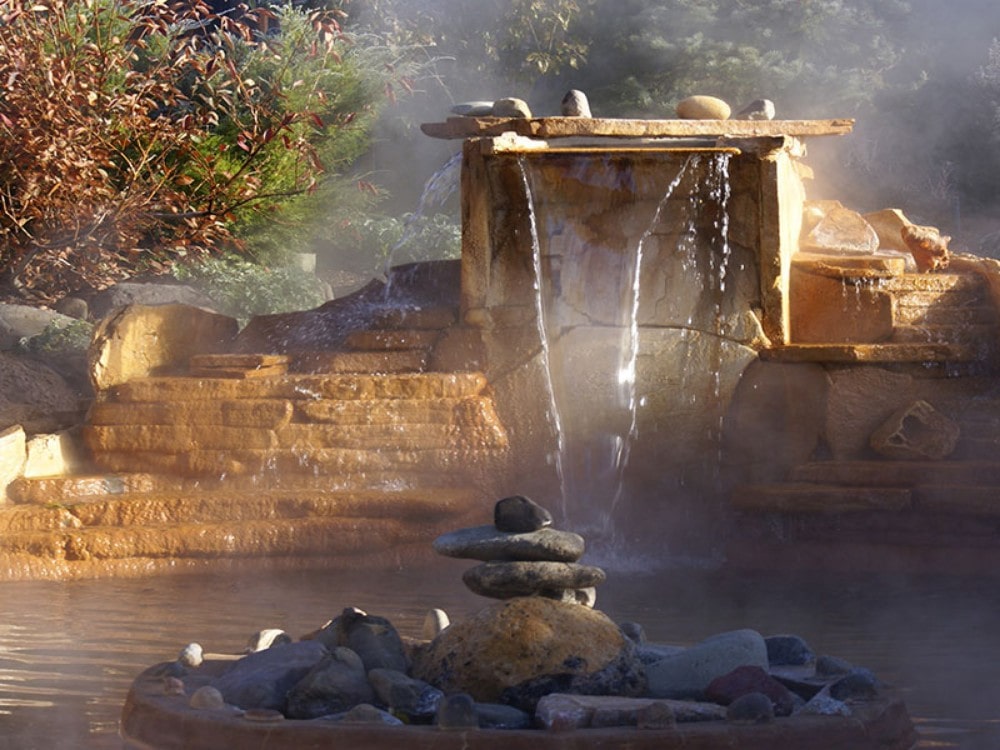 Located not even 15 minutes out of Ouray in Ridgway, Orvis Hot Springs is a clothing-optional resort where guests can soak as nature intended. There are 10 soaking areas to explore, all heated to comfortable temperatures between 65 and 112 degrees.
Like other hot spring pools in the area, the pools at Orvis are not adjusted or enhanced in any way. There are no chemicals present in the natural lithium water.
Though the hot springs are open for day use, guests who are lodging or camping at Orvis have the privilege of 24-hour access to the hot springs.
Children and young adults are permitted at the hot springs, but they must be accompanied by an adult at all times (and children under two cannot stay here). However, keeping in mind that the springs are clothing optional, this may not be the best choice for a family vacation destination.
That said, for adults, it's one of the best establishments available thanks to the wide range of pools. Choose from the pond, the island pond, the smoker's pond, the cold plunge pool, the north pond, the Watsu pool, the indoor pool, and two private tubs.
Lodging starts at $209 per night with an additional fee per adult. RV and camping will set you back $60 per adult.
5. Ouray Riverside Resort — Ouray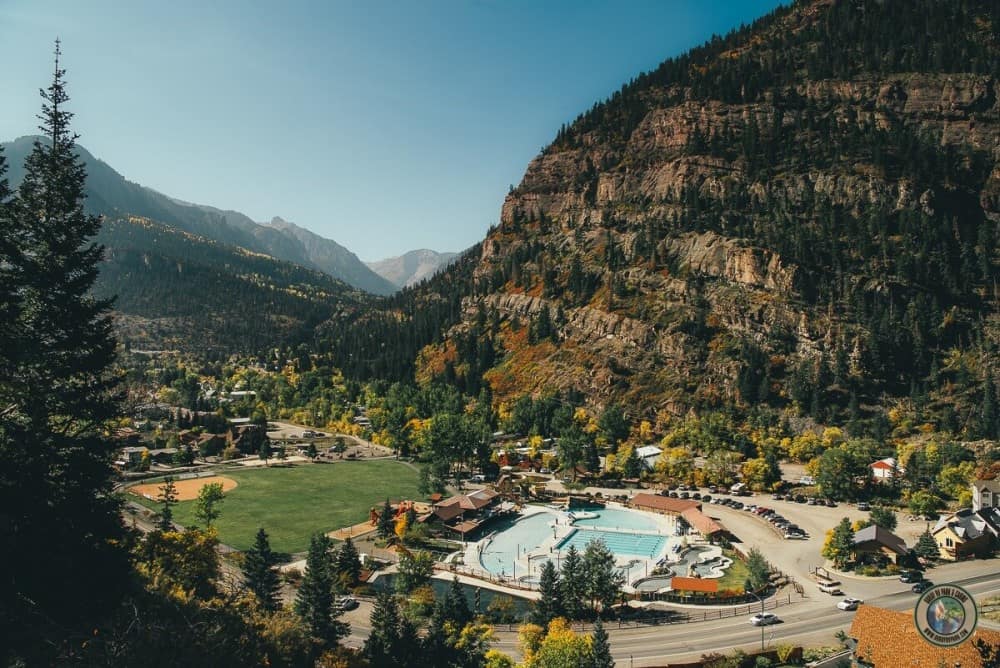 The Ouray Riverside Resort is located on the town's historic and picturesque Main Street. While this is not strictly speaking a hot springs resort, it is worth including here because it's only two minutes from the famous Ouray Hot Springs.
The distance you'd need to travel between the two may be even less than you'd travel from your room to the hot spring in some other resorts, so don't write this place off just yet.
The resort boasts riverfront rooms along with cabins and RV sites. There's also a café and steakhouse on site, plus a range of services available, including postal and laundry facilities.
[lasso ref="ouray-riverside-resort-inn-cabins" id="8877″ link_id="1066384″]
Even if you don't end up staying here, the Ouray Hot Springs should definitely be on your bucket list if you're a hot springs enthusiast. There are five pools to choose from, including an overlook pool, a hot pool, a lap pool, a shallow pool for the kids, and an activity pool.
And while these springs are sulfur-free (and don't carry that signature odor), they are rich in plenty of other minerals to keep your skin soft.
Prices are around $100 to $150 per night for the Ouray Riverside Resort.
Travel Tips for Staying in Ouray
Ouray is a historic municipality in Colorado's San Juan Mountains that is loved for its stunning scenery and mining heritage.
This is the type of Colorado destination that you could call "off the beaten track" so you might not run into as many crowds here as you would in the more popular ski areas around Denver, or the Mile High City itself.
One of the best ways to see it is to explore the town on foot, as this way you'll get to take in the stunning architecture.
Two-thirds of the town's original structures built in the Victorian style are still standing (via My Itchy Travel Feet). Walking tours are run by the Ouray County Museum, but you could also take yourself around with a map as your guide.
The town is surrounded by trails that many visitors use for hiking, but they are also frequented by mountain bikes, ATVs, and four-wheel drives. Some also choose to explore the area via horseback!
Though Ouray is as charming as any other mountain town, it's not an ideal destination for winter sports as it lacks the slopes of the traditional ski towns of Colorado. That said, there is still lots to do there.
Be sure to spend some time exploring the historic main street, which is registered as a National Historic District (via Travel Awaits). This is where you'll find hotels and the city courthouse against the backdrop of the towering mountain peaks.
For those visiting in January, don't miss the Ouray Ice Festival at Ouray Ice Park. The festival, which is within walking distance from the downtown area, features everything you could possibly want relating to ice climbing.
There are free clinics and gear demos plus exhibition climbing. The park itself boasts more than 100 ice climbs and is free to enter, open between December and March.
Of course, one of the best things to do in Ouray is explore the hot springs located around the area.
These tend to be so popular with tourists, primarily for their healing properties, but also because the water doesn't carry the signature strong scent of sulfur that you'll find at many other geothermal springs.
If there's one hot spring pool not to miss in Ouray, it's Ouray Hot Springs, which is located on Main Street. The largest hot spring pool in the area, it has been running for nearly 100 years (though the establishment has recently been renovated).
Ouray Hot Springs offers an adults-only pool with comfortable temperatures between 75 and 106 degrees Fahrenheit. There are lanes for those who wish to lap swim, along with climbing and diving facilities.
However, if you'd prefer to soak in more privacy, you could reserve a place at one of the local hot springs resorts.
Hotels With Hot Springs In Ouray – Final Thoughts
Though all of these hotels have merit, here are my picks for each travel style.