The capital of California, Sacramento is well-known for being a foodie mecca boasting the best local produce and farm-to-table dining. But the abundant natural landscape surrounding Sactown also lends itself to several geothermal areas rich in hot mineral springs to enjoy.
In this article, we will take a closer look at the hot springs near Sacramento to be discovered and added to your travel itinerary for your next visit to The Golden State. (Distance from Sacramento in brackets).
Hot Springs Near Sacramento, CA
1. Wilbur Hot Springs, Wilbur Springs (83 Miles)
Wilbur Hot Springs is a wellness resort in Northern California nestled on the grounds of a nature preserve. The main attraction at the resort is the undiluted, untreated mineral pools that contain three ounces of dissolved minerals per gallon.
The hot springs at Wilbur feed into three long flumes with temperatures ranging from 100 to 109 degrees Fahrenheit. There is also a spring-fed swimming pool, an outdoor hot mineral flume, a cold plunge, and a dry sauna for all your relaxation needs.
Located around an hour and a half from Sacramento, Wilbur is a sanctuary where visitors can escape the demands of technology and enjoy the stillness of this off-the-grid establishment.
2. Golden Haven Hot Springs, Calistoga (87 Miles)

Only an hour and a half away from Sacramento, Golden Haven Hot Springs is settled in the heart of the world-famous Napa Valley.
There are both herbal mineral baths and organic mud baths to enjoy soaking in at the resort, and the mineral-rich water is also used in various spa treatments and in the property's showers. You'll also find a natural hot springs spa to explore.
Our Pick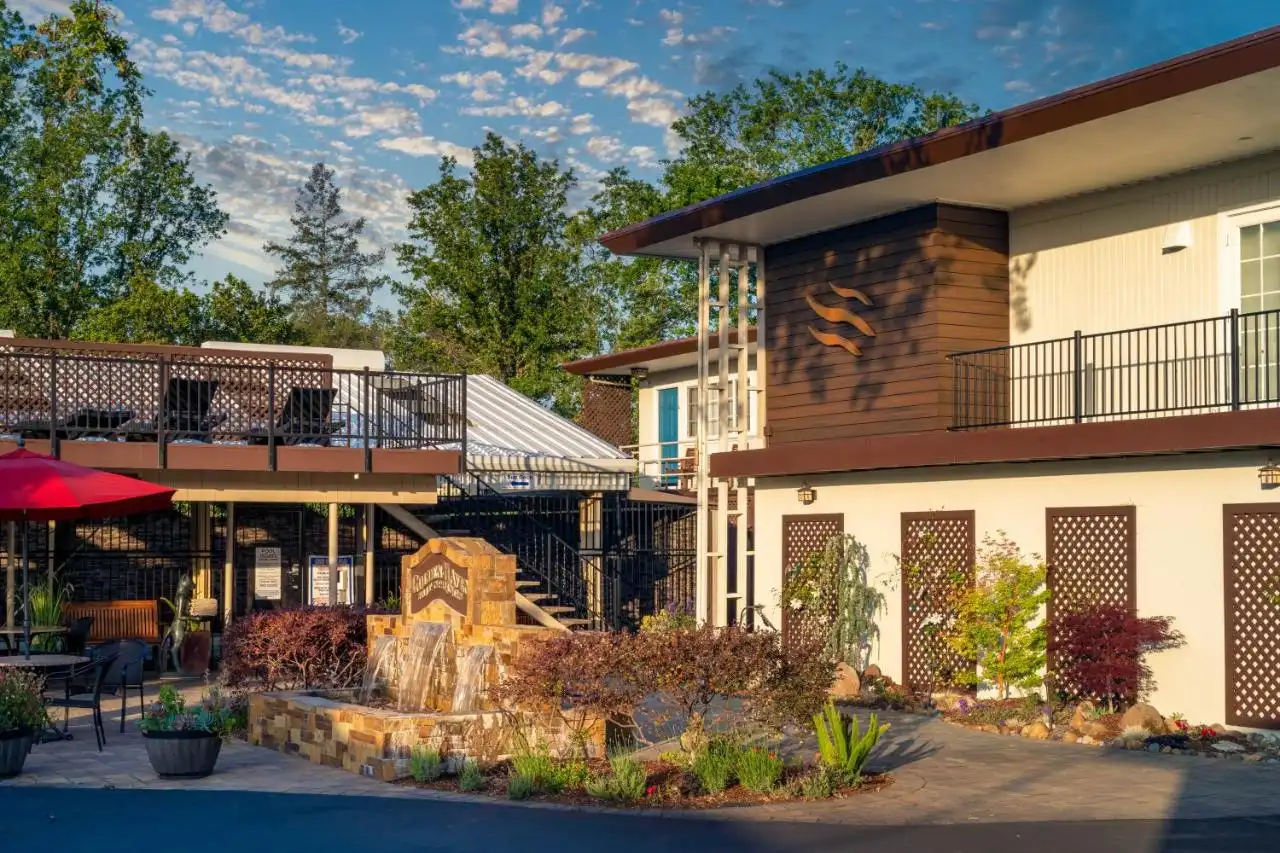 Golden Haven Hot Springs
Mineral Baths On-Site
"The rooms are very comfortable and have great facilities. But the gem is the hot pools. They have three pools and each is absolutely perfect in its own way."
View on Booking.com
You can book a total mud bath experience for singles, couples, or friends, which takes place in private treatment rooms.
The experience includes a soak in a mud bath, a rejuvenating facial, a hot springs mineral bath, and a cool wrap to help you cool off after your treatment. This is a must for anyone looking to escape from the stress of daily life!
3. Steep Ravine Hot Springs, Stinson Beach (100.9 Miles)
Just under two hours away from Sacramento, Steep Ravine Hot Springs at Stinson Beach provide visitors with the opportunity for a relaxing soak in a natural setting.
The hot springs are located by the Steep Ravine Campgrounds near Bolinas Bay, so this is a great option for those who want to camp overnight.
Our Pick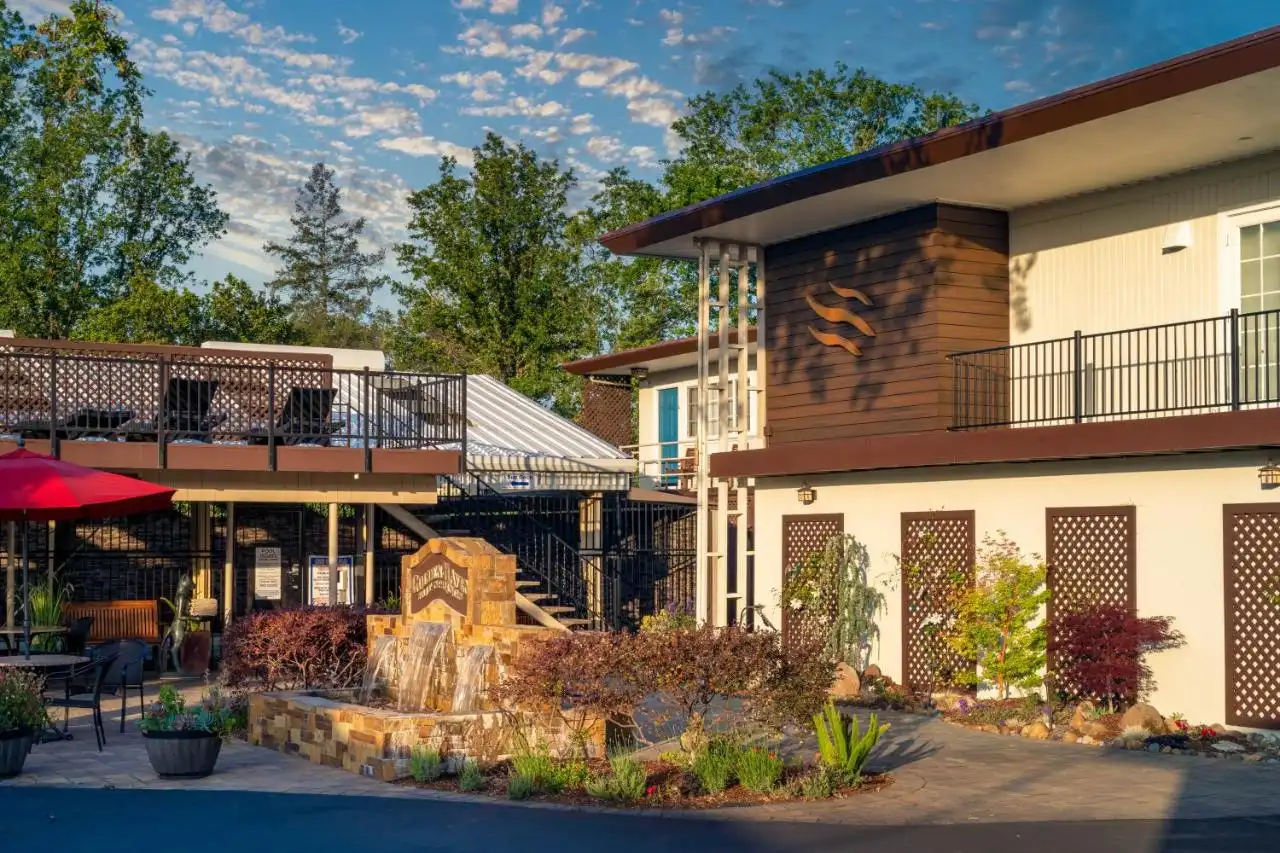 Golden Haven Hot Springs
Mineral Baths On-Site
"The rooms are very comfortable and have great facilities. But the gem is the hot pools. They have three pools and each is absolutely perfect in its own way."
View on Booking.com
Unlike most other hot springs in Northern California, Steep Ravine Hot Springs are located on the beach and can only be accessed when the tide is low. It's definitely worth consulting a local tide chart to find out the best time to visit.
These hot springs tend to be popular with locals, so when there is a low tide, it's best to visit early to avoid crowds.
4. Sierra Hot Springs, Sierraville (126.3 Miles)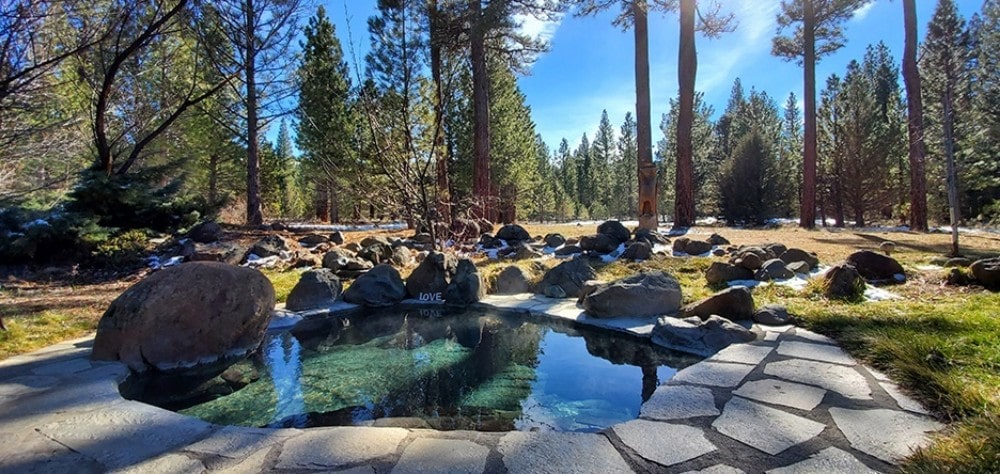 Sierra Hot Springs is a must-visit destination for hot spring enthusiasts in Northern California.
A non-profit resort, this retreat center lies in the town of Sierraville and offers a variety of hot springs to choose from. This includes the domed Hot Pool, which features mosaic tiles, a sand bottom, and water heated at up to 110 degrees.
There is also the Warm Pool, the Meditation Pool, and the Phoenix Baths, all of which are clothing optional.
The property, which is around two and a half hours from Sacramento, borders a natural woodland forest, making for spectacular views and a tranquil atmosphere. There are also plenty of opportunities for hiking, and in the winter, cross-country skiing.
This YouTube video posted by Wanderfoot highlights the serenity of Sierra Hot Springs.
5. Vichy Springs, Ukiah (148.2 Miles)
Vichy Springs is rich in history and dates back nearly 170 years. Self-described as both a "country inn and a hot springs resort", Vichy is the ultimate destination for relaxation.
Guests of the resort can use the natural mineral hot springs, Olympic swimming pool, and hot soaking pool to their heart's content.
The water in the hot springs has a high level of alkalinity and has been used since before white settlement to treat lots of conditions, including stomach acidity, gout, rheumatism, and arthritis.
The Vichy baths are particularly famous for these properties and were even used by historic figures such as Mark Twain and Jack London.
Vichy Springs is around two hours and 45 minutes from Sacramento. This establishment is set on a 700-acre property where walking and hiking are also available.
There is also a spa on the grounds, offering massages to complement the other wellness activities you can indulge in.
6. Orr Hot Springs Resort, Ukiah (155.8 Miles)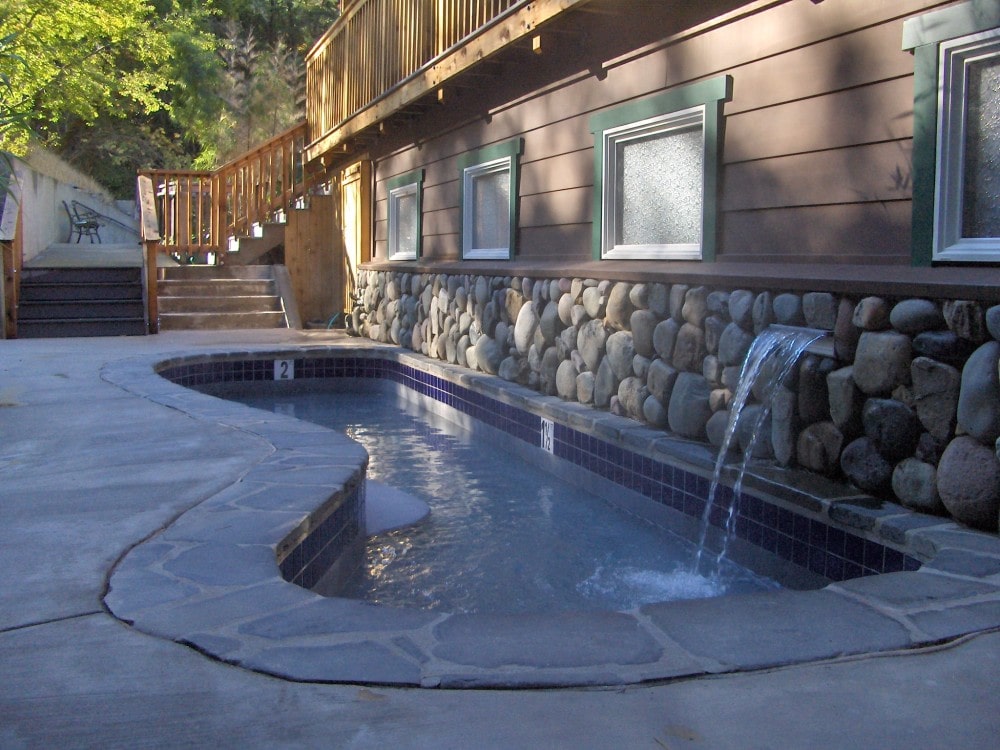 When it comes to total relaxation, no one does it quite like Orr Hot Springs Resort, a clothing-optional establishment nestled in the Mendocino Coastal Range.
The resort offers several comfortable accommodation options for guests who want to enjoy the hot springs for a longer period, including rooms, yurts, cottages, and campsites. However, the springs are available for day use, too.
Orr Hot Springs has no Wi-Fi or cell service and tends to be silent after dark, so this is the perfect destination for those looking to escape from the pressures of modern life. Massages are also offered at the property, which is around three hours from Sacramento.
7. Travertine Hot Springs, Bridgeport (191.6 Miles)
At just over four hours away, Travertine Hot Springs in Bridgeport isn't the closest hot spring to Sacramento. However, the natural travertine is a unique feature that makes these springs worth visiting, even if it takes you all day!
Travertine is a terrestrial sedimentary rock. This natural stone comes in a variety of alluring colors, and at the hot springs, you'll notice striking orange and yellow shades.
Our Pick
Walker River Lodge
2 km From Travertine Hot Springs
"Our room was clean, the bed comfortable, working microwave and fridge. But the best part of it was the back patio which was wonderful - stunning views."
View on Booking.com
Given that this hot spring is free to enter and quite distinct in appearance, it tends to get pretty crowded, so it might be worth visiting on a weekday rather than a weekend.
There are three rock-bottomed tubs at the springs, plus a cement tub, all of which are super rustic. The tubs tend to be around 100 degrees, but this varies slightly according to the season.
8. The Inn at Benton Hot Springs, Benton (343.3 Miles)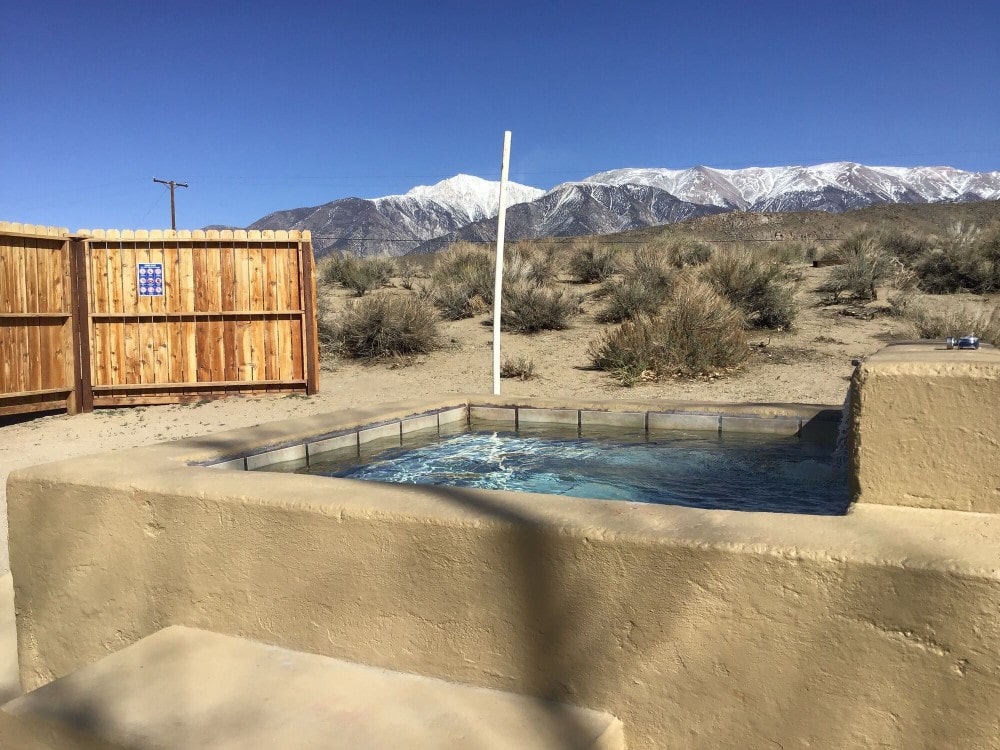 Home to some of the most natural mineral hot springs in the world, The Inn at Benton Hot Springs is around six and a half hours from Sacramento. While it's probably too far to duck in for the day, it is a great place to stop on your way to or from Sactown.
The resort features 12 hot tub sites fed by the natural spring water. Clothing is optional in these private hot tub areas, where modesty is provided by the surrounding trees and shrubs.
There are also picnic facilities and a fire grill and pit at each site, and up to two pets are welcome per hot tub (though animals can't actually enter the water).
Along with the hot springs, there's plenty to do in and around Benton. While staying at the inn, plan time to visit the historic Benton cemetery and Eastern Sierra landmarks like Mammoth Lakes and the Ancient Bristlecone Pine Forest.
Final Thoughts
If you're visiting Sacramento, you'll be lucky enough to have a wealth of hot springs just a short distance away. From primitive springs with otherworldly features to lavish wellness resorts, there's a hot spring for every kind of traveler in Northern California.