Located in Central America, Costa Rica is an oasis reminiscent of paradise. With strips of coastline both on the Caribbean and the Pacific, it's a tropical getaway destination known for a landscape carpeted with lush rainforest and white sandy beaches.
Many tourists arrive in Costa Rica simply to relax, or enjoy thrilling activities like zip lining through the rainforest. But there are also lots of amazing destinations to explore throughout the country, including the city of La Fortuna, named so for its place next to the Arenal Volcano.
As the presence of the volcano suggests, La Fortuna is a hotspot of geothermal activity and is naturally home to several hot springs. Many of these are located within resorts, which also offer other relaxing amenities, including full-service spas and wellness retreats.
In this article, I will share my top picks for hotels with hot springs In La Fortuna, Costa Rica, so you can start planning your tropical escape now!
The Best Hotels With Hot Springs In La Fortuna, Costa Rica
1. The Springs Resort & Spa at Arenal — La Fortuna
When it comes to hot spring resorts in La Fortuna, one property seems to stand out: The Springs Resort & Spa at Arenal.
Guests will be treated to a world-class view of the Arenal Volcano at the five-star property, which was named by CNN Travel as one of the seven resorts with the most spectacular views in the world.
And for anyone still doubting the natural beauty of this resort, they have hosted "The Bachelor" and other TV shows simply due to the fact that the grounds are reminiscent of nirvana.
Our Pick
The property spans 165 acres in total and offers tranquil hot springs along with more adrenaline-pumping activities. At the on-site Club Rio Adventure Center, guests can enjoy river tubing and kayaking, rock climbing, horseback riding, and an animal sanctuary. There's also a golf putt course and kids' game room.
If all that weren't enough, foodies will love this resort thanks to the five unique dining experiences on offer. After all that eating, soaking, and adventure-seeking, you can truly unwind in the spa.
Being "the finest accommodation in Costa Rica", naturally, this resort doesn't come cheap. You're looking at an average rate of more than $8,000 per night, so this is definitely one to plan ahead for!
2. Baldi Hot Springs Resort & Spa — La Fortuna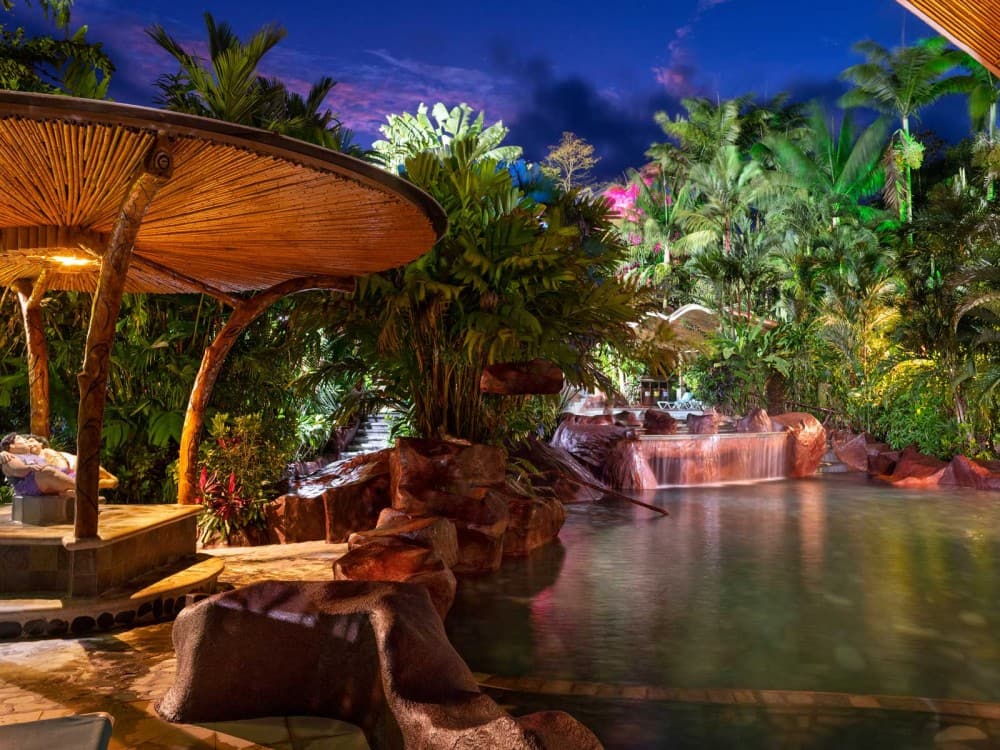 Baldi Hot Springs Resort & Spa prides itself on pure thermal water that is 100% natural and free of contamination, as certified by the Faculty of Microbiology of the University of Costa Rica.
This resort has no less than 25 thermal pools on-site, all set amongst the dense tropical rainforest and flowing waterfalls. Located at the base of the Arenal Volcano, the resort is family-friendly with free breakfast and beautifully appointed rooms. There is also a water slide for the kids!
Our Pick
The pools range in temperature from 93 to 152 degrees Fahrenheit, perfect for guests seeking a diverse variety of soaking experiences.
This is another resort that's on the higher end of the price spectrum. Average prices for the non-peak season can be anywhere from $600 to $900 per night.
3. Paradise Hot Springs — La Fortuna
The name "Paradise Hot Springs" certainly is fitting, since this resort truly resembles paradise. An oasis of "relaxation and well-being", the establishment uses a variety of treatments and practices to encourage health and wellness.
It's no wonder it was featured in the Lonely Planet guide for Costa Rica! It also won Trip Advisor's Certificate of Excellence in 2016.
The thermal pools are at several different temperatures to suit different tastes, though there are never too many people to contend with at this resort, which has a maximum capacity.
Our Pick
Paradise Hot Springs
Hot Springs On-Site
"Excellent location very close to the volcano. The hot spring pools with different temperatures were above expectations. Beautiful vegetation throughout the grounds."
View on Booking.com
Along with the pools, guests have the chance to experience instrumental music, hydro massages, natural tropical gardens, and body treatments at the spa. Plus, there's the Azalia Restaurant and Phoenix Bar on site to keep guests full and entertained.
Paradise Hot Springs is definitely more affordable as far as La Fortuna resorts are concerned, but it's still by no means considered "budget" accommodation. You can expect to pay anywhere from $250 to $700 a night to stay here in paradise.
Travel Tips for Staying in La Fortuna
La Fortuna is one of Costa Rica's most popular destinations and is adored for its picturesque green landscape. Many travelers arrive to view the wonder of the Arenal Volcano, which brings me to the first tip you should know about visiting yourself.
The volcano is very much active. It's actually one of the most active volcanoes in the world (via Megan & Aram). Because of its chemical composition, it's a particularly explosive volcano and has the potential to erupt up to five times a day (via Arenal Volcano).
When exploring the area, it's crucial to stick to marked areas and avoid trespassing into prohibited sections near the volcano, as an eruption could occur at any time. The last activity of note occurred in May 2010.
The good news is the presence of the volcano marks the geothermal significance of the area which makes the solid collection of hot springs resorts possible.
While most visitors arrive with hopes of catching a glimpse of the volcano, even if they don't venture up close, be prepared for the chance that the peak may be hidden behind fog and cloud cover. When it's rainy, it's difficult to see the volcano, and not every visitor will have a chance to witness it.
The rainy season takes place from May through November, but it may still be worth visiting during this time.
For starters, it doesn't rain all day, every day. It tends to only rain in the afternoons for a few hours, and the rainiest months are September and October, so you could visit earlier in the year for better weather.
The rainy season also offers beautiful green scenery and tends to be cheaper and less busy. If you want to see Costa Rica's mass sea turtle nesting or go dolphin and whale-watching, you'll have to visit between August and November.
The volcano is arguably the top sight in La Fortuna, but there is still plenty more to see. Be sure to explore the La Fortuna Waterfall, which is found at the base of the Chato Volcano. Don't worry, though this volcano is dormant!
The area is also blessed with many hot springs, some of which are adult-only (including Nayara Springs). You don't have to book a place at a luxury resort to enjoy the thermal waters of this rainforest-dense country!
Other activities to include in your schedule are zip lining and visiting the Místico Arenal Hanging Bridges.
One of the easiest ways to reach La Fortuna is from San José, the capital of Costa Rica. The travel time will be around four hours by bus. Otherwise, you could travel from Peñas Blancas or Liberia.
Because La Fortuna is considered to be one of Costa Rica's major tourist destinations, it can be pricey. It's best to come prepared with a reasonable budget for food and activities.
However, there is budget accommodation available in the form of backpackers' hostels. Note that these won't give you direct access to private hot springs, but there are still plenty of public hot springs to explore in town.
Hotels With Hot Springs In La Fortuna – Final Thoughts
All of these hot spring resorts at La Fortuna are worth visiting, but which one you choose will depend on your travel desires. Are you looking for luxury? Or something romantic? Let this be your guide.