The second largest city in Arizona, Tucson offers a gateway into the natural wonders of the state's southeastern corner. While not as celebrated of a destination as Phoenix, Tucson maintains much of its desert community charms and serves as a fantastic base for exploring the region's local culture and landscapes.
Among some of the region's top attractions are some of the best hot springs in the region, which provide a soothing oasis for escaping the state's unforgiving desert climate.
Whether seeking a luxury hot spring resort or the simple elegance of a primitive thermal pool, visitors can escape Arizona's rough terrains while soaking in these six surreal hot springs near Tucson, AZ. (Distance from Tucson city center in brackets).
6 Great Hot Springs Near Tuscon, Arizona
1. Kachina Mineral Springs (125 Miles)
While only a small thermal facility, the Kachina Mineral Springs are the closest hot springs near Tucson and offer a charming complex for enjoying an authentic thermal soak while taking advantage of onsite amenities, including an onsite spa.
Located in the nearby community of Safford, the Kachina Mineral Springs require just under two hours to reach from Tucson and provide a simple soaking experience in a wide selection of Roman-styled baths. The baths range from 100 to 108 degrees Fahrenheit and vary in size from individual pools to group pools capable of sitting up to eight people.
[lasso ref="springhill-suites-thatcher" id="2851″ link_id="1067988″]
The Kachina Hot Springs offers soaking packages for singles, couples, and larger parties and offers several treatments at its spa, including massages, reflexology, and hot stone treatments.
Whether seeking a full-body treatment or a simple mineral soak, the Kachina Mineral Springs is the most accessible hot spring facility near Tucson and offers the most convenient setting for submerging in the region's therapeutic waters.
2. Essence of Tranquility (126 Miles)
Also located in Safford, Essence of Tranquility is another traditional community hot spring near Tucson that offers various soaking options and onsite spa treatments.
The Essence of Tranquility features six thermal tubs ranging from 98 to 105 degrees. Each pool boasts its unique design, including a waterfall tub, a cave pool, a blue lagoon tub, and even soaking options inspired by an Asian trek and a Greek vacation.
For additional relaxation, the complex also offers various treatments at its extensive spa facility. The complex's diverse treatment catalog includes various massages, reflexology, ear coning, cupping, and essential oil therapy.
Also featured on the property are various lodging and tent camping opportunities, including several rustic cabins, which complete the authentic ambiance of properties traditional desert retreat environment.
3. Hot Well Dunes (129 Miles)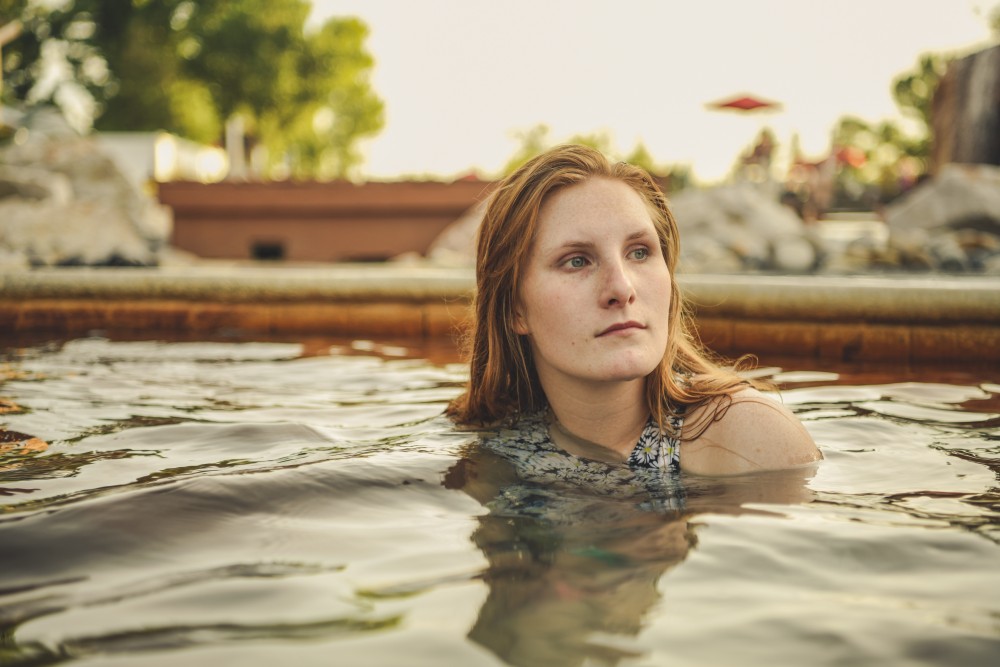 Visitors seeking a primitive hot spring near Tucson should instead plan to visit the Hot Well Dunes Recreation Area located just outside of Safford. Once an inland beach over 2 million years ago, the recreation area is now 2,000 acres of dunes and offers visitors myriad activities, including the opportunity to soak in its famous hot springs.
Hot Well Dunes' hot springs consist of two separate thermal pools formed out of concrete grated tubs. The pools are fed from a natural spring source and are transported to the pools via solar-powered pumps. The water averages about 106 degrees Fahrenheit from the source, but it cools to different temperatures throughout the year.
Beyond its hot springs, the Hot Well Dunes Recreation Area boasts several amenities and activities, including exploring its dunes, fishing, and enjoying a picnic at the park's grill area. Additionally, visitors looking to spend the night by the spring should book a site at one of the ten tent/RV campsites.
4. Castle Hot Springs (162 Miles)
Located just outside of Phoenix, the Castle Hot Springs are the next closest hot springs near Tucson. And despite the three-hour drive to reach, this thermal pool resort is one of the state's most famous hot springs and is well worth the extended journey.
Frequented by the local Apache and Yavapai tribes long before American settlers even arrived in the Arizona deserts, the Castle Hot Springs has since been developed into a full-service resort, first opened in 1896.
Boasting three onsite thermal pools averaging 120 degrees Fahrenheit from the source, the Castle Hot Springs is considered the planet's hottest non-volcanic natural spring and features high levels of lithium, magnesium, and bicarbonates, which provide for a soothing and rejuvenating soak.
Unfortunately, the Castle Hot Springs is not open to day visitors and is reserved for only the resort's overnight guests. Luckily, the property features several luxury accommodations options that enhance the complex's overall bliss.
On top of its premium room offerings, resort guests also receive full access to the facility's onsite services, including a full-service spa and wellness center and an in-house restaurant serving a delicious menu of dishes highlighting ingredients from the facility's onsite farm.
5. El Dorado Hot Springs (164 Miles)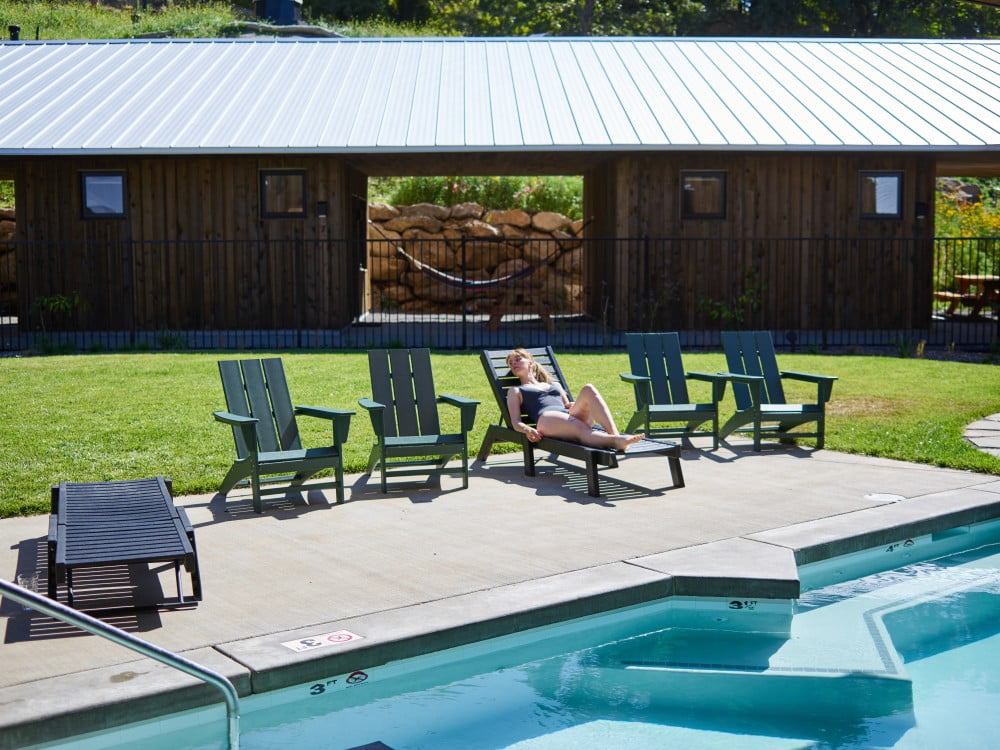 Another fabulous hot spring resort about two and a half hours from Tucson in the small desert community of Tonopah, the El Dorado Hot Springs offers one of Arizona's most lavish thermal pool experiences and promises a surreal setting of quiet serenity.
The resort features several soaking options, including a clothing-optional public pool and several private baths with breathtaking sunset or desert landscape views.
All the pools on the property are fed from the same underground spring source and average about 107 degrees Fahrenheit. The alkaline waters boast a pH balance of 8.2 for a blissfully soothing soak.
Along with offering a tranquil setting for enjoying the region's mineral waters, the El Dorado Hot Springs Resort boasts plenty of onsite amenities for an enhanced retreat in the Arizona desert.
Providing overnight accommodation, the El Dorado Hot Springs features several stay options, including Desert Pete's Bunkhouse, offering rental rooms with soaking packages, and the Mariposa, which provide separate room options located directly within the property's public pool area.
Meanwhile, visitors seeking a more rustic stay in Arizona's idyllic countryside can instead spend the night at the property's campgrounds, where they can enjoy the simple elegance of sleeping in the desert at a tent or RV site.
6. Sheep Bridge Hot Springs (184 Miles)
Nestled along the Verde River in the untouched natural environments of the Tonto National Forest, the Sheep Bridge Hot Springs is one of the most pristine primitive hot springs near Tucson, despite requiring a four-and-a-half-hour drive to access.
The primitive thermal pool is slightly underwhelming and consists of a small rock-lined tub capable of sitting up to three people. The water averages about 100 degrees throughout the year and provides a soothing soak while admiring the surrounding region.
While the natural mineral tub is not as impressive as some other facilities near Tucson, the Sheep Bridge Hot Springs' main appeal is the surrounding Toton Forest which boasts several nearby natural attractions and historical landmarks.
Among the region's top sites are the Verde River, which offers a cooling dip perfect for resetting after a thermal soak, and the reconstructed Sheep Bridge, which allowed local shepherds to guide their herds across the river between the 1940s and 1980s.
With so much to explore and the long journey to reach, many visitors to the Sheep Bridge Hot Springs opt to spend the night in the national park. Luckily, dispersed camping is permitted in the area.