A quaint mountain town in southwestern Colorado, Telluride boasts some of the state's most breathtaking landscapes. It features several adventure activities ranging from world-class ski slopes to intrepid hiking trails through its daring mountains and canyons.
However, along with its more arduous and physically demanding attractions, Telluride can also be a destination for relaxation and boasts a wide selection of hot springs within just a short drive from the city.
From luxury resorts to simple primitive pools, visitors can find a soothing escape at these six hot springs near Telluride, CO. (Distance from Telluride city center in brackets). 
Hot Springs Near Telluride, Colorado
1. Dunton Hot Springs (31 Miles)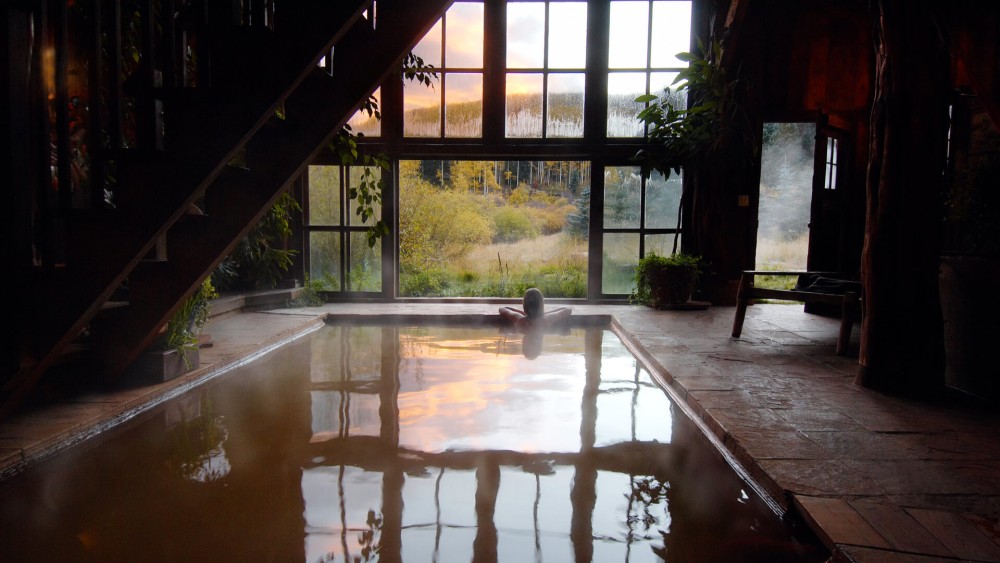 Once a thriving mining community that boasted up to 300 residents around the turn of the 20th century, Dunton was renowned in Colorado thanks to its therapeutic mineral hot springs, which enticed local miners and notable figures such as a Butch Cassidy to the small mountain town.
While the community has long been abandoned, many of the town's historic buildings have recently been restored and renovated to modernize the complex into a luxurious mountain resort boasting several soaking opportunities for guests to submerge in the same curative waters once enjoyed by the region's early miners.
Along with offering traditionally styled accommodation options and an array of onsite activities for exploring the great wonders of the Colorado mountainous landscapes, the Dunton Hot Springs is one of the most stunning and authentic hot springs near Telluride that features five different thermal pools on the property.
Ranging from 85 to 106 degrees Fahrenheit, these thermal pools include the historical 19th-century bathhouse, two outdoor pools scattered throughout the town, and a primitive pool tucked away in a more naturally preserved corner of the property. A private pool is also available but is exclusively reserved for guests staying in the Dunton Store Cabin.
2. Orvis Hot Springs (41 Miles)
Located slightly further, the Orvis Hot Springs is still less than an hour's drive from Telluride and offers another rustic thermal resort complex for enjoying the region's therapeutic mineral waters in several different public and private baths scattered throughout the property.
Surrounded by pristine natural beauty, the Orvis Hot Springs features seven outdoor mineral pools, each fed from a natural spring from the valley below the San Juans. The pools range from 65 to 114 degrees Fahrenheit for a varied experience that can meet any soaking preference while boasting mineral-rich waters for a soothing bath.
Also available on the property is a large indoor bathhouse open from 7 am to 9 pm. Featuring depths of 3 feet and a zero-entry slant, the bathhouse is family-friendly and safe for visitors of all swimming levels. Additionally, two private tubs averaging between 102 and 110 degrees are available for visitors seeking a more intimate soak.
While the hot springs are open to day visitors, the complex is excellent for a weekend retreat and offers onsite lodging in six private rooms and 30 tent and RV campsites. The complex also features spa services, which provide various massage, acupressure, and specialty treatments.
3. Ouray Hot Springs Pool (49.8 Miles)
Established in the early 1900s, the Ouray Hot Springs has been a popular healing center for over a century and continues to operate as one of the most developed hot springs near Telluride. The property boasts five large outdoor swimming pools filled with mineral-rich waters sourced from a natural spring in Box Canyon, about a mile away.
The Overlook Area houses two pools averaging between 104- and 106 degrees Fahrenheit throughout the year and can host over 200 people at a time. Located nearby is the shallow pool, which features depths only 42 inches deep, allowing for a family-friendly swim complete with basketball hoops, a volleyball court, and a designated floating area.
Our Pick
Meanwhile, visitors seeking a more active swimming experience will want to head to the lap pool to enjoy eight 25-meter lanes. Alternatively, the Activity Pool adds an increased thrill with a 12-foot climbing wall and a Wibit obstacle course.
Also available on the property is a Hot Pool, which features more traditional hot spring temperatures averaging between 100 and 106 degrees and plenty of seating and shade. Two water slides are available nearby, standing over three stories tall and offering exciting rides into the nearby pools.
4. Box Canyon Lodge and Hot Springs (50 Miles)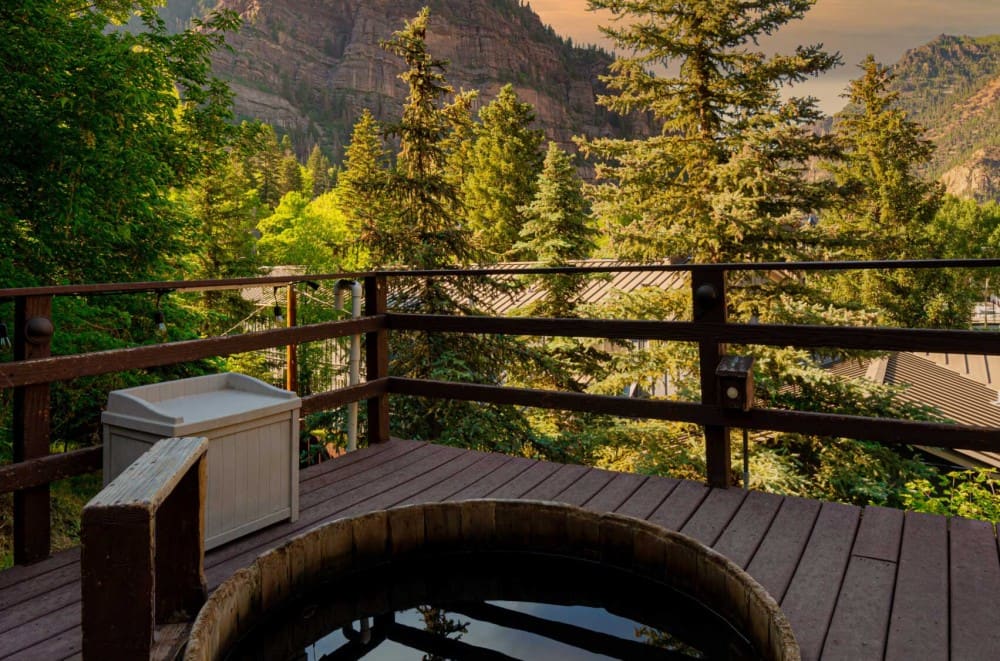 Also located in Ouray, about an hour's drive from Telluride, the Box Canyon Lodge and Hot Springs is a rustic hot spring resort that offers an authentic Colorado mountain town ambiance while boasting exclusive access to the region's natural mineral waters.
The complex features seven newly renovated redwood soaking tubs averaging between 103 and 108 degrees Fahrenheit. Each pool boasts 360-degree views of the surrounding San Juan Mountains and provides a surreal setting for enjoying the quiet vibes of the surrounding Ouray community.
Our Pick
Fed from the mineral spring in Box Canyon, the pools at this cozy resort are constantly being refilled for a fresh and rejuvenating soak free from any added chemicals.
Unfortunately, the Box Canyon Lodge and Hot Springs are unavailable to day visitors. However, the complex's accommodations offer cozy stays for exclusive access to the site's mineral pools.
5. Durango Hot Springs (120 Miles)
While slightly further from Telluride, the Durango Hot Springs is a beautiful thermal resort complex located at the base of the breathtaking Hermosa Cliffs in the San Juan National Forest. The site has operated as a hot spring resort since 1882 but has undergone a series of renovations resulting in a completely modernized complex.
One of the state's most extensive hot spring complexes, the Durango Hot Springs boasts 41 thermal water features, including 26 mineral tubs, a resort-style pool, a cold plunge pool, and eight private cedar tubs. Additionally, the property's mineral water features 32 minerals known for their curative properties, providing a soothing soak.
Also featured within the resort complex is an extensive spa facility boasting a diverse catalog of treatments, including facials, hot stone treatments, and full-body massages.
6. Piedra River Hot Springs (155 Miles)
Despite requiring a long three-hour drive to access, the Piedra River Hot Springs is the closest primitive hot springs near Telluride and are well worth the long but beautiful journey to reach. After arriving at the parking lot, visitors follow a short 1.5-mile trail to the banks of the Piedra River, where they will uncover several man-made thermal pools varying in size and temperature.
The thermal pools are made of stacked rocks that block the cold river water from flowing in but allow the natural hot springs to seep through the ground to fill the walls. Due to the temporary nature of the pools, the exact size and volume of these watering holes vary between visitors, with many guests opting to create their own pool when visiting.
Most of the hot springs average between 100- and 107 degrees Fahrenheit, but these temperatures can be further altered by shifting the rock walls to allow more of the cold river water to pour through.
Overall, the Piedra River Hot Springs offers a beautifully preserved region for enjoying the state's hot mineral waters while enjoying Colorado's breathtaking natural scenery.