Right across the state of California, there's a multitude of hot springs to explore. Though Northern California is typically known as hot spring country, there are still some geothermal areas to visit in the state's south and near the coastline, where you'll also find the charming city of San Diego.
In this article, we will look at 4 great hot springs near San Diego, and what you can expect on your visit to each of these pristine locations. (Distance from San Diego city center in brackets).
Hot Springs Near San Diego, California
1. Jacumba Hot Springs Spa and Resort, Jacumba Hot Springs (71.4 Miles)
Jacumba Hot Springs Spa and Resort are one of the most popular hot springs resorts in California.
Just an hour and 15 minutes away from San Diego, the resort has been temporarily closed for a while, and locals and loyal guests have definitely felt its absence. But the hotel is set to reopen soon!
There are two swimming pools and a spa on the premises which are all filled with water from the artesian well. The water remains unchlorinated and chemical-free and heated to a comfortable 100 degrees Fahrenheit.
Due to the minerals in the geothermal water, you will likely be left feeling totally relaxed and restored after your soak. The resort is also home to a full-service bar and restaurant that has recently been renovated, along with 24 hotel rooms.
2. Elim Hot Springs Resort, Aguanga (80 Miles)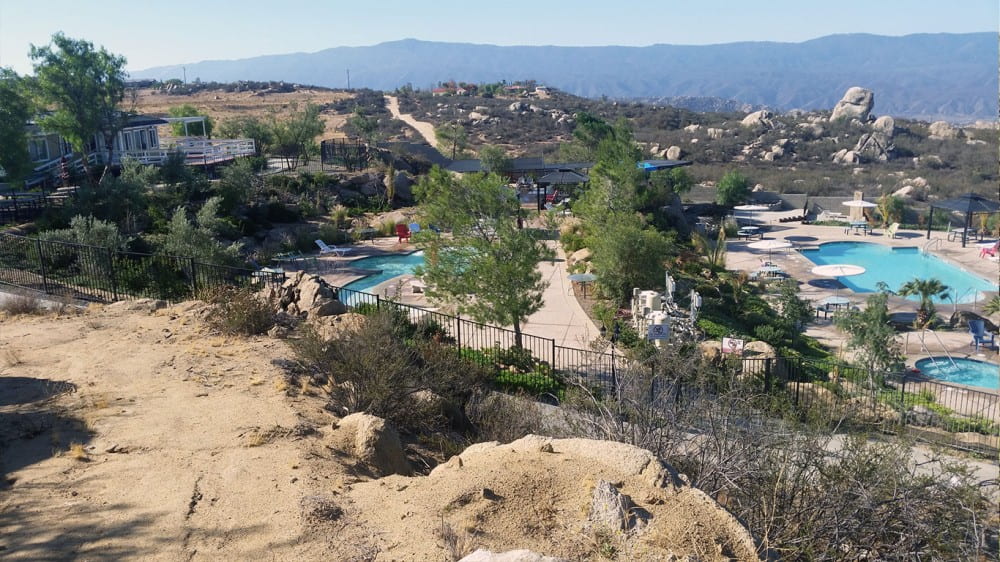 Aptly located on Foolish Pleasure Road in Aguanga, Elim Hot Springs Resort is around an hour and 20 minutes to the northeast of San Diego. This resort lies at the base of the Palomar Mountains and serves as the ultimate relaxation oasis.
The resort is famed for its natural spring water, which is proposed to have medicinal benefits thanks to its high sulfur content. The hot springs themselves are located outdoors but there's also an indoor pool for those who don't want to brave the weather. That said, the hot springs are open year-round, whether it's raining, snowing, or scorching hot.
It may seem daunting to strip down to a bathing suit and soak in the spring when it's freezing out, but hot springing during the winter may be one of the best experiences you'll ever have. Though it's not for the faint of heart, it's definitely something you should try at least once!
The three hot tubs range in temperature to suit every individual and are all undercover to provide protection from the sun. Keep in mind that the resort doesn't permit guests to wear sunblock in the water as it can interfere with the purity.
For accommodation, you can choose between staying in bungalows or pitching a tent at the campgrounds. There is also a barbecue area and church retreat on site. Remember to bring your own swimsuit and towel, plus cooking utensils if you plan on using the barbecue area.
3. Glen Ivy Hot Springs, Temescal Valley (89.1 Miles)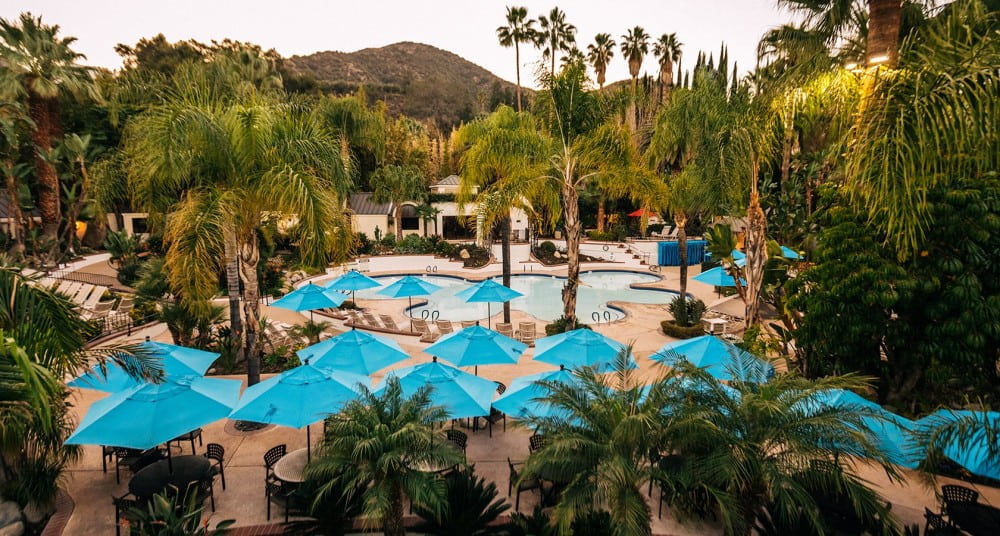 Who doesn't love a little indulgence every now and then? If you're looking for the type of resort that will give you the star treatment (guilty!), then Glen Ivy Hot Springs should be on your bucket list.
At only an hour and 20 minutes away from San Diego, it's well worth the drive to enjoy the natural waters and lavish resort setting.
The mineral baths are the highlight of the property and are heated to 104 degrees. They're abundant in minerals such as sodium and calcium, which have been known to leave the skin feeling smooth and ease any pain in the joints.
Additionally, there are the Roman baths, which are set in classical architecture and will make you feel like you've landed in the old empire! You can also enjoy a shallow lounge pool, which has been designed for guests to simply float on lounge chairs in peace and quiet.
Then there's a Saline pool filled with Epsom salts, which are said to be very effective at treating inflammation. Furthermore, the Epsom salt pedicures will leave your skin feeling as soft as butter.
Our Pick
Home2 Suites Corona
Easy Access to Glen Ivy Hot Springs
"Loved the cleanliness. The facilities were wonderful, especially the workout room... Location very central and close to everything needed plus more."
View on Booking.com
There is also a lap pool where aquatic classes, including Aqua Zumba and Aquafit, are held, plus hot and cold plunge pools to help with blood circulation. Meanwhile, the North and South pools are reminiscent of tropical resort-style pools and come complete with floating hammocks and poolside cabanas.
Finally, there is the Vista pool, set in the shade of palm trees as it looks over the Santa Ana mountains.
When you get sick of the thermal waters, you can reap the benefits of California red clay in the spring water mud pool. Though it may stain your bathing suit, the mud is a natural exfoliator that will draw out toxins and impurities in your skin.
As part of the Glen Ivy Experience, you can book body, face, and nail treatments at the spa. If all that wasn't enough, the resort boasts four dining outlets offering fresh Californian produce, Starbucks coffee, and an extensive drinks list.
To find out more about this opulent resort, check out this YouTube video posted by Explore and Create.
4. Agua Caliente County Park, Julian (93.5 Miles)
You will love Agua Caliente County Park, which is located in the larger Anza Borrego Desert State Park. There are both indoor and outdoor pools available, including a children's pool which is open every day.
Although children can use the adult pools too, it's adults only between 9:30 and 10:30 a.m. daily. This is the best time to go for a soak if you're looking for a little peace and quiet.
The springs are geothermally heated and contain restorative minerals that promote relaxation and can provide relief for some ailments, including arthritis.
This park is also worth visiting if you like hiking, as there are several miles of trails to explore, many of them offering spectacular views of the desert canyons and rocky hills.
Camping is available at the park, and given the climate, it's particularly popular during the winter months when guests can escape the scorching heat. You can choose from camping sites, a caravan area, and cabins that include bed frames and bathrooms.
There's a small fee of $3 for day-use parking and a $3 pool entry for non-campers. The park is around a two-hour drive away from San Diego.
Hot Springs Near San Diego – Final Thoughts
If you want to incorporate a hot spring visit into your trip to San Diego, these establishments have you covered! Let us know in the comments below which hot springs resort you'll be visiting first!