Thinking that because Palm Springs is in the desert, it's miles away from the nearest water source? To the surprise of many, the city is actually a short distance away from a plethora of hot springs and some of the best in the state.
In this article, we will take a look at some of the top hot springs near Palm Springs, CA, and what you can expect on your visit to the various pristine hot springs. (Distance from Palm-Springs city center in brackets).
Hot Springs Near Palm Springs, California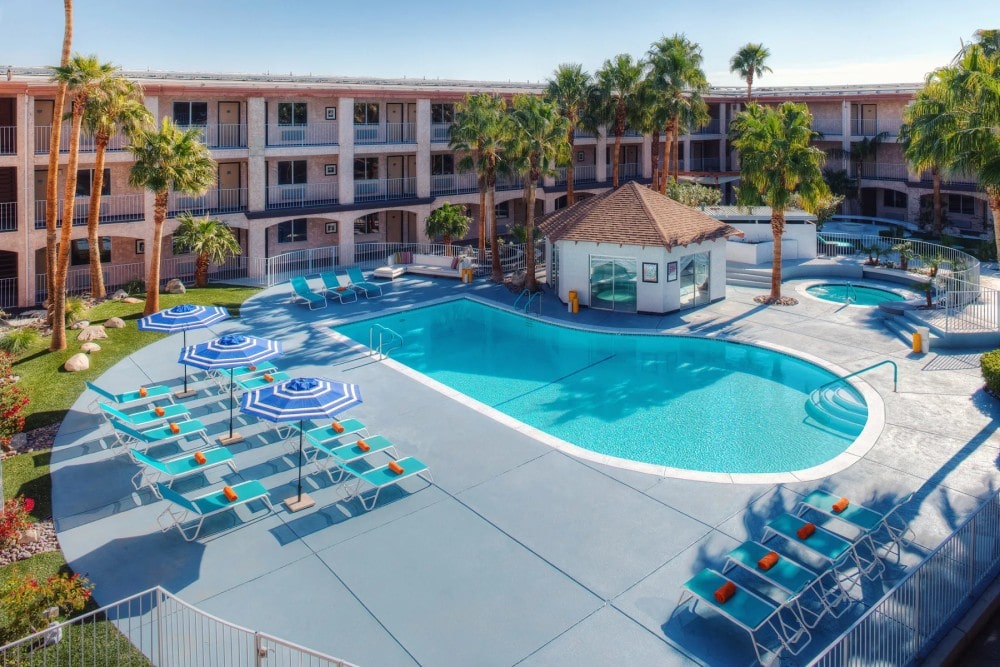 1. Aqua Soleil Hotel & Mineral Springs Resort, Desert Hot Springs (10.2 Miles)
When you're visiting Palm Springs, you can be at a mineral hot spring resort in a matter of minutes. Aqua Soleil Hotel & Mineral Springs Resort is only 17 minutes away in Desert Hot Springs, and one of the most relaxing destinations you can find in the desert.
This boutique hotel often attracts guests who are in the area for film or music festivals (Coachella, anyone?). There's a large pool along with two smaller pools, which are similar to hot tubs thanks to their jets, all filled with mineral water from the Desert Hot Springs aquifer.
Our Pick
The rooms at this resort have all recently been revamped, but if you really want to indulge, book a Soleil Suite. These come complete with their very own private jetted mineral pools. Also be sure to check out the spa, which offers a range of restorative treatments.
2. Hope Springs, Desert Hot Springs (12.6 Miles)
The best thing about hot springing near Palm Springs is that there is a long list of resorts to choose from. Hope Springs is just a little further away (a whopping 20 minutes!) from Palm Springs, and also offers the best of rejuvenating comfort through their three mineral pools.
The water in the pools flows from the property's well. Despite being filled with natural spring water from the earth, the pools are tiled and contain all the modern amenities, including steps, benches, and jets. They're set amongst the palm trees and cacti so typical of the area, giving visitors the perfect California soaking experience.
There is also a spa on the premises offering treatments such as deep body massages and facial massages. But the best part of this resort may just be that it delivers pristine views of the Coachella Valley and Mount San Jacinto.
3. Desert Hot Springs Spa Hotel, Desert Hot Springs (12.1 Miles)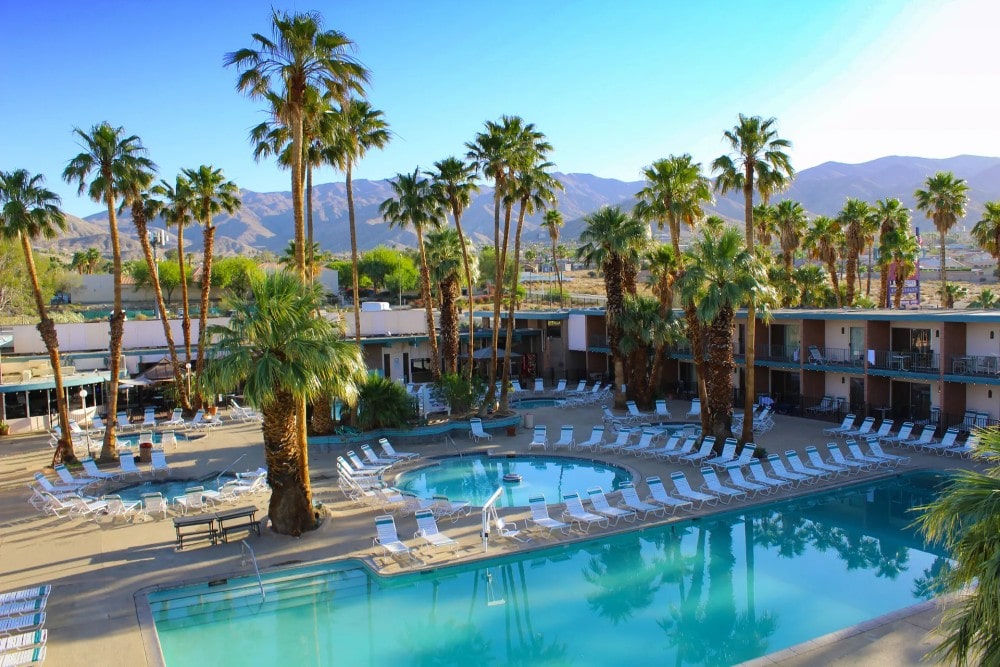 Appropriately referred to as "Miracle Waters", the Desert Hot Springs Spa Hotel is a popular retreat near Palm Springs. Visit this hotel to take a trip back to the '60s and enjoy the vintage architecture and classic palms as you enjoy the natural mineral spring pools.
The pools at Desert Hot Springs Spa Hotel are open 24 hours a day, perfect for those who, like me, would prefer to soak in the evenings. When you're not soaking, you can sip a cocktail or mocktail poolside while getting some rays.
The hotel also offers spa therapies and beauty treatments so that guests can get the most out of their healing experience.
The hotel is located just 21 minutes from Palm Springs and has 50 rooms overlooking the signature courtyard. It is also home to the addictive Sunshine Café and Sports Lounge.
Their website is currently under maintenance, so visit their Facebook page to find out more about this resort.
4. Caliente Springs Resort, Desert Hot Springs (12.8 Miles)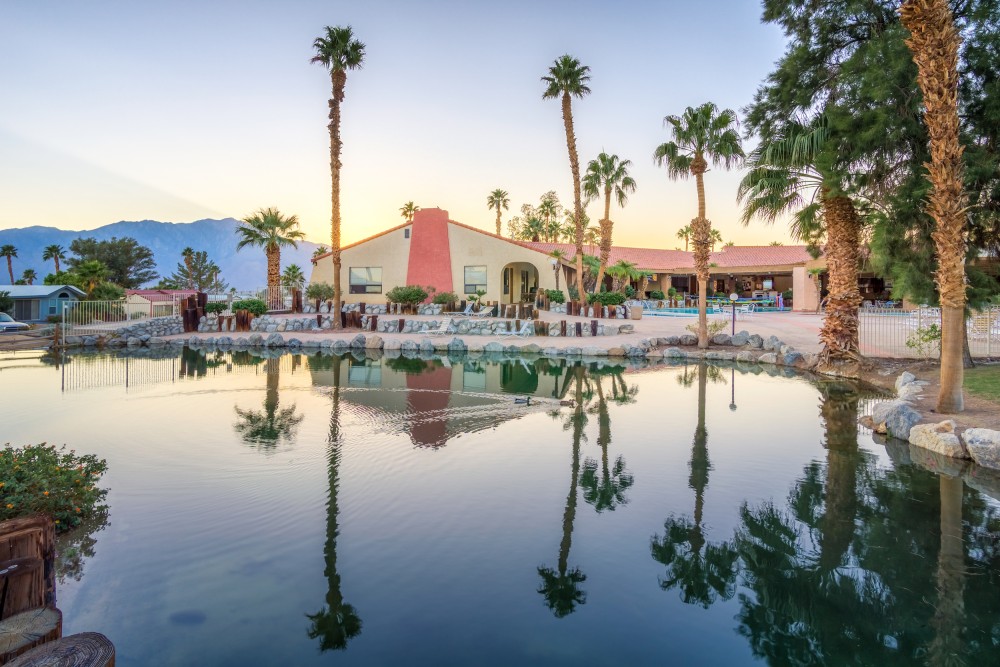 There's no age limit to visiting a hot spring. People of all ages and walks of life deserve to enjoy the numerous benefits of mineral hot springs without feeling self-conscious or like they don't fit in.
To that end, Caliente Springs Resort, just over 20 minutes from Palm Springs, is the perfect option for those who are 55 and older and find that other resorts in the area tend to attract a younger crowd.
The mineral hot pools at the resort are filled with natural water which is between 115 and 146 degrees Fahrenheit at the source. It is naturally high in minerals that may help with ailments such as arthritis and joint pain. The pools at the resort have also recently been revamped with shade sails to protect patrons from the sun.
Along with hot pool soaking, guests at the resort can enjoy several other activities, including classes and events, tennis, golf, and pickleball.
Besides the mineral pools, there are also spas and showers on the premises, so guests can indulge in the resort's recommended "Spa Method" treatment. This involves a 15-minute soak in the hot tub followed by a dip in the warm pool or visit to the sauna for 30 minutes.
5. Azure Palm Hot Springs Resort & Day Spa, Desert Hot Springs (12.1 Miles)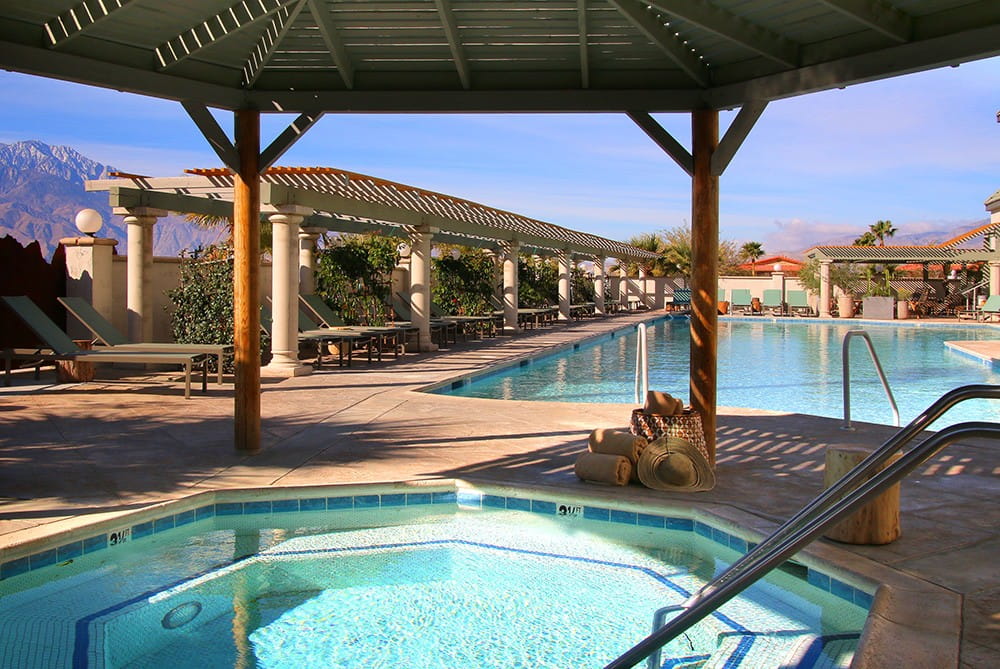 Just 23 mins away from Palm Springs, the Azure Palm Hot Springs Resort & Day Spa await. A true oasis in the desert, the resort offers accommodation (in their chic guest rooms) and day packages. The resort also hosts wellness retreats throughout the year.
The water in the resort's pools is rich in silica and trace minerals such as calcium, magnesium, and lithium, all of which work to soften your skin and relax your body. Again, this water is odorless and pleasant to soak in.
Our Pick
Azure Palm Hot Springs
Hot Springs On-Site
"Azure Palms is a Very Clean, quiet, getaway spot. The staff Is attentive & helpful. All indoor & outdoor areas are nicely appointed. The cafe has really good food."
View on Booking.com
To add to the relaxation factor, there are massages, body treatments, facials, and holistic procedures available at the on-site spa.
The resort is also home to a relaxing yoga studio equipped with blocks and mats where guests can treat their bodies to a calming session of poses and stretches.
6. The Spring Resort & Day Spa, Desert Hot Springs (12.2 Miles)
The Spring Resort & Spa was named one of the Top 100 spas of 2018 by Spas of America, and it's easy to see why. The resort is a quiet paradise dedicated to the relaxation and rejuvenation of guests through steam baths, massages, and of course, mineral pools.
You'll find three pools filled with naturally heated and mineral-rich water on the property. The water is high in calcium, iron, and magnesium, and the pools are accessible to all guests.
Our Pick
Visitors typically use the pools at the resort to improve their skin, achieve pain relief from chronic conditions, and manage long-term illnesses, including heart disease and diabetes.
The resort, which is located just 23 minutes from Palm Springs, features a variety of lavish rooms, many of them poolside, with their own tubs, or with mountain or desert views.
7. Tuscan Springs Hotel & Spa, Desert Hot Springs (12.8 Miles)
Tuscan Springs Hotel & Spa is a resort reserved for adults aged 21 and over. An Italian-inspired boutique hotel with just 16 rooms, it's ideal for those seeking true peace and quiet.
There's a large mineral pool plus two mineral hot tubs to enjoy, in addition to a spa with several tempting treatments on offer. Situated only 23 minutes from Palm Springs, this hotel boasts generous guest rooms and continental breakfast.
Hot Springs Near Palm Springs – Final Thoughts
Palm Springs is a hot spring lover's dream. Be sure to check out these amazing resorts the next time you're in the area and let us know which one is your favorite!