Home to some of North America's most picturesque vistas of melting glaciers, sprawling alpine meadows, breathtaking lakes, and over 700 miles of hiking trails, Glacier National Park is a haven for outdoor enthusiasts and adventure seekers alike.
However, nestled in the untouched wildernesses of northwestern Montana, this national park can also be a site of quiet tranquillity, which guests can fully enjoy at one of the many hot springs scattered throughout the surrounding region.
From a primitive soaking tub to luxury thermal resorts, visitors soothe their well-worn hiking muscles at these six hot springs near Glacier National Park. (Distance from Glacier National Park in brackets).
6 Great Hot Springs Near Glacier National Park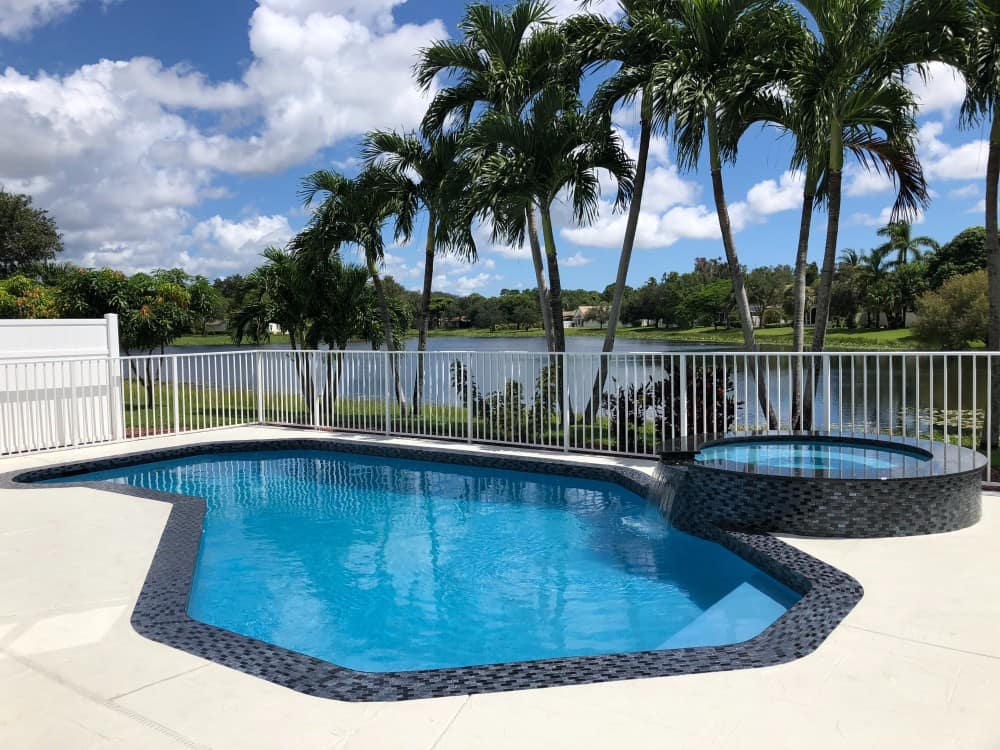 1. Wild Horse Hot Springs (88.3 Miles)
Located just under a two-hour drive from Glacier National Park's West Entrance, the Wild Horse Hot Springs are the closest thermal pools to the preservation and offer visitors a quiet setting in Montana's countryside for enjoying the site's therapeutic mineral waters.
The hot spring complex boasts 14 man-made thermal pool tubs, ranging from 95 to 120 degrees Fahrenheit. The pools are sourced from an artesian mineral spring, Mother Dragon Geyser, which pumps 1,200 gallons per minute.
The Wild Horse Hot Springs pools are constantly refilled, providing a clean and refreshing soaking experience free from added chemicals. The complex offers soaking passes valid in two-hour intervals, granting access to the property's other amenities, including three dressing rooms and a small sauna.
The hot spring facility also offers accommodation on their property for visitors looking to spend the night by the curative waters. These primitive stays include eight dry cabins with no running water, three tipis, and several tent and RV campsites. Each accommodation option offers two unlimited soaking passes valid throughout the duration of the reservation.
2. Big Medicine Hot Springs (89.2 Miles)
Situated in the nearby community of Hot Springs, the Big Medicine Hot Springs are a primitive thermal pool alternative for visitors seeking a respite from Glacier National Park's more daring terrains and natural attractions.
Located just under two hours from the park's West Entrance, Big Medicine Hot Springs offers a rustic setting for enjoying the town's mineral waters while boasting a convenient location for accessing the community's many services and accommodation options.
At the Big Medicine Hot Springs, guests can enjoy the site's mineral waters in a primitive outdoor cement pool measuring about 6 x 15 ft with depths of 3 ft. The pool's temperatures range but typically average between 101- and 105 degrees Fahrenheit throughout the year. The spring is clothing optional.
While there are no additional onsite amenities near the Big Medicine Hot Springs, visitors looking to spend the night near the water can either book affordable accommodation and cabin rentals in town or engage in tent camping at one of the primitive sites nearby.
3. Alameda's Hot Springs Retreat (89.3 Miles)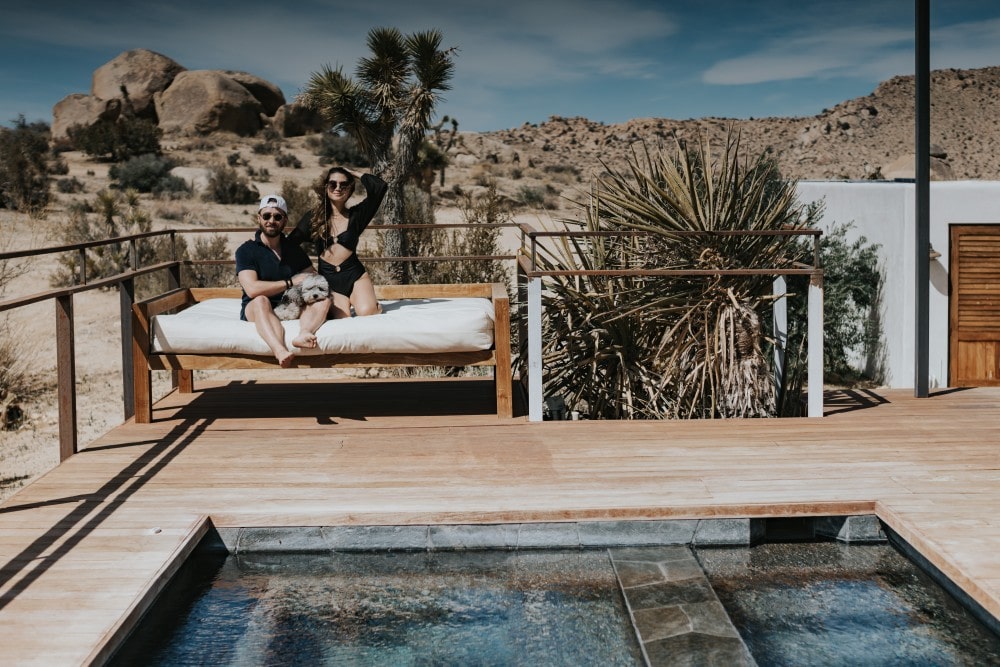 Also operating out of the aptly named community of Hot Springs, Almeda's Hot Springs Retreat offers guests a tranquil setting for enjoying the soothing mineral waters while embracing the complex's historical facilities.
Established in the 1930s, Almeda's Hot Springs Retreat has provided visitors to Glacier National Park and the Flathead National Forest a calming setting for soothing their hiking muscles for over a century. And while the complex maintains much of its historical and authentic charms, it also boasts modern amenities for a truly memorable experience.
Almeda's Hot Springs Retreat boasts 23 rooms in its onsite lodge, each equipped with several comfort amenities, including a private mineral soaking tub. While guests can enjoy the curative waters from the comforts of their private rooms, the hotel also boasts four outdoor hot spring tubs for public use, perfect for soaking while enjoying breathtaking views of the Cabinet Mountains.
From the source, Almeda's Hot Springs average between 110- and 120 degrees Fahrenheit. However, the facility also features a cold-water source, which guests can manipulate to control the tub temperatures, providing a personalized soaking experience.
4. Symes Hot Springs Hotel & Mineral Baths (89.6 Miles)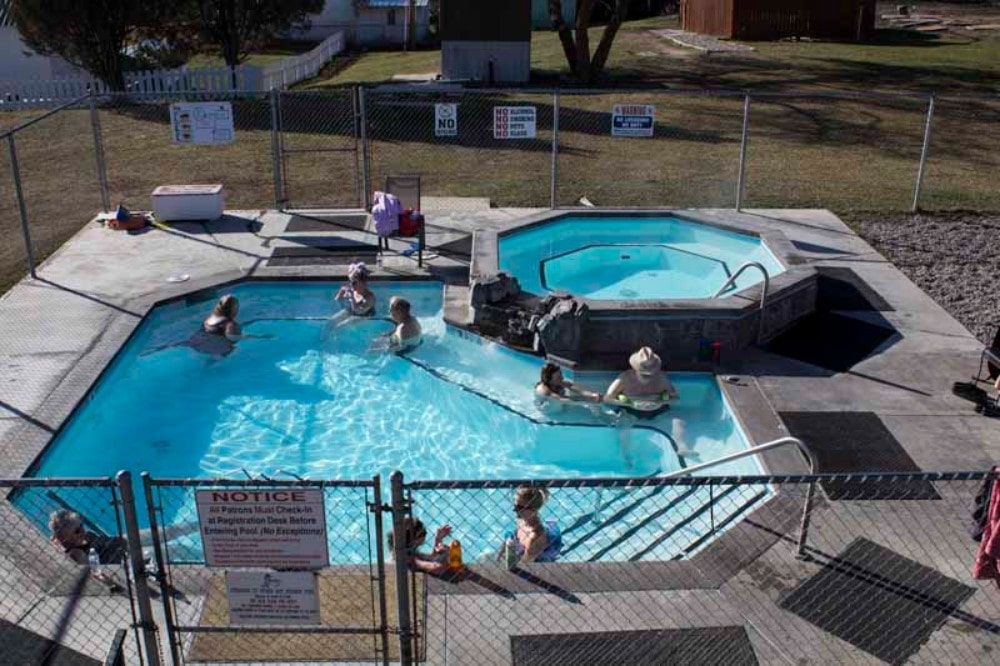 Another fantastic thermal pool complex operating out of the nearby community of Hot Springs is the Symes Hot Springs Hotel & Mineral Baths. Like Almeda's Hot Springs, the Symes Hot Springs Hotel was established in the 1930s and has been a staple of the community's tourism industry for nearly a century.
Today's visitors continue to enjoy the same therapeutic waters and traditional charms as the hotel's earliest homesteading guests, along with several modern amenities providing an authentically soothing thermal soaking experience.
The Symes Hot Springs Hotel boasts three mineral pools. The spring's main flow-thru pool features two pools, an upper pool maintained at 107 degrees Fahrenheit and a lower pool with more comfortable temperatures averaging 101 degrees. A small waterfall connects the two pools.
The resort also boasts a large swimming pool with mineral waters averaging a slightly cooler 95 degrees and four clawfoot tubs capable of sitting up to two people, providing for a more private soak.
Additional services and amenities featured within the Symes Hot Springs' extensive resort complex include several accommodation options, an onsite restaurant and espresso bar, and an extensive spa facility offering several massage packages.
5. K Bar L Ranch & Medicine Springs (115 Miles)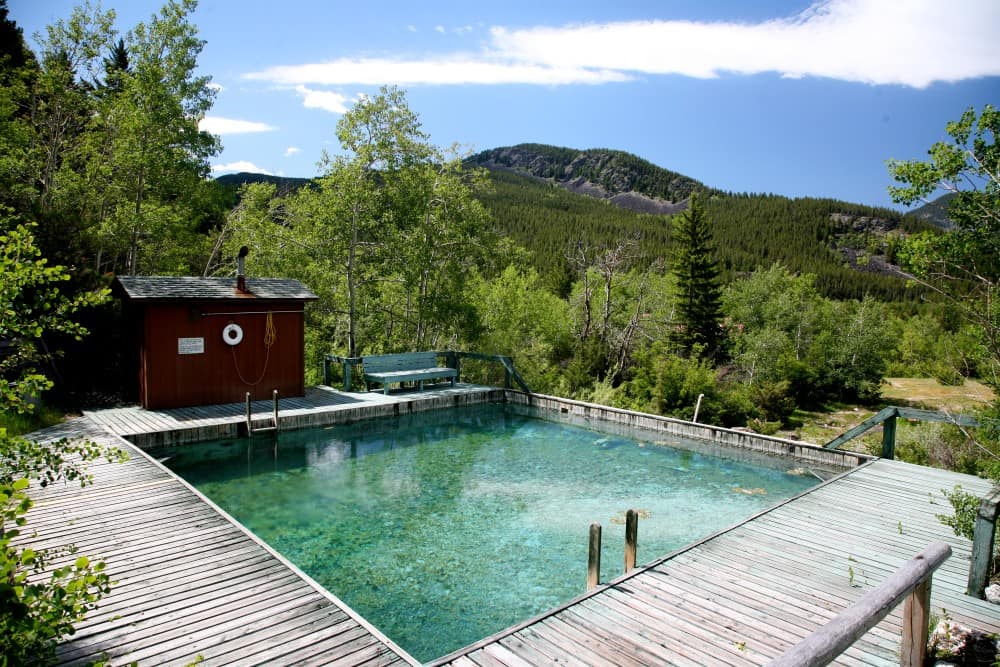 One of the few hot springs near Glacier National Park located outside of the small community of Hot Springs, the K Bar L Ranch & Medicine Springs is one of the best places to explore Montana's untamed wildernesses while enjoying the curative properties of the site's mineral springs.
Isolated in the countryside outside of the national preservation, guests can only access the ranch via a hiking trail, boat, helicopter, or on horseback. However, the site's remote location permits total immersion into the region's tranquil setting, allowing visitors to reconnect with nature while enjoying the facility's thermal pools.
The K Bar L Ranch features a large geothermal heated outdoor swimming pool, which averages 86 degrees Fahrenheit throughout the year. It boasts high mineral concentrations renowned for their therapeutic properties, perfect for soothing bodies worn from the resort's more demanding activities.
6. Quinn's Hot Springs Resort (117 Miles)
Located a little more than a two-hour drive south of West Glacier and nestled along the shores of the Clark Fork River, Quinn's Hot Springs Resort offers visitors one of the most luxurious hot springs near Glacier National Park, perfect for finding full-service bliss while soothing in its renowned waters.
The resort features several thermal pools ranging from 100- and 106 degrees Fahrenheit and a cold plunge pool averaging around 55 degrees. All of the pools on the resort feature 100% natural flow, providing a clean and refreshing soaking experience throughout the year.
The pools are open for day-use visitors. However, the best way to enjoy the thermal pool complex is by booking one of the facility's accommodation options, which includes two large lodges and 25 cabins.
Also available on the property is an onsite restaurant and event venue, making the Quinn's hot Springs Resort perfect for a group trip or relaxing getaway.