The picturesque town of Ennis lies in Montana's Madison County, against a stunning backdrop of snow-capped mountains and expansive prairies.
There are several award-winning hot springs near Ennis that highlight the best you will find in all of Montana, whether you have days to spare or just an hour. (Distance from Ennis city center in brackets).
8 Hot Springs Near Ennis, Montana
1. Norris Hot Springs, Norris (16.7 Miles)
Norris Hot Springs should definitely be on your bucket list if you're visiting Ennis. It's only 20 minutes away from the town, making it the closest hot spring to Ennis, and it's also one of the most popular hot spring destinations in Montana.
The hot springs are located in the Madison River Valley and feature both communal and private soaking options.
The pools are open year-round, though they do close without warning due to the storms in the area, and are filled with natural geothermal spring water. You don't need to make a reservation in advance to enjoy a communal soak!
You can camp at the Island of Norris Campground from Memorial Day through Labor Day. Otherwise, there isn't any accommodation at Norris Hot Springs, but there are great food options on site! Be sure to visit the 50 Mile Café and the 50 Mile Grill.
2. The Potosi Hot Springs, Pony (34.4 Miles)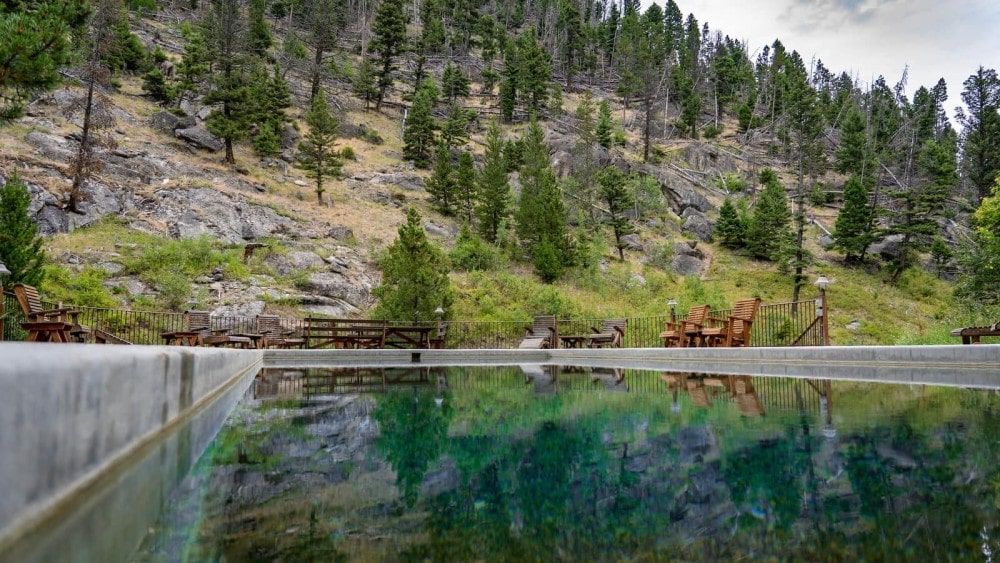 Potosi Hot Springs is situated just under seven miles out of Pony, Montana, not even an hour away from Ennis.
The Potosi Pool and Hot Springs, which are filled with mineral-rich spring water, are available to both those staying at the resort and day users.
Those who don't have an accommodation booking can only reserve the pool and springs for private use between 12 and 2 p.m., Wednesday through Saturday. The pool is around 93 degrees Fahrenheit, while the indoor tub is maintained at 102 degrees for a slightly hotter soak.
The accommodation at Potosi comes in the form of four idyllic cabins which are nestled along the banks of South Willow Creek.
3. Bozeman Hot Springs, Bozeman (46 Miles)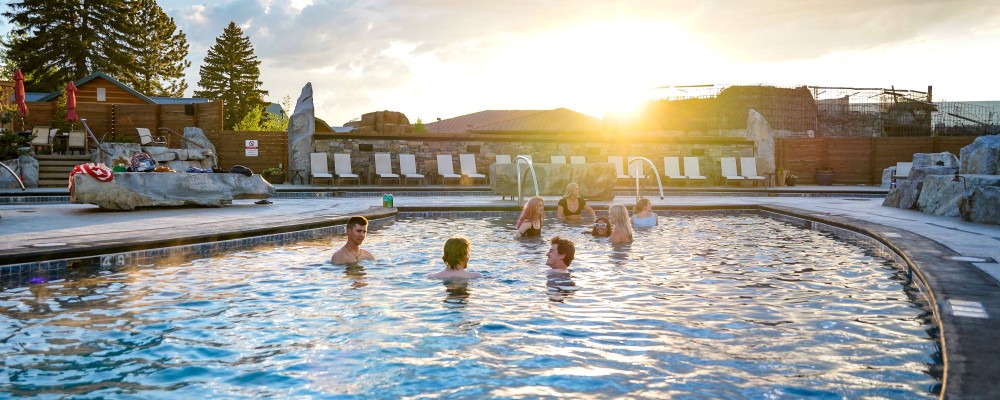 Bozeman Hot Springs is 50 minutes away from Ennis, and another extremely popular hot springs destination in Montana. The pools on site have been in use since the late 19th century.
Today, there are 12 pools at the property, ranging in temperature from 57 to 106 degrees. All of them are naturally heated and rich in minerals like sodium, sulfate, and silica.
Here, you'll find both indoor and outdoor pools, which are all conveniently located in the same general area. The indoor area also includes a steam room and dry sauna to add to the overall rejuvenating experience.
Though there is definitely room for relaxing soaking at Bozeman, some of the pools are more aligned to recreation, featuring pool lights and rock fixtures.
Along with being a top hot springs destination, Bozeman Hot Springs is also a fitness facility, offering a range of fitness equipment and classes. The establishment hosts live music events every Thursday and Sunday, plus special events throughout the year.
4. Pipestone Village Hot Springs, Whitehall (57.5 Miles)
Pipestone Village Hot Springs in Whitehall is one of my favorite places to begin a true Montana adventure. It's just under an hour away from Ennis, making it a great hot springs choice if you're visiting the town.
The village has a number of cabins and glamping domes set up around the property, some of which can accommodate up to six guests. Every accommodation rental also comes complete with its own tub for private mineral soaking.
You'll also have the ability to enjoy other recreational outdoor activities at Pipestone, as the village is surrounded by miles of trails perfect for hiking, biking, ATVs, and more.
5. Renova Hot Springs, Whitehall (54.6 Miles)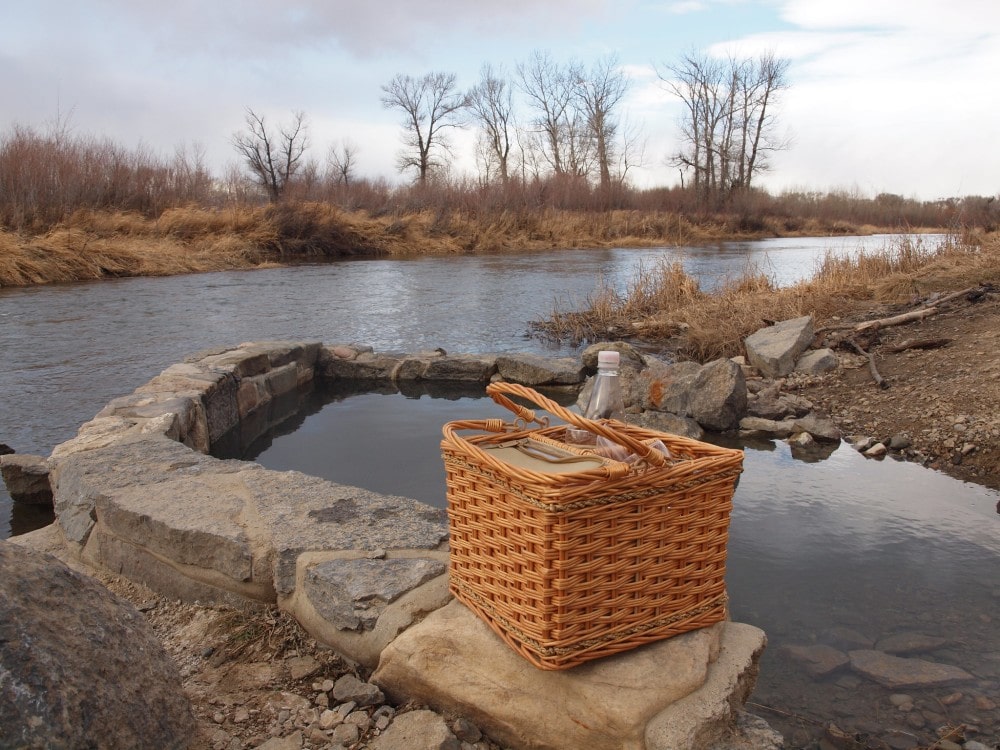 Just an hour and 10 minutes away from Ennis, Renova Hot Springs is a natural, primitive hot spring in Whitehall. For those seeking a more rustic experience—think rock-bottomed hot springs and unmatched views of the night sky—Renova Hot Springs may be for you.
These hot springs are located in an estuary of one of Montana's most iconic rivers: the Jefferson. You can reach them via a dirt road, and they're free to access (another attractive point to consider!).
[lasso ref="jefferson-inn-whitehall-2″ id="9170″ link_id="1068443″]
Because these are natural hot springs with little human intervention, the flow of the river affects the temperature of the water. The source is between 112 and 122 degrees, but the extent to which the cool river water mixes with this will affect the soaking conditions in the hot springs. Water can also overflow the hot springs in spring.
6. Fairmont Hot Springs Montana Resort, Anaconda (90.2 Miles)
Fairmont Hot Springs Montana Resort is a classic Big Sky establishment located in the historic community of Anaconda. It's located around an hour and a half away from Ennis.
There are multiple pools to choose from at the resort, including indoor and outdoor pools, as well as indoor and outdoor hot pools that are between 100 and 104 degrees.
The pools are only open to registered guests of the resort, but guests of the Fairmont RV Park and Chalets can use the pools for a daily fee. Those using the pool also have access to dressing rooms, steam rooms, lockers, and a poolside snack bar.
Resort guests can stay in a variety of rooms and suites, all of them beautifully furnished and boasting views of the property.
7. Broadwater Hot Springs and Fitness, Helena (110.3 Miles)
Only 10 minutes from downtown Helena, and less than two hours from Ennis, Broadwater Hot Springs is another popular geothermal mineral hot spring facility.
Along with the Recreation Pool, you'll also find the Springs Pool, which is designed for relaxing, tranquil soaking. There are hot tubs and cold plunges on the grounds, plus a soaker pool, steam rooms, wet rooms, and a sauna.
[lasso ref="best-western-premier-helena-great-northern-hotel" id="9174″ link_id="1068444″]
While you're at Broadwater Hot Springs, also be sure to visit The Springs Taproom and Grill, which serves lunch and dinner (and breakfast on the weekends!).
8. Chico Hot Springs Resort & Day Spa, Pray (100.4 Miles)
Tucked away in Montana's scenic and aptly named Paradise Valley, Chico Hot Springs awaits.
This is the ultimate indulgent relaxation experience for soaking enthusiasts, offering a lavish spa and hot springs pool just a stone's throw from Yellowstone National Park, around two hours from Ennis.
[lasso ref="sage-lodge-pray" id="2297″ link_id="1068445″]
Chico is home to two open-air natural mineral hot springs, both free of chemicals and geothermally heated. Pools are open to both guests of the resort and day-pass holders, though resort guests have access from 7 a.m. (while day users can enter the pools from 8 a.m.).
There are several lodging options to choose from at the resort, along with a collection of world-class eateries.
Hot Springs Near Ennis – Final Thoughts
Ennis isn't just a pretty town: it's also just a short distance away from some of Montana's most beloved hot springs establishments. Be sure to check out these hot springs, which are the closest to Ennis, the next time you're in town!