Formed in the crater of an ancient volcano that collapsed 7,700 years ago following a viscous eruption, Crater Lake is one of the most beautiful water features in Oregon and is the deepest lake in the United States.
While the volcano is considered dormant today, the region surrounding the lake continues to be one of the most active geothermal regions in the country. And while this geothermal activity may not warm Crater Lake itself, there are plenty of fantastic Oregon hot springs just a short drive from the national park.
From some of the state's most idyllic primitive springs to extensive thermal resorts, visitors can enjoy a therapeutic and relaxing soak at these six hot springs near Crater Lake, OR. (Distance from Crater Lake in brackets).
Hot Springs Near Crater Lake, Oregon
1. Umpqua Hot Springs (44 Miles)
Located less than an hour's drive from the national park's northern entrance, the Umpqua Hot Springs are the closest hot springs near Crater Lake and offer a collection of primitive thermal pools for enjoying a mineral soak in one of Oregon's pristine natural environments.
Nestled in the idyllic Umpqua National Forest, the hot springs are managed by the US. Forest service and requires a small $5 admission fee to access. This fee goes towards the general maintenance of the site, which provides for safe swimming conditions despite their rustic setting.
[lasso ref="umpquas-last-resort" id="3784″ link_id="1067973″]
Ranging between 100 and 115 degrees Fahrenheit, the Umpqua Hot Springs are comprised of eight different thermal pools separated by travertine shelves. While most are completely undeveloped, some of the larger pools feature basic safety amenities, such as a wooden fence.
The site's thermal pools are fed from a natural spring source renowned for its therapeutic properties. The springs are known to soothe a wide array of ailments, including various skin conditions.
2. McCredie Hot Springs (86.1 Miles)
Like the Umpqua Hot Springs, the McCredie Hot Springs are an idyllic collection of primitive hot springs near Crater Lake that offer a serene setting for enjoying the state's therapeutic mineral waters.
Located slightly further from the national park's northern entrance, the McCredie Hot Springs requires an hour and a half drive to reach but offers a scenic road trip through the state's picturesque Willamette National Forest.
A clothing-optional hot spring, the McCredie Hot Springs features two thermal baths that fluctuate in temperature but typically average between 98 and 114 degrees Fahrenheit. The pools can occasionally reach elevated temperatures of up to 130 degrees and should always be tested before you jump in.
[lasso ref="arbor-inn-motel-oakridge" id="3058″ link_id="1067974″]
Fed by a natural spring, the McCredie Hot Springs are renowned for their high magnesium, sodium bicarbonate, and calcium levels, which provide curative properties known to improve body circulation, arthritis, and muscular health.
As a primitive facility, the McCredie Hot Springs features only basic onsite amenities, including public restrooms and picnic tables. However, guests seeking more comfort and overnight accommodations should book a site at the nearby Blue Pool Campground.
3. Paulina Lake (93.9 Miles)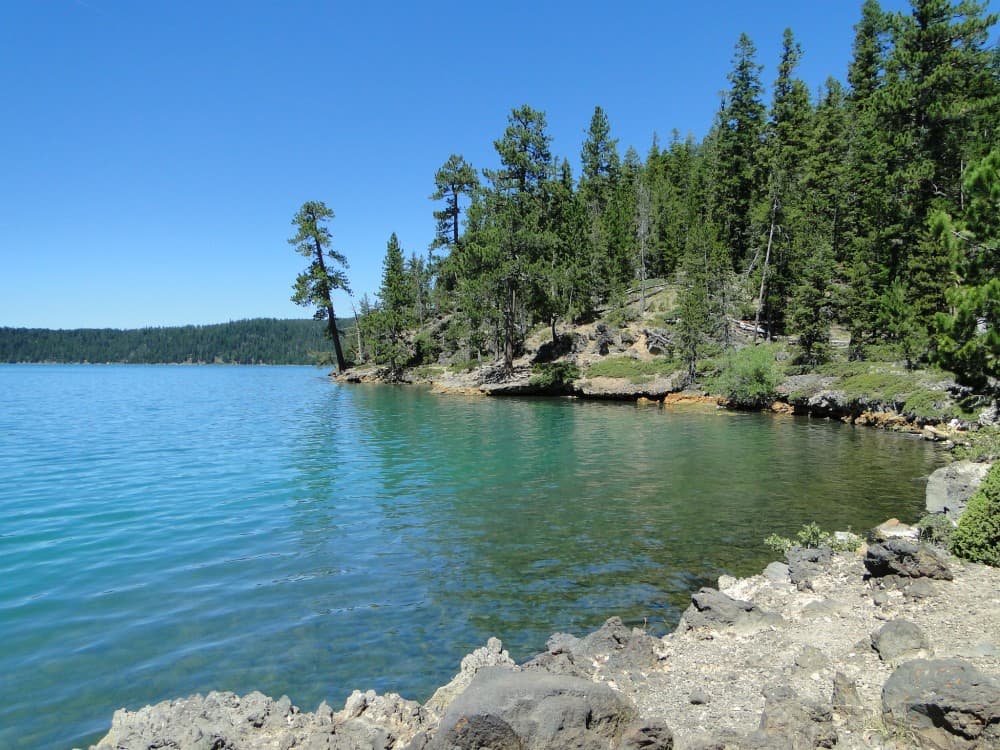 Formed when an ancient volcanic rock collapsed thousands of years ago, Paulina Lake is considered one of the most active geothermal regions in the United States and boasts a large body of water warmed by geothermal activity deep beneath the earth's surface.
From the source, the water averages a scorching 176 degrees Fahrenheit. Luckily, the spring excretes from the earth's surface through the bottom of the lake, where it mixes with the cooler water to provide comfortable swimming conditions ranging between 90 and 115 degrees.
While the lake itself boasts several hot spots throughout its body of water, visitors can find a more traditional hot spring thermal pool experience at the aptly named Hot Springs Beach, which is home to numerous dug-out pools. Unfortunately, these can only be enjoyed during the summer and fall, as raised water levels often flood the beach at other times of the year.
While camping is not permitted at Hot Springs Beach, visitors can arrange to stay at several campsites throughout the Deschutes National Forest, including the Paulina Lake Campground.
4. Lithia Springs Resort (106 Miles)
Featuring an extensive resort complex, the Lithia Springs Resort is one of the best hot springs near Crater Lake for visitors valuing onsite comforts and lavish pampering while enjoying the rejuvenating qualities of the region's mineral-rich waters.
Frequented by the region's indigenous tribes for centuries before settlers even made their way to the state's pristine landscapes, the complex's thermal pools are fed from a natural spring deep beneath the earth's surface.
Boasting high concentrations of sulfur, lithium, and soda, the Lithium Springs are known for their curative properties of improving various conditions, including soothing sore muscles, arthritis, digestive issues, and skin disorders.
[lasso ref="lithia-springs-resort-ashland" id="2907″ link_id="1067975″]
Even better, guests can enjoy the water's curative properties in absolute privacy. Each room at the Lithia Springs Resort features several luxury amenities, including a private mineral tub connected to the property's aquifer.
Additional onsite amenities featured within the resort include an outdoor saline pool, a year-round jacuzzi, a tea room, a library, and a wine garden.
5. Jackson Wellsprings (106 Miles)
Nestled within 30 acres of pristine environments just outside of Ashland, the Jackson Wellspring is an idyllic retreat with a hot spring near Crater Lake and offers the perfect setting for enjoying the quiet Oregon countryside while soaking in mineral-rich waters.
First frequented as a ceremonial destination and birthing place for several indigenous tribes, the Jackson Wellsprings was designated a healing pool and sanitarium in 1862 before being converted into a public swimming area and bath.
The Jackson Wellsprings are comprised of several onsite pools, starting with its massive, Olympic-sized swimming pool. Also featured on the property are a smaller warm pool and several private soaking tubs, all fed from the natural mineral spring. The pools vary in temperature, averaging between 80 and 120 degrees Fahrenheit.
As an extensive luxury retreat, Jackson Wellsprings boasts several onsite additions for visitors. The property's full-service thermal spa facility boasts a sauna, steam room, and diverse treatments, including massages, facials, and full-body treatments.
Other services at the Jackson Wellsprings include the onsite Springs Garden Café and several accommodation options perfect for overnight visitors.
6. Summer Lake Hot Springs (139 Miles)
Located about two and a half hours from the national park, the Summer Lake Hot Springs is well worth the extended journey to reach. It offers one of the only hot springs near Crater Lake that allows 24-hour access to its thermal pools, perfect for enjoying a quiet Oregon evening soaking in mineral waters.
Found within an extensive 145-acre resort property, the Summer Lake Hot Springs operate out of a rustic bathhouse and offer four thermal pool options. The main pool is housed inside the bathhouse and averages 113 degrees Fahrenheit. The other three thermal pools outside the building range from 106 to 108 degrees.
While the hot springs are open to day visitors between 9 am and 7 pm, the best way to fully enjoy the facility is by booking one of the several accommodation options offered within the resort. Along with providing top-of-the-line accommodation, all rooms are accompanied with 24 hours access to the pools.