Tucked away at the base of the Tenmile Range, Breckenridge is a small town in the Colorado Rocky Mountains and boasts plenty of scenic vistas and outdoor adventures within the towering peaks surrounding the community.
Most visitors to Breckenridge are attracted to the city thanks to the promise of adrenaline-pumping alpine activities, including several hiking and biking trails and a world-renowned ski resort perfect for hitting the fresh powder of the mountain snows.
Between its myriad of outdoor adventures and its historical attractions, which date back to the region's celebrated Gold Rush, Breckenridge boasts a massive collection of landmarks and recreational activities for local and international tourists. However, with so many things to see and do, a trip to the city can quickly become overwhelming.
Luckily, several hot springs dot Breckenridge's countryside and serve as a quiet respite to unwind after engaging with the region's more exertive attractions. These six hot springs near Breckenridge, CO, are the perfect places to visit to find serenity as you escape the constant activities of the city. (Distance from Breckenridge city center in brackets).
The 6 Best Hot Springs Near Breckenridge, CO
1. Indian Hot Springs (48 Miles)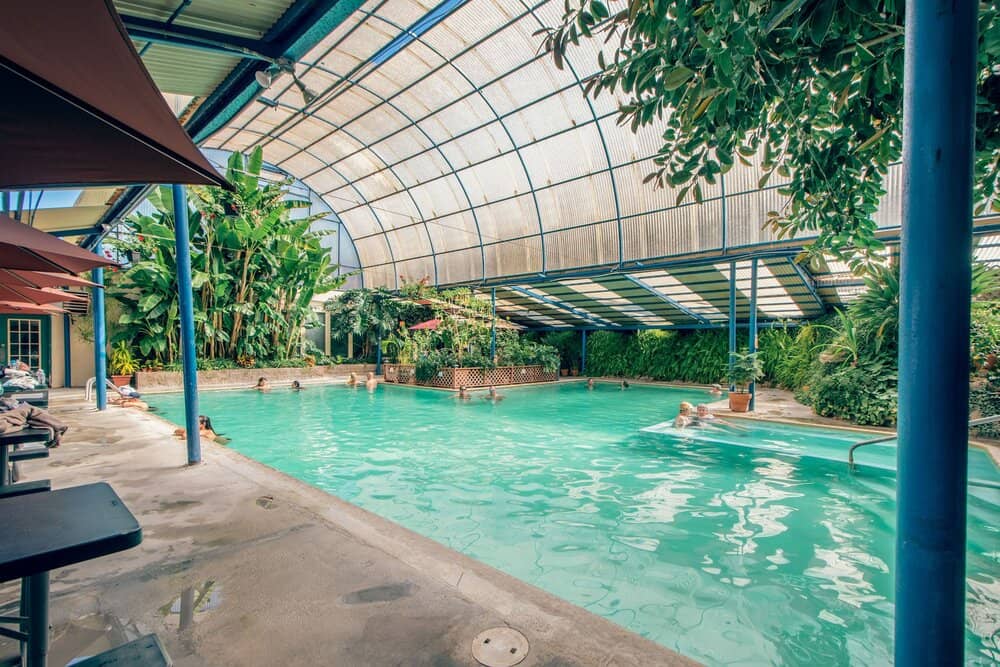 Located about an hour's drive southeast of Breckenridge, Indian Springs is a lavish hot spring resort conveniently situated just off the I-70 on Soda Springs Road. As the most accessible hot spring near Breckenridge, the Indian Springs are a popular attraction for visitors seeking the natural mineral water's therapeutic properties to soothe well-worn hiking and skiing muscles.
The resort offers visitors the opportunity to submerge in four unique spring options. The complex boasts a large hot spring pool for a shared swimming experience and several outdoor tubs for a private soak. Other soaking options include natural hot spring caves and 11 indoor rooms for an even more private bath.
All of Indian Hot Springs' public and private pools are fed by natural mineral waters that average between 106- and 110 degrees Fahrenheit, which are best enjoyed by one of the resort's extensive spa services that enhance the overall bliss of the complex.
Additional amenities and services offered at Indian Springs include a large dining lounge, a gift shop, and several outdoor activities and hiking trails. While the resort is open for day visitors from Breckenridge and surrounding communities, guests are also invited to spend the night in one of the property's many lodging options.
2. Radium Springs (60 Miles)
A little more than an hour's drive north of Breckenridge and tucked away along the banks of the Colorado River near Kremmling, the Radium Hot Spring is one of the most popular primitive hot springs in the entire state.
A unique thermal pool, Radium Springs combines its natural geothermally heated mineral waters from beneath the Earth with the cooler waters of the river to provide a comfortable soak that averages about 80 degrees Fahrenheit. Unfortunately, the spring's close proximity to the river also means the small pool can be flooded over when water levels rise in the spring.
The easiest way to access the hot springs is by engaging the short hiking trail that starts from the nearby Warm Springs Road.
However, the quickest and most engaging way to reach the thermal pool is along the Colorado River via a kayak or other raft. Additional activities at the springs include cliff jumping, tubing, and camping.
3. Cottonwood Hot Springs (65 Miles)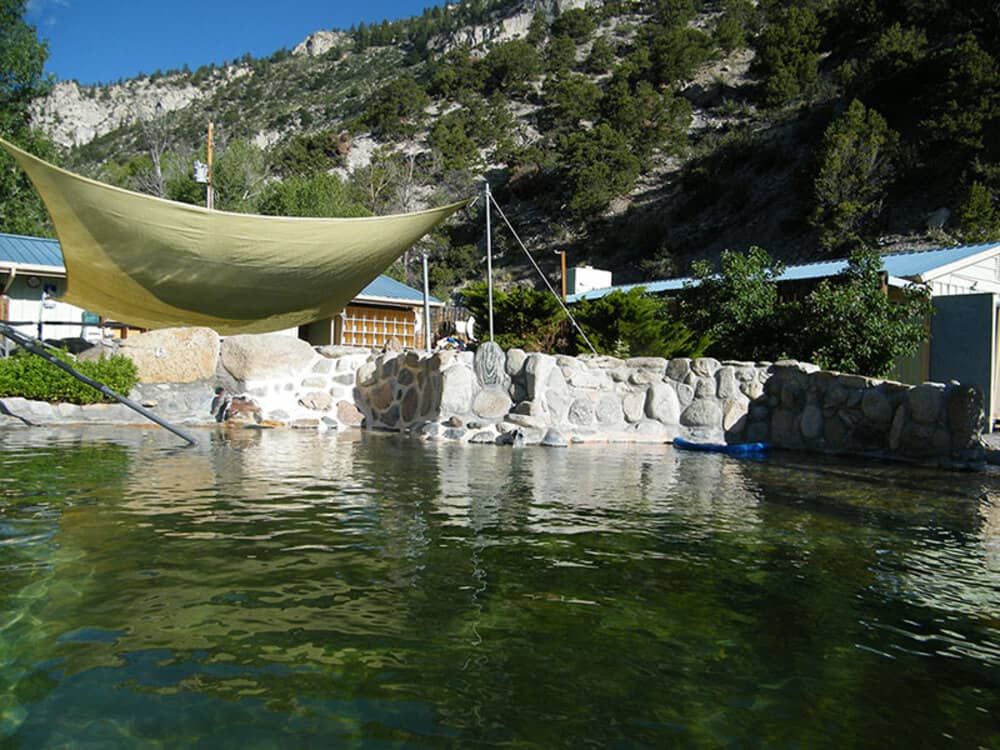 The Cottonwood Hot Springs is another great hot spring near Breckenridge and is located only about an hour's drive south of the city. Frequented by Ute Indians for centuries before their discovery, the thermal pool complex continues to attract visitors today thanks to its curative properties and idyllic mountainous surroundings.
The fully developed hot spring resort features several soaking options ranging from 80 to 106 degrees Fahrenheit. If these pools prove too warm, visitors are encouraged to jump into the property's private Creekside pools or even into the Cottonwood Creek, which runs behind the property's changing rooms and saunas.
Also offered within the hot spring resort is an extensive spa facility that focuses on holistic and natural healing practices, an onsite shopping center at Cathy's Closet, and several accommodation options that range from share dorms and campsites to entire private housing complexes.
4. Hot Sulphur Springs (68 Miles)
Also located near Kremmling, just under an hour and a half drive north of Breckenridge, the Hot Sulphur Springs is a full-service resort that provides many comfort and luxury amenities while enjoying the traditional tranquility of the spring's natural mineral waters.
Nestled in the small mountain town of Hot Sulphur Springs, the resort accentuates the scenic vistas of Grand County while providing visitors the opportunity to soak in 15 man-made mineral pools. The outdoor pools feature temperatures between 98 to 112 degrees Fahrenheit, while a cooler pool is maintained indoors and provides ample space for recreational swimming.
All the pools and tubs at hot Sulphur Springs Resort remain in their pure state and feature high quantities of calcium, chloride, fluoride, magnesium, potassium, sodium, sulfate, iron, and zinc. For an enhanced soothing soak, visitors should book one of the resort's many spa treatments, which engage the natural therapeutic properties of their natural resource.
5. Mount Princeton Hot Springs (68 Miles)
The Mount Princeton area, located about an hour and a half drive south of Breckenridge, is a hotbed for geothermal activity and features several hot spring soaking opportunities. However, the best hot spring in the area for visitors from the city to enjoy the natural mineral waters is by far the Mount Princeton Hot Springs Resort.
Along with providing access to the region's many outdoor attractions and breathtaking vistas, the resort features full-service amenities, including luxurious accommodation options, fine dining restaurants, a country store, and an extensive spa facility. But of course, the complex's most significant draw is its natural mineral waters which have attracted visitors since the resort first opened in 1897.
The property features several large outdoor pools and a collection of rustic primitive pools, all kept at an average of 105 degrees Fahrenheit. Also offered within the complex is a large exercise pool which is kept slightly cooler at a comfortable 90 degrees.
6. Glenwood Springs (96 Miles)
First established in 1888, Glenwood Springs is the most extensive hot spring resort complex in Colorado. While slightly further from Breckenridge than other hot springs featured on this list, Glenwood Springs are also some of the most idyllic and offer ample opportunities to unwind after an exhausting stay in the active community.
The property's main pool is a large swimming area that features various floating methods, swimming lanes, and diving boards and boasts water temperatures averaging between 90- and 93 degrees Fahrenheit. The property also features a smaller hot pool that averages 104 degrees.
Additional services provided by the luxurious resort include several opulent room options, three dining restaurants and snack bars, an onsite athletic club and lessons, and an extensive spa that provide complete wellness packages.