Albuquerque lies in the high desert of New Mexico, and is probably the last place you imagine to be rich in hot springs. But The Duke City is close to a select few springs and resorts with mineral pools that you can travel to the next time you're in town.
In this article, we will take a look at the hot springs near Albuquerque, New Mexico, and what the have to offer for those wanting to visit. (Distance from Albuquerque city center in brackets).
Hot Springs Near Albuquerque, New Mexico
1. Ojo Santa Fe Spa Resort, Santa Fe (51 Miles)
Ojo Santa Fe Spa Resort is one of Santa Fe's most popular getaway destinations. Just 50 minutes away from Albuquerque, the resort lies on 77 acres of high desert in New Mexico and is known worldwide for its rejuvenating spa, farm-to-table dining, and its mineral-rich pools.
You'll find both thermal pools and a saltwater pool on the property. There are no reservations required for day soaking, which opens to the general public at 10 a.m. (and to hotel guests at 7:30).
However, you should book a private soaking session in advance. These take place in the Ojito Pools and the soaking tubs, which are clothing optional.
The soaking areas are bathed in shade from the cottonwood trees overhead, and feature plenty of places to relax waterside afterward. Choose from comfortable lounge chairs and the signature Ojo hammocks for the ultimate exercise in leisure.
2. Jemez Hot Springs, Jemez Springs (59.6 Miles)
An hour and 10 minutes from Albuquerque, the famed Jemez Hot Springs await. This resort operates as a day-use facility and also as lodging for guests who want to escape for a little longer.
The water in the springs flows into four pools, all of which are heated to anywhere between 98 and 105 degrees Fahrenheit.
The pools are filled with natural mineral-infused water that originates from the earth beneath the Valles Caldera National Preserve, but they still feature man-made touches that make things a little more luxurious, including in-built seating.
There are towel, robe, and swimwear rentals if you leave yours at home (note this isn't a clothing-optional spring), but there are small fees for these items. They also don't accept bookings in advance, running on a first-come, first-served basis.
If you do want to stay at the property, the lodging comes in an array of idyllic cottages and cabins. The resort is open from Wednesday to Monday and is closed every Tuesday.
3. Spence Hot Springs, Jemez Springs (66.7 Miles)
There's a lot to be said for the more refined resorts, like Ojo Santa Fe and Jemez Hot Springs. But if you're looking for a more rustic soaking experience, you still have options near Albuquerque. Spence Hot Springs is only one hour and 20 minutes away.
An incredibly popular natural hot spring, Spence features a small pool that is around 95 degrees. Only a few people can fit in this spring at once, and since you can't reserve your place ahead of time, it's a good idea to visit during less popular times.
Opt for weekday visits rather than weekend visits, and try to get there early in the morning to secure your spot.
To reach the pool, you'll have to hike a short distance from the car park. Camping isn't allowed along the trail or around the spring itself, and it's also prohibited to bring glass containers.
The Forest Service also advises keeping the water out of your nose and mouth as there is a risk of contracting parasitic amoeba, which can be fatal. However, as long as you keep your wits about you, this pool offers the chance for a truly down-to-earth soak in completely natural settings.
4. San Antonio Hot Springs, Jemez Springs (77 Miles)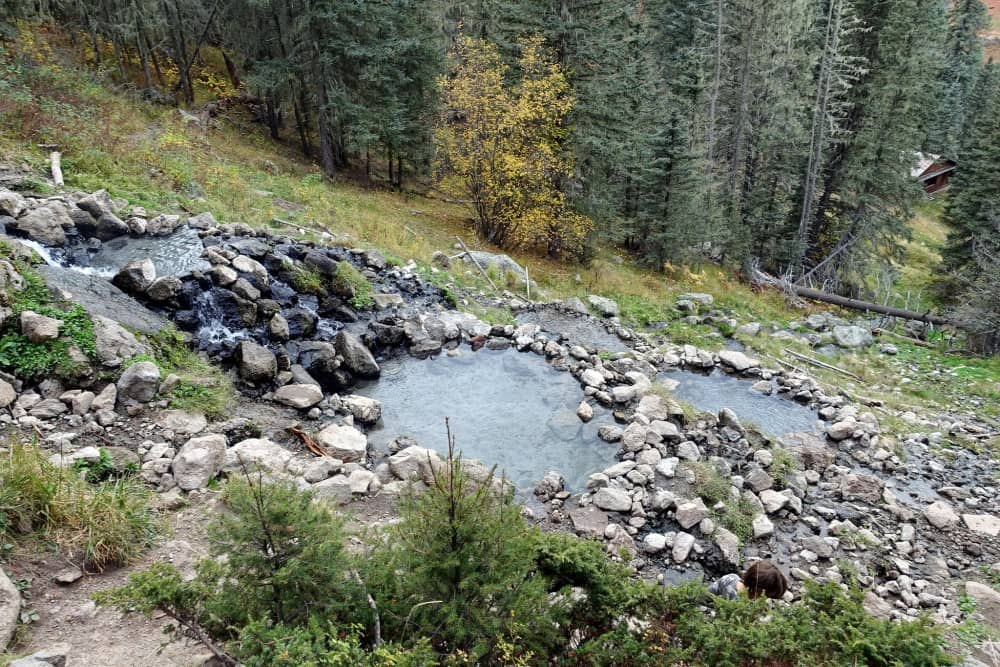 Another natural spring in a primitive setting that is worth visiting is San Antonio Hot Springs, just under two hours away from Albuquerque.
This is a particularly scenic spring that is fed by sources located along a steep hillside. The crystal-clear pools themselves are rock-lined and bottomed, and can only be reached via an out-and-back trail.
Again, this is quite a popular hot spring, so you may want to arrive early or on a weekday to avoid having to share too much space with others.
One of the pools is home to a small cave that is perfect for exploring. Otherwise, it's enough just to soak in the pure healing water and enjoy the stunning views of the surrounding landscape.
5. Ojo Caliente, Taos (112.8 Miles)
Located just under two hours from Albuquerque near Taos, Ojo Caliente is Ojo Santa Fe's sister resort. There is both private and communal soaking available in the pools which are heated to between 98 and 104 degrees.
If you're like me and prefer to enjoy a range of pools rather than just one, this is probably the resort for you. There are nine public mineral pools (Iron, Soda, Lithia, Upper & Lower Cliffsides, Arsenic, Big Pool, Terrace, and Mud Pool). As you might have guessed from the names, these are rich in iron, soda, lithia, and arsenic.
Guests are asked to avoid wearing chemical-infused sunscreen as it can jeopardize the quality of the water. You can bring your own towels and robes, or you can rent these from the resort. Those who have booked accommodation will receive two complimentary robes in their rooms.
Like its sister property, Ojo Caliente prioritizes wellness and relaxation and offers a spa with a full range of services, as well as yoga sessions and classes.
6. Montezuma Hot Springs, Montezuma (127.5 Miles)
Two hours away in Montezuma, you'll find Montezuma Hot Springs, situated around six miles to the northwest of Las Vegas (New Mexico, not that Las Vegas!).
The springs consist of several open-air cement pools which were once a part of the historic Montezuma Hotel. They are free to enter and are kept clean by the United World College, which now resides in the old hotel building that can still be seen from the pools.
[lasso ref="historic-plaza-hotel-las-vegas" id="3033″ link_id="1065392″]
According to Visit Las Vegas NM, the hot springs were once used by Native American warriors to soothe their battle scars. The springs may have also been visited by legendary figures of the area, including Jesse James.
The pools have varying temperatures, with the hottest, affectionately known as the Lobster Pot, being around 120 degrees. Make sure to test out each pool before jumping in to avoid any scalding surprises.
Hot Springs Near Albuquerque – Final Thoughts
We can thank the hot springs around Albuquerque for hydrating the surrounding desert environment. You can experience the splendor of these springs yourself by visiting the facilities above, whether you prefer lavish resorts or rock-walled natural pools.