Home to a sliver of the wondrous Yellowstone National Park, Wyoming is a natural hotspot for geothermal activity. There are a few hot springs to discover in the Equality State, and while your choice may be limited if you're specifically after clothing-optional hot springs, there is one that allows nude bathing.
In this article, we will take a closer look at the only clothing optional hot spring in Wyoming, Hot Springs State Park in Thermopolis.
Only Clothing Optional Hot Spring in Wyoming
The following hot spring is considered to be clothing optional, but that doesn't mean that you need to strip down to use them. Similarly, if no one else in the spring is in their birthday suit, you might be better off leaving your swimmers on. Use your best judgment!
Hot Springs State Park, Thermopolis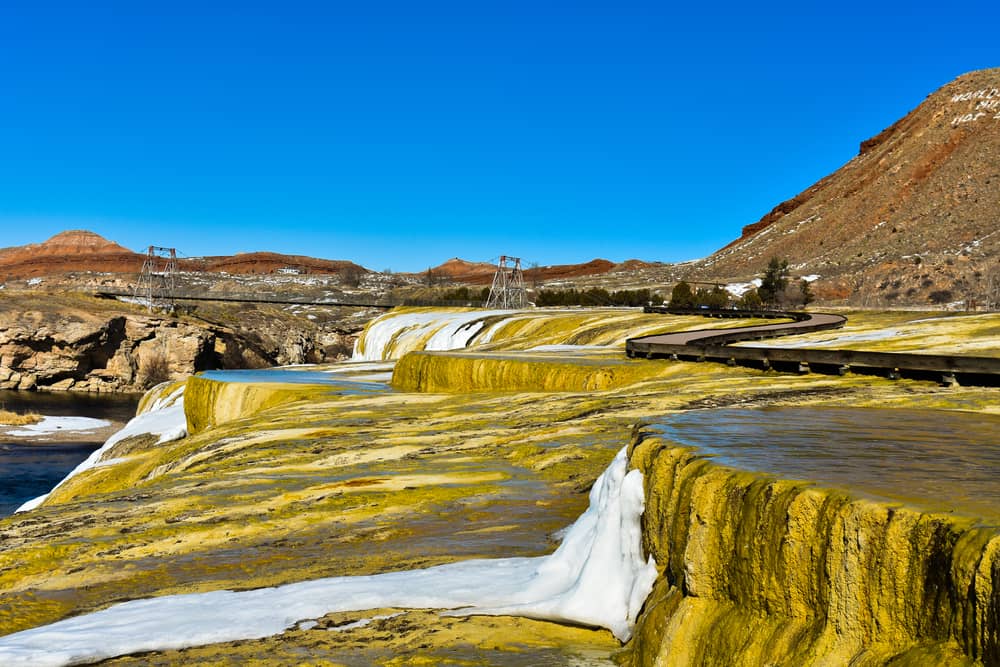 If you're a hot springs fan, then Hot Springs State Park in Thermopolis, located in the state's north-central area along the banks of the Bighorn River, should definitely be on your Wyoming bucket list.
There are several pools to choose from here, both indoor and outdoor, and you can easily spend a whole day exploring the springs, along with the park's other attractions. At Hot Springs State Park, you'll have Hellie's Tepee Pools, Star Plunge, and the famous Bath House to explore.
The park itself was given to the state of Wyoming by the Shoshone and Arapaho tribes on the condition that the pools are accessible to the public with no entrance fees.
Local Native American peoples credited the hot springs with having healing powers, and they have been used as such since prehistoric times.
The Bath House remains the best location in the park for traditional soaking. It features two indoor pools at 104 degrees Fahrenheit and outdoor cooling pools with cement seats.
Meanwhile, Hellie's Tepee Pools is more of a family-friendly attraction, home to a spa and water slides in addition to indoor and outdoor pools. And Star Plunge similarly comprises indoor and outdoor pools, spas, and waterslides.
As per the Rules & Regulations document published by the Department of State Parks and Cultural Resources, public nudity is prohibited in the beach areas of the park.
Dressing and undressing in public are also prohibited, except in the Bath House. According to Open Snow, there are specific clothing-optional tubs provided here.
Aside from the therapeutic benefits of soaking in the hot springs, the park offers a variety of other exciting features. Many people come to view the striking sight of bison roving over the hills nearby.
Also be sure to get a photo at the famous Swinging Bridge, where you'll get sweeping views of the Bighorn River. Additionally, there are 6.2 miles of hiking trails to explore in the park.
While there's no camping near the hot springs in the park, there are RV parks close by.