Idaho isn't the first place you might think of when you want to book a hot springs vacation. But thanks to the state's unique geographic location, it's hot spring heaven!
Because of the remote nature of many of the hot springs in Idaho, lots of them are also clothing optional. That doesn't mean that you necessarily have to strip down to your birthday suit to visit them, but be aware that you'll likely be in the presence of nude bathers.
Here are the best clothing-optional hot springs in Idaho.
Clothing Optional Hot Springs in Idaho
1. Loftus Hot Springs, Boise National Forest
Loftus Hot Springs is located along the Middle Fork of the Boise River Road in the Boise National Forest, around 30 miles to the west of Atlanta.
This is one of Idaho's signature primitive, back-to-basics hot spring locations with rock pools that are surrounded by poison ivy and feature sandy bottoms, even though they're man-made.
The temperature in the pools tends to vary according to the weather but usually sits at about 110 degrees Fahrenheit in the top pool, which cools down a little by the time it reaches the bottom pool.
The springs are open year-round but may be preferable in winter as they can be uncomfortably warm in summer.
This is a great Idaho hot spring location to incorporate into a camping trip as there are several campsites and campgrounds nearby in the forest.
Keep in mind that these springs tend to attract a "party" crowd, perhaps due to their proximity to the campgrounds, so they might not be the best option for those seeking a purely relaxing time.
Like many hot springs in Idaho, Loftus is clothing optional. Though there is no official website stating this, it goes without saying that the more primitive hot springs do not have mandatory clothing regulations.
Located in the Clearwater National Forest in Central Idaho, the Jerry Johnson Hot Springs feature three warm springs set in an idyllic forest of cedar trees. A short and easy hike is required to reach the hot springs, which feature rocky walls and sandy bottoms.
The third spring offers the best views of the surrounding mountains and meadows. It is only between two and three feet deep and tends to be between 10 and 104 degrees.
These hot springs are for day use only and tend to be quite popular with hikers, particularly during the spring and summer. However, there is a campground around a mile away, so it is an option to camp in the forest and trek to the springs for the day.
Jerry Johnson Hot Springs is free to use, but there is a fine if you are caught there after dark. Clothing is optional and there are no shower or restroom facilities (but there is a vault toilet along the Warm Springs Trailhead), so plan accordingly.
You can also bring along your pets to the springs, but they aren't permitted in the actual water.
3. Bowery Hot Springs, Clayton
Bowery Hot Springs are located near Clayton, Idaho, in the Sawtooth National Forest. This is a primitive, clothing-optional pool, however, it is set in an old fiberglass tank, so it does feel slightly more advanced than other rock pools in Idaho.
The hot springs overlook the East Fork of the Salmon River. Matador Network explains that the tub does get replaced from time to time, but it's still a far cry from the more refined environment you'll find at an up-market spa.
Visitors are usually required to drain and clean the tub after they use it, so the chances are it will be empty when you arrive to use it. To fill it up with water from the source and the river takes around an hour, but it's worth it to soak in the tub and take in the tranquil natural scenery.
4. Samuel's Hot Springs, Boise National Forest
Alternatively known as Trail Creek Hot Springs, Samuel's Hot Springs lie along Trail Creek in the Boise National Forest and features two sizable rock wall springs with cement floors.
The hot springs tend to sit at a temperature of between 100 to 120 degrees, depending on the season. They are fed by PVC piping and contain 100% natural water.
You can visit them any time of the year, but the pools may be submerged during the spring run-off. The pools can also be tricky to access as Trail Creek is quite steep.
These hot springs are clothing optional but they do tend to be very popular with hikers. You might find that other soakers are wearing swimsuits, so bring yours along just in case you don't feel comfortable stripping off.
Like other primitive hot springs in Idaho, there are no facilities at Samuel's Hot Springs, but you can bring your dog to the area provided it stays on a leash and doesn't enter the hot springs.
5. Sacajawea Hot Springs, Boise National Forest
The Sacajawea Hot Springs lie on the banks of the South Fork of the Payette River, in the Sawtooth National Recreation Area. There are man-made rock-walled pools in the area which are cooled to a comfortable temperature by the river water.
These hot springs are easy to reach during spring and summer and are only a short distance from the Sawtooth Lodge and Grandjean Campground.
They are clothing optional but are also frequently visited by other people, so you might find that you're more comfortable wearing a swimsuit.
Keep in mind that when the pools don't receive enough cold water from the river, they can be hot enough to burn you. Always test the water with your finger first before stepping into it.
Despite being named after Sacajawea, the Lemhi Shoshone woman who accompanied Lewis and Clark on their famous Expedition, the hot springs don't appear to have any correlation with her. She was born in Salmon, Idaho, but there is no evidence that she visited the springs during her lifetime.
6. Mile-16 Hot Spring, Boise National Forest
The Mile-16 Hot Spring is one of the smaller hot springs in Idaho that can fit about four people at a time. It requires a hike up a steep hill to reach, but it does boast spectacular views of the Salmon River and is worth a trip for those in the area.
This undeveloped hot spring features a floor of gravel and sand. It is accessible throughout the year, but during the winter season, you may need a vehicle with tire chains to drive there thanks to snow cover.
This clothing-optional hot spring is free to enter and is open 24/7, so it's one of the few hot springs in Idaho that you can soak in at night if you choose.
7. West Pass Hot Springs, Clayton
West Pass Hot Springs is made up of three cast-iron bathtubs against a background of an old abandoned mine shaft. As far as hot springs in Idaho go, these ones certainly provide a unique setting!
They are located in the Sawtooth National Recreation Area, so visitors are guaranteed to enjoy some nice views of the surrounding scenery. The tubs overlook West Pass Creek and are propped up on a hillside, giving soakers an even greater vantage point.
Visitors are required to drain and clean the tubs after use, so again, you might arrive to find the tubs empty. There are rubber hoses provided so filling them up shouldn't be too much of a hassle.
These hot springs are clothing optional and also tend to be less busy than other hot springs in Idaho.
8. Goldbug Hot Springs, Salmon
You'll find Goldbug Hot Springs a short distance from Salmon. The trailhead to the hot springs is accessible via a dirt road which you can take from Highway 93, near mile marker 282 (via Visit Idaho).
The trail is relatively steep and features an incline of 1,350 feet, and there's also a steep staircase to traverse at the end of it, so these hot springs may not be the best choice for everyone.
There are a few places nearby to set up a campsite, however, you can't camp within 500 feet of the springs.
Our Pick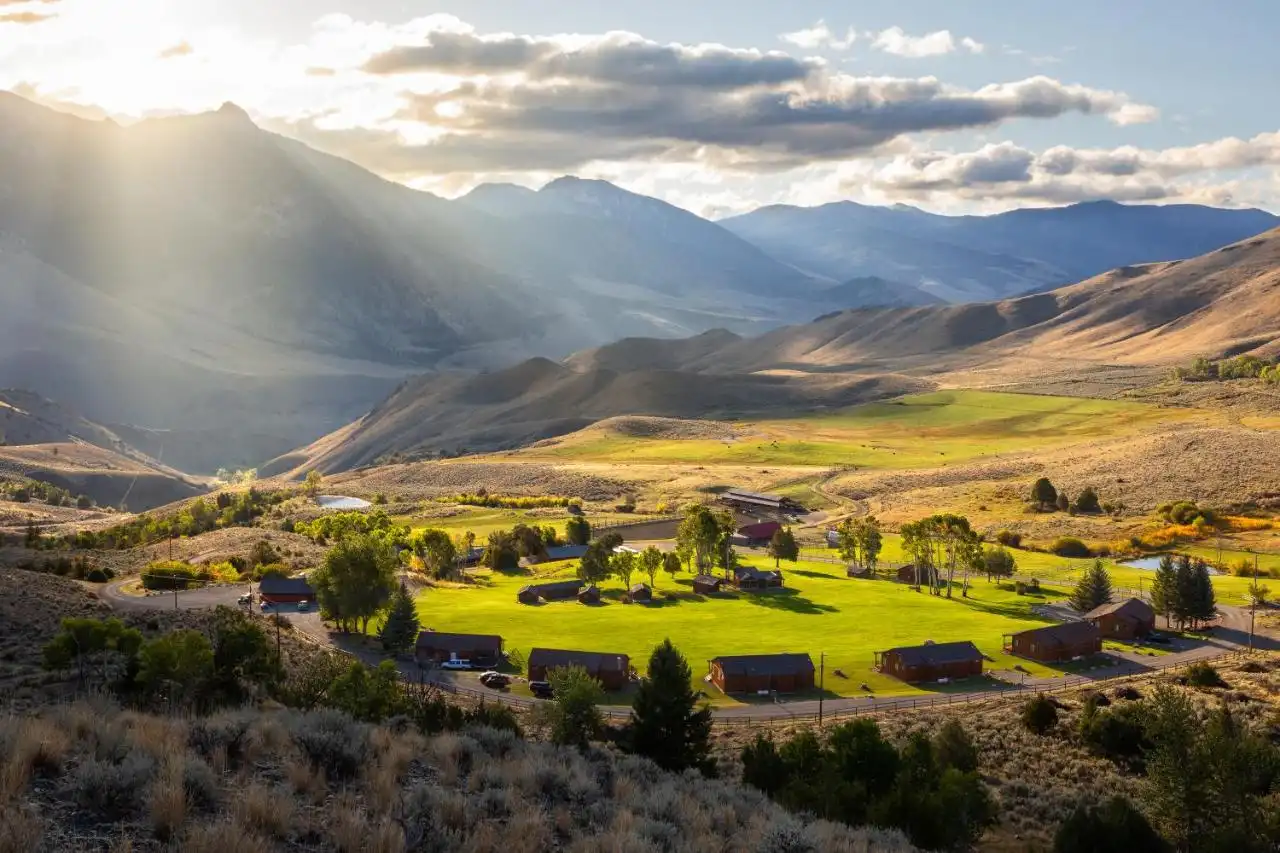 You can access Goldbug at any time of year, but the hike is definitely harder during winter and can be muddy during spring. As summer in Idaho might be too hot to enjoy soaking in a hot spring, your best bet is a fall visit.
The pools themselves feature heart-shaped rock walls and soaring views and are well worth the hike for those who are capable. There's a high chance of encountering nude soakers as this is a popular, clothing-optional spring.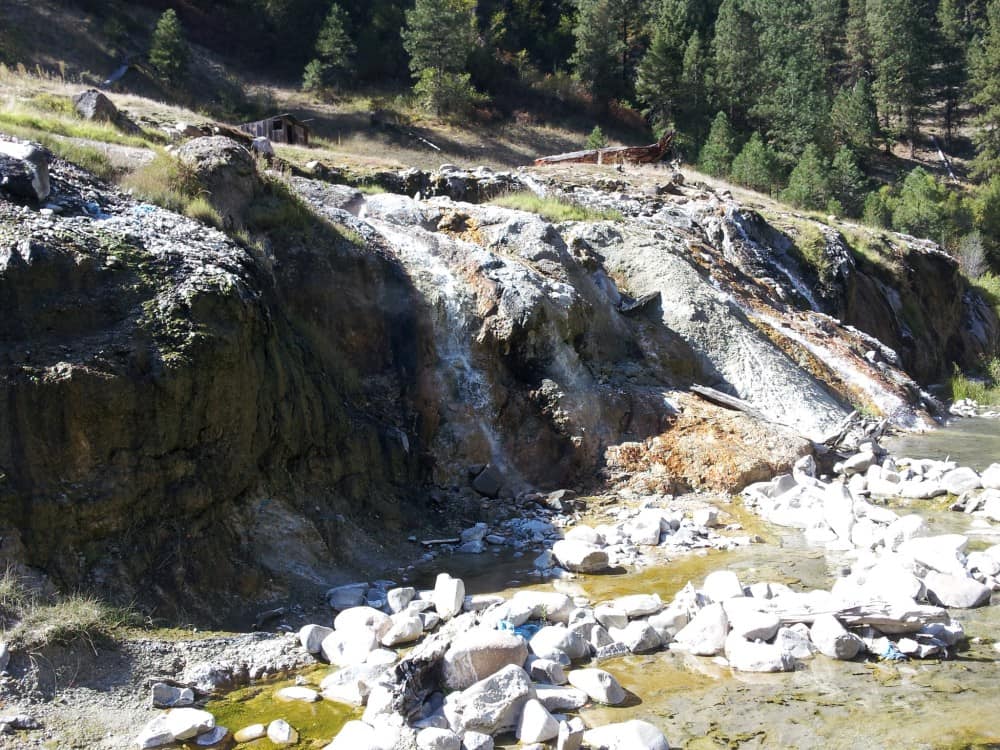 Bonneville Hot Springs lies next to Warm Springs Creek and are accessible via a trailhead that stems off a campground of the same name. There are rock pools with sandy bottoms along with a private soak shack featuring a cast iron bathtub for those wanting more privacy.
The campground is generally open from April through November, and the water in the hot springs is 100% geothermal and natural, with no added chlorine. It is usually heated to between 106 degrees and 120 degrees.
When the campground is open, the hot springs tend to receive a lot of foot traffic, so you may have to wait to use the bathtub. You may also find that it's best to bring a swimsuit, even though this is a clothing-optional spring, just in case it is extremely busy on the day you visit.