The island of Taiwan is located between two tectonic plates and abounds with hot springs, resulting in over 100 hot springs across the country.
From breathtaking views to wild hot springs, hot spring parks, hot spring villages, to incredible spas. The resorts are scattered from north to south and are major tourist attractions.
Alongside the popular hot spring areas, there are some beautiful spots all over the island where you can relax, amongst other outdoor activities.
Aside from the vibrant night markets and the delicious street food, our article will discuss the best hot springs located throughout the island. From high-end hot spring resorts to smaller resorts in the countryside, there are plenty of hot springs in Taiwan to discover.
Hot Springs in Taiwan
Hot springs are some of the most precious gifts that come from Mother Nature. Since ancient times, people have acknowledged the therapeutic properties of these natural resources together with the rejuvenating features of the water.
Taiwan has beautiful spring sites like cold springs, mud springs, and hot springs. In fact, Taiwan is ranked among the best hot spring sites in the world. The island has a great variety of resorts with high concentrations.
Formed by natural waters that come from the underground, hot springs have a positive effect on the body and bring a lot of therapeutic properties.
People visit Hot Springs for recreational purposes as well as medical treatment. They can positively affect the digestive and nervous systems and boost circulation.
Hot Spring Regions in Taiwan
There are plenty of hot springs in Taiwan scattered throughout almost every city. Only in Changhua, Yunlin, and Penghu there are no thermal springs.
Follow our article to learn about the best hot springs in Taiwan in every region and find out why tourists gave Taiwan the nickname "Hot Spring Kingdom."
The hot springs are scattered through
Central Taiwan
Southern Taiwan
Northern Taiwan
In central Taiwan, there are not many major hot springs, but there are some hidden gems that can be the perfect place to soak and relax. In this region, the best hot springs are in Hualien, Taichung, and Miaoli counties.
The south of Taiwan has plenty of unique and appealing hot springs that can offer you a one-of-a-kind experience. On Green Island, you can find mud springs and hot springs with saltwater, perfect for visiting during the winter.
Last but not least, most hot springs in Taiwan are located in Yangmingshan or the northern region. The best hot springs are near massive mountains in the Datun Volcanic Group. From Hsinchu Country to Yilan, the entire region is filled with highly-rated resorts.
Best Hot Springs in Taiwan
Central Taiwan
Tai'an Hot Springs
Tai'an is a village located in Miaoli and is one of our favorite Taiwanese hot spring places. There are plenty of resorts here that offer a relaxing experience. Across the Houlong River, there are a dozen hot spring hotels perfect for a peaceful getaway.
King's Resort and Spa, is a large hotel run and owned by a local family. Additionally, there are plenty of other thermal pools on the balconies that let you soak while enjoying the beautiful sights of the island. There are also private hot tub rooms on the roof that overlook the valley.
The luxurious Onsen Papawaqa, is an excellent outdoor spa that is open to guests and non-guests.
Finally, the Tang Shimi Hot Spring offers thermal baths on site and an unforgettable view of the mountains.
How to get there?
You can go to Tai'an by taking a day trip from Taichung. That is if you don't have a vehicle. If you have a car, the destination is easily reachable.
Additional Info
Location: Tai'an Hot Spring
Price: Around $26
Nearby Attractions: Dahu – a town in Miaoli, popular for its U-pick strawberry farms.
Our Pick
Tang Zhimei Hot Spring
Thermal Baths On-Site
"The staff service is super good! Then the environment is beautiful and the stars and the moon can be seen clearly at night, and the hot spring pool has a lot of water!"
View on Booking.com
Southern Taiwan
Zhiben Hot Springs
In the southern region of Taiwan, there are plenty of hot springs, more so than in the central region. Regardless of what you are looking for, hot springs located outside or inside, the city of Taitung has something for every visitor.
Zhiben, which can also be spelled "Jhinben" or "Chiben", is one of the largest hot spring regions in the area. Zhiben is one of the largest villages in Taiwan that has natural hot springs. The hot spring is right in the center of Zhiben River Valley and is about 9.32 miles away from Taitung City.
The most popular hotel in this area that has the best hot springs is the Cheng-Ping Hot Spring Inn. The resort faces the river, and it is secluded and quiet and the site features tubs on the balconies.
How to get there?
You can easily get to Zhiben by car or take the train that goes to the middle of the village. However, the hotels are not really close to the train station, which means you will need to get a taxi or arrange a pick-up.
Additional Info
Location: Zhiben Hot Spring
Price: Around $27
Nearby Attractions:

Zhiben National Forest recreation Area
National Museum of Prehistory
Chu Lu Ranch
Northern Taiwan
Wulai Hot Springs
Located just north of Taipei, in New Taipei City is the aboriginal village of Wulai. This place is highly popular and is perfect for a one-day trip from Taipei. In Wulai, you can find the tallest waterfall in the northern region of Taiwan, alongside some beautiful hiking trails and riverside hot springs.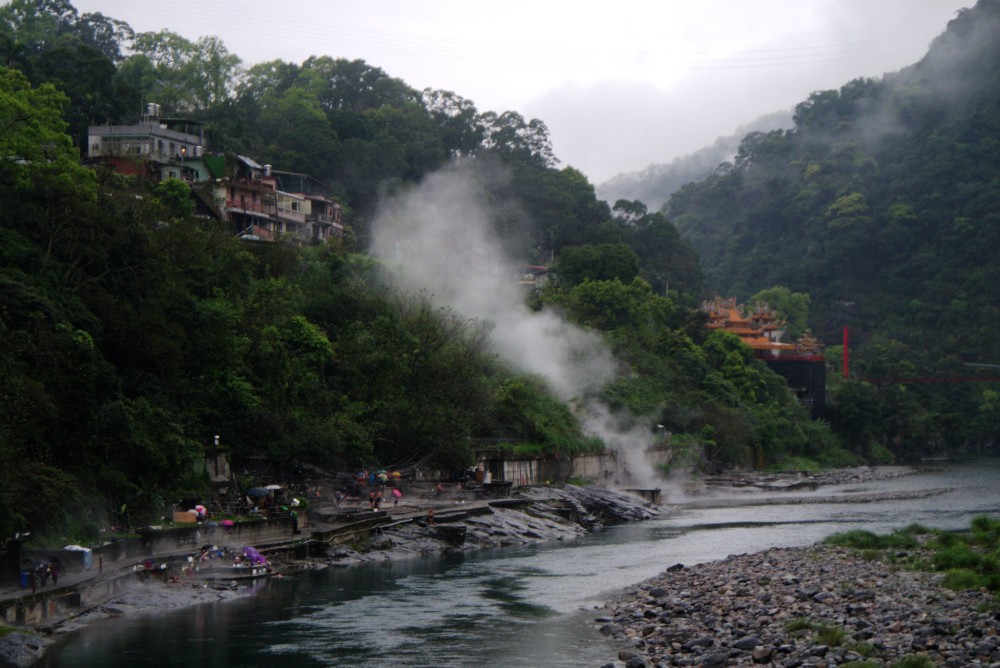 If you are a big fan of aboriginal food and millet wine, the Wulai hot springs are perfect for you. Wulai is a hidden district located just north of the Atayal people and has some of the best thermal pools. You can enjoy a nice spring soak while sipping on your favorite drink.
Most of the resorts here have private rooms with river views. The most popular hot spring resort in Wulai, which is also the fanciest, is Volando Urai. The resort has an outdoor spa and personal bathhouse. You can book them online and save a couple of dollars without paying the entry price.
How to get there?
The easiest way to get to Wulai is by taking a bus from the Xindian MRT station. If you take the 849 bus, Wulai is the last stop. From Xindian to the village, the ride is about 40 minutes.
Additional Info
Location: Wulai Hot Springs
Price: Around $75
Nearby Attractions:

Wulai Old Street
Tallest Waterfalls
Wulai Atayal Museum
Wulai Suspension Bridge