Spending time in the waters of the hot springs is known to improve blood circulation, relax the muscles, reduce stress, rejuvenate the skin, boost metabolism, and strengthen the immune system.
This is not nearly all of the benefits you'll get. How effective water is from a hot spring depends on the mineral content in that water. Switzerland has plenty of therapeutic ones.
Bathing in the hot thermal springs and enjoying the benefits of the mineral water was popular in Switzerland even in the 15th century, so it's no wonder why today they're still popular. So, if you want to use these gifts from nature, you should know that most of the natural hot springs in Switzerland are transformed into spas.
Some of the hot springs and spas have hotels near them where you can book a room for your stay, and some of them don't. Either way, they're amazing so let's see which are the best hot springs in Switzerland you should visit and discover more about the origin of them.
Origin of Hot Springs in Switzerland
The popularity of the hot springs in Switzerland dates back a long time, proving how important and valuable they were and still are. Since ancient times, people have known and used therapeutic hot springs in Switzerland.
Everything started with the Romans, who deeply appreciated these waters and started to build thermal baths.
The Beginnings
Baden, a small spa town in Switzerland, was especially popular among the Romans because of its many beneficial hot springs. They called it Aquae Helveticae, which means "Swiss waters". Moreover, the name means "to bathe" in German.
So, the Roman soldiers started building thermal baths in Baden as places where they could relax and socialize at the same time.
Interestingly enough, it's believed that people bathed naked in those thermal baths. People continued using the hot springs even after the Romans, but the Reformation greatly affected the bathing culture, so the interest in spending time in public hot baths significantly dropped.
Around the 19th century, bathing in the hot springs' rejuvenating waters became popular again. Modern hotels and spa centers were starting to be built around and over the hot springs, offering swimming pools filled with these waters and many other services for relaxation besides bathing in these therapeutic waters.
However, the popularity of hot baths decreased with the start of World War I, but everything went back to normal after World War II.
Modern Times
Today, countless hotels and spa centers are scattered across Switzerland, visited by thousands of people from all over the world.
Some of them are seeking improvement of their physical conditions, and some of them are simply looking for relaxation and enjoyment in the beautiful Switzerland nature. So, it's pretty clear that whatever you seek, there's a spa center in Switzerland that offers exactly that.
You can find hot thermal water in every part of the country, leading us to the most popular hot springs in Switzerland and the spa centers attached to them, so if you want to discover them, just keep reading.
Hot Springs in Switzerland
Because of the variety of spa centers in Switzerland built on the hot springs, it's not easy to select only a few of them, but still, the following spa centers are some of the best ones worth visiting.
7132 Therme, Vals, Switzerland
Walliser Alpentherme & Spa, Leukerbad
Fortyseven Thermal Spa, Baden
Tamina Thermal Spa, Bad Ragaz
7132 Therme, Vals, Switzerland
7132 Therme is a luxurious spa complex built over the St. Peter spring from which mineralized hot water comes out. It's located in Vals, a small Switzerland village with many visitors thanks to the amazing hot springs that run under the 7132 Therme.
Even though this spa is built in a village in the Graubuenden valley, it's considered one of the country's best ones. The minimalist stone interior and picturesque surroundings will provide you with a one-of-a-kind experience.
You can enjoy the natural mineral water in the indoor and outdoor pool while soaking up the natural beauty around you.
Additional Info
Location: 7132 Therme | Therme Vals
Water Temperature:

Indoor pool – 89.6°F
Outdoor pool – 86°F to 96.8°F

Operating Hours:

Monday and Tuesday: 11 AM – 6 PM
Wednesday to Sunday: 11 AM – 8 PM
Our Pick
Walliser Alpentherme & Spa, Leukerbad
Walliser Alpentherme & Spa is another large and very famous spa complex, located in the picturesque alpine village called Leukerbad.
This spa center is very popular thanks to its amenities, but mostly because of the amazing thermal waters it provides. The water in the thermal baths in Walliser comes from the St. Laurent hot spring.
You can enjoy the thermal spring waters in an indoor or outdoor pool. Also, an interesting addition that this spa offers is the Roman-Irish bath and the many saunas.
If you're looking for complete therapeutic enjoyment, the Walliser Alpentherme & Spa Leukerbad is your perfect choice.
Additional Info
Fortyseven Thermal Spa, Baden
Baden is one of the most popular spa destinations in Switzerland all because of the 18 hot springs it has. The hot springs in this city are rich in sulfur and calcium, and the water has more minerals than any other hot springs in Switzerland.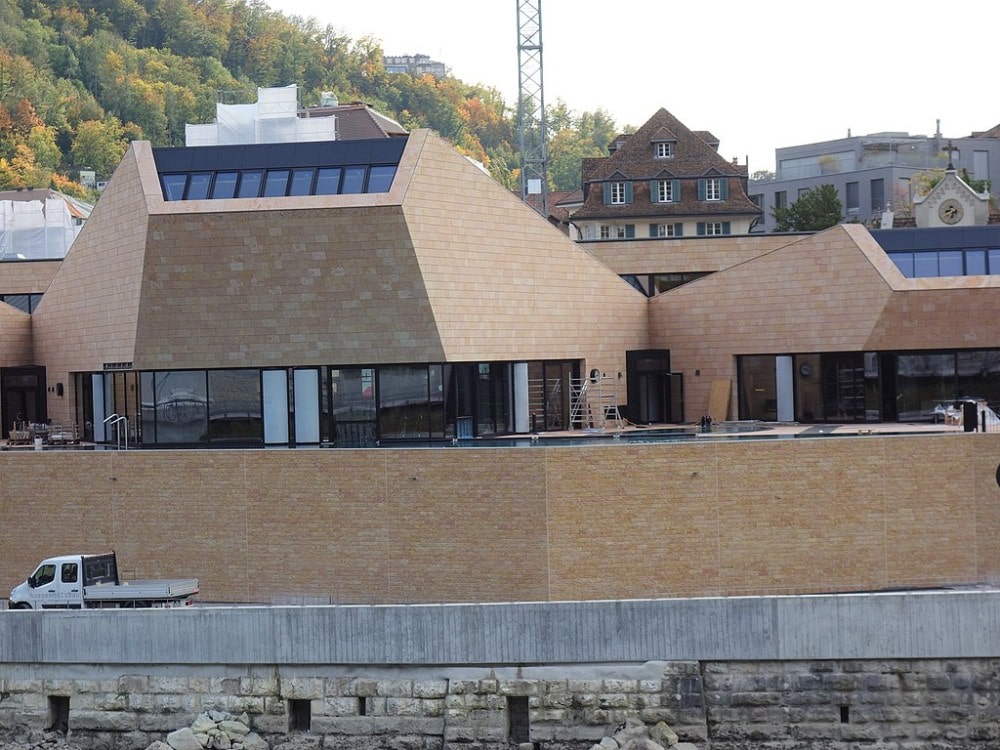 From the many spa centers in Baden, we've chosen the Fortyseven, a spa with a breathtaking view and access to these thermal waters. The water temperature reaches 47°C (116.6°F), hence the spa's name.
You can enjoy the five thermal indoor pools and three outdoor thermal pools. They have different temperatures ranging from 89.6°F to 100.4°F, so you'll have plenty of chances to find what feels best.
Additional Info
Tamina Thermal Spa, Bad Ragaz
Tamina Gorge is a hot spring, the source of the 97.7°F warm thermal healing waters. Around 1350, people built wooden bathhouses and used the water from this spring, but today, if you want to swim in these waters, you can visit the Tamina Thermal Spa in Bad Ragaz.
The first thing you'll notice about this spa is its incredible architecture. Then, you'll fall in love with the spacious thermal bath filled with water from the Tamina Gorge. The water is rich in sulfates, fluoride, and iron, so your physical health should be improved, and you may get rid of the stress and tension in your body.
The Tamina Thermal Spa is a public spa center that, besides relaxing in the thermal bath, offers a sauna, wellness center, and bar.
Additional Info
location:Tamina Therme
Water Temperature: 97.7°F
Operating Hours:

Saturday to Thursday: 8 AM – 10 PM
Friday: 8 AM – 11 PM
Our Pick
Sorell Hotel Tamina
Walking Distance from Tamina Thermal Spa
"Beautiful room with a view of the mountains Delicious breakfast Overall, nice staff working there Free bikes, which is super practical to go around."
View on Booking.com
Final Thoughts
The hot springs in Switzerland have been popular in the past and are even more popular today. So, you must visit them at least once in your life. It doesn't matter if you're traveling with your partner or the entire family.
In Switzerland, there's a spa center attached to a hot spring that's suitable for everyone. So while you plan your skiing and soaking up the country's beauty, don't forget to include visiting a spa in your bucket list and deeply relax.