Looking for the best hot springs in Spain? This article will help you find the most beautiful of them and teach you more about their healing properties.
Spain abounds with many thermal baths; thus, it might be hard to choose only one. To help you choose, we have selected some of the popular hot springs in different regions of Spain.
Each region of Spain has numerous hot spring pools, natural basins, and thermal lakes. The water temperature in each thermal bath varies and can go up to 122 °F. The warm water might be beneficial in relieving the body's pain and purifying the skin.
Let's look at Spain's most popular hot springs and thermal basins.
Hot Springs in Spain
Spain is an incredible travel destination. It has an amazing coast, big mountains, and numerous hot springs. Some of the hot springs in Spain are part of hotels and enclosed pools, while others remain under the open sky and are available at no cost.
Natural hot springs attract many people seeking their healing waters, whether it be to unwind mentally or to help alleviate physical ailments.
Hot spring water can positively affect blood pressure, improve skin condition, and detox the body. Thermal baths are also well-known natural aids for arthritis and injury healing.
Spain Hot Spring Regions
Ourense
Ourense is the largest thermal bath area in Spain. The hot springs in the Ourense region are located on the riverbank of the Miño River.
The area where these thermal baths are located is known as Miño Thermal Walk and has seven thermal areas suitable for bathing.
The area contains many natural pools, which are freely accessible and available year-round while others are located on-site in various resorts and spas.
Some of the most popular thermal baths in the Ourense region are
Outariz and Burga de Canedo
Muiño da Veiga
Outariz Thermal Station
Chavasqueira Thermal Baths
As Burgas Thermal Pool
O Tinteiro Hot Spring
Granada
Termas de Alhama is Spain's most spectacular hot spring in the Granada region on the Alhama River. It has open pools with free access and indoor pools within the Balneario Alhama de Granada Hotel and Spa.
These thermal baths date from Roman times. The temperature of these spring waters is around 104 °F, perfect for deep relaxation and rejuvenation.
The Alhama de Granada Spa has some of the most  attractive-looking indoor thermal pools. These baths are built in Arabic style and date from the 12th century.
You can combine the thermal bath with other modern physiotherapy techniques within the complex.
Our Pick
Murcia
The Murcia hot spring region features numerous natural outdoor thermal basins and indoor pools with thermal water.
A popular thermal bath, Somogil, is located three kilometers from the La Puerta Camping. The springs have hot basins and cold waterfalls next to the basins. The thermal water reaches a temperature of around 75.2 °F.
The Las Charcas Mud Baths are also located in this region. These baths are one of Europe's best natural relaxing spots. Many seek out mud baths to help with skin conditions.
Galicia
Galicia is a region in northwest Spain with green hills, rolling mountains, and a breathtaking coastline. Galicia is, at the same time, the region with the most natural hot spring baths with healing water.
A popular thermal bath in Galicia is Termas de Outariz. It has three pools with hot water and one cold bath. All pools have mineral-rich water that is perfect for relaxing and alleviating symptoms of arthritis and rheumatism.
We recommend visiting the following natural outdoor and indoor baths:
Thermos de Prexigueiro
Muiño da Veiga
Termaria Casa del Agua
Lobios Caldaria in Hotel Balneario
Termas Romanas de Bande
Balneario Caldas de Partovia.
The Most Popular Hot Springs in Spain
Termas de Arnedillo, La Rioja
The perfect relaxation spot in the colder months, the thermal water in the Arnedillo basins is around 104 °F, and contains restorative mineral waters.
The pools are accessible for free and the Arnedillo area is known for its 31-mile radius of hot springs and thermal waters. There is no shortage of guided tours in this area to see more of the thermal pools and take in the rich wine and food culture of the region.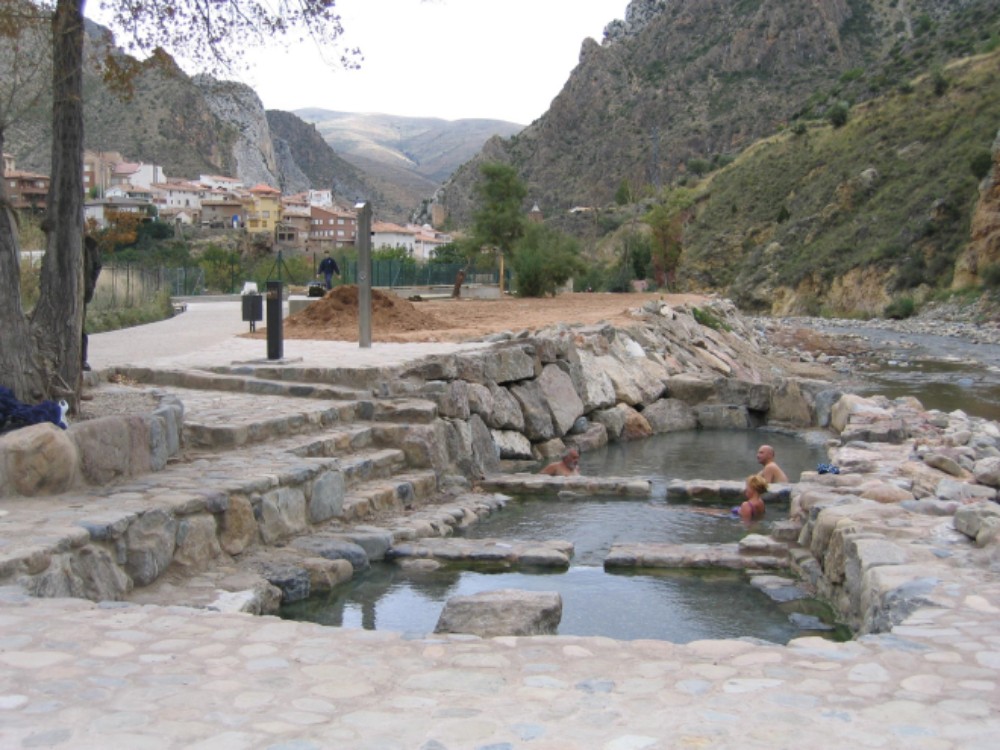 Quick Look
Location: Termas de Arnedillo
Water Temperature: 104 °F
Hot Spring Type: Outdoor 24/7 accessible thermal basins
Our Pick
Casa Rural Las Pedrolas
Easy Access to Termas de Arnedillo
"The hotel was very comfortable and spotlessly clean. It was very useful to have reserved garage parking"
Check Price
Thermal Lake of Alhama de Aragon, Zaragoza
The Thermal Lake of Alhama de Aragon has two natural pools with an average water temperature of 89.6 °F. The lake is surrounded by green forests, perfect for those looking for picturesque views with their soak.
Alhama de Aragon is a Spa town whose hot springs date from 2 centuries ago. The first "balnearios" (Spanish resorts) on these hot springs were built in the 19th century and quickly became popular among the locals and visitors.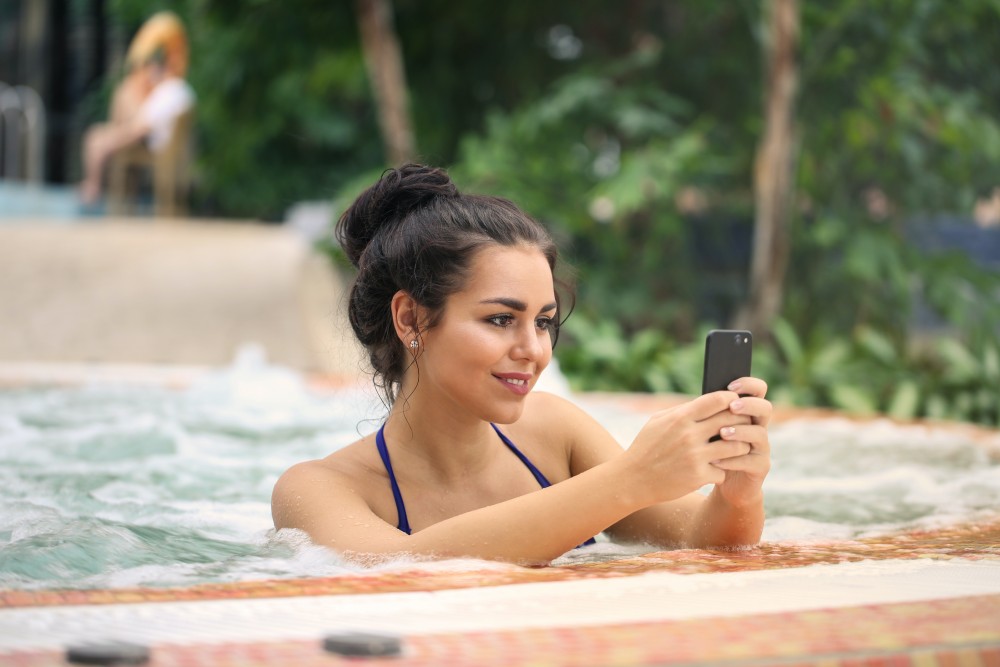 Quick Look
Our Pick
Casa Blanca
Easy Access to the Thermal Lake of Alhama de Aragon
"Very quiet place, surrounded by nature, clean, and next to the spa and Alhama"
View on Booking.com
Archena Spa, Murcia
Archena Spa consists of multiple basins within a hotel complex in the Valle Ricote Natural area. The main three hotels to choose from are the Termas Hotel, Hotel Levante, and Hotel Leon.
The waters at the spa reach up to 122 °F and contain sulfur, chlorine, and sodium. There is no shortage of space with 86,111 square feet of hot springs basins throughout.
Within the Balneario of the Archena spa complex, you can try the popular Archena massage with thermal mud, which is later showered off under thermal spring water.
It is believed that this thermal mud might benefit painful joints, rheumatic diseases, and other musculoskeletal conditions.
Quick Look
Location: Balneario de Archena
Water Temperature: 122 °F
Hot Spring Type: Indoor pools within the hotel complex
Our Pick
Hotel Levante
Part of Archena Spa
"The pools were great, along with all the rest of the facilities. It was good for both adults and children"
View on Booking.com
Types of Hot Springs in Spain
Hot springs are classified into four main categories depending on their water temperature.
There are cold springs with a temperature below 77 °F, low-temperature springs from 77 to 93.2 °F, hot springs from 93.2 to 107.6 °F, and high-temperature springs of over 107.6 °F.
In Spain, there are mainly low-temperature hot springs with a water temperature of 77 to 93.2 °F.
Cold Springs
The most popular hot springs in Spain are I'Algar Alicante and Mondariz Spa Pontevedra. The water temperature of these two thermal baths is around 75.2 °F, which places them in the cold springs category.
The I'Algar Alicante thermal bath is outdoors and has free access, while the Mondariz Spa is an entire complex inside a hotel, where you have to pay to use the thermals.
Low-Temperature Springs
Fontcalda springs in Catalonia and Las Charcas mud baths are two other natural places where you can enjoy the benefits of hot springs water.
The Fontcalda springs have a water temperature of around 80.6 °F to 82.4 °F.
The mud Las Charcas baths are public and open year-round, and numerous people go there for the healing mud.
Hot Springs
Hot springs are the most common types of thermal water you will find in Spain. Ourense Thermal springs on Miño River are the most visited and popular ones.
Miño River has numerous thermal water pools and baths, including Pozas de Muino da Veiga and Termas Chavasqueira.
Hot springs and thermal baths with water temperatures up to 107.6 °F include; Termas Chavasqueira, Arnedillo hot springs on the Cidacos River, Alhama baths in Granada, Thermal Lake of Alhama de Aragon, and Termas de Prexigueiro.
High-Temperature Hot Springs
Among the most popular high-temp hot springs in Spain are Archena Spa, Termas de Outariz, Sierra Tejeda, and Zujar thermal bath. The water in these thermal baths can reach over 122 °F.