South American tourism is grounded in colorful cultures, fascinating historical sites, delicious culinary scenes, and breathtaking scenery.
But the continent also has a lot to offer in the way of geothermal landmarks and wellness vacations.
There are several hot springs to discover throughout the nations of South America, many of which have been used by native populations for years thanks to the natural benefits they offer
In addition to a relaxing experience, a soak in a hot tub is believed to provide medicinal advantages, including improved blood circulation and pain relief.
You'll find hot springs dotted around South America in all kinds of settings, from the basic to the extravagant. But some of the most well-known hot springs are located in Argentina, Uruguay, Peru, Chile, Colombia, and Brazil.
Below we've listed some of the most notable hot springs in South America to add to your bucket list and answered a few questions you may have about them.
List of the Best Hot Springs in South America
Termas de Fiambala, Argentina
Lagoa Quente de Pirapitinga, Brazil
Termas Laguna Verde, Chile
Termales Santa Rosa de Cabal, Colombia
Baños del Inca, Peru
Aquatic Park Termas de Salto Grande, Uruguay
Termas de Cajón Grande, Argentina
La Calera Thermal Waters, Peru
Parque das Águas, Brazil
Termas de Almirón Inmotur, Uruguay
Termas del Gualeguaychu, Argentina
Termas del Plomo, Chile
Piscina Natural da Caixa d'Aço, Brazil
Baños Termales de Chacapi, Peru
San Vicente Reserva Termal, Colombia
Termas del Daymán, Uruguay
FAQ's
Did the Incas use the hot springs in Peru?
The hot springs in Peru have been used for centuries. The Baños del Inca, in particular, were used recreationally by the Inca people, who referred to them as "Inti Puquio" or "Sun Fountain".
The Baños del Inca are located six kilometers from Cajamarca in the country's north and include several heated pools that visitors can enjoy.
Along with their relaxing benefits, many people seek them out for relief from bone and nervous system disorders, in addition to bronchial and rheumatic problems.
Are there hot springs at Machu Picchu?
There are several hot springs near Machu Picchu, which is arguably Peru's most famous attraction. The three you should add to your bucket list if you're in the area include the Hot Springs of Minas Moqo, the Hot Springs of Santa Teresa, and of course, Aguas Clientes.
The latter is arguably the most famous hot spring site in the area and is open daily from 5 p.m. through 8 p.m. The complex is located around 10 kilometers from the historic site in the town of the same name.
Entry fees range from 3 soles (.80 USD) to 10 soles (3 USD) (via Peru Rail). There is a bar and change rooms located on-site to make your experience as comfortable as possible.
What should you bring to the hot springs in South America?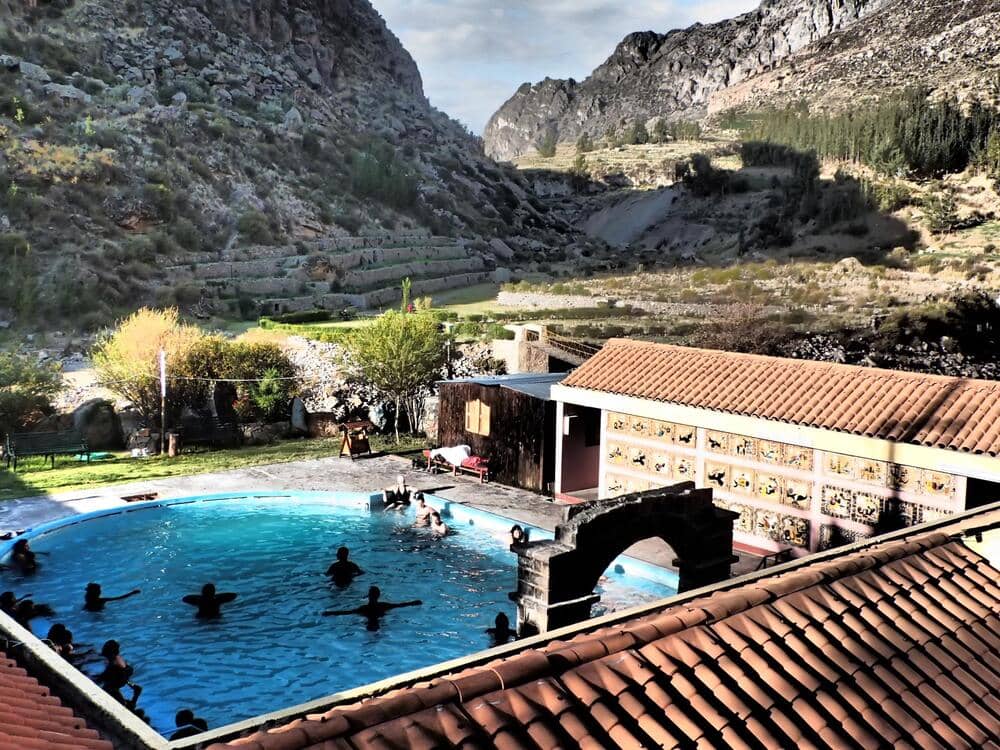 You don't need a lot of items when visiting a South American hot spring. Essential things to bring with you include a towel, swimwear, and non-slip flip-flops.
Footwear is particularly important when visiting more primitive hot springs, where the surrounding surfaces may be uneven or slippery.
We recommend taking drinking water if you plan on staying in the hot springs for a longer stretch of time, as this can be dehydrating.
Additionally, you might want to bring a lock for your personal items in the event that there are no lockers to store your belongings.
Can you use hot springs to bathe in?
Hot springs have many benefits, but providing an opportunity to bathe is not one of them. Universal hot spring etiquette, whether you're in South America or elsewhere, requires that you're already clean before you enter a hot spring.
Remember, the vast majority of hot springs are not chlorinated, though other cleaning methods may be in place.
The other reason why you shouldn't use hot springs to bathe is because bringing soap into the thermal water can be harmful to the local ecosystem.
In many locations, there will be showers provided so you can clean yourself before getting in the water, but if not, be sure to shower before arriving.
Can you bring animals into hot springs?
It's not a good idea to bring your pets with you when visiting hot springs in South America. Dogs can't regulate their body temperature the way humans can, so it can actually be dangerous to let your dog jump into a hot spring, even if it's cool enough for you to soak in. Additionally, other visitors may be allergic to your dog.
Is clothing optional in South American hot springs?
Every hot spring has different standards surrounding clothing. In general, most require you to have at least a swimsuit on before entering the hot spring.
Keep in mind that many hot springs in countries like Peru are located on land that is considered sacred to indigenous populations, so it's always important to be respectful.
Can you drink in hot springs throughout South America?
Check with the individual establishment about their drinking rules, as every location is different. In general, South American countries are more relaxed about drinking near hot springs than other countries may be.
As a rule of thumb, avoid drinking alcohol when soaking in a hot spring, as alcohol further dehydrates the body. If you are going to bring a drink with you into a hot spring, avoid bringing glass as this can shatter and be dangerous for you and other visitors.
Final Thoughts
The rejuvenating hot springs are just another reason to visit South America. Make sure to always treat geothermal areas with respect in countries such as Peru, as the hot springs remain sacred to indigenous communities.
Don't forget to bring a swimsuit and a towel, and soak up the healing properties of the same pools enjoyed by the Incas!