Thermal Springs have always drawn people to their welcoming waters, with the promise of their curative and healing powers. Many ancient sites testify that there used to be common thermal baths for this purpose.
Today, such geothermal springs are visited by tourists and used for relaxation and enjoyment. The remoteness of some of these hot springs adds an additional allure to visitors looking for unique experiences.
South Africa has many biothermal springs that are worth visiting. Namely, the 87 hot springs located along the course of the Vaal River.
If you want a unique and unrepeatable journey, we present you with the most beautiful hot springs in South Africa.
Hot Springs in South Africa
To help you choose your ideal hot springs, we've divided the South Africa thermal springs into three regions: north, south, and east coast.
Hot Springs on the North Coast
Elephant Springs Hotel & Apartments
Falcon Glen Hot Springs Resort
Gooderson Natal Spa Hot Springs & Leisure Resort
Tshipise
Eye of Kuruman
Riemvasmaak Hot Springs
Makutsi Safari Springs
Klein Kariba
Hot Springs on the South Coast
Avalon Springs
ATKV Goudini Spa
The Baths Natural Hot Springs
Warmwaterberg Spa
Mineral Springs Farm
Calitzdorp Spa
The Caledon Hotel and Spa
Hot Springs on the East Coast
KwaShushu Hot Springs
Thangami Safari Spa
Most Remarkable Hot Springs in South Africa
South Africa abounds with many hot springs, which are unique and picturesque. We have selected the ones that are the most attractive and best-rated by visitors.
Located in Citrusdal, The Baths Natural Hot Springs is a unique opportunity to enjoy the beautiful view of the Cederberg mountain range and be mesmerized by the natural beauty on offer.
The hot baths are located along the Olifants River Valley and reach a temperature of 109°F. The Springs also features a cold pool if you are looking to cool off.
Besides the hot springs and pools, you can fill your time with a tennis match or a hike in the surroundings. If you get hungry, you can visit McGregor's Restaurant, which offers breakfast, lunch, and dinner.
Our Pick
Warmwaterberg Spa is a natural thermal water source for those who want to relax their minds and enjoy the embrace of nature. The thermal baths at Warmwaterberg Spa reach 109°F, with the water coming directly from the spring.
In addition to the two springs with thermal water, there is also a pool with cold water. For additional activities, the surrounding area is ideal for hiking and visiting the nearby mountains and towns.
The abundance of sights around the spa makes this a perfect visit for those wanting to unwind after a day of exploration.
The name of this place comes from the word "tswana" which means "boiling-boiling."
Located in the Limpopo province, Bela Bela offers a unique experience with thermal baths rich in sodium chloride and calcium carbonate. Namely, these natural baths provide a relaxing effect that relieves stress and calms your mind.
The thermal baths here reach up to 127°F, making them one of the hotter and more sought Hot Springs in South Africa, the healing powers made it a destination for the Tswana people.
The Hot Springs are located near the Mabalingwe and Nylsvley Nature Reserves for those looking to experience South African wildlife.
The Goudini Hot Springs is perfect for those wanting a reprieve from the business of everyday life, whether it be relaxing in the thermal baths or partaking in spa treatments.
In addition to experiencing the benefits of thermal baths, the spa offers various activities such as hiking through picturesque nature, tennis, volleyball, and children's activities.
Whether visiting solo, as a couple, or as a big family, the spa is an ideal place to refresh and enjoy oneself.
Our Pick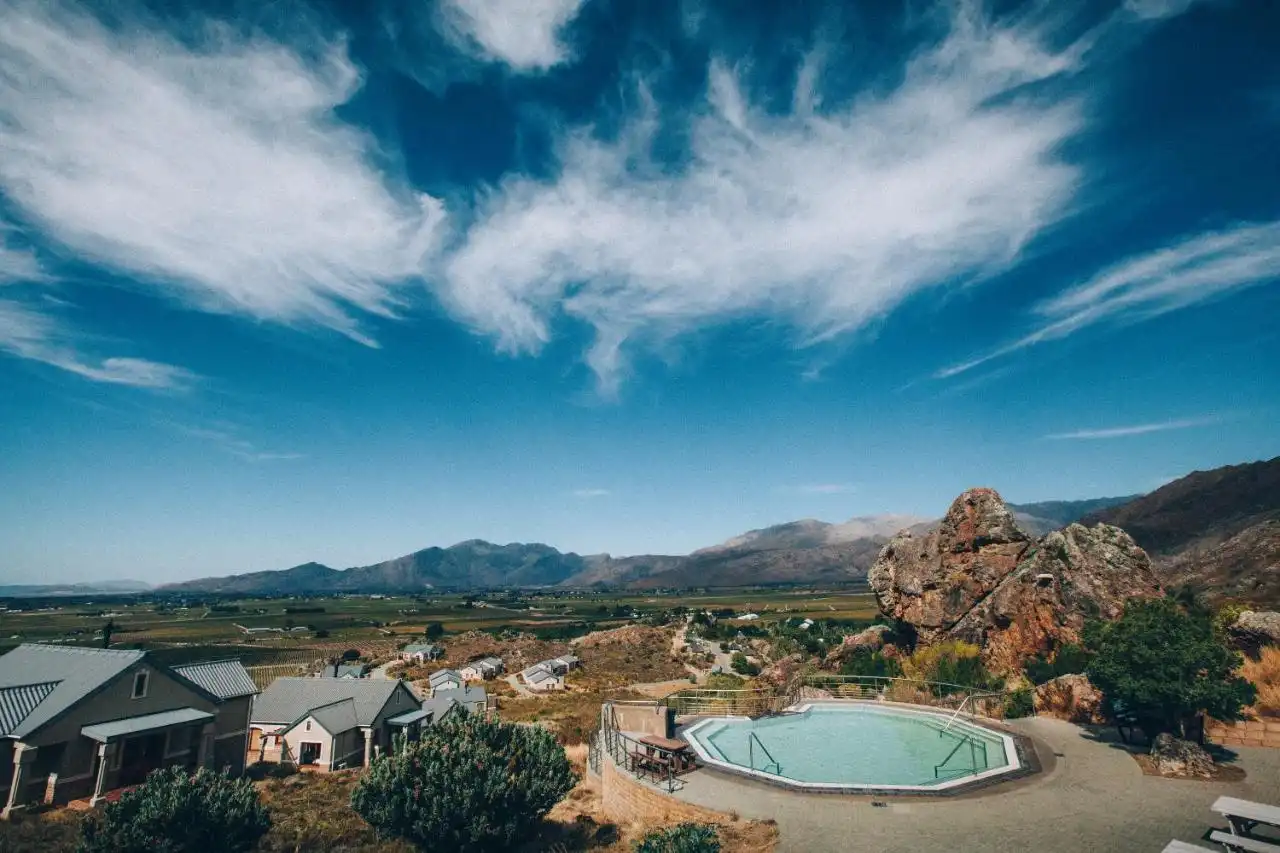 ATKV Goudini Spa
Thermal Baths on Site
"We loved the daily cleaning, the indoor pools were amazing, the layout of the rondawels was really comfortable and the couples retreat from the Ontspan spa was well worth it"
View on Booking.com
Calitzdorp Spa attracts both locals and tourists with its thermal waters which are believed to have healing properties. Namely, these waters are rich in manganese and iron.
There are several pools with different temperatures in the Calitzdorp hot springs. The main pool draws its water from natural springs that reach a temperature of 122°F. The connecting pools offer milder temperatures around 100°F.
In addition to these thermal pools, there are cold and shallow pools for children. There are also hiking opportunities in the nearby mountains for those wanting to explore.
Riemvasmaak is a hot spring located near the border of Namibia,  located between the dry rivers Molopo River and Orange River. Riemvasmaak is represented by vast expanses of desert plains, granite rocks, and natural thermal springs.
The thermal waters are one of the main attractions that will entice visitors to Riemvasmaak. In addition to the thermal springs, two elevated swimming pools have been built at the springs.
While visiting, tourists can opt to explore the hiking trails along the Orange River Canyon and take in the picturesque views.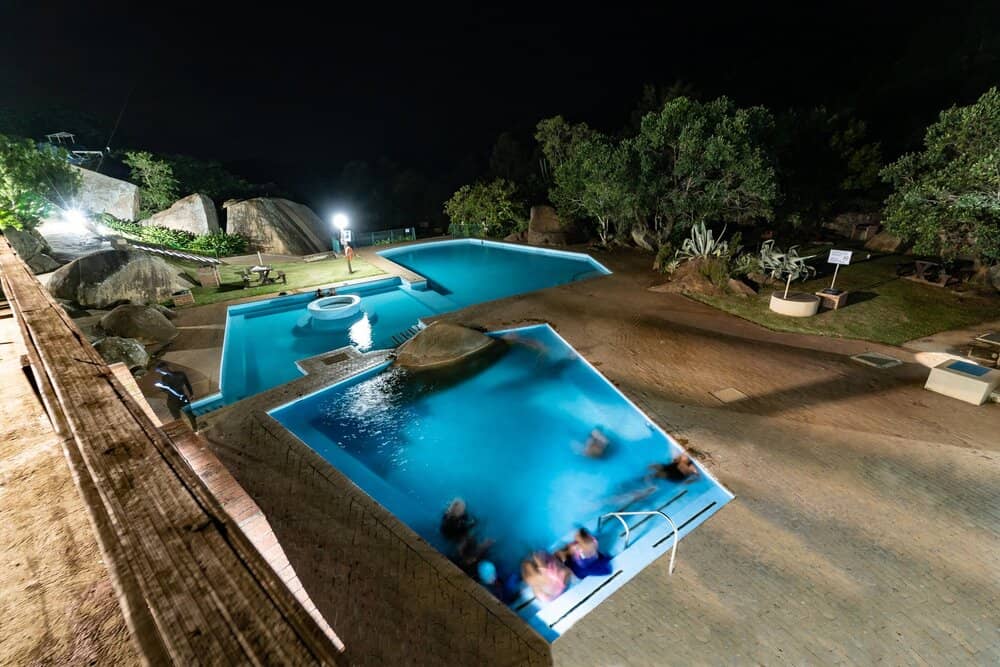 One of the most popular hot springs in South Africa is the Gooderson Natal Spa Hot Springs. Located in Paulpietersburg, these thermal springs are surrounded by granite stones enriched with bushland.
Here, you can enjoy thermal waters with a temperature of 113°F, which some people believe has healing properties.
In addition to the thermal waters, visitors can enjoy the sauna, jacuzzi, and swimming pool that are part of the resort. Moreover, if you come with children, there is a heated supertube in the on site water park.
Our Pick
Other Places to Visit in South Africa
South Africa is one of those countries you should visit at least once in your lifetime. In addition to thermal baths, South Africa abounds in scenic spots, beautiful cities, villages, nature, and diverse wildlife.
If you've opted for one of the thermal spas and hot springs above, we're here to suggest places you can visit during your stay in South Africa:
Kruger National Park, Mpumalanga and Limpopo Provinces
Cape Town – Western Cape
The Garden Route
Kgalagadi (Kalahari) Transfrontier Park – Northern Cape
Stellenbosch- Western Cape
The Drakensberg – KwaZulu-Natal
Pilanesberg National Park
iSimangaliso Wetland Park, KwaZulu-Natal
Blyde River Canyon Nature Reserve – Mpumalanga
Sabi Sands Game Reserve – Mpumalanga
Boulders Penguin Colony, Simon's Town – Western Cape
Addo Elephant National Park – Eastern Cape
Pilanesberg National Park
Golden Gate Highlands National Park
Kirstenbosch National Botanical Gardens