Do you wish to visit hot springs in Poland? Here you'll get informed which are the best ones based on the water's healing properties, location, and attractions.
Poland is rich in hot thermal waters, and thousands of people are already using their healing properties. One of the most popular ones is the Chochołowskie Termy, located in the country's south.
Since there are so many hot springs worth mentioning, we've divided them based on their location. That way, you will find the best hot springs in Poland's northern, central, and southern parts and easily choose which one will be your next destination.
Best Hot Springs to Visit in Northern Poland
Termy Warmińskie, or the Wermian Baths, is northern Poland's first thermal resort center. It is located near the small town of Lidzbark Warmiński.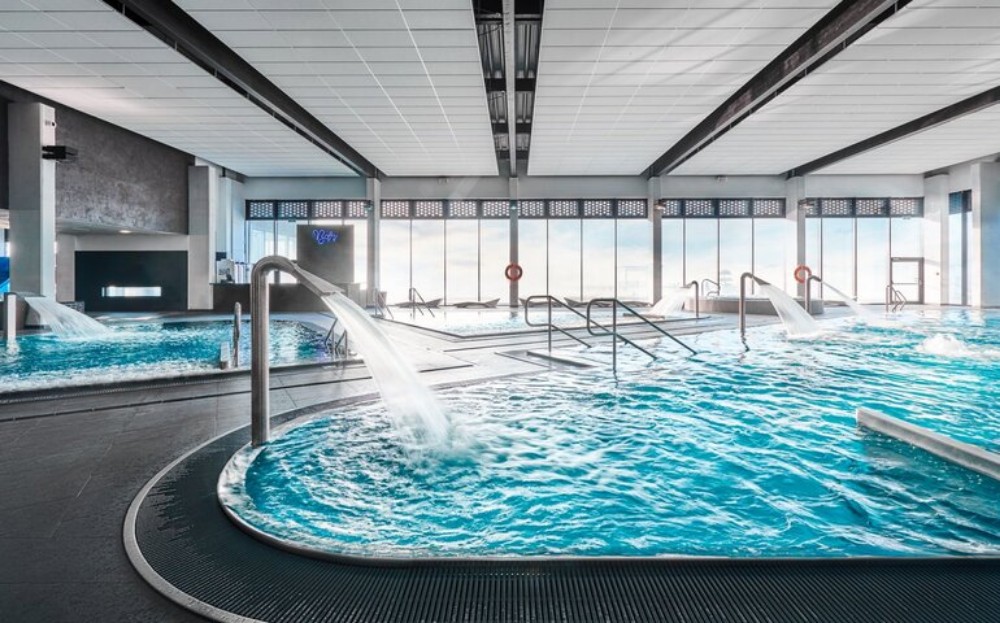 The resort combines modern spa space and hotel services of high standards. The spa space includes a swimming pool, underwater massage, and whirlpool rooms.
Special hydrotherapy baths are available, using thermal waters with natural ingredients. Bathing in these thermal waters may benefit the cardiovascular system, metabolism, headaches, and joint pain. The thermal waters should have a rejuvenating effect on the skin, making it smooth and firm.
Quick Look
Location: Termy Warmińskie
Spring Type: Mineral/thermal
Water Temperature: 86-100°F
Entrance Fee: Around $4 for one adult per 1-hour
Features:

Therapeutic thermal water with low alkaline properties and a unique blend of microelements
Modern and beautiful thermal complex, ideal for rest, relaxation, and rejuvenation
Our Pick
Termy Warmiskie
Thermal Baths On-Site
"The hotel is located in a quiet area. Various shops nearby. Pools clean, you can relax and rest"
Check Price
Best Hot Springs to Visit in Central Poland
The Mszczonów thermal complex has been available to the public since 2008. It features four swimming pools, all of which are filled with thermal water.
The water temperature is between 79-93°F, while the surface temperature is over 107°F. It is drawn from unique sweet thermal springs near Mazovia at a depth of around one mile.
Calcium and magnesium bicarbonates are predominant in these thermal waters, making them beneficial for the skin. Bathing in these waters may improve blood circulation and relieve joint and muscle pain.
These water's most significant impacts and benefits might be on people with rheumatoid arthritis and neurological diseases.
Quick Look
Location: Termy Mszczonów
Spring Type: Mineral/thermal
Water Temperature:
Entrance Fee: 79-93°F, while surface temperatures exceed 107°F
Features:

Ideal water temperature range, suitable for treating many ailments
Excellent complex with four thermal water-filled swimming pools
Our Pick
The Maltańskie thermal complex features the largest aqua park in Poland and the second largest in Europe. It is among the most visited hot springs in Poland.
The entire complex is divided into two sections – a sports section and a recreation section. The recreational area features two thermal pools, water lounges with hydro massage, and a biological regeneration sauna complex.
The thermal water in the Maltańskie thermal resort is drawn from the Lower Jurassic aquifer at a depth between 1-1.5 miles. The temperature of the water is around 100°F.
With such an ideal water temperature, the Maltańskie thermal complex should be perfect for treating chronic pain conditions related to arthritis and inflammation.
Quick Look
Location: Termy Maltańskie
Spring Type: Thermal
Water Temperature: Around 100°F
Entrance Fee:

Around $10 for one adult per 1-hour.
For a family of two adults and one child, the price is around $20

Features:

One of the most visited resorts in Poland
An ideal water temperature for treating ailments caused by inflammation and arthritis
Numerous ways to relax, including jacuzzis, saltwater pools, whirlpools, and sauna rooms
Tarnowskie Termy is a thermal resort near Tarnowo Podgórne, a small village near Poznań. The complex features a facility with a modern design, encasing a recreational zone, a sports zone, and a saunarium.
The recreational area has a thermal water swimming pool, a jacuzzi, and a pool for children. The saunarium area also features a swimming pool filled with thermal water and four sauna rooms.
Tarnowerskie Termy is a center that draws its thermal water from the Lower Jurassic aquifer, with a temperature of around 113°F. The water is rich in iodine thermal brine, chloride, and sodium. It may have positive effects on people with respiratory difficulties, sinusitis, and migraine.
Quick Look
Location: Tarnowskie Termy
Spring Type: Geothermal/thermal
Water Temperature: Around 113°F
Entrance Fee: Around $3.5 for one adult per 1-hour
Features: 

A unique aqua park that draws water from thermal sources
Modern facility with sports, recreational, and sauna zones
Water temperature is adequate for respiratory and migraine-related problems
Our Pick
Hotel Aslan
Easy Access to Tarnowskie Thermal Resort
"Clean, comfortable, and very nice service. Great value for money. I stayed here several times and always had the same impressions"
View on Booking.com
Best Hot Springs to Visit in Southern Poland
Chochołowskie Termy is one of the most famous and visited hot springs in Poland. It is located in the country's south, near the resort town of Zakopane.
Tourists visit this complex all year because of its diversity. It features a wild river, hot spring geysers, hydromassage stations, an artificial wave area, multiple slides, and over 30 pools.
With a beautiful view over the Tatra mountains, the Chochołowskie Termy's healing zone provides iodized brine thermal waters with an ideal temperature of 90°F.
Tourists also take advantage of the sauna zone, which features a salt cave, a salt room with a water cascade, a dry sauna, an aromatic bath, and many more.
Quick Look
Location: Chochołowska Baths
Spring Type: Geothermal/thermal
Water Temperature: Around 90°F
Entrance Fee:

Around $17 for one adult per 3-hour stay
Entrance to the saunarium costs $20
An all-day stay costs around $24

Features:

The largest thermal bath complex in Poland
The saunas offer excellent relaxation and a beautiful view of the Tatra mountains
Highly diverse aqua park with attractions like geysers, wild rivers, artificial waves, and more
The Gorący Potok thermal resort is situated south of the small Polish village of Szaflary.
The complex is located in a park area. It features over 20 outdoor pools, all filled with natural sulfuric water. The water temperature ranges between 93-104°F and is drawn from underground wells dating back to the Palaeogene and Triassic periods.
The resort's unique surroundings are filled with fountains, geysers, slides, and special pools for children. The spa area provides a relaxing experience due to the steam produced by the thermal waters. Mud baths and cosmetic treatments are also available in the complex.
Quick Look
Location: Gorący Potok
Spring Type: Geothermal/thermal
Water Temperature: 93-104°F
Entrance Fee:

$11 for one adult per 1.5-hour visit
$117 for one adult per 2.5-hour visit
$23 for one adult for an all-day visit

Features:

Healing sulfuric water with an ideal temperature
9 outdoor and 12 indoor pools
A unique spa zone with refreshing and intimate baths
Mud baths, massages, and cosmetic treatments
The last thermal baths resort we want to mention is Termy Bukowina, located southwest of the Bukowina Tatrzańska village.
The complex has multiple attractions like adult aerobics, a sauna with thematic aromas, kids diving, and many more.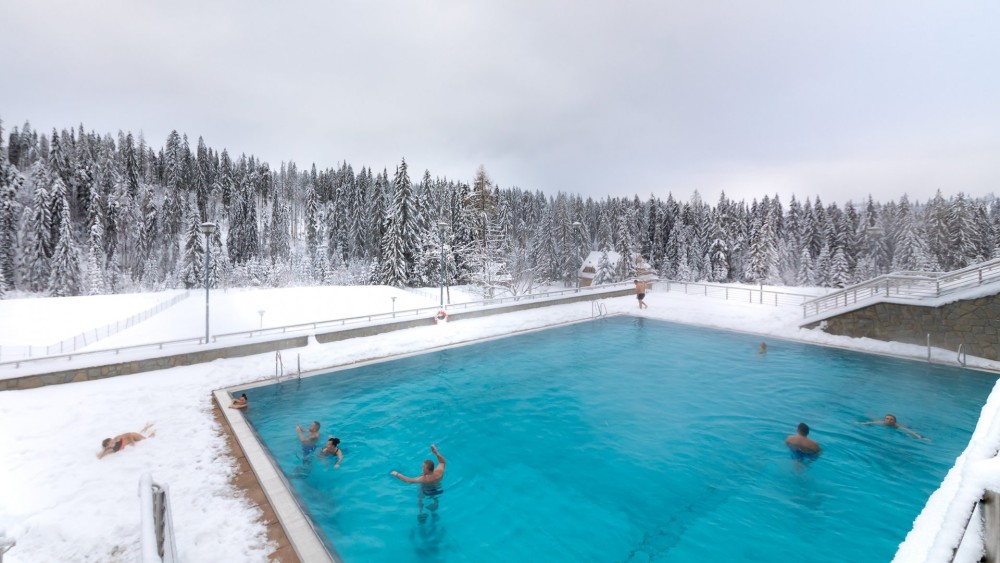 Filled with thermal water from 1.5 miles below the earth, the thermal baths at Termy Bukowina are there to improve your health. This water contains 28 mineral elements, a mix of anions and cations.
Relaxing in Termy Bukowina should provide you with psychological comfort, improved circulation, hormonal balance, and an overall health boost.
Quick Look
Location: Termy BUKOVINA w Bukowinie Tatrzańskiej
Spring Type: Geothermal/thermal
Water Temperature: 86-97°F
Entrance Fee:

$9 for one adult per 30-minute visit
$22 for one adult per 3.5-hour visit
$29 for one adult for an all-day visit

Features:

Thermal water is highly rich in minerals
Might be beneficial for relaxation and the overall health of the body
Multiple attractions like aqua aerobics, thematic aroma therapy, and kids diving
Our Pick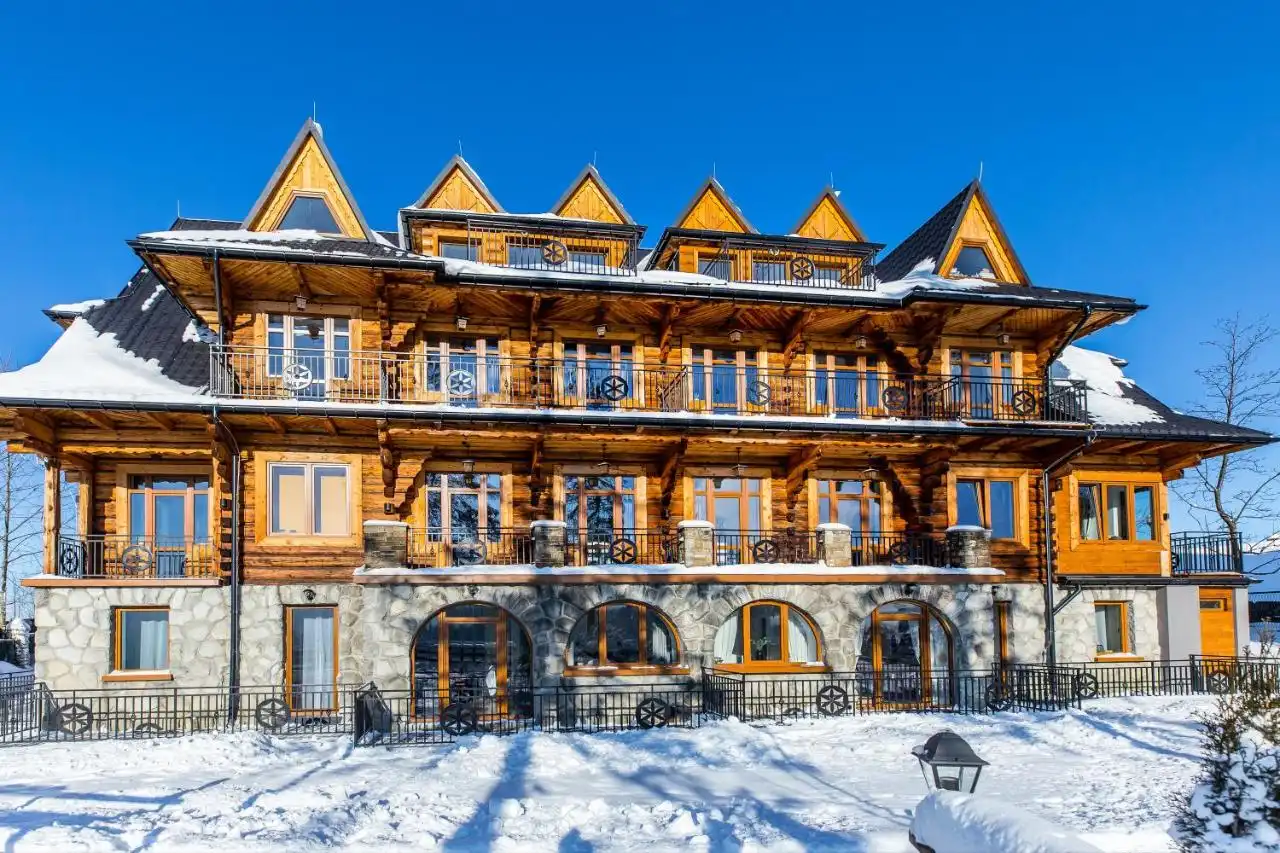 Apartamenty na Lenej
Easy Access to Termy Bukowina
"The view from the balcony was exceptional. Very cosy apartment with a small kitchenette. Easy to travel from and to the town to main hiking destinations"
View on Booking.com