Peru is a South American region with a wealth of hot springs running through it. These therapeutic pools are a great way to unwind and for many locals, the warm pools are utilized as community baths on a daily basis.
Many visitors like to take advantage of the fact that some of the best hikes in Peru, like the Colca Canyon trek, feature multiple natural thermal baths to soak in along the way.
The landscape and terrain in Peru offer plenty of rustic and primal hot springs, though resort-style locations with accommodations are equally as common.
Let's take a closer look at hot springs in Peru, locally known as aguas termales, what regions they are located in and what they offer visitors.
Peru Hot Spring Regions
Peru's landscape is diverse, and with geothermal undercurrents running the length of the country it's possible to find hot springs from the North to the South.
The volcanic desert regions and the high-altitude Andes Mountain valleys are where many of the best hot springs in Peru can be found. This includes major cities that have access to soothing mineral springs in or around them.
The Most Popular Hot Springs in Peru
Hot springs are integral to the culture of Peru, with many sites playing a crucial role in their communities.
For visitors, hot springs will hold a different value depending on what kind of vacation you are hoping for. Some may appreciate a long trek to make it to a remote spot while others will look to be pampered at a resort that has everything you need for a relaxing vacation.
Baños Termales de Chacapi
If you like your hot springs to be on the picturesque side then here's your spot.
Chacapi Hot Springs could well be the most picturesque hot springs in Peru. It can certainly look that way when you lay eyes on the three pools that overlook the scenic Colca River.
To make it even more adventurous the three warm pools are accessible across a swinging bridge. There are also a few older primitive pools along with cooler pools on the other side of the river that offer variety during your visit.
Chacapi has its own fresh cold water pool, which is a popular escape in the warmer months. Facilities like changing rooms and bathrooms are basic.
These hot springs do tend to get busy from around midday. Turning up after around 4-5 pm after the busy afternoon rush is done is one way to miss the crowds.
Baños Termales Machu Picchu
In the village of Aguas Calientes at the base of the mountains, you will find Baños Termales. Located at Machu Picchu, which is considered the gateway to the "lost city," is an area with undeniable intrigue.
The experience of soaking in these hot springs comes from its iconic location and rich history that has captured the awe of many.
As you can imagine this is the local bath house for many of the villagers, although you might find a few backpackers at the end of a Machu Picchu multi-day trek here and there.
A relaxing couple of hours in these waters is the perfect way to conclude you visit to the area after a long trek.
Aguas Termales Cocalmayo de Santa Teresa
Not too far from the vicinity of Machu Picchu is the Aguas Termales Cocalmayo de Santa Teresa—or Saint Teresa Hot Springs.
A common stop-off en route to Machu Picchu, these springs also serve anyone on the way back towards Cusco via the Sacred Valley.
These pools are simple but effective with basic facilities used by locals and tourists alike.
The pools are of different temperatures, but this is not one of the hotter Peru hot springs. There is the option of camping on the terraces which is an ideal way to enjoy the pools once all the day crowds have cleared out.
Our Pick
Los Baños del Inca
Peru's northern regions yield the popular Los Baños del Inca public baths. These Inca baths can be found a few miles from the town of Cajamarca. It is said that they were being enjoyed by the Inca emperor Atahualpa when the Spanish army showed up.
These public baths are a favorite among domestic tourists, who combine a visit with historic and culturally-related activities such as exploring the nearby rock forest or checking out the Ventanillas de Otuzco tombs.
That said, as with the majority of hot spring regions many locals also use these pools as their main bathing facilities making this a busy facility.
These thermal waters, so favored by the Incas are said to have the ability to induce total relaxation. Other spa treatments and massages are available onsite, as are private rooms.
Hot Springs La Calera
Hot Springs la Calera, also known as Chivay hot springs, is on the way to Colca Canyon and serves as a popular stop-off spot for those on tours.
In addition to Chivay, the small town boasts two of its own hot springs, a couple of miles' walk outside of the village or a short taxi drive.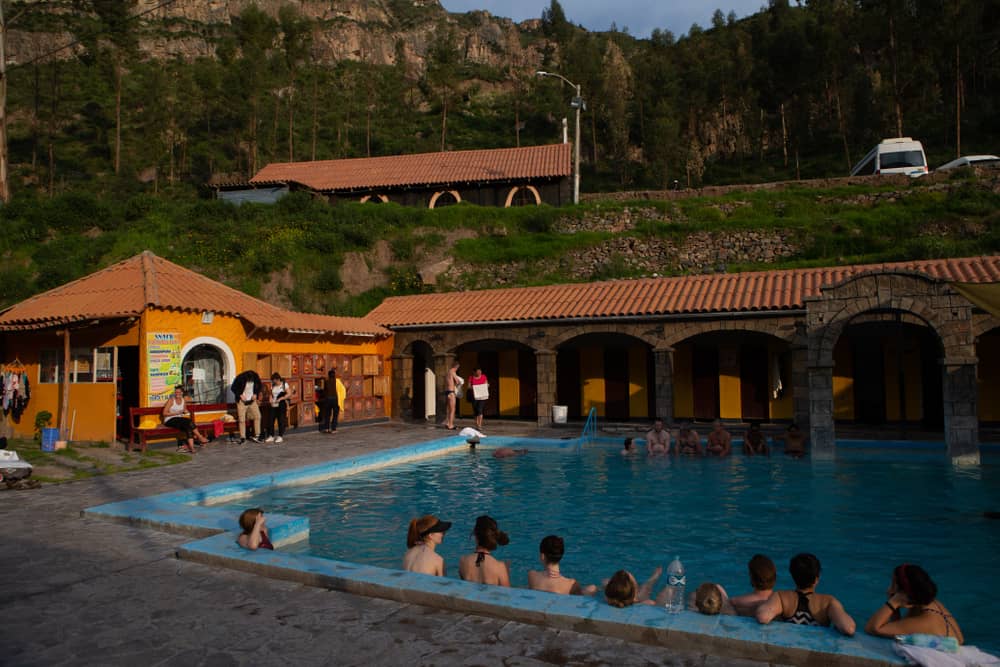 The springs are known for their rejuvenating properties, and the location is popular with both tourists and locals. Visitors can expect the springs to always be lively, offering a snapshot of life in Peru.
Our Pick
Colca Canyon Hotel, Chivay
3.5 km from Hot Springs La Calera
"Good location in Chivay, near the open market and the terminal terrestre 5 min walk from the main square. Brand new building, friendly staff, extremely flexible and welcoming"
View on Booking.com
Types and Origins of Hot Springs in Peru
The hot springs in Peru result from volcanic activity, of which the country has much when you consider the 17 Holocene volcanoes. Thanks to the natural geothermal waters Peru is dotted with hundreds of hot springs.
Although in some regions the hot spring water may look a little muddy or even dirty, it is in fact rich in minerals said to ease all manner of aches and pains. Keep in mind that many of the hot springs in Peru are extremely rustic and offer a distinctly no-frills, local-style experience.
As the aguas termales in Peru are often the main bathing source for many of the communities, you'll find the main function and benefit of the hot springs is considered in more of a practical sense than one of leisure.
You can certainly find more upscale, resort-style options if required, the main thing is to know the differences beforehand.