Hot springs are created when underground hot water rises to the earth's surface due to pressure. This is known as geothermal activity, and due to New Zealand's geographical position and many volcanoes, the country is a hot spot.
Numerous hot springs, or "Waiariki" as they are known in Maori, are scattered across New Zealand. The hot springs in New Zealand were traditionally used for bathing, cooking, and preparing flax for weaving.
Due to the many healthy minerals the springs contain, today, they are used for swimming and are a big part of New Zealand's tourism.
Bathing in New Zealand's hot springs can be relaxing due to the mineral-rich, calming waters. The water might also offer various health advantages, attracting visitors year-round.
In this article, we will look at the the most popular hot springs in new Zealand, from primitive to resorts, that you will want to experience for yourself on your next visit.
New Zealand Hot Spring Regions
New Zealand has hot springs on the mainland islands and the smaller islands around them. The country sits on two tectonic plates, the Pacific and the Australian, and due to their constant movement New Zealand is constantly geologically active.
| | |
| --- | --- |
| Island | Region |
| North Island | Rotorua, Taupo, Parakai, Wairakei, Whakatane, Whitianga, Mount Maunganui, Mount Ruapehu, Miranda, Katikati, Mangatutu Hot Springs, Kawerau. |
| South Island | Hanmer Springs, Hurunui River, Otehake River, Wanganui River, Maruia Springs, Welcome Flat. |
5 of the Most Popular Hot Springs in New Zealand
Polynesian Spa
Hell's Gate Geothermal Park
Welcome Flat Hot Pools
Maruia Hot Springs
Hanmer Springs Thermal Pools
Polynesian Spa
You will find one of the oldest spas in New Zealand on the shores of Lake Rotorua, in the center of the North Island.
The Polynesian Spa was constructed in the 1800s and has a long history and cultural significance. The Maori people, who saw themselves as the protectors of the natural hot springs, tended after the spa since its creation.
Moreover, the Maori have named and taken care of every hot spring in this region. The Polynesian Spa has 28 mineral pools filled with water from two natural springs.
Visitors can enjoy various wellness rituals. Also, the Spa is recognized as one of the top 10 in the world.
Additional Info
Our Pick
Hell's Gate Geothermal Park
According to Maori myth, Ruomoko, a Maori deity associated with volcanic activity, bestows warm, therapeutic waters to the land. These waters are allegedly where Maori warriors went to recover from combat injuries. The natural boiling pools give the area a solid sulfuric smell.
For more than 800 years, people have used this geothermal location for its possible therapeutic benefits. In addition to bathing in the thermal pools and eating traditional Maori hangi meals prepared in the thermal waters, visitors can also take in the sights surrounding the hot springs.
Additional Info
Our Pick
Welcome Flat Hot Pools
In the South Island, you will find the Welcome Flat Hot Pools, situated in a valley surrounded by native forest and snow-capped peaks of the Southern Alps. The Welcome Flat Hot Pools are worth visiting for the possible health benefits and the incredible scenic views.
The Welcome Flat Hot Pools are only reachable by a challenging climb and are situated on the Copland River close to the Fox Glacier on the West Coast of New Zealand's South Island.
Getting there might take up to seven hours, and it can be challenging in the winter, but those who do the climb are rewarded with an incredibly relaxing experience in the thermal pools.
Additional Info
Water Temperature: 95 to 134 degrees Fahrenheit
Maruia Hot Springs
Maruia Hot Springs are natural pools that, besides their nourishing water, provide an unobscured view of the beautiful Southern Alps.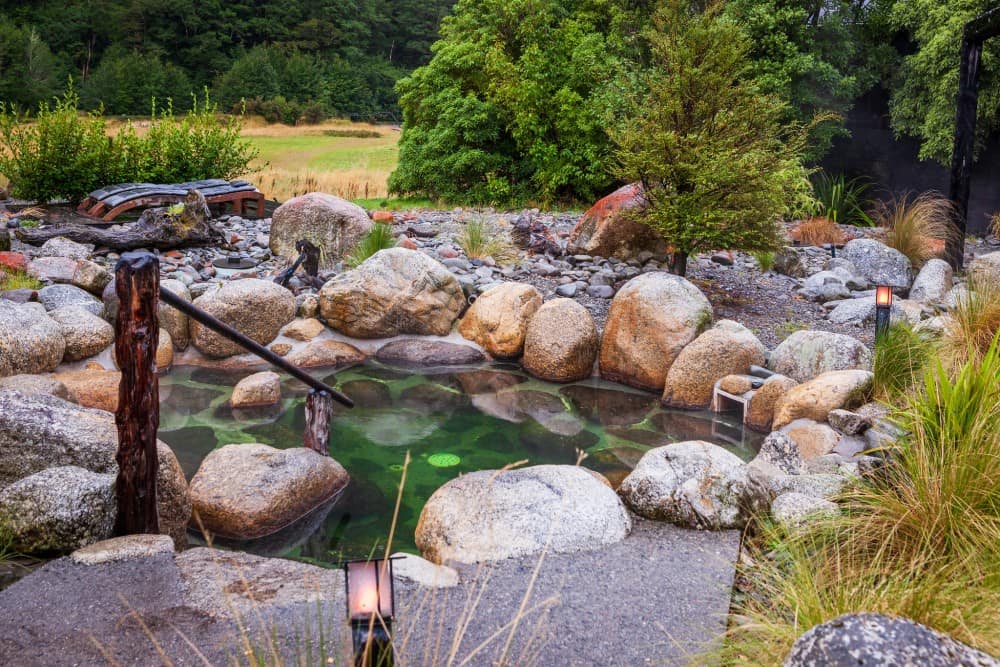 Maruia Hot Springs is a sulfur spring with a pH of 7.3 and high mineral content. The sulfur in the water has a specific smell that might help promote metabolism and skin health as well as protect the body from environmental toxins.
Moreover, other minerals present in the water are boron, hydro carbonate, sodium, potassium, calcium, magnesium, and iron.
Additional Info
Hanmer Springs Thermal Pools
Hanmer Spring Thermal Springs is located less than two hours from Kaikoura and Christchurch, surrounded by native New Zealand kowhai trees and bellbirds. The sulfuric pools might provide visitors with many health benefits.
Furthermore, there are 22 thermal pools that you can enjoy. The water is 173 years old and full of minerals such as iron, calcium, boron, chloride, magnesium, potassium, silica, sodium, and sulfur.
Additional Info
Our Pick
Hanmer Springs Retreat
Easy Access to Hanmer Springs Thermal Pools
"Had a lovely relaxing stay, perfect and quiet location. View from our room was breathtaking. The continental breakfast was great."
View on Booking.com
Types of Hot Springs in New Zealand
New Zealand is located in the Pacific Ring of Fire, so many of its hot springs are volcanic. There are also hot springs on fault lines, natural hot springs, and hot spring spas.
They are significant in the local Maori culture, as they were used in the past for different purposes. The springs that were too hot for bathing were helpful in cooking, while the Maori used the milder ones for bathing.
Volcanic Hot Springs
New Zealand's Rotorua and Taupo volcanic zone is home to many hot springs, mud pools, and geysers. The hot springs are created when rainwater seeps through cracks in rocks down to the magma, which gets heated.
This process of heating underground water with magma makes it rise quickly to the surface with high temperatures.
Hot springs – Clear boiling water flows from a heated rock beneath the hot springs, which makes them unsuitable for swimming.
Mud pools – The muddy mixture in these pools is due to the gasses reacting with the rocks, which produces clay.
Geysers – Geysers are the result of underground built-up pressure. When the pressure is too much, it causes an eruption on the surface of hot water and steam. New Zealand's biggest geyser is Pohutu, which reaches 65 feet and more.
Natural Hot Springs
People can enjoy many natural hot springs for free without the need to make a reservation at a resort or a spa. These natural hot springs are full of minerals that might have healing properties and can be found on the North and South Island of New Zealand.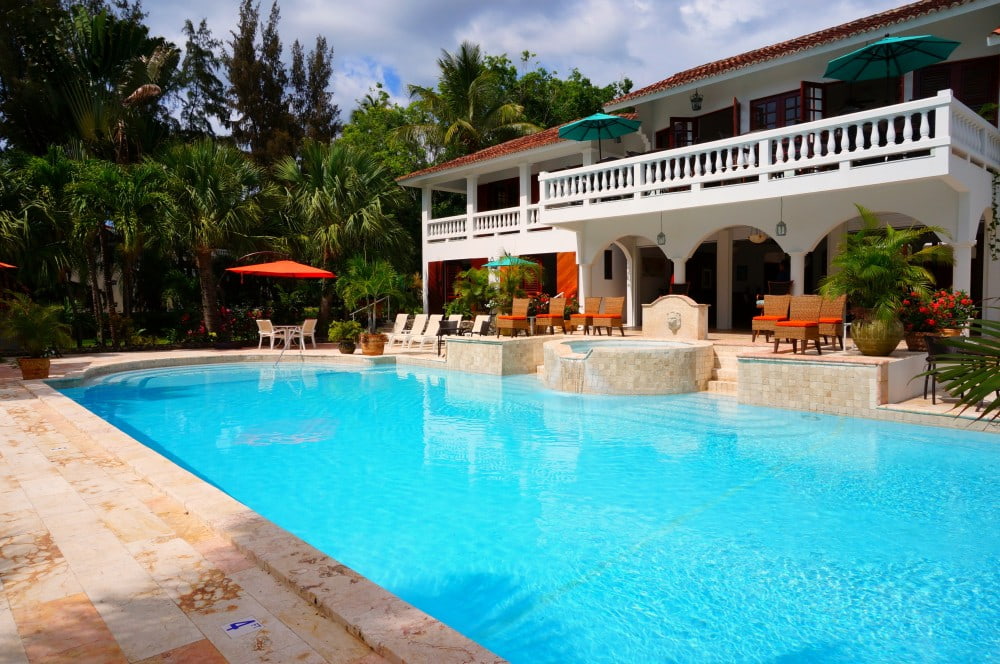 In the natural hot springs, the heated water by the underground magma is mixed with the cold water on the surface, giving them the ideal temperature for swimming. Many visit New Zealand's hot springs to possibly treat chest congestion, skin ailments, burn treatments, rheumatic diseases, etc.
Hot Springs on Fault Lines
Some hot springs in New Zealand appear on fault lines, where the rock under the surface breaks, allowing the water to rise fast to the surface. Fault line springs can be found in many places in the Southern Alps.
Final Thoughts
Overall, these are only some of the hot springs in New Zealand and many more spread across the country.
The hot springs have different temperatures, so while some are too hot to swim in, others have milder temperatures that are perfect.