Last Updated: February 23, 2023
Looking for the best hot springs in Nepal? Our article will discuss the different types of hot springs in different regions alongside popular attractions!
Hot springs are a natural source of hot water heated by the geothermal gradient beneath the Earth. The temperature rises to the surface through the fractures of rocks and fissures. Hot springs are the core of spa and wellness tourism and are perfect for recreation and leisure.
These resorts are also popular in the health and medical world for offering balneology, thermalism, and hydrotherapy.
List of Hot Springs in Nepal
The Federal Democratic Republic of Nepal is a landlocked country known for being the home of Mount Everest and the birthplace of Gautama Buddha-Lumbini. 
Moreover, Nepal abounds with breathtaking hot springs that can offer a rejuvenating and relaxing stay. Although mainly located in the Himalayan mountain range, Nepal also has parts of the Indo-Gangetic Plain.
The place has some extraordinary destinations filled with beauty and charm that are hard to find. Each mountain has trekking routes and diverse wildlife.
People with a passion for traveling should definitely visit Nepal as the country is budget friendly and has many hot springs scattered throughout the Himalayan Kingdom.
Hot Springs Regions

in Nepal
According to the mineralogists' research, roughly at least 50 hot springs are scattered throughout Nepal. This is the place to visit if you want to submerge yourself in therapeutic pools filled with rich minerals.
All the places are gorgeous in their own way, but people still struggle to decide which hot springs to visit. Some secluded places offer the best possible and relaxing experience but can be hard to find on the map.
Doing some research before heading out on vacation is always a good idea. The most popular hot springs in Nepal are located in three regions:
Near Pokhara, Nepal
Between the Himalayan mountains
Annapurna Nepal
The
Origin of Nepal's

Natural Hot Springs
Nepal is known for many things, one of them being the home of Mount Everest.
A long time ago, the Indian and Eurasian plates merged and formed the Himalayan mountains, where most of the hot springs are now located. The geysers appeared in Nepal many years ago, and now, they are one of the country's prime tourist attractions. Most of the geysers are situated west of Kathmandu, which is the capital of Nepal.
The hot springs in Nepal are traditionally used for balneotherapy which cures arthritis, back pain, and more. Due to a lack of road access, some hot springs are tough to reach.
The
Bests Hot Springs

in Nepal
Nepal has a lot to offer – diverse wildlife, amazing trekking routes through the Massive Himalayas, and mesmerizing natural views. As a cherry on top of the cake, the hot springs might help you with different health issues and offer you a rejuvenating and relaxing stay.
Nepal's most famous and highly praised hot springs are:
Tatopani hot springs
Jhinu Danda hot springs
Paudwar hot springs
Annapurna Circuit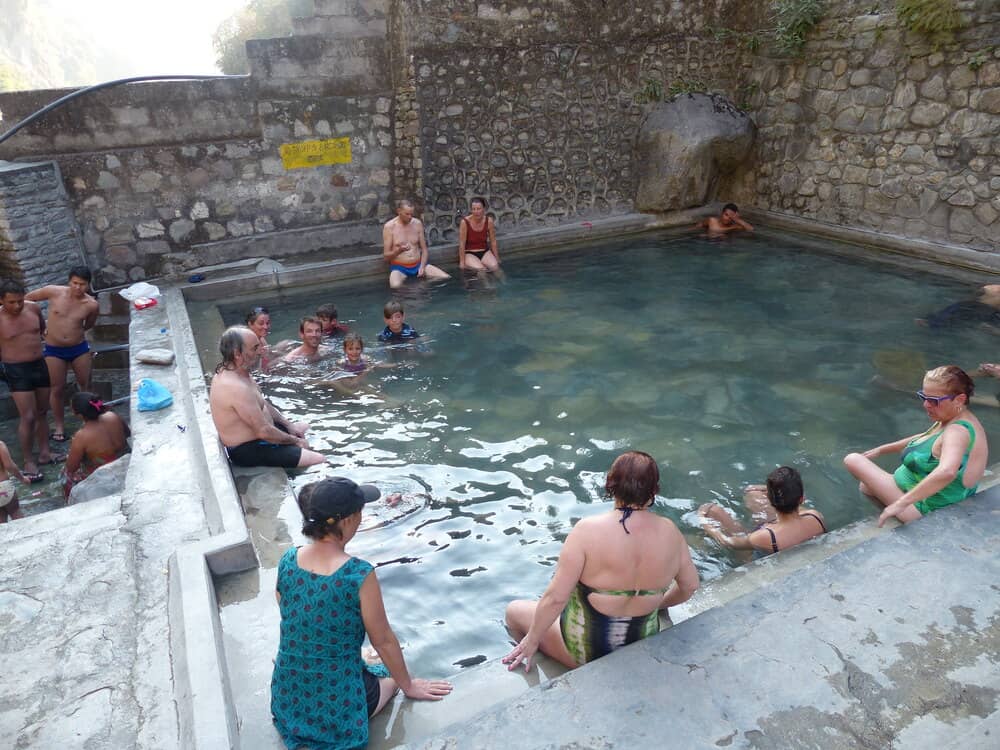 | | |
| --- | --- |
| Location | |
| Water temperature | 107°C to 163°F |
Located about 3 miles from Kodari on the border between Nepal and Tibet (China), this resort is secluded and offers solace from pain to thousands of people. Tatopani is perfect for a refreshing bath, and it is believed that the water has magical and healing powers.
The water in Tatopani contains a high level of minerals which are said to help purify blood by removing toxins, improving metabolism, and relaxing the muscles.
This hot spring is on private premises and has showers for males and females. Additionally, Tatopani has sauna rooms and a swimming pool.
Our Pick
| | |
| --- | --- |
| Location | |
| Water temperature | 95°F to 158°F |
Jhinu Danda hot springs are in the town of Ghandruk. There is a flowing river and rock-lined pools and a restaurant on-site offers food to hikers and visitors of the area.
The hot springs are remote and take about half an hour's hike through the forest before you will reach them. The Jhinu Danda spring is built on the river banks of the mighty Modi Khola river. 
The Jhinu Danda is encircled by beautiful and large trees, mesmerizing panoramic views of the river, and hot water that will relax your mind and body.
Despite the remote location the hot springs still manage to attract locals and tourists alike. After visiting the springs visitors can head to the city of Pokhara to take in the culture of Nepal.
| | |
| --- | --- |
| Location | |
| Water temperature | 104°F to 160°F |
Located south of Michhikhola, the Paudwar hot springs are located close to the Tatopani hot springs. 
This family run locations, offers two thermal baths for guests, both of which are open-air. The water is rich in sulfur which makes it ideal for alleviating various symptoms.
After roaming the mountains and a full day of hiking, the Paudwar hot springs is the perfect spot to stop for a restorative soak before continuing on your Journey through Nepal.
| | |
| --- | --- |
| Location | |
| Water temperature | 82°F to 149°F |
The Annapurna Circuit combines gorgeous hot springs and a trekking route. The path for trekking crosses two river valleys and is around the entire Annapurna massif. You can enjoy the beautiful sights of astonishing landscapes and relax in the hot springs afterward.
The Annapurna Circuit Trek is a challenging 15-day trek across snow-capped peaks, mist-shrouded valleys, isolated communities, and remote monasteries. 
The springs along this trail become integral to the challenging the mountainous terrain, offering travelers a respite from the hike and a chance to soothe their aching muscles.
This is not a trek to take lightly, and causal tourists who are not used to such long trips would be best to avoid this one, but those able to make the trip will be met with an unforgettable experience.
Hot Springs in Nepal can offer a peaceful rest in a resort setting, or they can prove a challenge to the more adventurous travelers. Either way, they offer an unforgettable experience.
If you want to seek out some of the most unique and diverse Hot Springs in the world, Nepal is an ideal choice.