Located in Southeast Asia, Malaysia has a lot to offer. Even though it is relatively small, this is a top destination for travelers across the globe.
The country is known for its fascinating landscapes, rich culture, culinary tradition, sand beaches, diverse fauna, and beautiful landmarks.
What many people might not be familiar with when it comes to Malaysia is that this beautiful country also has a large number of natural thermal springs.
Soaking in the hot springs in Malaysia is excellent for relaxation, and the mineral-rich waters of the hot springs are believed to have healing properties. In this article, we will look at the most popular hot springs in malaysia.
Hot Springs in Malaysia
Many natural hot springs are located in the southern part of the country, but they are also present in Sabah and the island of Brunei. Malaysia has both small and large hot springs.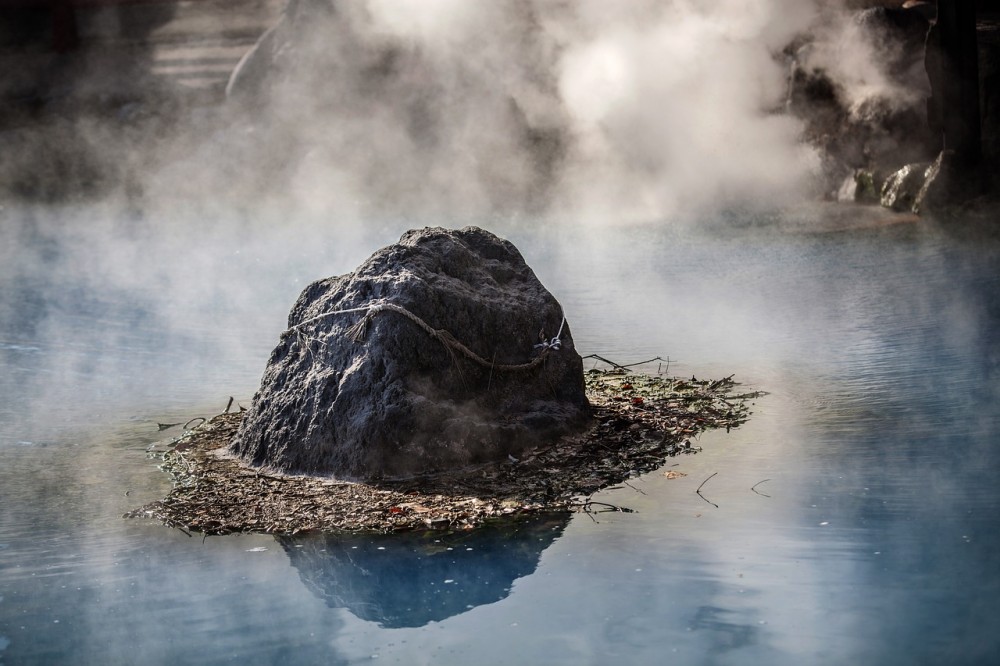 Since the country features volcano sites, its hot springs result from tectonic activity. They emerge when the water in the earth is heated by magma, and the pressure causes the water to rise again in the form of a spring.
The water temperature of the hot springs can go as high as 212 °F, and they are mostly located at low elevations. Many are used for bathing and recreational activities. While some are hidden natural treasures surrounded by lush greenery, they are very popular and attract a great number of tourists every year.
Some hot springs in Malaysia have been turned into resorts with shops, restaurants, and accommodations for the guests to enjoy while visiting.
The Most Popular Hot Springs in Malaysia
Poring Hot Spring & Nature Reserve, Sabah
The Banjaran Hotsprings Retreat (Perak)
Lost World Hot Springs and Spa, Perak
Hulu Tamu Hot Springs, Selangor
Selayang Hot Spring, Selangor
Ayer Hangat Hot Spring, Kedah
La Hot Spring, Terengganu
Lalang Hot Spring, Semenyih
Mount Kinabalu National Park boasts diverse flora, fauna, and a beautiful hot spring with thermal water. While the water is natural, the rock tubs surrounding it are artificial.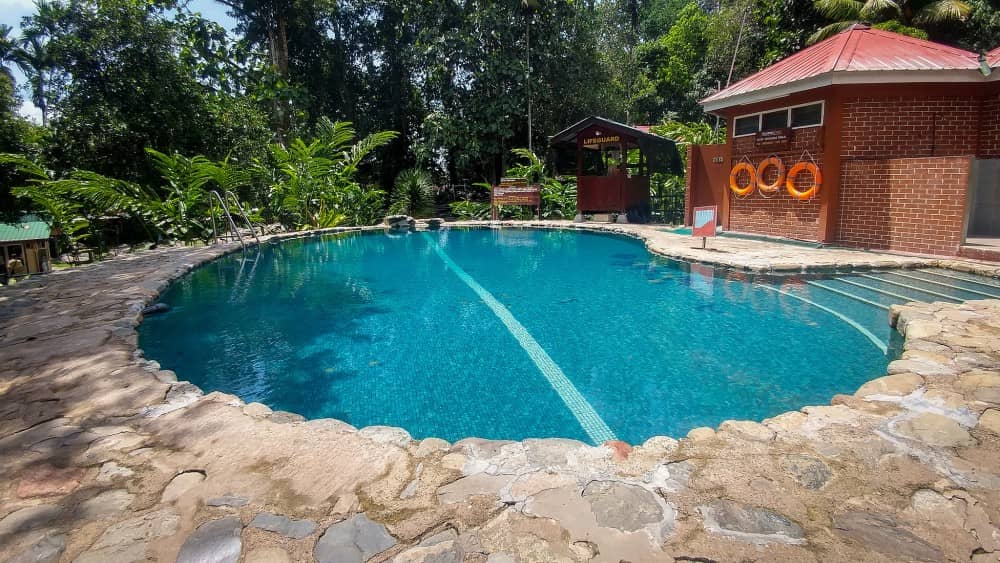 Interestingly, each hot spring tub here has faucets, allowing you to control the water temperature and flow. The tropical place has several swimming pools and a stunning waterfall.
According to the locals, the water might have healing properties, such as relieving muscle sores and aches, as well as possible benefits for the skin due to its sulfuric mineral content.
Additional Info
Location: Poring Hot Spring
Spring Type: Outdoor
Water Temperature: 120.2 to 140 °F
Operating Hours: 8.00 AM – 6.00 PM (daily)
This is a luxurious retreat situated near the main town of Ipoh. The villas feature a private pool and a hot tub with geothermal hot spring water. This place allows the visitor to enjoy the calmness of nature with picturesque views.
Aside from relaxation, the hot water might also provide healing benefits, such as improving blood circulation and reducing blood pressure. Moreover, the guests have access to spa services and many other amenities.
Additional Info
Our Pick
Visitors who want entertainment and leisure will find it in this place. The Lost World is a water theme park with natural hot springs that might calm your body and mind, making you feel refreshed and rejuvenated. Many believe the water might provide health benefits.
The Hot Springs are accessible in the later hours, meaning you can have a soak at night while taking in the many attractions and activities in the area.
Additional Info
Spring Type: Outdoor
Water Temperature: 104 to 122 °F
Operating Hours: 6:00 PM – 11:00 PM (daily)
The Hulu Tamu Hot Spring provides a serene ambiance offering optimal relaxation and physical and spiritual refreshment. The locals believe that water might have healing properties, treating many diseases and conditions.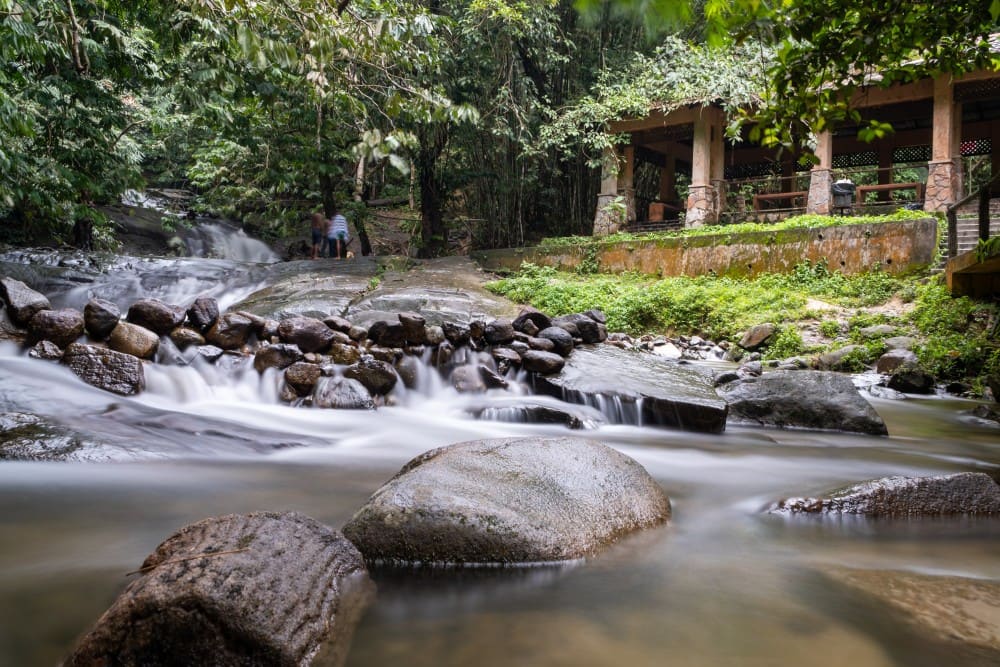 Hulu Tamu Hot Springs is situated within beautiful greenery and provides gorgeous nature views. Guests have access to a public pool split into two sections: steaming water from the hot spring and cool water.
Additional Info
Location: Hulu Tamu Hot Springs
Spring Type: Outdoor
Water Temperature: Approx. 109.4 °F
Operating Hours: 8:00 PM – 10:00 PM (daily)
The Selayang Hot Spring is a popular tourist attraction among locals and tourists worldwide. This place features four pools (one big and three shallow pools) with varying temperatures, so visitors can choose according to their preferences.
The hot water of the hot spring is rich in minerals, which might provide a relaxing experience. It is also believed to have potential medicinal properties and is said to be effective in treating skin ailments.
Visitors can access shops with food, drinks, and many other amenities. The free entrance of the hot spring and its proximity to the capital of Malaysia make it popular among locals and tourists. However, it can get crowded during the weekends.
Additional Info
Our Pick
The Ayer Hangat Village is home to the only hot spring with saltwater in Malaysia. It is believed to have therapeutic and healing properties, which is why it is very popular among tourists.
The hot spring wells in this complex are also surrounded by beautiful green fields and provide scenic views.
The visitors can explore the village, which offers entertainment programs with Malaysian folk and classical dances. Also, they can try delicious traditional food and have a foot massage.
Additional Info
Location: Ayer Hangat Village
Spring Type: Outdoor
Water Temperature: 100.4 to 104 °F
Operating Hours: 9:00 AM to 5:20 PM (daily)
La Hot Spring natural pools were discovered four decades ago. Even though the La Hot Spring has been developed into a tourist attraction, its natural state is still maintained.
The hot waters from the natural spring flow down a hill slope into a large pool where you can relax. It is said that water here contains natural sulfur and might have healing properties. For example, it might help treat muscle pain, skin conditions, and other ailments.
La Hot Spring offers a rest house, prayer room, restaurants, and many other facilities and activities for visitors.
Additional Info
Location: La Hot Spring
Spring Type: Outdoor
Water Temperature: Up to 140 °F
Operating Hours: 9:00 AM 6:00 PM (daily)
The Sg. Lalang hot spring has two pools that visitors can choose from. There is one large pool and a smaller one with hotter water. The mineral-rich water is said to recharge the body and mind and provide a relaxing experience.
Moreover, the water of the natural hot spring is said to be beneficial for treating skin problems and is known to have therapeutic properties.
The hot spring is surrounded by lush greenery and has a clean environment. Guests also have access to equipped facilities, including showers and stalls with food and drinks.
Additional Info
Location: Sg. Lalang Hot Spring
Spring Type: Outdoor
Water Temperature: Up to 140 °F
Operating Hours: Mon-Sun 6–10 AM, 4:30–10 PM
Other Hot Springs in Malaysia
Among the hot springs you can visit in Malaysia include
KSL Hot Spring Resort
Trong Hot Spring
Gadek Hot Springs, Melaka
Kolam Air Panas Kuala Kubu Baru
Hot Springs Ulu Slim
Sungai Klah Hot Spring Park
Jasin Hot Springs, Melaka
Kerling Hot Springs
Kampung Panchor Hot Spring, Sarawak
Felda Residence Hot Springs, Perak
Hot Springs Recreation Center Labis