Are you planning your trip to Japan in one of its beautiful onsens? Find the best hot springs in Japan here and book the nice relaxing gift you deserve.
As a country that lies on active volcanoes, Japan is a world-known hot springs destination. The country counts over 27,000 hot spring sources, and many of them are accessible to tourists to visit.
Most hot springs in Japan are classified as onsens, meaning they contain at least one of the 19 minerals, which makes them beneficial for the visitor. Here, we'll check out some of the most popular hot springs in Japan to help you choose the best spot and book your next trip.
Hot Springs in Japan
Since the country is divided into eight regions, we decided to include a list of hot springs located in each of the regions. We'll also include short descriptions of the best and the highest-rated hot springs in their distinctive groups.
Regions in Japan:
Hokkaido
Tohoku
Kanto
Chubu
Kansai
Chugoku
Shikoku
Kyushu (the Kyushu and Okinawa islands)
Hot Springs in Hokkaido
The Hokkaido region has around 250 onsen areas. Logically, you'll find a wide variety of hot springs, i.e., onsens with different compositions. This means that you can enjoy a simple alkaline hot spring, chloride onsen, sulfate hot spring, hydrogen carbonate hot spring, etc.
Noboribetsu Onsen
Sounkyo Onsen
Kamuiwakka Falls
Toyako Onsen
Jozankei Onsen
Kawayu Onsen
Niseko Onsen
Akanko Onsen
Nukabira Onsen
Utoro Onsen
This is the most popular onsen in the Hokkaido region. It's located in southwest Hokkaido in Shikotsu-Toya National Park, about 6 kilometers from Noboribetsu City, and it's known as the hot spring town of the region.
Noboribetsu offers various types of springs. For instance, you can enjoy a hot spring with sodium chloride, magnesium, and calcium in its composition.
You can visit a Myoban hot spring, which contains aluminum sulfate. Or you can benefit from the iron-containing hot spring, acidic hot spring, hydrogen carbonate hot spring, and sulfur hot spring, as all these types can be found in Noboribetsu.
Given its beauty and the number of hot springs available, the place is highly developed and includes numerous hotels and ryokans where you can stay. You should also know that there are baths you can use without booking an overnight stay.
Here's a list of some of the baths.
[lasso ref="dai-ichi-takimotokan" id="4405″ link_id="1038671″]
Hot Springs in Tohoku
Nyuto Onsen
Ginzan Onsen
Zao Onsen
Sukayu Onsen
Found in the mountains of the eastern Akita prefecture, Nyuto Onsen is best known for its baths, which are recognizable by their cloudy appearance. You should know that these baths belong to one of the eight ryokans (traditional Japanese Inns).
Although all of the ryokans have a traditional and rustic style, the Tsurunoyu Onsen is the oldest one, with more than 300 years of history.
If you want to enjoy the beauty of Japanese tradition, you should definitely book a stay here. Other places you can go in Nyuto Onsen are:
Hot Springs in Kanto
Hakone Onsen
Minakami Onsen
Kusatsu Onsen
Nasu Onsen
Kusatsu Onsen is, without a doubt, the most popular hot spring area in the Kanto region. While the natural surroundings of the place add much to its popularity, the main reason is the naturally-rich water with therapeutic properties.
Kusatsu Onsen features about a hundred springs with water of such high temperature that it has to be cooled down to be suitable for use. The process of cooling down the water is called yumomi, which is a traditional method of lowering the temperature without diluting it with cold water.
Kusatsu Onsen welcomes guests in its public baths, ryokans, outdoor pools, small community bath houses, and a few foot baths.
[lasso ref="kusatsu-hotel" id="4410″ link_id="1038672″]
Hot Springs in Chubu
Shirahone Onsen
Nozawa Onsen
Okuhida Onsen
Yudanaka Onsen
Shibu Onsen

Narrow lanes and canals lined with shops, bars, restaurants, and ryokans – Nozawa Onsen looks like a fairytale you should definitely visit. The place is located at the base of the Nozawa Ski Resort and includes multiple public bathhouses in a traditional style. The baths are free to use for all visitors.
Besides these baths, the hotels and ryokans in Nozawa Onsen offer their own hot spring baths.
[lasso ref="tokiwaya-nozawa-onsen" id="4415″ link_id="1038673″]
Hot Springs in Kansai
Kinosaki Onsen
Shirahama Onsen
Arima Onsen
Kurama Hot Springs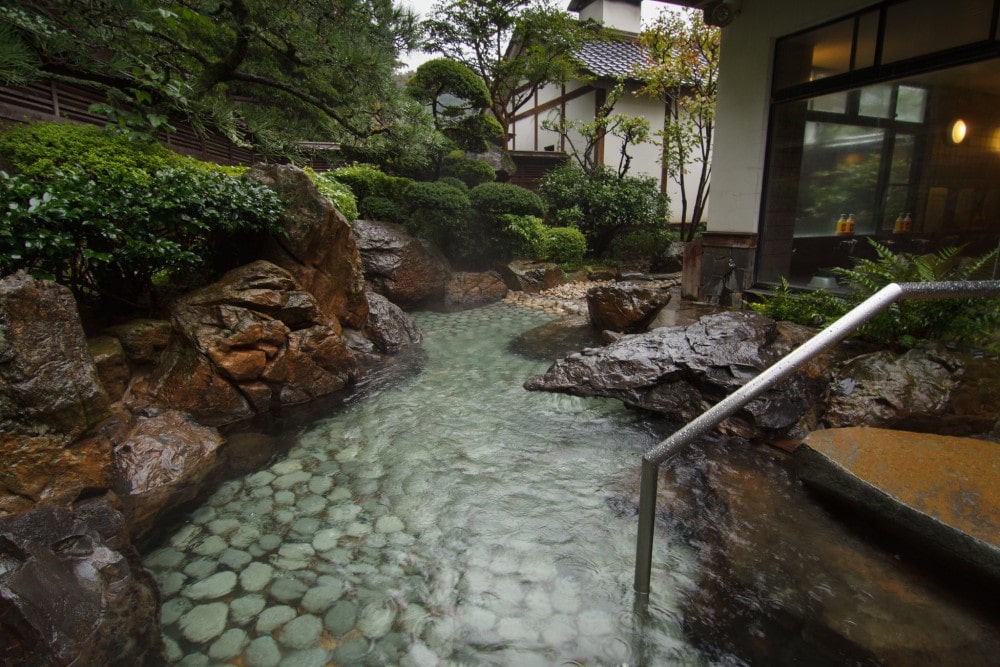 Here we have another very popular area when it comes to hot springs. Kinosaki Onsen, located in the Hyogo Prefecture, is an area with a very long history. The hot springs were discovered about 1,300 years ago, which contributed to developing the place as a traditional onsen town.
Although Kinosaki has numerous hot springs, the seven public baths are the most popular among tourists. These hot springs are rich in sodium, chloride, calcium, and other minerals and thus may help with various medical problems.
[lasso ref="morizuya-toyooka-updated-2023-prices" id="4419″ link_id="1038674″]
Hot Springs in Chugoku and Shikoku
Megahira Onsen
Dogo Onsen
Yubara Onsen
Dogo Onsen is a hot spring located in the city of Matsuyama, in the Ehime prefecture. This is yet another place that represents the tradition of the country. Dogo is the oldest onsen in Japan and is even mentioned in literature dating back more than 1,300 years.
Dogo Onsen features numerous baths, and the most famous is the Dogo Onsen Honkan which is a wooden public bathhouse. Besides the relaxing and healing hot spring treatment, you can enjoy walking past the wooden, pagoda-style buildings and pass through the Honkan's passages and rooms and the unique stairway maze.
Besides the Dogo Onsen Honkan, other hot springs you can visit here are Asuka no Yu and Tsubaki no Yu.
[lasso ref="yamatoya-honten-matsuyama" id="4422″ link_id="1038792″]
Hot Springs in Kyushu
Kurokawa Onsen
Unzen Onsen
Beppu Onsen
Ibusuki Onsen
Yufuin Onsen
Kirishima Onsen
Here we have one of the most popular hot spring resorts in Japan. In fact, the Japanese often say that Beppu represents the hot springs in Japan, the same way Seto Inland represents the sea and Fuji represents mountains.
The city has the highest number of hot springs, divided into several areas, including Beppu Onsen, Kannawa Onsen, Hamawaki Onsen, and others. You can find public baths and ryokans with private baths in each onsen.
Moreover, Beppu is the place where you can find a wide range of bath types, starting from conventional hot water baths to hot water baths buried in heated sand, steam baths, mud baths, and many others.
Located in the middle of Kyushu, Kurokawa Onsen is a must-visit hot spring town in Japan. Visitors are attracted by its traditional and welcoming atmosphere, as well as the warmth of the locals.
The thing that attracts visitors the most is its natural surroundings, stone stairs, buildings made out of wood, and narrow roads, free from massive hotels (typical for resort towns).
When it comes to relaxing hot springs, Kurokawa Onsen offers numerous public baths and ryokans. The town also includes outdoor baths, many of which are located beside the river.
[lasso ref="kurokawa-onsen-oyado-noshiyu" id="4426″ link_id="1038793″]