Known for its blend of Spanish, Native American, and Anglo cultures nestled within the majestic mountains surrounding the Rio Grande River, Taos is a destination that promises a daring adventure through the cultural past and intrepid landscapes of northern New Mexico.
However, along with an in-depth exploration of the state's local history and natural landmarks, Taos is also a destination that promises relaxation, with several therapeutic mineral hot springs located within a short drive of its eclectic city center.
From rustic primitive pools to full-fledged thermal resorts, visitors can find their soothing escapes at these fantastic hot springs near Taos, NM. (Distance from Taos city center in brackets).
Hot Springs Near Taos, New Mexico
1. Black Rock Hot Springs (13 Miles)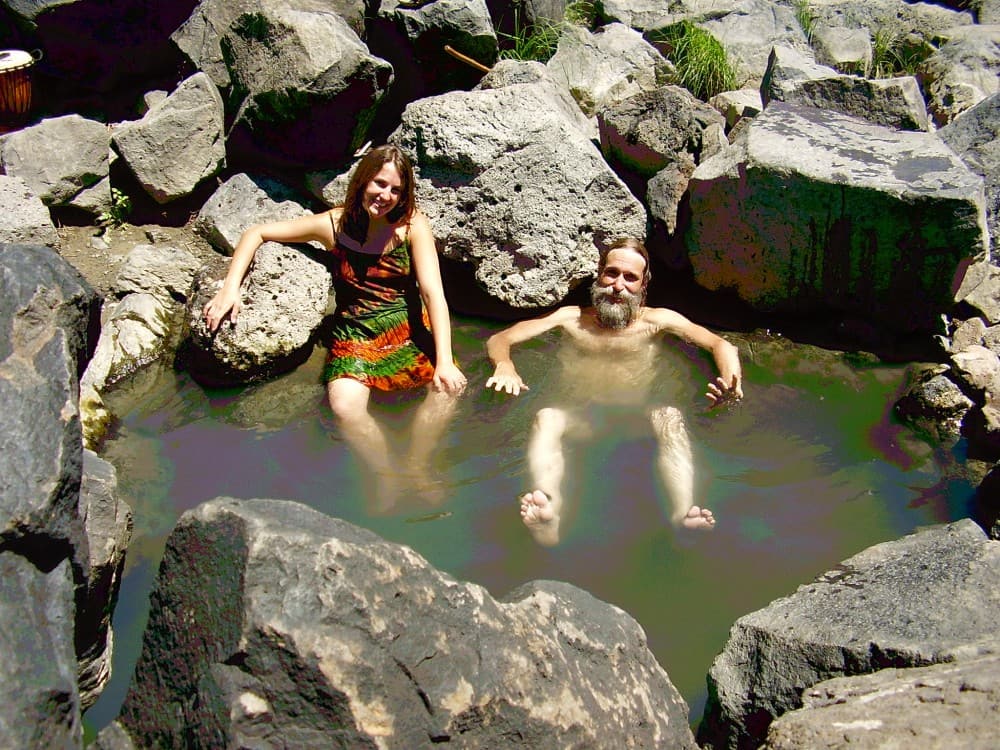 There are two hot springs within a short drive from Taos. However, the Black Rock Hot Springs seems to get all the attention thanks to its easily accessible location along the Rio Grande. The hot springs consist of two separate primitive thermal pools naturally formed out of the region's rock and mud tubs.
The spring's temperatures average 106 degrees Fahrenheit from the source, but the actual temperatures of the pools vary depending on the water levels of the nearby river, which can often mix with the spring for a cooler soaking experience. On average, the two pools typically range between 97 and 101 degrees, with the pool further from the river being slightly warmer.
Our Pick
And if both pools prove too warm for extended, visitors are always encouraged to take a cooling plunge into the cold waters of the Rio Grande itself.
Due to the Black Rock Hot Spring's close proximity to the city and easily accessible location only a short walk from the parking lot, this primitive collection of thermal pools is also one of the most popular hot springs near Taos, and can often experience heavier crowds than other natural springs located nearby.
2. Manby Hot Springs (13 Miles)
The Manby Hot Springs is one of these lesser trafficked hot springs near Taos. Like the Black Rock Hot Springs, the Manby Springs is a collection of primitive thermal pools along the Rio Grande.
However, unlike its nearby neighbor, these natural pools are only accessible via boat along the river or a 3-mile hiking trail, which results in fewer crowds flocking to these pools than at Black Rock Hot Springs.
Nevertheless, visitors willing to engage in the added journey to reach the Manby Hot Springs are rewarded with one of the most tranquility breathtaking thermal soaking experiences in the state.
The Manby Hot Springs is also known as the Stagecoach Hot Springs, thanks to the mineral pool's presence in the ruins of an old stagecoach station. The site's historical remains have long been abandoned but have since been filled with the region's naturally therapeutic waters, which average around 97 degrees Fahrenheit throughout the year for a memorable soak.
3. Ojo Caliente Mineral Springs Resort & Spa (41 Miles)
While the region's primitive pool offerings are some of the most amazing natural pools in the country, visitors to Taos won't have to travel too far if they are seeking a luxuriously pampering soak at a full-service hot spring resort.
Located less than an hour from the city, the Ojo Caliente is a fully-developed thermal pool complex that manages to preserve the pristine beauty of northern New Mexico's rugged landscapes.
Boasting twelve different soaking options, this opulent hot spring resort serves as a desert oasis. It offers four different healing mineral pools in its Lithia Spring, Soda Spring, Iron Spring, and Arsenic Spring soaking areas, which vary in temperature between 80- and 106 degrees Fahrenheit.
The complex also features further swimming facilities, including the Kiva Pool, the Mud Pool, a Private Outdoor Pool, and more, each boasting features that cater to diverse soaking preferences.
Beyond their soaking and swimming holes, the Ojo Caliente Mineral Springs Resort also boasts many onsite activities, amenities, and services.
Throughout their stay, visitors can explore the countryside along a hiking or biking trail before retreating back to the facilities, where they enjoy extensive dining options, a full-service spa and wellness center, and overnight accommodation.
4. Ten Thousand Waves (73.6 Miles)
A Japanese-inspired spa resort, Ten Thousand Waves offers a genuinely unique hot spring experience located about an hour and a half's drive south of Taos. Despite being slightly further from the city, this luxury complex is perfect for visitors seeking an enhanced sense of tranquility while engaging the extensive facilities for a soothing retreat.
Styled after a traditional Japanese onsen, Ten Thousand Waves features several soaking options, including eight unique baths fed from a highly mineralized 900-foot deep well. Each bath has unique features and temperatures ranging from 104 to 106 degrees Fahrenheit. Cold plunges on the property are kept at 55 degrees for a cooling escape.
For enhanced pampering that promises plenty of relaxation and bliss, the Ten Thousand Waves resort also features an extensive spa complex that offers an array of treatments. Within its diverse catalog, the onsite spa features several massage options, traditional skin care practices, and even nose to toes spa treatments.
Further services on the resort's property include onsite dining options and traditionally designed lodging options. To fully engage the facilities to their fullest potential, guests should book one of the complex's Transformation Experiences. These all-in-one packages are two or four-day retreats that offer a unique escape of relaxation and rejuvenation.
5. Montezuma Hot Springs (78.6 Miles)
While once a famous hot spring destination serviced by a U.S. Army hospital and several hot spring hotels and resorts, the Montezuma Hot Springs have long been abandoned, with only the ruins of the historical buildings remaining today.
However, despite the abandonment of the nearby services, the hot springs themselves continue to occupy the historical foundations of the buildings, and can the natural therapeutic waters of the site can still be enjoyed by visitors today.
The Montezuma Hot Springs complex features three soaking areas serviced by three man-made soaking pools. The rock and cement-lined pools average between 95- and 120 degrees Fahrenheit and feature varying sizes to provide a unique soaking experience.
6. Ojo Santa Fe Spa Resort (83.1 Miles)
While located an hour and a half from the city, the Ojo Santa Fe Spa Resort is another full-service luxury hot spring near Taos and boasts one of the most pampered soaking opportunities in the area.
Occupying 77 acres of the pristine Sangre de Cristo Mountains, this thermal pool complex boasts a wide array of services, including an extensive spa complex, a large fitness center, onsite accommodation options, and several soaking opportunities for its guests.
Fed from a natural mineral aquifer below the earth's surface, the Ojo Santa Fe Spa resort features several outdoor community spas and pools riddled throughout its property and private hot spring tubs for a more secluded experience.
For an enhanced escape, visitors can also engage in a series of treatments at the onsite spa, including the Legends of Ojo, the Lavender Body Quench Massage and Wrap, and Sound Healing packages.