Known for its diverse food scene, steep street hills, and the Golden Gate Bridge, San Francisco is near the top of any traveler's bucket list and serves as a central base for exploring Wine Country and many of Northern California's most alluring attractions.
With so much to see and do in the city, it is essential to take some time and relax. Luckily, the region's eclectic countryside is littered with tranquil hot spring destinations, many of which are only a short drive from the city center.
From luxury resorts to simple community pools, visitors to Northern California can find a rejuvenating soak at these six spectacular hot springs near San Francisco, CA. (Distance from San Francisco city center in brackets).
Hot Springs Near San Francisco, California
1. Fairmont Sonoma Mission Inn & Spa (46.7 Miles)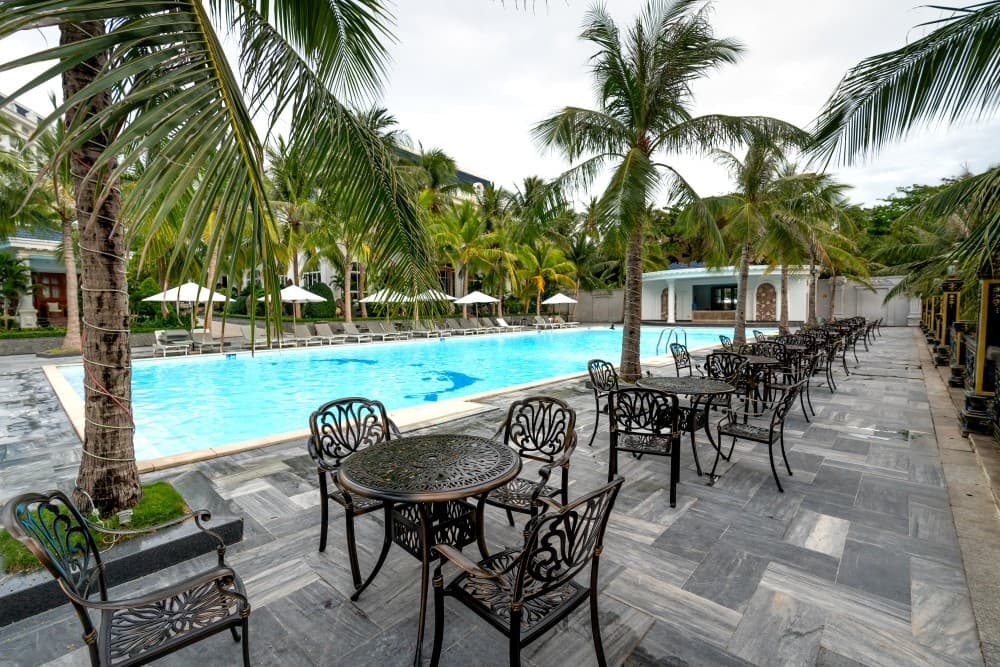 Located about an hour's drive from the city in Sonoma Valley, the Four-Diamond Fairmont Sonoma Mission Inn & Spa is the most accessible hot springs near San Francisco and offer visitors pristine mineral soaking experiences in the heart of California's Wine Country.
Established in the early 20th century, the historic resort has undergone several renovations. As a result, it boasts a completely modernized facility today, complete with onsite accommodation, dining restaurants, an extensive spa, and numerous mineral pools and soaking options.
The water at the resort is sourced from a natural mineral spring 1,100 feet below the earth's surface and feature 27 distinct mineral renowned for their curative properties. From the source, the water averages a balmy 115 degrees Fahrenheit but is cold to more comfortable temperatures before being filled into five pools ranging from 85 to 102 degrees.
Additionally, the complex's Willow Stream Spa engages the facility's therapeutic waters in 28 treatment rooms where guests receive various massages, facials, and salon treatments.
2. Morton's Warm Spring (53.5 Miles)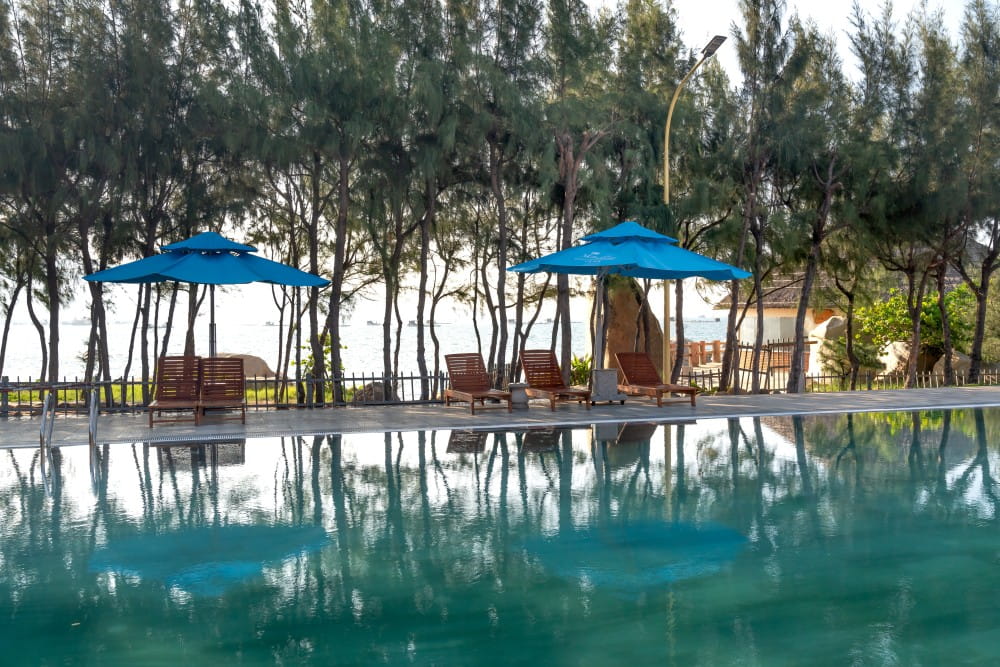 Operating out of Glen Ellen in the heart of Sonoma Valley, Morton's Warm Spring has provided visitors access to the region's natural mineral waters since the mid-1880s. While the complex has been modernized, guests continue to enjoy the authentic soaking experience in two traditional outdoor pools averaging between 80 and 90 degrees Fahrenheit.
While not as lavish as some of the hot spring resorts within the region, Morton's Warm Springs boasts a small selection of onsite amenities, including a café, BBQ pit, and picnic area. The property also features fun family activities, including beach volleyball courts, a baseball field, and similar sports facilities.
Morton's Warm Spring is the perfect hot spring near San Francisco for visitors seeking a simple and affordable soaking experience that forgoes the added luxury of the nearby thermal resorts for an authentic day trip excursion.
3. Meadowlark Country House & Resort (73.3 Miles)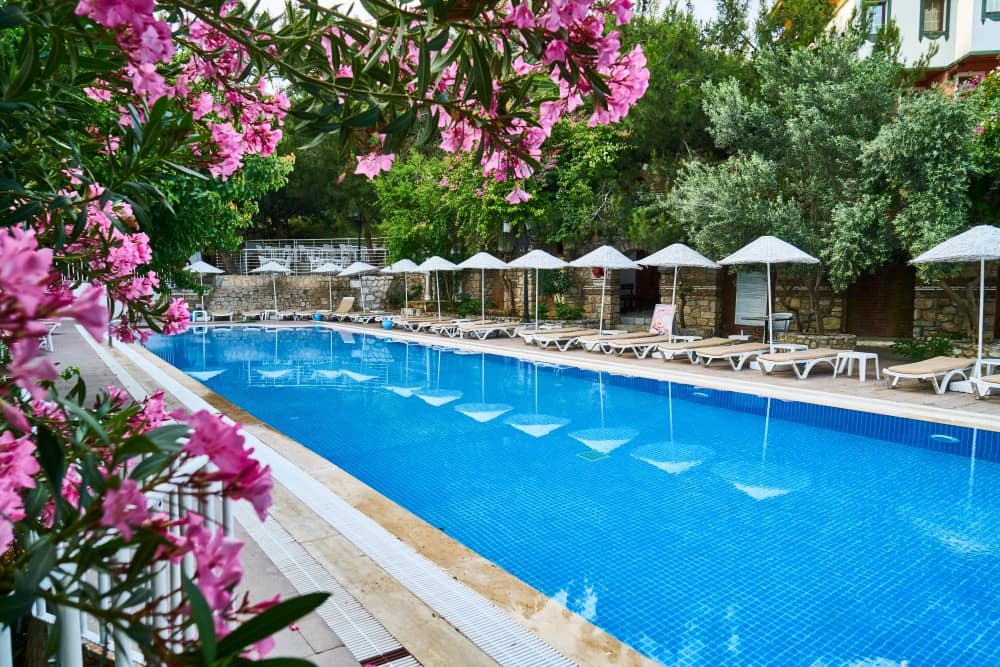 Situated in the nearby Napa Valley, the Meadowlark Country House & Resort is the only hot spring near San Francisco where clothing is optional. As such, the resort is also adults only (18+) and offers a fantastic getaway for enjoying your time in Wine Country, free from the little ones.
The resort features several onsite amenities and services for making the most of your stay. These include luxurious accommodation options, a Finnish dry sauna, a massage room, and garden areas that provide genuinely tranquil settings for finding quiet bliss.
But of course, the most significant draw to the Meadowlark Country House & Resort is the opportunity to soak in the region's natural mineral waters in the large outdoor swimming pool or hot tub, accessible with a day pass or overnight accommodation.
The pool averages a comfortable 80 degrees Fahrenheit throughout the year, while the hot tub is a much warmer 100 to 106 degrees. Both feature high mineral concentrations known to soothe aches while providing a relaxing float.
4. Roman Spa Hot Springs Resort (74.1 Miles)

Most hot springs near San Francisco are centered around the Napa Valley community of Calistoga. However, of the city's numerous hot spring resorts and complexes, the Roman Spa Hot Springs Resort is one of the most luxurious and promises a retreat lathered in opulent tranquility and soothing bliss.
Within walking distance of many of the region's top restaurants, shopping centers, and wineries, this hot spring resort features plenty of onsite amenities, including some genuinely spectacular accommodation options, an extensive spa offering a variety of treatments, and numerous soaking options for enjoying the eponymous mineral waters.
Occupying a surreal outdoor setting is the complex's large outdoor pool and hot tub. The pool averages between 92- and 96 degrees Fahrenheit while the hot tub is maintained at a balmier 103 degrees throughout the year. Meanwhile, the complex's indoor pool fluctuates around 100 degrees for a comfortable swim in a more controlled environment.
Private Jacuzzis are also offered in the resort's standard rooms and suites. However, the most soothing soaking experience is provided in the resort's spa facility, where guests can enjoy private mud and mineral baths with temperatures averaging between 101 and 103 degrees.
5. Calistoga Spa Hot Springs (74.2 Miles)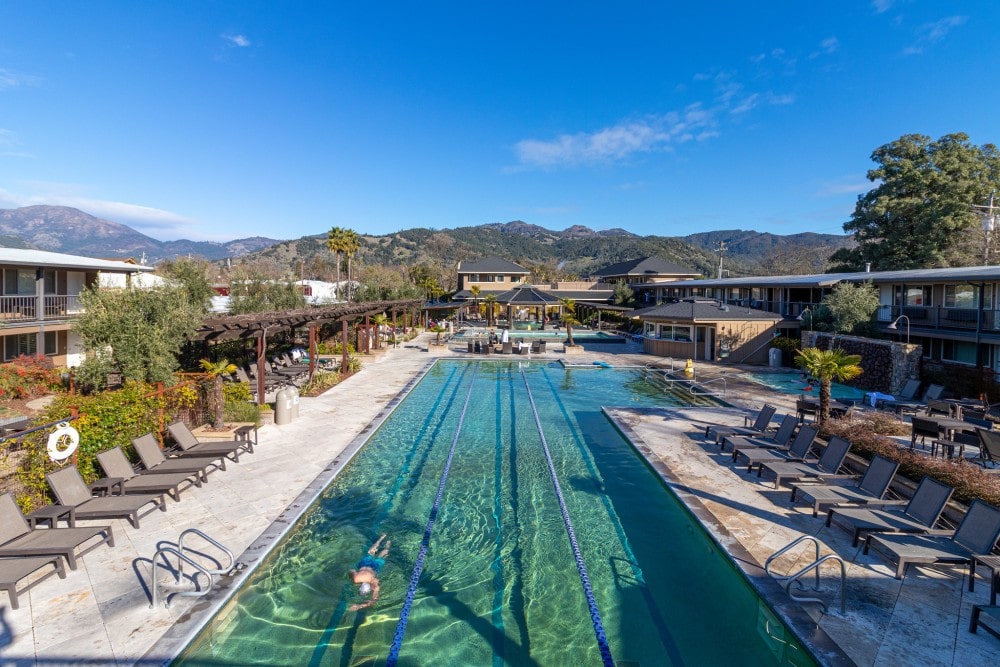 Another fantastic hot spring resort in the quietly tranquil Calistoga community, the Calistoga Spa Hot Springs features several soaking opportunities, many additional onsite amenities, and a convenient location for exploring the numerous natural landmarks and sweeping vineyards dotting the surrounding landscapes.
After exploring everything the region offers, visitors can find a soothing bliss in one of the complex's four geothermally heated swimming pools, all of which boast high mineral concentrations renowned for their ability to soothe weary bodies.
The property's main large pool is perfect for a simple soaking experience that allows visitors to float in its comfortable 100-degree waters. Visitors seeking a warmer dip can submerge in the nearby whirlpool, which is maintained at 104 degrees.
Meanwhile, the nearby lap pool offers a more active swimming experience while boasting slightly cooler temperatures that average 80 degrees, while a nearby wading pool offers safe swimming conditions for children.
The rejuvenating retreat culminates at the resort's world-class spa facility that boasts a wide array of treatments, the most famous of which is the complex's signature Volcanic Ash Mud Bath. Engaging ash from the nearby Mt. St. Helena, this ancient treatment is known to remove toxins while preventing joint and muscle pain.
6. Dr. Wilkinson's Backyard Resort & Mineral Springs (74.2 Miles)
Established as a luxury spa in 1952, Dr. Wilkinson's Backyard Resort & Mineral Springs has since been converted into a full-service thermal resort known for hosting surreal weekend retreats that promise relaxation and rejuvenation in a blissful environment.
The complex boasts three unique mineral soaking options, including a large opulent indoor swimming pool and two outdoor swimming holes surrounded by lush verdant scenery and some genuinely breathtaking murals.
Further relaxation is offered at the complex's onsite spa, where visitors can enjoy a variety of treatments, including mud baths, massages, and several different treatment packages. Also featured within the resort are numerous accommodation options and the House of Better restaurants, which operates out of the property's backyard.