Joshua Tree National Park brings together the Mojave and Colorado ecosystems to create a truly unique landscape. Part of that landscape is the abundance of geothermal hot springs, rich in minerals and healing properties.
The next time you're in the area, be sure to check out the following hot springs near Joshua Tree to make the most of your visit! (Distance from Joshua Tree city center in brackets).
Hot Springs Near Joshua Tree, California
1. Wonder Valley Hot Springs, Twentynine Palms (14.7 Miles)
The closest hot spring to Joshua Tree National park is at Wonder Valley Hot Springs in Twentynine Palms, not even 20 minutes away. This facility operates as a short-term rental establishment, where you can rent out cabins and houses that provide access to the local mineral-rich spring water.
The soaking experience at Wonder Valley is quite rustic, with monolithic granite tubs that hold the healing water. They are open from 7 a.m. through 9 p.m., and are often busy around sunrise and sunset.
Along with the healing properties of the water itself, the tubs offer phenomenal views of the surrounding desert and mountains.
The tubs vary in size, with some being ideal for solos or couples, and others being big enough for small groups. As this isn't a resort in the strictest sense, there is no towel rental or drinking water, so remember to bring your own!
2. Mi Kasa Hot Spring, Desert Hot Springs (30.6 Miles)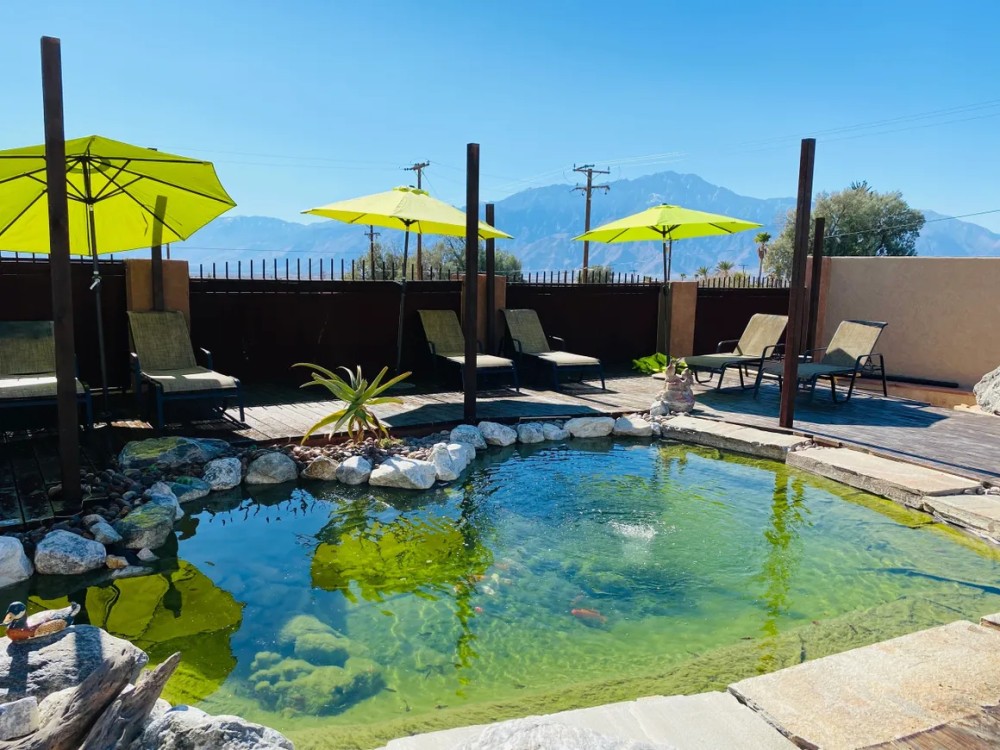 A little further away in Desert Hot Springs is Mi Kasa Hot Spring, an adults-only establishment. If you're looking for a true sense of quiet or just a break from the kids, this could be a great option for you.
[lasso ref="mi-kasa-hot-springs" id="8718″ link_id="1065381″]
As you might have expected from a 21+ resort, Mi Kasa is clothing optional. The establishment stresses that they prioritize "full relaxation" and that this isn't a hotel for "swingers". Although it's clothing optional, you can choose to keep your swimsuit on if you prefer!
The mineral pool is always kept above 96 degrees in the winter months and is open 24 hours a day. Along with the communal pool, there are private tubs for couples and solos.
3. The O Spa + Resort, Desert Hot Springs (31.4 Miles)
Also located in nearby Desert Hot Springs, The O Spa + Resort prides itself on having 80% of its guests be return visitors. If this doesn't tell you that the mineral waters are pretty special, I don't know what will!
The O is another adult establishment that focuses on providing a Zen vibe with stunning views, relaxing gardens, qualified spa therapists, background music, and of course, pure spring water. The rooms are animal-friendly and named after recognizable figures, from Lady Gaga to Dior.
If you don't want to stay overnight at the resort, a day pass will get you access to an outdoor mineral pool, an indoor mineral hot tub, an outdoor hot tub, and a Turkish shower for $60.
You can also pay a little more for your own private cabana by the pools. All guests are treated to an outdoor barbecue, a full kitchen (and yes, you can bring outside food in!), and a bocce ball court.
4. El Morocco Inn and Spa, Desert Hot Springs (31.0 Miles)
El Morocco Inn and Spa is another establishment in Desert Hot Springs that's less than an hour away from Joshua Tree.
The mineral pool is open 24 hours a day, so overnight guests can enjoy the healing waters at any time of the day or night. You can also let off some steam in the infrared sauna or by the poolside fire hearts.
[lasso ref="el-morocco-inn-spa" id="8720″ link_id="1065382″]
When you're done, take a stroll through the picturesque spa garden where you'll find a giant chess board, bocce, and hammocks.
My favorite thing about this resort is the Moroccan theme, evident through the décor. The official website explains that much of their furniture and fabrics are authentic and were purchased during various buying trips to Morocco.
5. The Good House, Desert Hot Springs (32.6 Miles)
The Good House is a boutique hotel in Desert Hot Springs, only around 40 minutes from Joshua Tree. It's located in a protected Hot Water Zone and has the hottest well water available in Desert Hot Springs.
The water flows into two hot pools, which guests can enjoy either through a day pass or by staying at the hotel. The source is 160 degrees, but the water in the pools is cooled to a comfortable level while still maintaining all the necessary minerals to benefit the body.
A day pass will give you access to the entire use of the property grounds, including the sunbathing lawns and the dry sauna. There's also a spa where you can indulge in a range of services.
6. Two Bunch Palms, Desert Hot Springs (32.7 Miles)
For the ultimate rejuvenating experience, check yourself into Two Bunch Palms in Desert Hot Springs, just 40 minutes from Joshua Tree.
The waters are low in sulfur yet rich in lithium, coveted for their mood-enhancing abilities. The spring water may also help to rid toxins from the body and boost blood circulation.
Two Bunch Palms is a chic yet minimalistic resort where you won't have the "pretense of patrons sipping cucumber water in mud masks." To complement the relaxing vibe, there is a spa with several healing massages on offer, plus a variety of natural skincare services.
The rooms are spacious, fresh, and bathed in natural light—perfect for rest and recharging.
7. Azure Palm Hot Springs, Desert Hot Springs (32.6 Miles)
Desert Hot Springs is abundant in premium hot spring facilities, one of the most popular being Azure Palm.
The resort's natural water wells are the hottest in the region and contain high levels of trace minerals which can work wonders for the body and the skin.
[lasso ref="azure-palm-hot-springs" id="8645″ link_id="1065383″]
There are two indoor spas and two outdoor spas, and the resort is also home to the largest hot mineral pool in Southern California.
For the moments when you're not soaking, you can also enjoy the property's yoga studio, café, sauna, and lounging areas, plus the spa which offers over 300 treatment options.
8. The Spring Resort & Spa, Desert Hot Springs (32.6 Miles)
Voted as "the best of the best" and a "hidden gem," The Spring Resort & Spa boasts three pools filled with natural mineral water.
The accessible pools are particularly rich in sulfate, calcium, iron, magnesium, iodine, manganese, and selenium. Guests are drawn to the resort due to the effect the water can have on their skin, chronic conditions, and ongoing pain.
Less than 45 minutes away from Joshua Tree, The Spring is also home to a day spa where guests can enjoy massages, facials, body wraps, and traditional Finnish and infrared saunas.
[lasso ref="the-spring-resort-spa-desert-hot-springs" id="8642″ link_id="1065384″]
You'll also find a boutique here where you can stock up on wellness gifts and accessories, including skincare, oils, yoga clothes, crystal jewelry, aromatherapy, and meditation tools.
Meanwhile, the rooms are modern while still warm and welcoming and come complete with all the amenities you need to feel at home away from home (or in paradise!). Some rooms even have private patios with a mineral soaking tub. There are also those with views of the pool, the mountains, and the desert.