Located within the White River National Forest in the Colorado Rocky Mountains, Glenwood Springs is a world-famous resort city renowned for its therapeutic hot spring resorts, abundant natural attractions, and mountainous land formations.
Whether seeking a tranquil weekend retreat or a relaxing break from exploring the region's more arduous draws, the city's hot spring resorts offer the perfect setting for finding bliss while soaking worn muscles from exploring the picturesque landscape of Colorado.
From deep ancient vapor caves to luxurious thermal pool complexes, visitors will discover blissful serenity at these six hot springs near Glenwood Springs, CO. (Distance from Glenwood Springs city center in brackets). 
Hot Springs Near Glenwood Springs, Colorado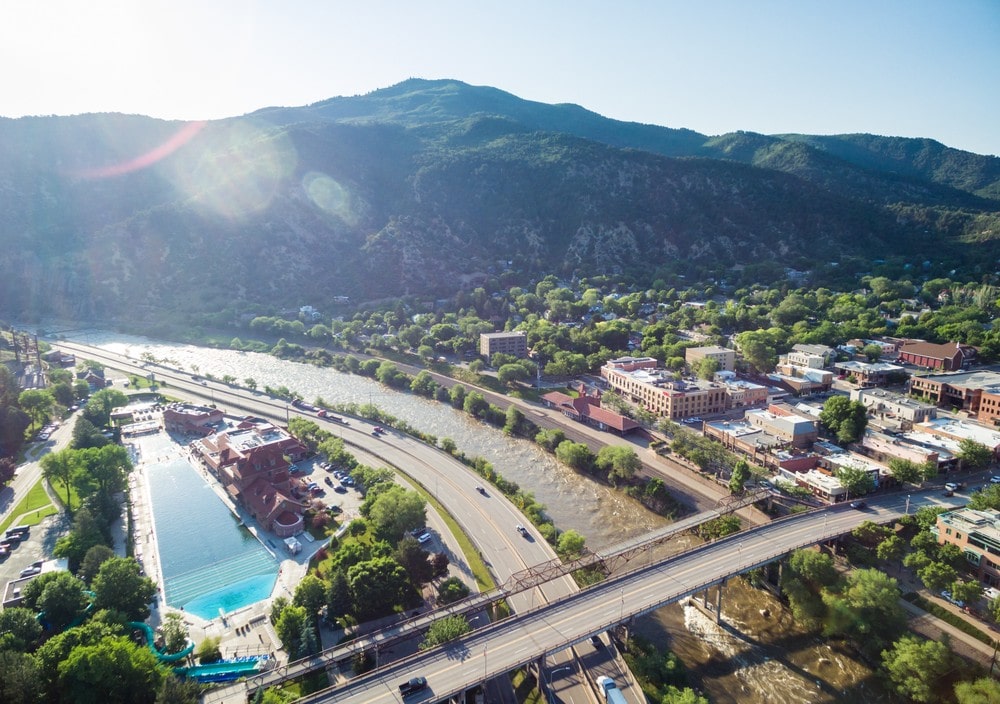 1. Glenwood Hot Springs (0.3 Miles)
Established in 1888, the Glenwood Hot Springs Resort is the largest thermal pool complex in Colorado and is only a short walk from Glenwood's historic downtown district. More than a simple hot spring facility, the resort features an extensive property with onsite accommodations, a shopping center, and even a fully-equipped athletic club and spa.
The resort also features a massive outdoor swimming pool sectioned off for diverse uses. While most of the pool is designed to facilitate a simple floating experience with underwater massage jets, the swimming hole also includes an active zone that provides visitors with a couple of diving boards and lanes for swimming laps.
[lasso ref="glenwood-hot-springs-resort" id="2319″ link_id="1064481″]
The floating and active zones of the pool are typically maintained at comfortable temperatures averaging between 90 and 93 degrees Fahrenheit. However, visitors seeking a warmer plunge will be happy to note that a section at the pool's far end is kept at slightly warmer temperatures, hovering around 104 degrees.
All pools at the Glenwood Hot Springs are filled with natural mineral waters and experience a complete changeover every six hours for a constantly fresh and rejuvenating soak. The waters also feature 15 minerals, including magnesium, calcium, zinc, and nitrogen, which give the spring natural curative properties known to increase blood circulation and eliminate toxins.
2. Yampah Vapor Caves (0.3 Miles)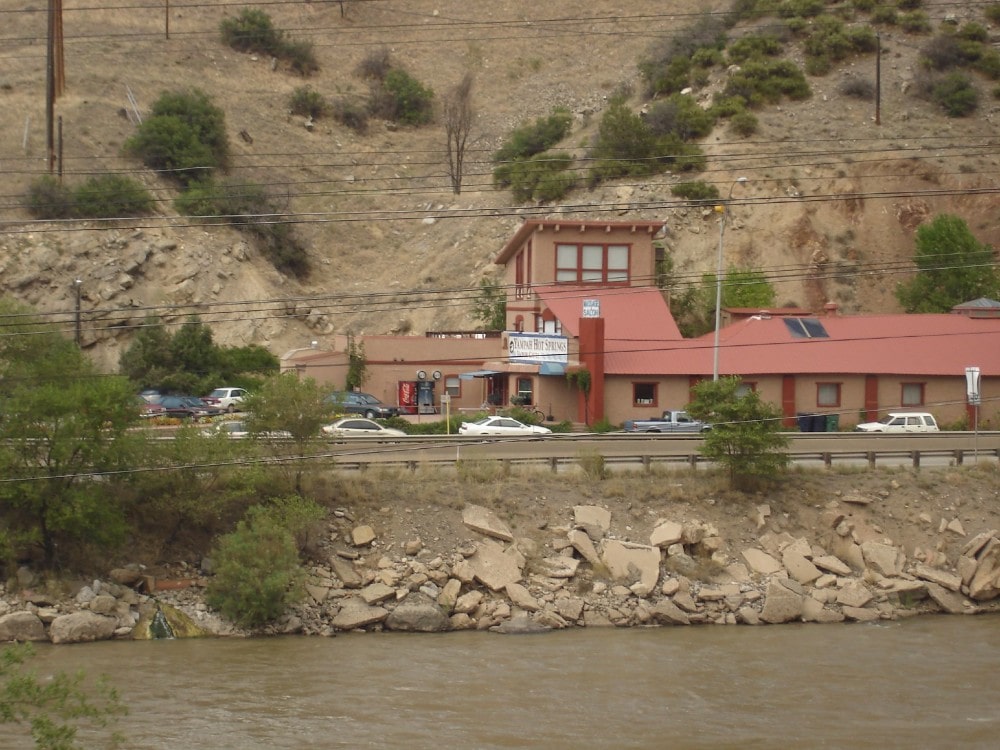 Also offering a tranquil escape only a short walk from the Glenwood Springs city center, the Yampah Vapor Caves are North America's only known natural thermal caves and were once held as a sacred place of rejuvenation for local Ute Indian Tribes.
Not a traditional hot springs experience, visitors to the Yampah Mineral Caves must first descend a stairway into a corridor that leads to the caves. The caves feature hot mineral water flowing through their floors at 125 degrees Fahrenheit, which causes steam to rise through the three adjoining rock chambers.
[lasso ref="hotel-glenwood-springs" id="2860″ link_id="1064482″]
Instead of soaking in thermal pools, visitors engage the natural mineral waters via the vapors emitted throughout the chambers, with temperatures between 110 and 112 degrees. Due to the high temperatures, the facility recommends short cycles of 10 to 12 minutes, while cold water tubs are available nearby for cooling.
An extensive day spa is also featured within the Yampah Vapor Caves facility and features a diverse catalog of treatments, including full-body massages, facials, manicures, and pedicures.
3. Iron Mountain Hot Springs (1 Mile)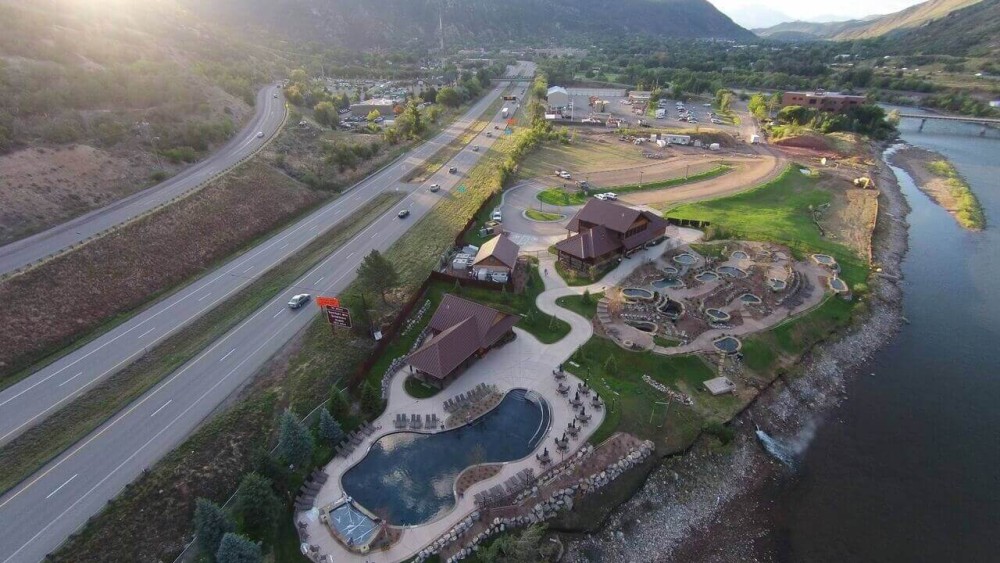 Opened in 2015, the Iron Mountain Hot Springs is one of Colorado's newest thermal pool resort complexes and is located only one mile from downtown Glenwood Springs. The property features an on-site  café, a large shopping center, and several soaking options for enjoying the site's natural mineral waters.
At the resort's focal point is a large family pool filled with 100,000 gallons of natural mineral water. The pool features a sloped, wheel-chair accessible ramp, which gives it varying depths for safe swimming conditions the whole family can enjoy.
The geothermally heated pool features comfortable swimming temperatures averaging around 90 degrees Fahrenheit. However, visitors seeking warmer, more traditional hot spring conditions will instead prefer to soak in the whirlpool spa tub, which is located just above the pool and averages just over 100 degrees.
Alternatively, there are also sixteen small hot spring tubs on the resort's property, each featuring a surrounding 'quiet zone' that provides an enhanced sense of isolation for a more secluded and private soaking experience. These private tubs range in temperature between 99 and 108 degrees.
Also featured on the resort property are three small pools, which are fed 400 gallons per minute from three natural hot springs below the earth's surface. The Iron Mountain Hot Springs' pools feature 14 minerals in their water and are especially notable for their iron levels.
4. South Canyon Hot Springs (6.2 Miles)
While Glenwood Springs is famous for its luxurious hot spring resorts, the community is also only a short distance from one of the most idyllic collections of primitive thermal pools in the state. Located in the wilderness just outside Glenwood Springs, the undeveloped South Canyon Hot Springs entices visitors thanks to its therapeutic waters and pristine natural setting.
Located just off the I-70, the South Canyon Hot Springs are relatively accessible and require only a short 1/8-mile hike. Still, the thermal pool feels disconnected from the rest of the year and offers some of the most breathtaking views of the surrounding landscapes throughout the year.
While the South Canyon Hot Springs feature a small collection of thermal pools, only one or two natural baths are available for soaking. The primary pool hovers between 100 and 112 degrees Fahrenheit and varies in size and temperature throughout the year. A second smaller pool is occasionally available but can often become too murky for submerging.
5. Avalanche Ranch (24.5 Miles)
While slightly further from the city, the Avalanche Ranch Hot Springs is an inviting hot spring resort near Glenwood Springs, tucked away in a quieter setting in Colorado's countryside and still only requires a short, 30-minute drive to access.
Located in Crystal River Valley, Avalanche Ranch features three tiered mineral pools, with the largest featuring a three-foot waterfall and a rock grotto design. The pools are open to visitors year-round for day and night use but are reserved only for overnight guests on Wednesdays, at which time the pools are also cleaned.
Visitors can receive this exclusive Wednesday night access to the springs by staying in one of the property's comfortable overnight accommodation options, including a studio, a wagon, or one, two, or three-bedrooms.
6. Penny Hot Springs (25.6 Miles)
Located just past Avalanche Ranch, about half an hour south of Glenwood Springs, the Penny Hot Springs is another picturesque undeveloped primitive hot spring tucked away in one of the more untouched corners of Colorado's idyllic natural landscapes.
Located just off Highway 133, the Penny Hot Springs are sectioned off with rocks to ensure the cold water of the nearby Avalanche Creek doesn't flood in. The pool is about 20 feet in diameter and 2 feet deep and can comfortably accommodate up to ten people.
The water varies throughout the year and can be altered by shifting the rock wall to allow more cold water to flow through.