Nestled between the Rocky Mountains of western Colorado and the sprawling plains of the state's eastern destinations, Fort Collins is a vibrant city that offers a historical and cultural base for exploring the many natural marvels of The Centennial State.
Providing convenient access to the state's Rocky Mountain National Park and Roosevelt National Forest, Fort Collins is surrounded by numerous natural landmarks, including some of Colorado's most extensive and celebrated thermal pool complexes.
From historical hot spring resorts to the primitive thermal pools in the nearby Strawberry Park, visitors can find a soothing escape from the state's daring landscapes at these six hot springs near Fort Collins, CO. (Distance from Fort Collins city center in brackets).
9 Great Hot Springs Near Fort Collins, Colorado
1. Eldorado Springs Pool (64.7 Miles)
Despite being an hour and a half drive south of the city, the Eldorado Springs Pool is the most accessible hot springs near Fort Collins. And having been established in 1905, the complex is also one of the most historical thermal complexes in the state and offers an authentic soaking experience.
Once considered the largest pool in the country at the time of its construction, the Eldorado Springs Pool has since been surpassed in terms of size, but its quaint traditional charms remain unmatched.
Visitors to the Eldorado Springs Pool can enjoy the facility's historical mineral waters in the same large swimming pool first enjoyed by the complex's turn-of-the-century visitors, fed from an artesian spring 8,000 feet below the earth's surface.
The pool's temperature varies throughout the year but typically averages between 72 and 82 degrees Fahrenheit. The pool also features loungers, a diving board, and a waterslide for added excitement and relaxation. A snack bar is also found on the property for added convenience.
2. Indian Hot Springs (92.3 Miles)
Providing a slightly more accommodating hot spring near Fort Collins, the Indian Hot Springs is an extensive resort complex boasting several soaking options and onsite amenities. Located just under two hours from the city, the Indian Hot Springs is the ideal setting for enjoying a full-service thermal soaking experience.
The Indian Hot Springs offers access to the region's mineral waters in several soaking areas, starting with its large main pool in the heart of the complex. While an indoor pool, the Indian Hot Springs soaking pool is filled with natural spring water and is styled with plenty of foliage for a natural design and ambiance.
Alternatively, visitors seeking a more secluded experience may book one of the property's private indoor or outdoor tubs to enjoy total isolation for an enhanced sense of relaxation.
The Indian Springs' final soaking option is in their Cave Pool, where guests can enjoy the facility's soothing waters in a more rugged setting for an authentic experience.
As an extensive resort, visitors to the Indian Hot Springs have plenty of onsite amenities at their fingertips, including a full-service spa, a large dining area, onsite dining options, and a gift shop.
3. SunWater Spa (138 Miles)
Located in the calming resort community of Manitou Springs, the SunWater Spa is one of the most relaxing and rejuvenating retreats with a natural hot spring near Fort Collins. While it requires a two-and-a-half-hour drive from the city, the SunWater Spa is well-wroth the extended journey for visitors seeking a day trip of lavish pampering.
Along with offering several treatments and wellness classes, including full-body massages, yoga, Tai Chi, and meditation, the SunWater Spa provides guests with soaking opportunities in seven outdoor cedar tubs.
All of the mineral tubs at the SunWater spa are fed from the famous Seven Minute Spring flowing beneath the city through a karst aquifer. The pools vary in temperature between 90 and 103 degrees and feature high mineral concentrations for a soothing float.
The extensive spa facility also boasts three onsite saline pools, starting with its large outdoor community pool maintained at around 95 degrees Fahrenheit. Meanwhile, the complex's cold plunge and hot tub pools are kept at 80 and 104 degrees, respectively.
Whether seeking a soothing soak in an elegant setting or a full-body treatment, the SunWater Spa is a favorite hot spring near Fort Collins for visitors seeking a pampered experience.
4. Hot Sulphur Springs Resort (157 Miles)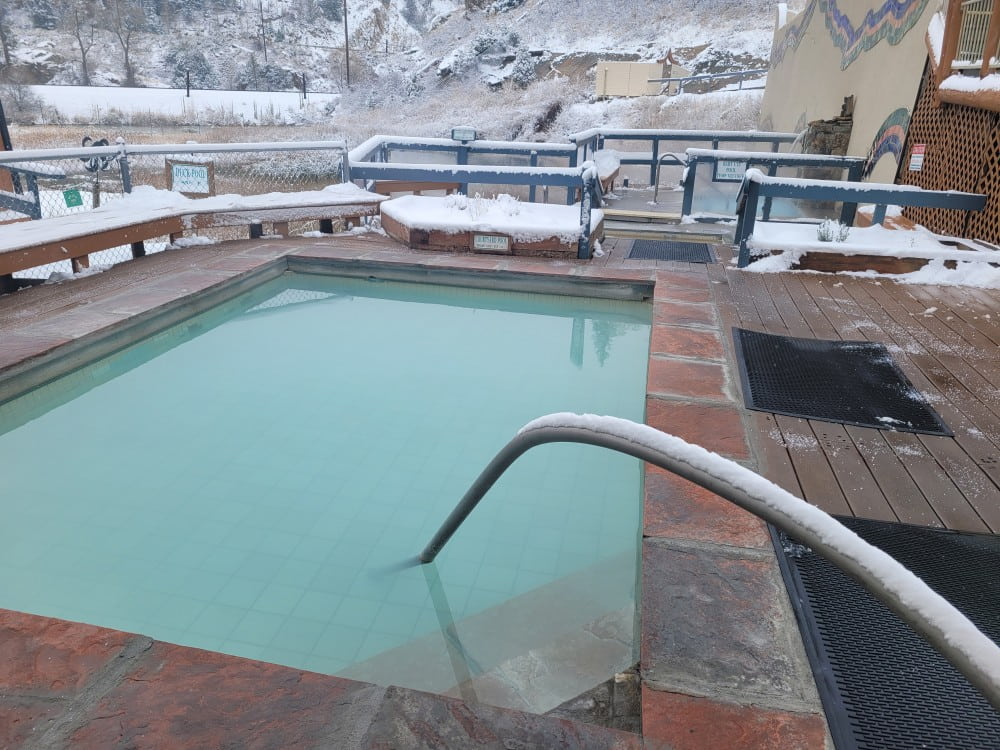 Also located about three hours from the city in a small mountain community of the same name, the Hot Sulphur Springs Resort is another hot spring resort near Fort Collins that offers a full-service soaking experience while highlighting some of the most breathtaking views of the Colorado Rocky Mountains.
Following an intrepid exploration of the region's daring vistas, visitors can soothe their worn hiking muscles in one of the 15 man-made mineral pools scattered throughout the resort's property. Each pool offers spectacular views of the surrounding landscapes and ranges in temperatures from 98 to 112 degrees.
Featuring no added chemicals, the Hot Sulphur Springs is 100% natural spring water renowned for the therapeutic properties provided by their high mineral concentrations.
They offer a quiet setting for enjoying maintained mineral pools free from the heavy crowding of some of the state's more famous thermal hot spots.
5. Old Town Hot Springs (157 Miles)
Another hot spring requiring an extended three-hour drive to reach, the Old Town Hot Springs offers visitors a family fun hot spring near Fort Collins, complete with several engaging amenities such as diving boards and two 230-foot water slides.
The Old Town Hot Springs boasts eight outdoor pools, each fed from a natural mineral spring and ranging in temperature from 98 to 103 degrees Fahrenheit. A large 25-yard lap pool is also featured on the resort property and offers a more traditional swimming experience, with waters averaging about 80 degrees.
Our Pick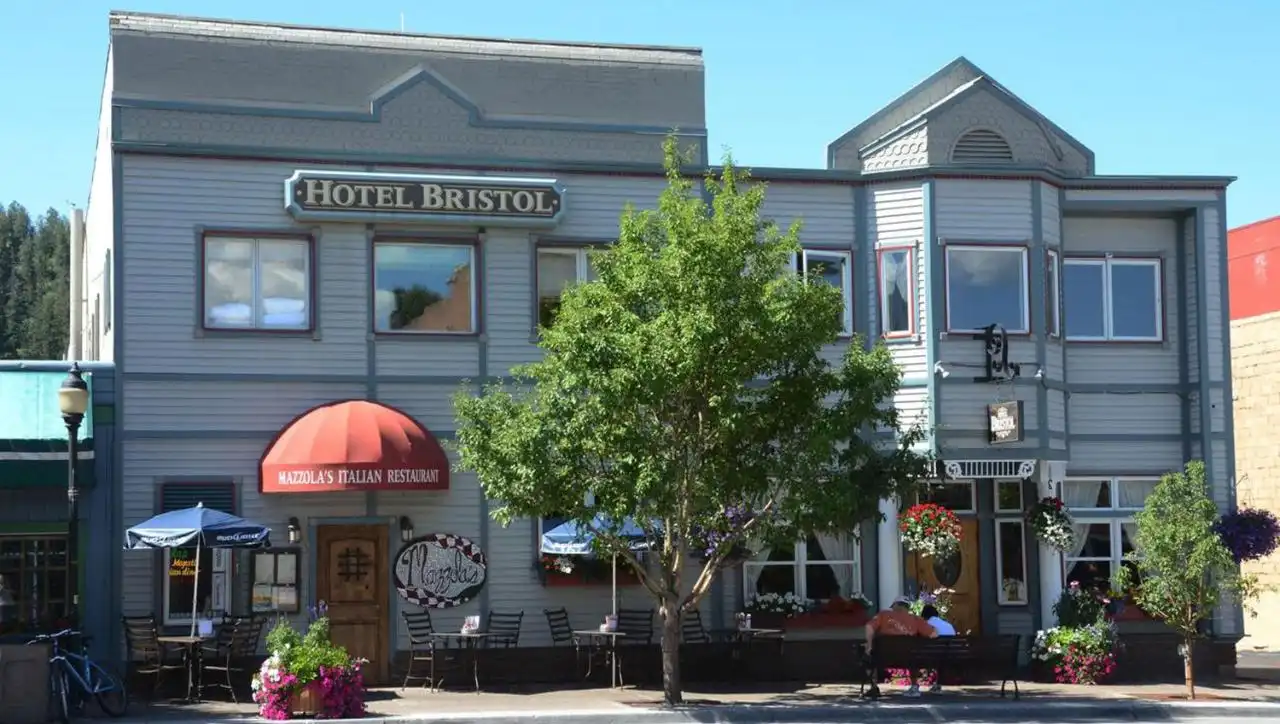 The Bristol Hotel
Easy Access to Old Town Hot Springs
"The location is perfect for being in town and close to the mountain. The hotel is charming and the sitting areas were very comfortable and like home."
View on Booking.com
While the hot spring pools are perfect for visitors seeking fun family activities, the resort's onsite thermal spa is perfect for those guests seeking quiet relaxation while enjoying a diverse catalog of treatments and private soaking tubs.
Combining outdoor adventures with soothing tranquility, the Old Town Hot Springs is the perfect thermal pool destination near Fort Collins for visitors seeking an experience the whole family can enjoy.
6. Strawberry Park Hot Springs (164 Miles)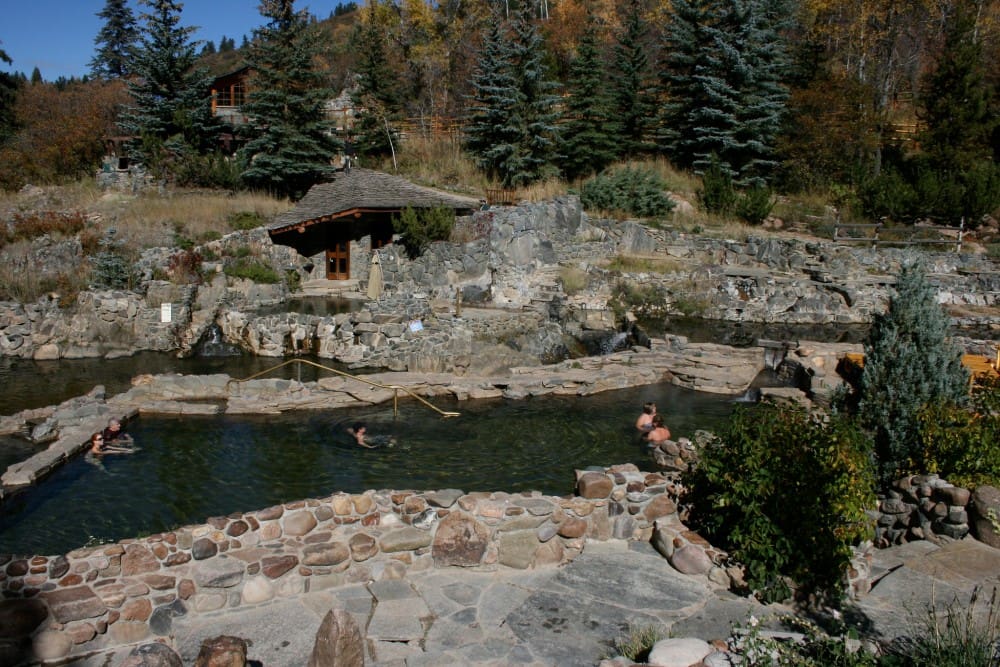 Offering a fantastic day trip destination from Fort Collins, the Strawberry Park Hot Springs are some of Colorado's most pristine natural hot springs and are entirely naturally fed from its spring source.
The Strawberry Park Hot Springs is a massive complex with several thermal pools averaging about 102 degrees. However, these temperatures vary massively between the pools, with those nearest the spring source being much warmer than those further downstream.
If the warm waters of the hot springs prove to be too much, visitors are also encouraged to dip into the nearby cold-water pond and creek, which offers a cooling reset for further enjoying the therapeutic properties of the complex.
While a natural hot spring, the Strawberry Park Hot Spring does feature basic onsite amenities, including restrooms, massage services, and even overnight accommodation.
Despite being a three-and-a-half-hour drive from the city, this thermal pool destination is one of the best primitive hot springs near Fort Collins for guests seeking an authentic soaking experience.
7. Desert Reef Hot Springs (173 Miles)
Located around three hours from Fort Collins in Florence, Colorado, Desert Reef Hot Springs awaits. This peaceful refuge was renovated and expanded in 2022 and is now ready to welcome guests to its many new pools.
The pools contain natural spring water and their temperatures are adjusted according to the season, being reduced to below body temperature in the summer. 98% of the water is flow-through and returns to the Arkansas River from the pools. 
Once upon a time, Desert Reef was simply a day-use hot springs establishment, but now guests can stay overnight. Entry to the pools is also included in the price of accommodation! 
Guests can choose between the signature Airstreams or Tiny Homes, the latter of which will soon come complete with private pools. All lodging is modern and decked out to suit the desert landscape.
8. Cottonwood Hot Springs Inn & Spa (188 Miles)
Cottonwood Hot Springs Inn & Spa is an iconic Colorado four-star hotel around three hours and 20 minutes away from Fort Collins. They offer a variety of therapeutic experiences for their guests, including several thermal pools and tubs. 
You don't need to reserve a spot to soak at Cottonwood, which is open from 8 a.m. through midnight seven days a week. 
The Head and Elbow pools are maintained at a heat of between 104 to 106 degrees Fahrenheit, while the Belly and Cold Plunge are cooler at 80 degrees. The Watsu pool lies somewhere in the middle at a comfortable 90 degrees. 
Swimsuits are required, but you can purchase one on-site if you leave yours at home. In keeping with the resort's mission to promote healing and the sanctity of the site, there is no alcohol allowed on the premises. 
As part of the entry price, guests will have access to the dry sauna, and they can add on spa services including massages, reflexology, and trigger point therapy. 
To remember your trip to Cottonwood, don't forget to pick something up at the gift shop, Cathy's Closet, before you leave. They sell spiritual tools and herbal remedies as well as locally made arts and crafts, jewelry, and spa products.
9. Mount Princeton Hot Springs Resort (191 Miles)
Three hours and 20 minutes from Fort Collins, Mount Princeton offers natural geothermal pools for day use and overnight guests. The best part about soaking here is the supreme views of the Rocky Mountains. 
The pools at Mount Princeton are maintained at between 70 and 120 degrees, so every guest can choose a pool that's comfortable and perfectly to their taste.
The Soaking Pool is perhaps the most popular option when it comes to relaxing and unwinding, but there's also the Exercise Pool on the grounds for those who want to be a little more active during their stay. 
Our PIck
For more of a romantic experience with majestic views, you can visit the Infinity Pool or book a soak in one of the private pools. For an extra bit of fun, the resort also has its own water slide!
Mount Princeton stands out from other resorts because, in addition to its man-made pools, it also boasts creek-side natural hot springs which are cooled by the flowing water from Chalk Creek. Here, guests can bask in rocky pools with sand bottoms and get in touch with nature.  
Hot Springs Near Fort Collins –  Final Thoughts
If you're willing to venture out a little from Fort Collins, an abundance of hot springs awaits. Incorporate an overnight stay at any of these resorts to enjoy their hot springs in your own time!