Colombia is blessed with a variety of hot springs located throughout the vicinity of the Andes Mountains.
The contrasting weather of this South American region brings about ideal conditions for an enjoyable and invigorating soak in the thermal baths.
Known as termales, many of the thermal waters tend to be in somewhat remote locations, so a visit to any of these sites will require a spot of planning. That said, many of the locations have onsite accommodation if you fancy spending more time there. Many are also serviced by public transport.
These natural thermal features are popular with locals as well as visitors which means it's probably wise to avoid holidays and weekends if you are coming from out of town. It's certainly worth bearing in mind that some of the termales offer weekday discounts on the entrance fee specifically for this reason.
In this article, we will take a closer look at the hot springs in Colombia and what they have to offer visitors to the region.
Colombian Hot Spring Regions
Traveling around the central or southern regions of Colombia makes it easy to find natural hot pools surrounded by impressive vegetation and landscapes.
The thread of underlying geothermal activity in fact stretches the length of the nation and surfaces in and around some diverse, unique, and highly-scenic spots.
The Most Popular Hot Springs in Colombia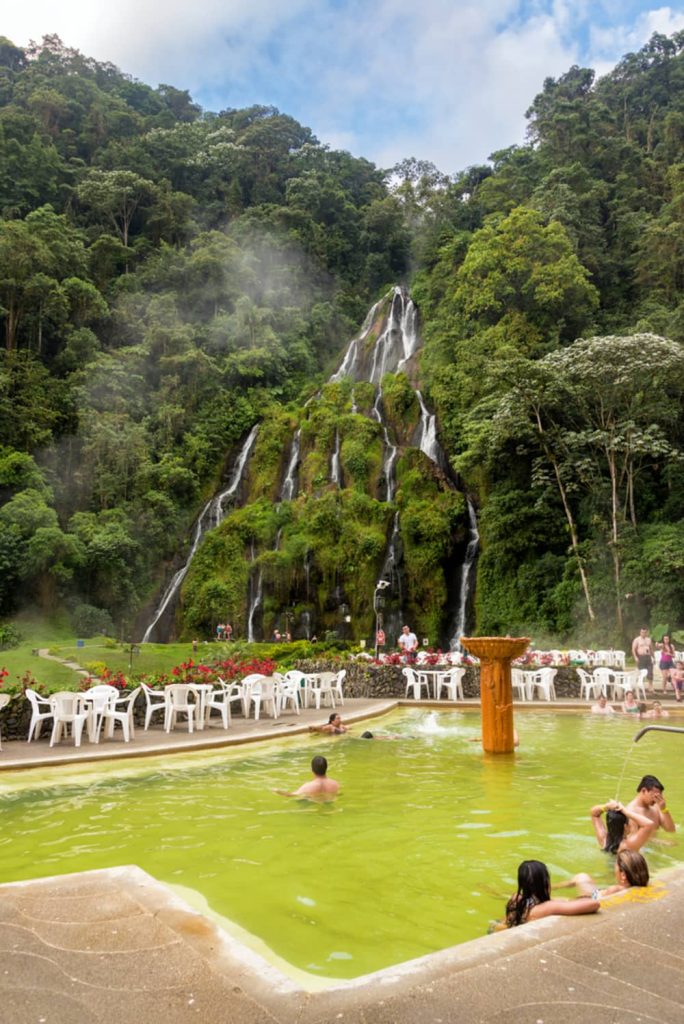 Santa Rosa de Cabal has become a huge tourist destination over the years because of the hot springs close to town, one with the same name.
The town itself is nothing particularly special but there are two main thermal baths here by way of Termales Santa Rosa de Cabal and San Vicente Thermal Reserve.
Termales Santa Rosa de Cabal
As you enter the grounds it's possible to see one of the facility's main features—a cascading waterfall that splits into several different streams down the rock face.
The facilities are standard for a hot spring resort, but the surrounding scenery and atmosphere make it easy to spend an entire day here. Rooms are available for reservation if you feel one day is not enough.
There are three thermal pools at varying temperatures including one for kids and several cold water showers. Visiting on a weekday you may be surprised at how busy it gets throughout the operating hours between 9 am and midnight.
Entrance fees here will set you back just less than $10.00 which is slightly on the expensive side comparably.
San Vicente
San Vicente in southern Colombia claims to be the most natural hot spring in the country, and it is certainly one of the most visited.
The area has a natural thermal river running through it, and some more intimate thermal baths, which makes it an ideal locale for couples looking for a romantic getaway.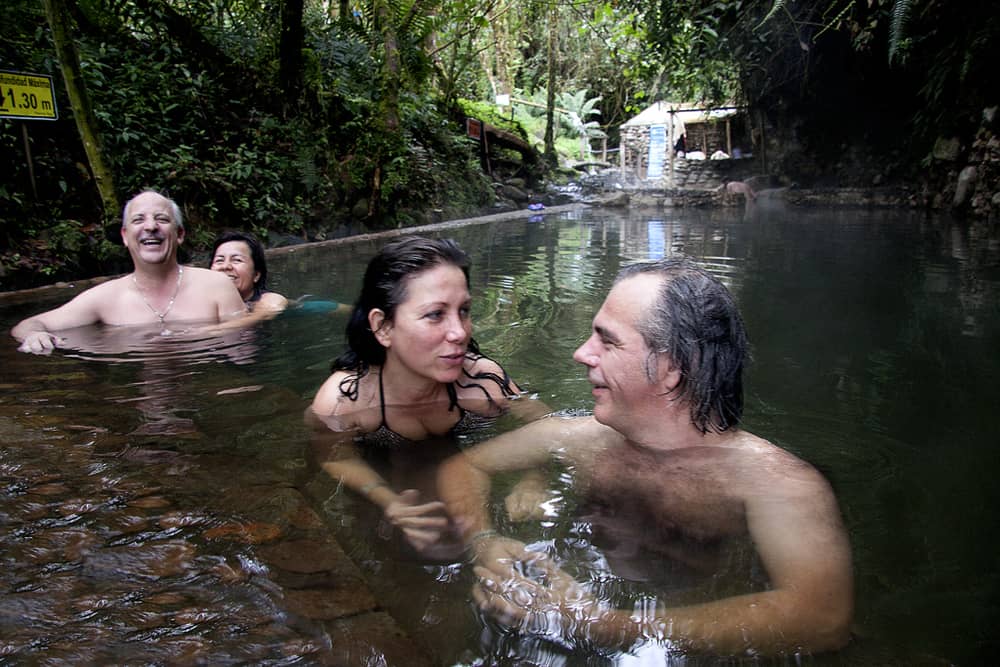 The facility contains six pools in all with natural scenery surrounding the natural bubble pool, the thermal river, and two steam rooms.
Anyone opting to stay at the facility has access to the hot springs throughout the late evening as well as the next morning due to late check-out times. Two other private thermals are also available for guests, and some cabanas include a small thermal bath within the actual suite.
Entrance fees are again in the region of $10.00 with concessions for children and seniors. Hours of operation are between 8 am and midnight.
Our Pick
Paipa Termales
Paipa is a town in a region of Colombia known as Boyacá which is renowned for its thermal waters. It is in fact the only province in the eastern ranges with volcanic activity.
The town is home to several hot springs that attract hordes of visitors and tourists.
With their source a geothermal subterranean lake, some of the springs in the area are public and some privately owned, which is often easy to determine by whether there are fees for visiting.
There are different resort-type facilities with thermal baths, spas, and activities. There is also the popular 'wellbeing circuit' of the Parque Termal de Paipa that contains ITP Termales.
Our Pick
The ITP Termales
This is one of Paipa's public springs, with entrance fees much lower than in some of the private baths. The facilities here may be bare-bones but the reason to visit is for the termales.
The hot springs, easily accessible from the highway, offer up gorgeous views thanks to the mountain backdrop. The facility features two large pools with hot thermal water, with one offering shade from the sun.
There is also a long slide leading to a cold plunge pool, which is ideal on a hot day. The facility is accessible between 6 am and 10 pm, and the entrance fees at public baths like this are typically less than $4.00 with further concessions for kids and seniors.
Hacienda El Salitre
About 3 miles from Paipa located in a valley is a somewhat unique thermal bathing opportunity with a historic twist.
The baths are in fact housed within a fully-restored hacienda dating back to the early 18th century. This is now a national heritage site and is home to a hotel with thermal pools.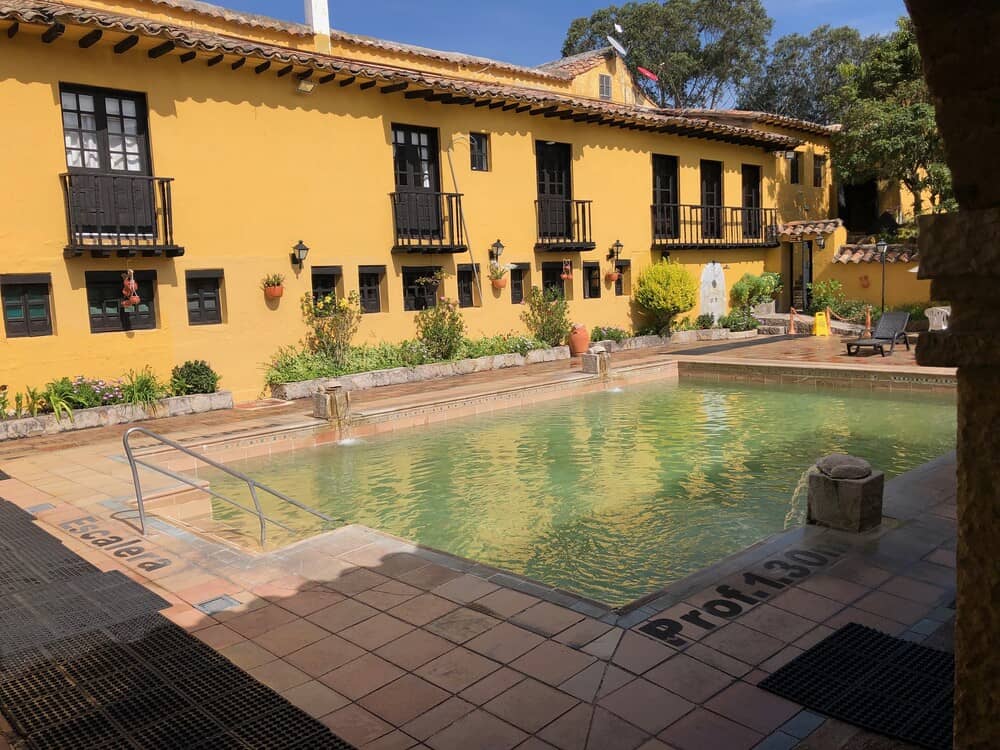 The hotel's extensive grounds feature more than 20 guest rooms, as well as dining facilities and a small chapel. If you stay on these historic grounds you'll have access to the thermal pools late into the evening.
It is possible to get day passes to the termales with a prior reservation. You can soak in the history of this beautiful estate for the cost of less than $10.00, typically between 8 am and 8 pm.
Tierra Viva Termales, Manizales
In the central regions of Colombia, we find Manizales with its hot springs that provide a welcome retreat from the thrall of the metropolitan regions. There are three pools here surrounded by natural, tropical elements.
If you turn up in the late afternoon you might find this thermal bath less busy, or you may choose to take your time and experience the night atmosphere of Tierra Viva at night by reserving a room. This is another thermal attraction that gets busy on the weekends.
The typical hours of operation are between 9 am and 11 pm. Entrance fees vary between weekdays and weekends. Weekday tickets will set you back just $3.00 whereas weekend and other holiday fees are an additional one to two dollars.
Our Pick